Archived News
'Why do we have to normalize what's already normal?'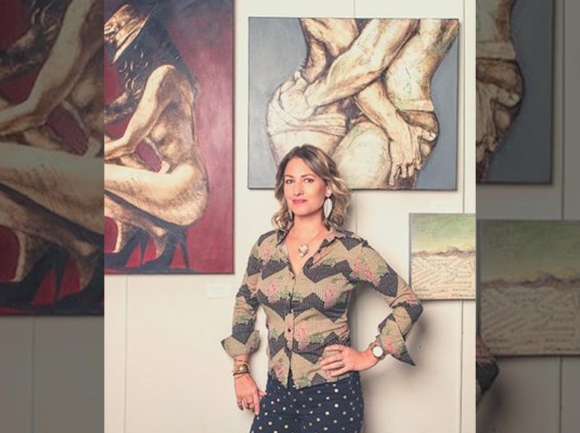 Pearl Renken.
During the pandemic, Asheville-based artist Pearl Renken wrestled with the pain, isolation and racial reckoning happening in the United States. Her first instinct during that time was to paint, very literally, the pain she was seeing, the hate that felt abundant.
After a conversation with her father, who is also a painter, she was encouraged to paint what was missing, instead of painting the hate and fear people were already inundated with every day.
"I've always wanted to make work about LGBTQ issues, racial injustices," said Renken. "I just feel like that's what I can do. That's what I can do with my voice, my privilege. That's what I can contribute. So it has always been important to me to find a way to be a voice for the voiceless."
Renken began painting more people of color, she began painting men's bodies in the dismissive nature women's bodies have been portrayed for centuries. She began painting non-heteronormative pairs embracing. Renken wants these images to be seen and felt in the dominant culture until they are not surprising anymore, until the subject matter is dismissed.
"I think if you see enough imagery, it's dismissive, and I'm not saying dismissive in a negative way. I mean dismissive in a 'you don't have angsty feelings about it' way, because it is normal," said Renken. "Why do we need to normalize what's already normal?"
Renken uses old objects, with previous uses and lives to make original images that center those old objects in a more accepting, open and diverse world. She uses ancient objects to normalize what should have always been normal.
Her style and statements about society have fit perfectly into the mission of the new Curatory Gallery in downtown Waynesville. This Pride Month, the Curatory is showcasing the exhibit "I Am Not An Asterisk." This is a group exhibition that celebrates pride and LGBTQ+ artists and the community with contemporary art, photography and 3D installations.
The show features five artists — Renken, Jae Wagner, Gna Wyatt, Nicole Mackin, and Curatory curator Ashten McKinney — and supports the vision for the Curatory Gallery, which is to "feature artists pushing their creative limits, often speaking to social and political movements such as climate change, gender equality, and racial justice."
Renken's work was also displayed in Curatory's previous exhibit, "Love is Love."
Renken grew up in the Panhandle of Florida — primarily in Pensacola. She was an only child for her first 15 years. She adored music, especially '90s country music, prime country as she calls it.
"I thought I was going to be the next Faith Hill," said Renken. "But, I ended up doing art instead."
She drew incessantly as a teen, finding therapeutic escape in the activity as she moved through teenage angst. Not right after high school, but eventually the drawing, painting and creating pushed Renken to study the subject at the university level. Following an undergraduate degree at the University of Central Florida, Renken headed to Boston to earn a Master's in Fine Arts.
"After growing up in the South and just kind of being at odds with a lot of institutionalized ideas, it was amazing," said Renken. "It was amazing to be around so many different kinds of people, so many different languages all the time. I went there and just felt like I knew I was on the right side of things in my mind. And I felt like I was for the first time around so many like-minded people that weren't my chosen friends or family."
Massachusetts became the first state to legalize gay marriage in 2004, another indicator for Renken that she had landed in a space she wanted to inhabit, explore and in which she could create.
Even in a more progressive city like Boston, Renken found herself chafing against classical training and styles. She recalls calling her father during grad school and sharing painting tips and other advice taught in her classes. During one of these exchanges, he told Renken she had educated herself too much.
"You're trying to stick to all these rules and there are no rules," he told Renken.
"I was at war with the institution," she said.
She created her signature style through connection to her southern roots. Playing in the dirt, thrift stores, flea markets, junk — old, glamorous junk. Making something out of nothing. This is where the idea for the frame, part of Renken's senior thesis, came from.
"This is the idea of a museum style frame, institutionalized, bold frame, but it is a collage and a pile of my experiences, memories," said Renken. "This is all emotionally corded stuff that lives in a drawer that you can't throw away. I like to say, it's too precious to throw away, but too heavy to drag along."
As she talks about the giant, frame-shaped object in the center of her gallery space, memories are abundant and easily accessible as they literally cover the frame beneath them. Braces, seventh grade yearbook, old loves, lost family members, questions about the past and whether it is regrettable or simply the path that led her to the space she now inhabits — a sunlit, corner studio on the second floor of an old River Arts District building, the love she relishes now and the works of art that surround her.
It is plain to see the continued repurposing in Renken's art. Most of her paintings are collaged with old opera sheet music she found at a junk store in Miami. The sheets are collaged onto canvas, then painted. They go with the flow of the bodies on the canvas, helping the eye fill in spaces and see form.
"It's almost like an extra layer of trickery," said Renken. "There's something that this old paper does when you collage it all out and then paint on top of it."
Though her art is deeply informed by the antique nature of her southern roots, Renken also deals with the institutionalized ideals she grew up learning in the South. At the Curatory in Waynesville, she has a piece of sculpture made from an old chair. She found the chair for $5 at a junk store because the netting of the seat was a gaping hole. As she began to crochet the netting back into a seat, things came up.
"I was in Boston, but I was missing parts of the Southern landscape, like the big trees with the Spanish moss, thrift stores, just those comforts at home," said Renken. "I started thinking about traditions and what's expected of you, as a woman and these patterns and these rituals and these things that we're supposed to follow. And then you're not a complete woman, unless you have a baby, you're not this, unless you do that. And chairs always make me think of the home, of the body, of yourself."
The netting that would have made up the seat of the chair extends wildly, in a haphazard column all the way to the ceiling. Renken describes it as controlled chaos.
Want to go?
The Curatory Gallery is showing the 'I Am Not An Asterisk Exhibit' now through June 30. Pearl Renken is one of five local artists in the exhibit.
Leave a comment
2

comments
John Anderson, Get Bent dude!! Pearl is an amazing Woman and Artist!! your ignorance to accept others as they are is the true crime in human nature. I grew up with her in the south and her family raised her RIGHT; people should never deny who they are to please others. Bottom line is that her Art is inspiring not only to the LGBT community but the heterosexual one as well. I find her art to move me in a way to love and appreciate others, not just ourself.

Tuesday, 11/16/2021

Pearl Renken, you are sick woman. Please seek help. Its not your fault though. Its the way you were raised.

Friday, 06/18/2021