Archived Outdoors
Friends of DuPont asks users to share the trails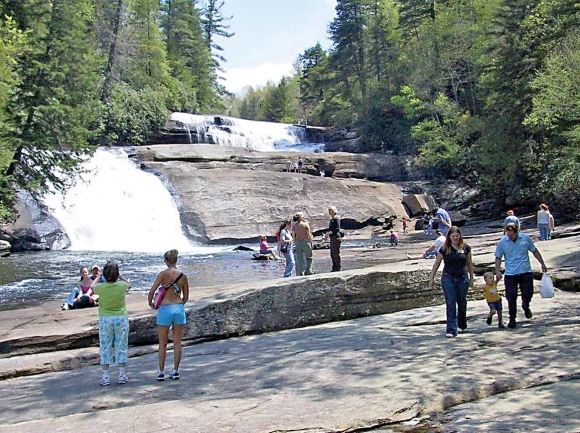 Tripe Falls is a popular attraction at DuPont State Recreational Forest. File photo
Friends of DuPont Forest's new Share the Trails Campaign aims to help visitors share and care for the forest's 80-plus miles of trail this summer and beyond.
"There appears to be a lot of confusion over trail etiquette in the outdoor community," said Executive Director Sara Landry. "Our hope with the Share the Trails campaign is that all trail users will educate themselves so that everyone can enjoy themselves and treat each other and the Forest with respect and kindness."
In 2020, the 12,489-acre DuPont State Recreational Forest witnessed a record-breaking influx of 1.1 million visitors, even with two months of closure due to the COVID-19 pandemic. Alongside the influx of visitors, the forest saw accompanying vandalism, trash, overuse and user conflict in the area.
Currently, the forest has a multi-use, multi-directional trail system that includes cyclists, equestrians, hikers, anglers and more. Due to this mix of user types, it's important to understand right-of-way rules. Mountain bikers should yield to all other users, hikers and trail runners should yield to equestrians, and equestrians should be mindful of other users.
Other important principles for visitors to keep in mind include: pack it in/pack it out, keep dogs on leash, stay off of the waterfalls and don't park on the roadside.
Learn more at www.dupontforest.com.