Archived News
Help wanted in the service industry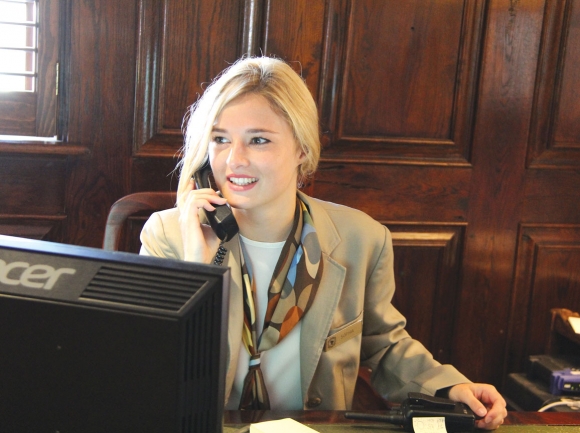 Old Edwards Inn hospitality employee. Old Edwards Inn photo
The signs are everywhere. Now hiring, help wanted, excuse the wait times we're short staffed and doing the best we can. Every restaurant, bar, hotel and store in town is in need of employees at a time when tourism in Western North Carolina is surging. Where are all the workers?
Every expert and commentator alike have an opinion on the subject, all claiming they know the answer. Some blame the pandemic and fear of catching COVID-19; some blame the response to the pandemic; some people say that after a year of slowing down and being forced to stay at home, few people would want to circle back to low-paying, service or hospitality industry jobs that are physically demanding and often run on a haphazard schedule — that new priorities have taken center stage.
Perhaps the most common speculation circulating is that people are staying home to receive unemployment benefits. Paired with that answer is the reasoning that once unemployment benefits end, there will be a flood of people returning to fill all existing vacancies. The need will be met.
In May, U.S. Chamber of Commerce Executive Vice President and Chief Policy Officer, Neil Bradley said "The disappointing jobs report makes it clear that paying people not to work is dampening what should be a stronger jobs market. We need a comprehensive approach to dealing with our workforce issues and the very real threat unfilled positions poses to our economic recovery from the pandemic. One step policymakers should take now is ending the $300 weekly supplemental unemployment benefit. Based on the Chamber's analysis, the $300 benefit results in approximately one in four recipients taking home more in unemployment than they earned working."
Managers, human resource directors and experts in the hospitality and service industry in Western North Carolina aren't so sure.
North Carolina is among the states that is still giving unemployed people $300 extra per week, on top of regular state unemployment benefits. This measure is set to run out Sept. 6.
Back in May 2020, just over two months into the pandemic, restaurants in North Carolina were permitted to open their doors with social distancing and 50 percent capacity.
"I think the half capacity stalled it [the employment deficit] because everywhere had enough skeleton crew to run a half capacity restaurant. Then the month before full capacity, when everybody knew it was coming, I started seeing it everywhere, everyone was hiring, and no one came to fill those positions. So every place is running on staff made to do half the capacity and they're at full capacity," said Luke Wertz, previous manager and co-owner of Sauced restaurant in Waynesville.
Now, Wertz believes the problem is perpetuated by staff getting burnt out from overworking to cover the unfilled positions.
When Wertz was transferred to Waynesville from Atlanta in 2018, he had an outsider's view of the service industry in Western North Carolina.
"Moving from Atlanta to here, it was already such a shallow hiring pool in my mind. And so it was already very difficult," he said.
For Wertz, the current labor shortage in Western North Carolina runs deeper than the post-pandemic reopening. Prior to the whole fiasco, he saw a market saturated with demand for services from second homeowners and tourists, in addition to the permanent population, without enough local labor to keep up.
For large scale employers, that deficit of local labor is especially stark. Old Edwards Inn & Spa is a hotel and resort in Highlands. Each year the Inn employs over 500 people. Of those, more than 250 must be housed by the Inn and over 100 are international workers.
"As far as local recruiting, we always would much rather recruit locally. But again, there's a limit of how many people are in this area and how many employers there are in this area," said Pat Turnball, human resources director for the Old Edwards Inn.
This year, the Inn is down between 30 and 40 employees. Turnbull is optimistic the Inn will be able to fill those slots with international workers, as long as the COVID-19 Pandemic stays under control.
Like most of Western North Carolina , even while lacking in employees, the Old Edwards Inn has had its busiest year on record. During the pandemic, occupancy rates were higher than some non-plague years of the past. Tourism in the area has surged since the first pandemic restrictions were lifted.
Lake Junaluska Conference and Retreat Center, another large employer, had over 275 employees during summer of 2019. Currently, Lake Junaluska is working with 166 employees and actively recruiting for 26 positions.
During the worst of the COVID-19 Pandemic, people laid off from closed restaurants and shuttered hotels were able to receive supplemental unemployment insurance. This was intended to keep people afloat and keep the virus at bay by allowing people to stay at home.
Now, with vaccinations readily available, case counts down and restaurants and hotels open to full capacity, the extra unemployment benefits will expire in September. Most employers in Western North Carolina agree that those benefits, along with payroll protection plans, were vital to sustain employees and employers through the pandemic. Whether or not ending supplemental unemployment benefits will solve the employee shortage is not so clear.
"We actually delayed the laying off of staff two weeks longer than most organizations, because at the time we were lobbying for greater unemployment benefits, which were desperately needed, especially for workers from religious not-for-profits," said Ken Howle, Executive Director of Lake Junaluska Conference and Retreat Center. "And then we also, because of the payroll protection plan loans, were able to begin bringing workers back quickly and have basically been in a rehiring phase since June of last year. So we've been spending over a year, working diligently to try and rehire and bring back people that were laid off in the initial shutdown."
Turnbull believes the unemployment benefits are part of the reason it is difficult to fill vacancies right now.
"I think one of the reasons there is a shortage is the government subsidy that is still in place. Because they can make the same if not more sitting at home. That has cut down on some people returning for work that we usually would have had access to recruit." said Turnball. "I think too that although old Edwards has remained competitive in the industry, not all hospitality has been able to keep up with other career paths for young people."
Wertz has a different opinion than Turnball.
"I don't know anybody that just stayed on it [unemployment benefits]. I don't know anyone that is staying on it right now. I don't know anybody that is actively doing that. And so it's hard for me to say that it's really affecting the restaurant industry," he said. "It's an easy thing to point at, I hear that from every single industry. I don't know how many people are actually doing this, but there's not enough people doing it to fuel all these open jobs, especially not in a small town like this."
Wertz says there are probably a few people remaining home out of necessity. People who can't afford childcare, or care for an elderly person. Those people, as well as people who are remaining at home simply because they don't want to work, Wertz says, he doesn't fault them.
"Do what you want to do. The system f*cks us all the time, if you can f*ck it, go for it," said Wertz.
Regardless of the causes for the current job market, employers are having to sweeten the deal to attract more workers, while at the same time they have to ensure there are enough profits to sustain those sweetened deals for employees. At Lake Junaluska Conference and Retreat Center, starting pay for a server is $10 per hour plus tips, substantially higher than the $2.13 minimum wage for tipped employees in North Carolina.
"We provide both health insurance for full-time employees and also a 401K plan, both of which are better than you would get in many private sector jobs," said Howle. "Ultimately we have a goal of moving as quickly as we can to assure that all of our staff are making a living wage. And for us, that's a balance of finding ways that we can generate the revenues to sustain those wages. Because you have to balance out when you're an organization in the hospitality industry where you're generating revenue from the services you provide, you have to make sure the revenue is high enough to basically then cover those wages. It's a balancing act between the two."
Wertz described offering hourly rates to new hires this year that would have been unimaginable pre-pandemic.
"If somebody had come in and said 'start me at 16 an hour' a year ago, I just wouldn't have hired. And now that's just what you have to do," said Wertz.
Employers also have to be more proactive in recruiting employees.
"When somebody applies, we get back to that applicant very quickly, knowing that if we don't get in touch with them quickly, somebody else will," said Howle. "So, it's made us change our practices of making sure we're moving quickly to interview and bring people on board as they're available.
If there is one consensus right now, it is that the demand for workers has created a better job market for those seeking employment in the service industry than the one that existed prior to the pandemic.
Cory Vaillancourt contributed reporting to this story.
Leave a comment
2

comments
It's about time the service industry stops abusing their workers and offers a decent wage. These businesses need to stop playing the victim. It's pathetic that it took a pandemic to finally see some change.

Saturday, 07/24/2021

I can't work any job that causes me to have to stand. I am currently looking for a remote job but I need to work for a company that would supply the equipment.

Wednesday, 06/30/2021