Archived News
After uproar, DOT relents on bridge replacement project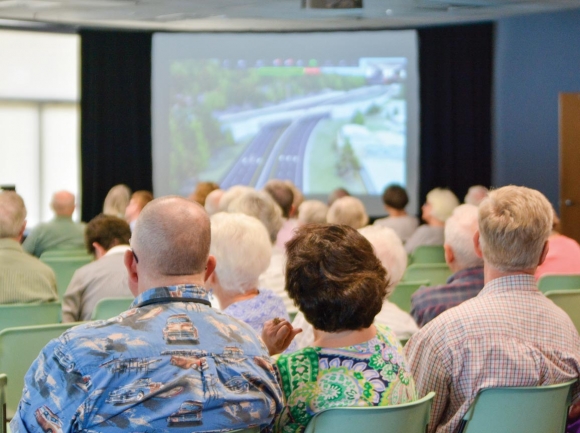 Around 100 people attended a presentation by NCDOT at Lake Junaluska on July 10. Cory Vaillancourt photo
A controversial bridge replacement project that would have snarled Haywood County traffic for up to four years will likely get a redesign that results in a dramatically expedited timeline.
"When the original plan came out for the construction, the detour length around 276/Russ Avenue was originally around three years," said Garrett Higdon, project engineer for the North Carolina Department of Transportation. "We met with our designers — once again, everything is still in the preliminary planning phases, but they are fairly confident now that through the construction phasing of the project that we are gonna be able to get it down somewhere between six to nine months."
Higdon made his comments after a property owners' meeting at Lake Junaluska on July 10, after members of the audience peppered him with questions about the length of the detours on the U.S. 19/23/74 project.
"When this project originally started and we first addressed the public at Lake Junaluska and the county, the towns, there were some concerns because at that time we were only at around 25 percent plans," he said. "We hadn't done any constructability reviews, we hadn't done any reviews yet of as far as the phasing for the project, of how we were going to construct it. We were basically at that point just getting the plans on paper and then we were gonna tweak from there."
Those plans drew concern from Ken Howle, executive director at Lake Junaluska, but Howle wasn't the only one to speak up. The towns of Clyde and Canton became the first to pass a resolution asking the DOT to speed up the project, over concerns that it would tie up traffic in the center of the county and thereby affect every municipality in the county for an extended period of time.
Officials from Haywood County, Maggie Valley and Waynesville told The Smoky Mountain News last week that they all expected to entertain similar resolutions this week.
Howle said he was pleased with the revised timeline. Arguably, the proposed closures would affect Lake Junaluska the most.
"We felt very hopeful and very positive about the outcome. We have been very pleased with the responsiveness of the North Carolina Department of Transportation. They've been very honest and direct with us and they clearly have been doing a lot of work to respond to the feedback that not only Lake Junaluska has provided, but the whole county has provided," he said. "This interchange is truly in the heart of the county and impacts the entire county and again, we're very hopeful and very positive as to the direction they're going and the new timeline they're putting out."
Higdon said the anticipated start date for the project, which includes a badly-needed flyover bridge that will enhance safety, is in the early part of 2022.
Rep. Mark Pless, R-Haywood, also attended the meeting and said he was optimistic about the new timeline and pleased that DOT has been responsive to concerns about the project, but that doesn't mean it's all going to be smooth sailing.
Residents at Lake Junaluska were anxious about motorists using County Road as a detour, and Higdon admitted that increased traffic on the road — which is narrow, in bad shape and prone to use by speeders — was expected.
However, County Road is a state road, and it can't be closed or restricted only to residents.
Pless also noted that there are still concerns about public safety during the closures, no matter their duration.
"A large portion of this is going to revolve around the fire service, because of where the fire departments are located and where their response areas are located," he said. "It's going to cause an issue because they cover areas that can only be accessed from U.S. 19. Ultimately, it's their responsibility because they're charged with covering that area, but we just gotta get the information to them so they can plan."
A public meeting about the project will be held sometime in August, once renderings and timelines are readily available. To see a video of the flyover portion of the project, visit www.youtube.com/watch?v=DHd44vGpOkE .
Leave a comment
1

comment
The 4 year estimated construction time for the bridge left many of us shaking my heads. Let us consider that the construction of Fontana dam, and all that was entailed took just over two years, the Golden Gate bridge over San Francisco bay took just over 4 years. Hell, the 17.6 mile long northbound Chesapeake bridge tunnel over the bay in VA took LESS than 4 years. Who was responsible for this preposterous estimate? Either build the damn bridge or leave it alone. Lets not have another I 26 endless construction project here as well.

Monday, 07/26/2021