Archived News
Proceed with caution: Data details deaths in national parks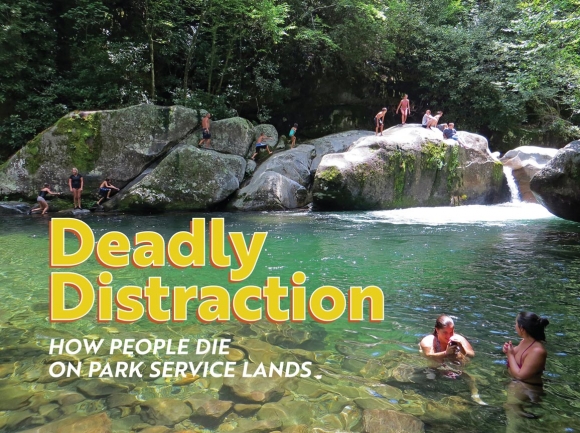 On May 21, 2000, a beloved Sevier County elementary school teacher named Glenda Ann Bradley took a walk on the Little River Trail in the Great Smoky Mountains National Park with her ex-husband Ralph Hill. Both Hill and Bradley, 50, were experienced hikers, so when Hill went off-trail to fish, Bradley did some solo hiking while she waited for him.
An hour later, Hill returned to the trail to find Bradley's backpack on the ground and two black bears — an adult female and yearling cub — mauling her body about 50 yards away.
It's the kind of nightmare scenario that that commonly rises in the imagination when contemplating the risks of visiting a national park, but in reality such situations are exceedingly rare. Bradley was then, and still is, the only person to die from a bear attack in the Great Smoky Mountains National Park since its founding.
In fact, across the entire National Park Service System — which comprises 423 units scattered across all 50 states, the District of Columbia and U.S. territories — between 2007 and 2020 only nine people have died from a wildlife-related incident, three of them in Yellowstone National Park and one at nearly adjoining Grand Teton National Park. In that same time period, the Park Service recorded 4.1 billion recreation visits.
Vehicles cruise down the newly opened Foothills Parkway as pedestrians walk along the shoulders in a November 2018 scene. Joye Ardyn Durham/NPS photo
Traffic hazard
As it turns out, the best advice for leaving a national park alive is the same advice that applies for the morning commute or a weekend road trip — drive carefully. Of the 3,020 deaths recorded in NPS units between 2007 and 2020, nearly one in five, or 19.7%, were the result of a motor vehicle crash.
Close to home, that percentage is even larger.
Of the 93 deaths that occurred on the Blue Ridge Parkway during that time period, fully three-quarters — 75.3% — were the result of a motor vehicle crash. In the Smokies, crashes accounted for 43.6% of the 101 deaths recorded over those 13 years. Medical deaths — someone dying from a heart attack while on Park Service land, for example — were the second most common cause of death for both the Smokies and the Parkway, at 14.9% and 7.5%, respectively.
Traffic and medical-related deaths have such an impact on these local parks that, while the Smokies ranks fifth out of 423 and the Parkway seventh for total deaths, the rankings fall to 12 and 27, respectively, when motor vehicle and medical deaths are removed from the list.
Spokespeople for the Smokies and the Parkway said those figures aren't surprising. After all, the Parkway is a 469-mile road bordered by a thin strip of land on either side, so it stands to reason that most fatal incidents within its boundaries would be vehicle-related. And while the 816-square-mile Great Smoky Mountains National Park contains more than 800 miles of hiking trails, most of its 12 million-plus annual visitors stick close to the park's 384 miles of roadway.
"I hear our law enforcement rangers time and time again talk about the common factors related to speed and inattention that make those numbers unfortunately very high," said Parkway spokesperson Leesa Brandon. "I think a lot of it is inherent just to the Parkway, being a beautiful scenic drive but also a drive that requires a different approach to attention when you're in the driver's seat."
Every year, the Parkway's law enforcement rangers investigate about 200 traffic accidents, with half of those resulting in serious injury. Such accidents occur up and down the length of the Parkway, said Brandon — they don't appear to be tied to any particular section of the road.
In the Smokies, however, most accidents occur on the three roads that handle the highest volume of traffic — Newfound Gap Road, the Gatlinburg Spur and Little River Road, said spokesperson Caitlin Worth.
In the Great Smoky Mountains National Park, waterfalls like Ramsey Cascades are common sites for accidents resulting in injury or death. Since the park's founding, five people have died at Ramsey Cascades. Andrea Walton/NPS photo
The overview
The data comes from a document the National Park Service's Freedom of Information Act Office posted to its website earlier this year in response to a request from Outforia.com.
Though the spreadsheet's title indicates that it contains park death data for calendar years 2010-2020, it also includes deaths for 2007-2009. Each of the 3,020 rows of data lists the year and park where the death occurred, the cause of death, injury category, gender and age range of the victim. A separate table lists the 387 suicide deaths that occurred in national park units from 2014 to 2020 but does not state where those deaths occurred.
FOIA staff compiled the data from various databases and records, and it does appear to contain some errors. For instance, none of the 101 deaths listed for the Smokies is labeled as a homicide, but in 2017 Cherokee resident Johnathan Hill pled guilty to the 2015 stabbing death of 25-year-old Whittier resident Tyler Gaddis, which occurred inside park boundaries at Lufty Baptist Church. All Smokies deaths listed for 2015 are labeled "unintentional," indicating the murder was omitted from the records compiled for FOIA.
Worth said there are various potential reasons for the omission, ranging from human error to the technological limitations of reporting systems, but that Gaddis' murder would certainly count as a homicide death within the park.
Meanwhile, the data does not list any 2020 deaths on the Blue Ridge Parkway, though Brandon said her records indicate that 15 people died that year — 10 in motor vehicle crashes, four by suicide and one in a medical emergency.
The Park Service' mortality data is updated constantly, and data for 2017-2020 was still considered provisional at the time of the FOIA release, meaning those figures could change as information continues to be collected and analyzed. There is also a marked difference in total deaths per year for 2014-2020 compared to the other years in the dataset, because 2014 was the first year that intentional, medical and undetermined deaths were included in the data.
Though imperfect, the data provide an overview of how often these fatalities occur, where they most frequently happen and the most common causes.
While motor vehicle crashes are the most common cause of death in the Smokies and on the Parkway, that's not true for the Park Service overall. Across the dataset, drowning accounted for 752 of 3,020 deaths, or 24.9% of the total. Motor vehicle crashes came in second at 19.8%, with falls accounting for 12.6% and medical deaths for 12.9%.
Sadly, suicide deaths also account for a significant number of fatalities on Park Service lands. If added into the total number of deaths recorded for 2014-2020, suicides would account for 20.2% of the total.
Meanwhile, 489 deaths — 16.2% of the total for 2007-2020 — had an undetermined cause. This figure included 14 deaths in the Smokies and five on the Parkway.
"On the occasion of an unwitnessed fatality, if there is no obvious cause of death and the family doesn't choose to pursue an autopsy, the cause of death may not be definitively determined," Worth explained. "And occasionally, deaths are also categorized as undetermined after the autopsy."
After vehicle crashes, medical deaths and undetermined causes, falls and drowning were the most common causes of death in the Smokies. While fatal falls aren't tied to any particular location in the park, said Worth, there is a definite common denominator for drowning incidents.
"The take-home for that is that swimming near waterfalls is incredibly dangerous, mainly due to those strong currents but also due to the slippery rocks that are created by all of the moisture that is in the air at waterfalls," she said.
Another take-home from the data? The overwhelming majority of people who die in the national parks are men. Of the 3,020 deaths listed in the dataset, men accounted for 2,205. That's 73%. Women accounted for only 18.3%, with sex undetermined in the remaining 8.6%.
The Smokies followed a similar trajectory, with men comprising 66.7% of 101 fatalities and women accounting for 28.4%. On the Parkway, 74.2% of 93 deaths involved men and 22.6% involved women.
Vehicle accidents are by far the most common cause of death in the Smokies and on the Blue Ridge Parkway. Sevier County, Tennessee resident Gian Montana Spagnolo died in a May 2 accident on the Spur that rendered his vehicle unrecognizable. NPS photo
Per capita deaths low in WNC
While the Smokies and the Parkway both sit high on the list of total deaths for the Park Service's 423 units, their rankings would fall tremendously if calculated in terms of deaths per visitor.
In 2020, the Parkway was the most-visited National Park unit, and the Smokies came in third — while rankings vary from year to year, both parks typically sit near the top of the list. Even with vehicle crash numbers included, the parks took seventh and fifth, respectively, for total deaths, indicating that they rank lower in fatalities than in overall visitation.
In October 2020, Nevada-based Panish Shea & Boyle LLP ran a detailed analysis of this question using figures for 2007-2018 and concluded that Washington's North Cascades National Park was the deadliest unit in the Park Service, with 19 deaths and 291,255 visits over the years in question for 652.35 deaths per million visitors. Denali National Park & Preserve came in second with 100.5 deaths per million, followed by Upper Delaware Scenic & Recreational River at 68.52 deaths per million. The Smokies appeared all the way down at 45th place, with 6.82 deaths per million visitors, trailed by the Parkway in 53rd place, with 5.31 deaths per million visitors.
"I think that so many of the fatalities that we see are due to just honest accident," said Worth. "And when you see a lot of visitors in a place that is like the Smokies, accidents are going to happen, especially as it pertains to motor vehicle crashes. People really need to come prepared to take their time and use the pullouts and take turns so that different drivers get to experience the views."
Brandon, too, urged visitors to take it slow and think about safety when visiting the national parks, so that when it's time to leave they can head home safely, with happy memories to look back on.
"People are out in public lands more as a result of the pandemic last year and finding ways to recreate outside more. And so we want those experiences to be as memorable and happy and safe as possible," she said. "But these numbers certainly are a reminder that even the wonderful memories that are created in national parks are unfortunately not everybody's experience. Paying attention to the safety messaging and planning ahead for the visit are all proactive ways the visitor can work to ensure a better chance for a safer experience."
Know before you go
Adventure awaits at national parks across the country — but before heading out the door, be sure to visit the park's website for planning, safety and navigation tips. And wherever you roam, be sure to use Leave No Trace practices (www.lnt.org/why/7-principles/) to keep the place beautiful for future visitors.
Leave a comment
1

comment
Hikers should always notify somebody of where they are going and their expected return so that if something were to happen somebody could be informed and they would know where to begin their search as well as to realize something were wrong!

Friday, 08/27/2021