Archived News
Opioid settlement could result in drug treatment facility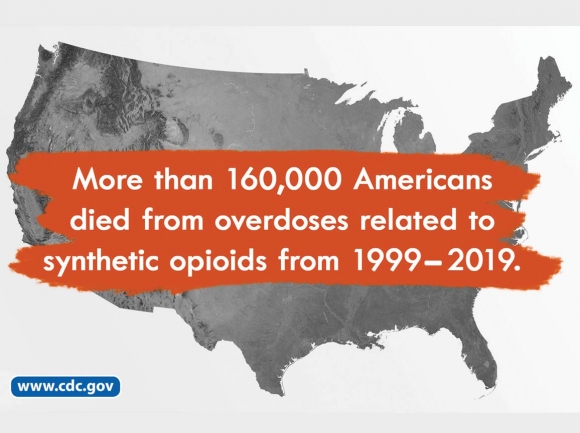 The opioid epidemic has spared no corner of the United States. U.S. Centers for Disease Control and Prevention photo
Millions in opioid settlement money is coming to the state, to most counties and even to some municipalities.
Now, elected officials like Rep. Mark Pless, R-Haywood, are looking for ways to use the windfall to undo some of the damage wrought by the deceptive marketing practices of pharmaceutical companies that fueled the nation's opioid epidemic by burying risks associated with the powerful painkillers.
In May 2018, North Carolina Attorney General Josh Stein filed a lawsuit against Purdue Pharma, alleging " deceptive and misleading statements " meant to downplay the concerns of patients and prescribers of opioid analgesics, like OxyContin.
Almost three years later, a settlement has been reached that will result in preliminary payments of more than $4.5 billion across the nation.
Last week, Stein told Capitol Tonight's Tim Boyum that North Carolina could expect $100 million over the next decade, not including future settlements with other pharmaceutical supply chain participants that would push the nationwide total to $26 billion.
An agreement between the state and the North Carolina Association of County Commissioners lays out not only how the money must be spent — there are many options, however all relate to remediation of the epidemic — but also what proportion of the settlement each of the local governments that signed onto the lawsuit will receive.
The state will take 15 percent off the top, and 5 percent has been earmarked for a special incentive fund, leaving 80 percent of the settlement for distribution to counties and cities.
Every Western North Carolina county is in line for some of that money; Buncombe will receive the most in the region, around 2.5 percent, while smaller counties like Haywood will see less than 1 percent.
Only 17 municipalities signed onto the lawsuit, so they'll all receive additional allotments. Asheville will claim another quarter-percent. The Haywood County town of Canton — the only municipality west of Asheville eligible for the additional funds — can expect another one-one-hundreth of a percent.
Rep. Pless, who like many of his fellow WNC legislators ran on bringing a treatment center to the area, has his sights set on the state's pool of money. He said he's asking for $4 million to fund a treatment center with detox capabilities in Haywood County.
"I had looked all over the state for something like this, specifically looking for something that did provide detox," Pless said.
What he eventually found was closer than he knew — just a few miles from the General Assembly, in Raleigh.
Founded in 2001, Healing Transitions claims its unique, peer-based recovery services for people with substance abuse disorder "rekindle a person's desire and ability to return to a meaningful, productive life." The model is a replication of the Healing Place in Louisville.
Healing Transitions is always open, presents no financial barriers and serves everyone — including people experiencing homelessness, the uninsured and the underserved — as many times as it takes to get them on the road to recovery.
"I think there are some distinguishing features about our model," said Chris Budnick, executive director of Healing Transitions. "One is our ability to serve a range of people, like people under the influence. We don't say, 'You gotta sober up before you get help.' We call it 'services on demand.' That's helpful for first responders looking for options other than jail."
There's a men's campus and a women's campus that provide emergency shelter and non-medical detox services as entry points to the long-term recovery program.
The only caveat is that entrants must be 18 years of age or older and a resident of Wake County, although proof of residency is less important than proof of a tie to the community.
Long-term recovery begins with motivation; entrants to the program attend classes and meetings in exchange for a bed and a place to keep their things.
After motivation comes commitment, when participants pitch in to help with the operations of the campus while engaging in peer accountability. They also take job readiness and life skills classes from Wake Technical Community College, while focusing on finding employment and housing and formulating a plan to transition back into the community at large.
Once recovery program participants become alumni, they return to the campus and remain connected to resources while also encouraging others who aren't as far along in the program by teaching classes.
Governed by a board that includes local attorneys, bankers, broadcasters, businesspeople, educators and physicians, the facility's total expenses for 2020 were just over $5 million, on revenues of $4.9 million.
Of that, 53 percent comes from government sources, including the Wake County Alcoholic Beverage Control Board, Wake County government and the City of Raleigh. A further 24 percent comes from private donors, 9 percent comes from in-kind donations and almost 12 percent comes from contracting out 10 percent of beds to an area managed care organization for about $500,000 a year.
In 2020, the facility served 2,200 people, provided almost 240,000 meals and more than 82,000 bed-nights, despite temporary closures and capacity restrictions due to the Coronavirus Pandemic. The average daily census in 2020 was 348 pre-COVID, and 224 post-COVID.
Total operations in 2020 cost $55 per person, per night, an increase from $37 in 2019, however the overall revenue and expense figures for 2020 weren't dramatically different from 2019.
By comparison, Haywood Pathways Center served 202 people, provided almost 42,000 meals and roughly 18,000 bed-nights over that same time period.
The numbers, though, are not exactly an apples-to-apples comparison. Wake County has an estimated population of more than 1.1 million people, while Haywood County counts just over 60,000.
There are also some important differences between the Healing Transitions model and the Pathways model. Pathways doesn't have the capacity to provide demand-based detox services, and Pathways is stricter with its Haywood County residency requirement.
Much like Pathways, however, Pless envisions the facility as a nonprofit outside of direct government control.
"The first thing is to find the proper person to administer it," he said. "It's going to take somebody really special to follow the [Healing Transitions] model, so that's the first priority. Once we find that person, then we can kind of work on where we're going to put it."
Pless said it's not out of the realm of possibilities to construct a new building to house the program, but the facility needs to start small with the potential to be scalable.
Utilizing an existing building would expedite the timeframe in which badly needed services could begin to be delivered, and would also allow for the facility to be well-funded before ramping up fundraising to pay for ongoing operational expenses.
"We're going to need churches to help us. We're going to need individuals to help us. If local governments choose to help us, then that's fine," said Pless. "The county is going to get money from the drug settlement. The state's going to get more money, so we're going to try to get enough money in there to get them five or 10 years before they have to worry about fundraising, so that they can concentrate on [providing services]."
On July 14, Pless organized a "field trip" of sorts for elected officials from local governments in Haywood County. If Pless is successful in acquiring funding, a facility here wouldn't be a "franchise" of Healing Transitions, but rather, a brand-new start-up.
The only government not represented was the Town of Canton, due to scheduling conflicts, but Pless is planning another expedition in the near future.
Waynesville Alderman Anthony Sutton was among the group that toured Healing Transitions.
"I think it is a very good facility in that it meets the individual where they are," said Sutton. "It's not a low-barrier shelter in that people can do whatever they want. There is a structure to it. It requires people to take personal responsibility."
Sutton said administrators indicated that these types of facilities don't work as well amidst bustling downtowns, and he thinks that there are a few good locations outside of municipal limits, near the hospital or down U.S. 23/74, toward the Balsam community.
He also thinks municipal funding isn't out of the question, and the cost savings to local governments — namely, in emergency services and incarceration — would balance out the cost.
Haywood County Board of Commissioners Chairman Kevin Ensley wasn't on the trip, but said he'd heard good things about the facility and wasn't opposed to chipping in eventually on the operating costs.
"I think it might be able to do something for our jail population," Ensley said. "You either fund it there, or you fund it in the jail."
Leave a comment
1

comment
I lost my son to the opioid epidemic in 2017 and I seriously hope these funds will indeed be spent on a really good facility to treat and rehabilitate persons with addiction disorders. We (Haywood County) need to have a place where treatment is readily available and for low or no cost to the citizens in need. I would be totally invested in volunteering my time at such a facility. I hope and PRAY everyone gets onboard to make this happen, Please!

Friday, 07/23/2021