Archived News
Folkmoot USA: Celebrating diversity of the United States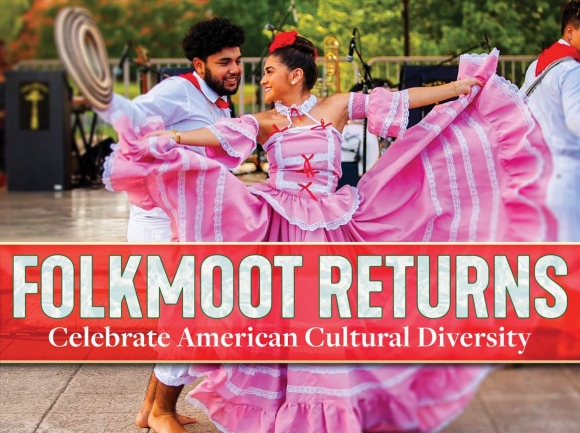 Folkmoot USA, North Carolina's Official International Festival, returns with Folkmoot Summerfest July 22-25. The theme of this year's festival is focused on American cultural diversity in music and dance.
"It's all the different cultures that make up the melting pot that is America and the immigrant cultures that have come to this country to make it what it is," said Executive Director Glenn Fields.
Folkmoot returns after a year off during the Coronavirus Pandemic. During that time, leadership changed hands when Glenn Fields took over as executive director after Angie Schwab departed the organization in 2019.
"We are determined to continue our mission of fostering understanding of cultural differences and celebrating the human experience through music and dance," said Fields.
Festival events will take place on Main Street in downtown Waynesville, at the Folkmoot Friendship Center, and at Lake Junaluska.
Popular groups from years past, such as El Alma De Luna, Warriors of Anikituwha and The Bailey Mountain Cloggers, will be returning for Folkmoot Summerfest 2021. There will also be a host of new artists, including Grammy-nominated Cajun Swamp-Rock Band, The Revelers, and 2018 Grammy Award-winning Tejano Band, Los Texmaniacs.
El Alma de Luna
El Alma de Luna is a family dance academy. Selena Stafford and her siblings started the academy in 2007 to create a space where all people are welcome to preserve tradition and explore Latin American culture. The academy places importance on language, teaching classes in English and Spanish.
"We are very happy to see that some kids who are not very familiar or don't want to practice their Spanish, after they take our classes, they feel more confident about their culture because now they are more familiar with it and they are proud of their heritage," said Stafford. "I have noticed so many kids who don't like to speak Spanish at all when they start, and then they feel so secure because this is a space where they can feel secure and where they can feel that they have an identity where their identity is celebrated."
The Charlotte based Dance Academy has over 150 students and studies, teaches and performs dances from throughout Latin America and Spain. Latin American folk dances often tell a story or represent an important part of life. When performing these dances, costumes are an important aspect of the final product.
"We have costumes from these countries and people that are in the studio, usually travel back to their countries and they bring us costumes from there. So our academy is completely international. We have kids and teenagers from all Latin America and Spain," said Stafford.
Stafford and her siblings have a varied and diverse dance education, from ballet to jazz and everything in between. While in Mexico though, they developed a passion for folk dance. They have spent a lot of time learning the folk dances of Spain and countries around Latin America from the people of those nations.
"We embrace this country, but we also like to celebrate our culture and celebrate our differences," said Stafford. "These dances have a big background and a big, beautiful story to tell about the traditions and all the history of the country."
Lois Greenfield photo
Trinity Irish Dance Company
English born, Chicago-raised Mark Howard founded Trinity Irish Dance Company in 1982 at the ripe age of 19. Just five years later, Howard had led the group to win the World Championships of Irish Dance. Since that time the group has morphed into one of the largest and most recognized Irish Dance programs in the world.
Trinity performs traditional Irish dance but has also been pushing the boundaries into modern Irish dance. The group has done several collaborations with modern choreographers, as well as folk dance groups from India and Africa. Typical Irish dance is done with arms down, clinging to the side of the body and feet movements contained to directly beneath the body. Audiences can expect to see a version of Irish dance that branches out from this "buttoned up" style.
According to the group's Associate Artistic Director Mackenzie Holland, there are two theories for why Irish dancers keep their arms at their sides. One is that by keeping arms down, more people could dance in small spaces, like the common areas of a house or narrow streets. The other is that during the British occupation of Ireland during the 18th Century, Irish dancing was banned, and dancers would keep their arms down so that British soldiers, passing by the window of a house or pub, wouldn't be able to tell the occupants were dancing.
"It's very entertaining," said Holland. "A lot of people are impressed by the precision and the variety of steps they see and how much work goes into that."
Suah African Dance Theatre
Suah African Dance Theatre is an African dance group based out of Greensboro, North Carolina. Wesley Williams started the group in 1993 as a student group at North Carolina Central University. Since 2012, when the group became an independent dance company, Suah has hired five part-time artists, three dancers and two musicians.
The group performs traditional West African and modern African dance. Specifically dances from Mali, Guinea, Ivory Coast, Senegal and The Gambia. Most of the dances in the group's repertoire are celebratory dances of the Malenka people, a population that lives across West Africa. Williams has been studying these dances from artists and villages across West Africa for almost 20 years.
There are two important types of African dance, performance style dance which is considered ballet, or city dancing, and village style dancing, which is used as communal expression in everyday life and is not intended for performance.
"Village style dancing and ballet dancing are very, very different," said Williams. "One is for the stage and one is for the community."
Village style dancing is used in situations such as prayer, weddings or baby-naming ceremonies, during which there is specific dance and music for each occasion. Such dances can become disrespectful or offensive if performed for an audience. Ballet style dance, while it may use movements originating from a village dance, is intended for entertainment. Suah African Dance Theatre studies the intricacies of both styles.
The word Suah, the name of the dance group, comes from the Tio tribe in Liberia. It is reserved for individuals who are creative, people who have innovative ideas in art, science or culture. Williams and his son created a dance to go along with the word Suah, as there is no traditional West African dance to accompany the word.
"The dance itself is designed to motivate and to push those who are gifted and advancing new ideas," said Williams.
Deeksha School of Performing Arts
Anupa Thakurta moved from India to the United States in the early 2000's to continue her passion for dance and art. Thakurta had been a trained Bharatanatyam dancer since childhood. Upon moving to the United States, she opened the Deeksha School of Performing Arts to pursue and propagate the artform into the mainstream Atlanta community, and pass it on to the next generation.
"While we perform the Indian classical dance form of Bharatanatyam, we celebrate the universality of dance — and draw inspiration from all cultures," said Thakurta. "When we dance, we may be portraying a particular theme or notion from the Indian culture, but our celebration is towards human life and emotions."
Deeksha performs the Indian classical dance form of Bharatanatyam, which is one of the oldest and the most popular dance forms in India. Bharatanatyam has been nurtured in the temples and courts of southern India since ancient times. The art form is believed to be over 2,000 years old, codified and documented as a performing art in the 19th Century. The art was handed down as a living tradition from generation to generation under which women were dedicated to temples to serve the deity as dancers and musicians forming part of the elaborate rituals.
"Due to its wide range of movements and postures and the balanced mélange of the rhythmic and mimetic aspects, the dance form, while inherently ancient, lends itself well to experimental and fusion choreography," said Thakurta.
One of the dances the group will present at Folkmoot is called "Shambho Natanam." Shambho is the other name for Lord Shiva, who is the Supreme Being in Shaivism, one of the major traditions within Hinduism. According to Hindu scriptures, Shiva is the "supreme lord who creates, protects and transforms the universe." He is also known as the "lord of the dance" or "Nataraja."
"When he dances, he expresses the rhythmic movement of the world with the 'hand drum' in one hand and 'fire' in the other. Nothing is more representative of the Hindu culture than Lord Shiva and this dance piece is an ode to him, his supremeness and the belief that with the dance, his devotees can achieve salvation," said Thakurta.
The Bailey Mountain Cloggers
In 1974, students at Mars Hill University organized the Bailey Mountain Cloggers. Since that time the group has performed throughout the United States and Internationally. The Bailey Mountain Cloggers are one of the few college-based performing clog teams in the nation. They have received performance art grants and created college credit courses and serve as ambassadors of goodwill for Mars Hill University and the folk-dance traditions of the Southern Appalachian Mountains.
During the 1950s there was another championship dance team at Mars Hill College called the Bailey Mountain Square Dance Team. Young adults from both the college and the town made up the team that toured the Southwest with founder Bascom Lamar Lunsford. By the late '50s, precision clogging had entered the Mountain Dance & Folk Festival in Asheville with James Kesterson and the Blue Ridge Mountain Dancers. Until then, only Smooth Big Circle Dance, called Mountain "Square" Dance, and freestyle clog dancing were part of the folk festival.
During the 1980s Bailey Mountain Cloggers began competition clogging and expanded its repertoire to include Big Circle Smooth, Freestyle, Country Hoedown, Kentucky Running Set, Line Dance, Show, and Percussive dance routines in addition to the original precision clog routines.
Michael G. Stewart photo
Los Texmaniacs
Los Texmaniacs is a conjunto band founded by Max Baca in 1997, in an effort to create a sound that espoused the traditions of the Tejano music he grew up with, combined with the elements of blues, rock, country and jazz. Tejano literally translates to "Texan," and is a popular musical style that arose from centuries of cultural fusing of Mexican and United States influences, both indigenous to Texas.
A conjunto band is a group or ensemble that includes elements from Mexican-Spanish vocal traditions, Czech and German button accordion, dance tunes and rhythms that migrants brought to Texas during the 19th Century. Mexican migrants and farm workers who came to the United States over the last century have made conjunto music a central part of social gatherings and a valuable force of social unity. The genre combines the storytelling and vocals of Mexico with the distinct Texas rhythm and music.
In 2010, Los Texmaniacs won a Grammy Award for Tejano Album of The Year, "Borders y Bailes." Their most recent album, "Cruzando Borders" was prompted by negative public rhetoric about the U.S.-Mexican border and Mexican culture, and inspired by the transcendent brotherhood and exquisite beauty of the border life they have experienced.
The Revelers
The Revelers, founded in 2010, play all styles of Cajun, zydeco, Swamp Pop and Americana music. Folkmoot USA Executive Director Glenn Fields is drummer for this Southern Louisiana band.
Zydeco originally evolved from Cajun, an old-world style of music brought over from Europe more than 200 years ago. Cajun is composed of syncopated, a cappella religious songs, containing mostly French lyrics, and was molded by a wide range of Southern musical influences.
The word Zydeco comes from the French-Creole colloquial expression for poverty "les haricots sont pas salés," or "the snap beans are not salty." This fusion of musical styles came to be popularly recognized as zydeco during the early 1960s.
With no leader, everyone in The Revelers sings and writes music. The Revelers have toured the U.S., Canada, the UK, Ireland, Denmark and are a festival mainstay in the South and are in-demand in the music education scene about cultural components that make up traditional music of southern Louisiana.
Cherokee
There will be several groups representing the Cherokee at this year's Folkmoot Summerfest, Warriors of Anikituhwa, Hoop Dancing by Eddie Swimmer, storytelling with Jarrett Wildcatt and Big Cove Stickball Team "Kolanvyi."
"A big part of this year's event includes involving the Eastern Band of Cherokee," said Fields.
The Warriors of Anikituhwa began in 2003 when Tribal Councilwoman Marie Junaluska wanted to offer a welcoming ceremony and dance for visiting tribes and dignitaries. The group gives new life to Cherokee dance by recreating the War Dance and Eagle Tail Dance, as they were described in 1762. Hoop Dancing, another type of Cherokee dance, performed by solo dancers, will also be showcased at the festival.
Big Cove Stickball Team "Kolanvyi," is a group of Cherokee men and boys practicing the traditional, contact game. Knowledge of the game has been passed down from generation to generation of Cherokee people.
"On behalf of the Eastern Band of Cherokee Indians I want to extend the hospitality of our tribe. I think our homelands are the most beautiful in the world. Our people have long shared our culture with visitors to the region and hosting Folkmoot is an honor. We welcome the performers and look forward to providing our community with the opportunity to experience their talents," said Vice Chief Alan B Ensley.
Lindy Hop
Lindy Hop was created by African American dancers in Harlem in the late 1920s. It is the culmination of several forms of early 20th Century American dance and has components of many folk-dance traditions including Scottish Step Dancing, Gioube Juba Dance, English Clog Dancing and Irish Jigs. Lindy Hop is an incredibly energetic and entertaining jazz style dance.
Performing the Lindy Hop at Folkmoot Summerfest will be Giselle Anguizola and Nathan Bugh, a duo who have each made their impact in American Dance, both in their hometowns and nationally.
Giselle Anguizola has been a pioneer and a unique voice in the Lindy community for over a decade. She has appeared at New Orleans Jazz Fest with Miss Sophie Lee and was featured on the television show, "After The Catch." Giselle is also the founder of Girl Jam, the first dance festival devoted to honoring women in jazz music and dance. She spends her weekends performing on the streets of New Orleans, captivating passersby with her distinctive, rhythmic style.
Nathan Bugh is known worldwide for his intimately rhythmic style of Lindy Hop and vernacular jazz. He "rocked the stage" at Carnegie Hall, dancing Lindy Hop with the New York Pops Orchestra and has performed in Harlem's famous Apollo Theater in Swingin' Frankie's Way. As a national jazz-dance competitor, Nathan has taken 1st place in Lindy, Slow Dancing, Solo Charleston, Team, Jill&Jack, and Cabaret divisions. He is one of the most eminent solo-jazz contestants in the world, having won both the Ultimate Lindy Hop Showdown (2012) and International Lindy Hop Championships (2014).
Schedule
• Thursday, July 22: Opening night will take place at the Folkmoot Friendship Center in Waynesville. The festival will begin with food and drinks in the cafeteria, with musical entertainment provided by Los Texmaniacs. Then, from 7 to 9 p.m. in the auditorium, guests will get a sneak peak of some of the groups performing throughout the weekend. The night will end with a performance by The Revelers.
• Friday, July 23: On Friday night there will be a performance at the Nanci Weldon Open Air Gym at Lake Junaluska. Families are invited to set up blankets or chairs in the lawn where kids can play. It will be free for children 12 and under to attend. There will also be food trucks on site. The event will run from 6 to 10 p.m.
• Saturday, July 24: Saturday will see the return of International Day from 10 a.m. to 4 p.m. on Main Street in Waynesville. Both Haywood Community College (Clyde) and John C. Campbell Folk School (Brasstown) will be at the festival doing demonstrations of different arts and crafts they teach. There will be three stages on which different dance and musical groups will be performing throughout the day.
• From 4:30 to 6 p.m. on Saturday there will be a stickball demonstration at Lake Junaluska by one of the Cherokee stickball teams, where attendants can watch and learn about the sport.
• Saturday evening, beginning at 6 p.m. there will be live music and international foods. Dance performances will begin at 7 p.m.
• Sunday, July 25: Stuart Auditorium will once again be home to the closing ceremony performance from 2 to 5 p.m. on Sunday afternoon. Due to the ample seating available, social distancing will be possible.
For more information or to purchase tickets, visit www.folkmoot.org.