Archived News
Masks will be optional in Haywood schools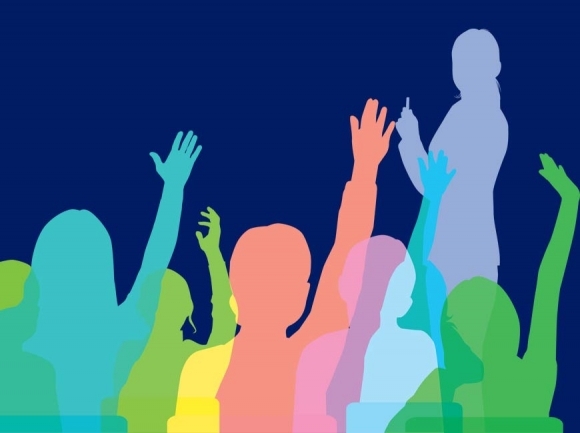 Following contentious public input, and relatively little board discussion, Haywood County Schools will begin the 2021-22 school year without a mask mandate.
North Carolina Gov. Roy Cooper released new health guidelines for North Carolina Public Schools last week, part of which ended the state-wide mask mandate as of July 30 and gave local boards of education the power to decide if, when and how masking would be required in schools.
Those same guidelines, outlined in the StongSchoolsNC Public Health Toolkit, recommended that schools with grades K-8 require students, staff and visitors to wear masks indoors. Masking is advised because children under the age of 12 have not yet been cleared for vaccination. The updated guidelines recommend that schools with grades 9-12 require masks for all students, staff and visitors who are unvaccinated. According to Dr. Mandy Cohen, only 24 percent of North Carolinians age 12-17 are vaccinated. In Haywood County, that number is far lower at just 9 percent.
The CDC recommends that all students and staff in grades k-12 wear masks indoors, regardless of vaccination status.
This is not the first time the Haywood County School Board has taken on the issue, having previously attempted to do away with a mask mandate in Haywood schools. At a June school board meeting, a motion was made to allow students and staff not to wear masks. Board attorney Pat Smathers warned the school board that such a move would be illegal. The board took his advice and instead passed a motion stating that they publicly opposed the mask mandate.
Public Health Official Recommendation
Haywood County Health and Human Services Director Sarah Henderson Haywood County Medical Director Dr. Mark Jaben presented information to the board at the special called meeting July 27. Both health officials recommended that Haywood County Schools either start the year with the guidelines laid out by North Carolina Health and Human Services, or devise standards of transmission and infection rates that would determine the need for temporary mask mandates in the future.
"Tonight the conversation's around mask or no mask in school, but this might not be the actual question we should be asking," said Jaben. "Rather, to achieve both learning and safety, the better questions might be, what is the threshold of infection above which we get neither learning nor safety? What must we do to provide that margin of safety? And where are we right now?"
Jaben said that in his view, making masks optional is essentially like having no masks, in terms of the risk of someone's choice upon someone else. He stressed the need for flexibility in decision making in order to be able to require masks if cases are surging to dangerous levels and pivot away from masks if numbers come down within the margin of safety.
The board did not discuss what would be done in the future regarding masks if case counts or transmission rates got too high.
In Henderson's presentation to the board, she outlined the consequences of making masks optional. Without masks, all students in a classroom will be considered close contact if another student in the classroom tests positive for COVID-19. According to Henderson, during the last 53 days of the 2020-21 school year there were 62 positive COVID-19 cases in the school system. If the same number of cases occurred while not wearing masks, over 1,000 students would have had to quarantine for 14 days.
Henderson expressed the concern that if students returned to school without masks, the number of students that would be required to quarantine due to close contact would be extremely high.
"It's about healthy children and that's why we're here. We all have the same goal and it's to keep our kids in the classroom," she said.
According to Henderson, around 9 percent of Haywood County residents age 12-17 are vaccinated.
Public Input
In addition to county health officials, 16 parents spoke during the public comment portion of the meeting. Of those, 14 asked the board to start the year without a mask mandate, or allow them to be optional, and two pleaded with the board to continue requiring masks.
Parents asking the board to make masks optional most often cited the pain and hardship mask wearing puts on children. Some said that if masks were only required for unvaccinated students, unfair segregation would ensue. Many claimed that wearing masks didn't serve any protection against the virus, and that since children had not been wearing masks at summer camps, sports and church activities, they shouldn't have to wear them to go back into the classroom.
"Standard cloth surgical masks offer no protection. The particle that comes through is 60 to 140 nanometers or one micron. The pore size in a surgical mask is 200 to 1,000 that size. They are basically nothing. They don't help our children whatsoever," said Stephanie Bell, a parent who has spoken at several of the most recent board meetings imploring the board to stop requiring masks.
One father said that even in an air-conditioned space, when wearing a mask he feels fatigued and loses cognitive ability, his logic and reasoning are slowed, his throat becomes sore, eyes watery, head achy, vision blurry and he has difficulty concentrating.
According to the CDC, masks are a simple barrier to help prevent respiratory droplets from reaching others. Studies show that masks reduce the spray of droplets when worn over the nose and mouth.
Kay Miller, chairwoman of the Haywood County Republican Party, also spoke at the meeting.
"This is a liberty issue, and don't let anyone tell you that if you don't support this, that you're selfish or you don't care about your neighbor or your family member, it's liberty. It's about liberty. This whole exercise this last year has been about control and compliance. It's time to stop the compliance, and we're not going to put up with the control," said Miller. "If Governor Cooper reinstates a mask mandate, don't do it. I encourage you to not do that. Listen to the parents of the children that are in the schools and those of us who pay taxes. We have a voice."
Several parents that asked the board to make masks optional blamed the board for children having to wear masks over the past year and a half. However, until July 30, masks were state mandated and local school boards had no power over the decision. Despite that, members of the school board had previously tried to buck state requirements and allow children to attend summer school mask-free.
"It's ridiculous as the board members yourselves that are making the rules and handing them down to these children. You have to stop. If these children, the parents that pay your paychecks, vote for you and put you on the board. We're asking you to please, as residents of the county to stop," said Rachel Price.
Parents that were pleading with the board to keep masks mandatory for students and staff cited the safety of children, as well as teachers and staff. They said that until everyone, including children under the age of 12, had the chance to get vaccinated, the safest option would be to keep wearing masks.
"Children need their education and social activities, and parents need to get back to work. The best way for these things to happen is for students and teachers to stay healthy," said Virginia Moe. "If our schools become sources of contagion, no learning will take place when people are sick. Your responsibility is teaching and learning. You are on the school board because you care about Haywood County. You care about the citizens. You care about the students and the teachers. We are relying on you as our school leaders to keep our schools safe places where students can learn."
Natasha Bright asked that a mask mandate remain in place, until parents who would like to vaccinate their children have the opportunity to do so.
Board Decision
After a long meeting of input from the public and Haywood County Health officials, discussion amongst board members was brief.
"It has been our desire since the beginning to make sure our children are treated fairly, respectfully and to do what's right for them in every decision we make. So we appreciate you all being here and giving us your input," said Board member Bobby Rogers.
Board members David Burnette and Jimmy Rogers echoed thanks to the community for sharing input and thoughts on the issue.
"My personal goal is to make sure that every person is treated fairly, that we protect our rights and our freedoms, and at the same time try to protect the health and the welfare of all the students and educate them. And that's a fine line and hopefully we do what's best for the children," said Burnette.
Chairman Chuck Francis expressed his personal view concerning politicization of the issue at hand, as well as that of establishments at large.
"I feel like this has become highly politicized, unfortunately," said Francis. "And unfortunately, I think some of our scientific communities nationwide have fallen prey to politics at times and unfortunately it's caused a lot of emotions. The establishments that we trusted and we lived our whole lives looking for guidance, has somewhat let me down and I feel like we've come to a point in our nation where we need to protect those that cannot be protected, our children."
Francis then suggested that Haywood County Schools start the school year without a mask mandate.
"I think that the Haywood County Consolidated School system, following the termination of the current mask mandate on July 30 at 5 p.m., make mask wearing optional for all personnel, students and visitors to schools and facilities in Haywood County," he said.
Francis asked the board if anyone would like to make a motion to that effect. Rogers made the motion, seconded by Logan Nesbitt, which passed unanimously.
Leave a comment
13

comments
Organisms better adapted (vaccines/masks) to their environment (Covid) survive and produce more offspring. That's called "natural selection" and it's an integral part of evolution. Sorry Mr. Ammons. It ain't "Leftists" who are refusing vaccination and masks. Hope you and your family get vaccinated and wear masks. These are serious times!

Tuesday, 08/03/2021

Screw all you sheep that go along with the so called 'science' that has been dished out by so called experts with a political and financial agenda. This is America. Not Communist China unless you morons want to live in a similar society.

Saturday, 07/31/2021

Well sounds like the school board cowardly just got out of making a definite decision. The CDC recommends these kids wearing a mask at first just to determine what it will lead too. If there are large numbers of these children getting sick and hospitalized then the board will be blamed no matter how much the parents have protested and are against wearing masks. It's not the kids complaining. The parents could possibly find themselves in helping teach their kids again in the remote learning thing. It will not hurt these kids to wear a mask it only hurts the parents and they feel like they know best for their own child but in some cases be more open to the facts.

Friday, 07/30/2021

If this latest variant of Covid trims the herd of Leftists in this world, then all the better. Bring it on!

Friday, 07/30/2021

The 2020-21 school year had us wearing masks, having our temperature taken each morning, social distancing to the best of our ability, and sanitizing surfaces continually. To my knowledge, those things were very effective as I understand that NONE of the positive cases of COVID that resulted in students missing school were through transmission within the schools. I don't enjoy wearing a mask, but I do care about my fellow humans that I share this world with. I care enough to do something as simple as wearing a mask. It's really not a big deal and I simply can't understand the problem. This decision by our board makes me very nervous.

Friday, 07/30/2021

The 2020-21 school year had us wearing masks, having our temperature taken each morning, social distancing to the best of our ability, and sanitizing surfaces continually. To my knowledge, those things were very effective as I understand that NONE of the positive cases of COVID that resulted in students missing school were through transmission within the schools. I don't enjoy wearing a mask, but I do care about my fellow humans that I share this world with. I care enough to do something as simple as wearing a mask. It's really not a big deal and I simply can't understand the problem. This decision by our board makes me very nervous.

Friday, 07/30/2021

Making masks optional, in view of the current CDC recommendations and unanimous scientific and medical advice, is equivalent to abdicating responsibility for the illnesses and death that will inevitably occur. We deserve better from our school board.

Friday, 07/30/2021

WOW! Hard to believe! As public servants/leaders, the School Board members should set aside their personal political beliefs and conspiracy theories that the government is out to get them, and do what is right for the children, teachers and families of Haywood County. Apparently they are more concerned about how it makes THEM feel than to consider how their actions could cause someone to die. This is not a political issue, IT'S A HEALTH ISSUE!!! So thankful I don't live in Haywood County, nor have children or grandchildren attending their schools.

Friday, 07/30/2021

Kudos to the members of the Haywood County School Board for a non-partisan decision allowing freedom of choice.
Staff, school visitors, students may wear masks—if they choose to do so.
Many people have had it with the flip-flopping nonsense from the CDC, the censorship of doctors and other citizens who have successfully navigated this virus, and the restrictions on FDA approved medicines like ivermectin to save lives!
Feel free to wear one, two, or three masks, take the shot if you believe in it, and stay home if you are scared.
For the rest of us, let freedom ring!

Friday, 07/30/2021

Here I'll fix your head line.. Local officials have no spine against local uneducated right wing nuts! Or Local officials decide to believe problem does not exist.

Friday, 07/30/2021

Well I know who I will not be voteing for. Going against science and recomindations of the experts puts my child and others in unnecessary risk. Then god forbid they brig it to a loved one at home. This is a health crisis and a damn death epidimic it should be taken more serious by our elected officials.

Friday, 07/30/2021

Ridiculous.
CDC and the state as well as county health officials STRONGLY recommending masks in schools.
My child is immune compromised, who will care enough to ensure his mask stays on?
What will stop a staff member from instructing him to remove it so they can hear or understand him better?
I am VERY disappointed in & disgusted by this decision, & the elected officials, (that MY taxes pay too, by the way) who made it.

Thursday, 07/29/2021

Ridiculous.

Thursday, 07/29/2021