Archived News
School boards make different decisions on masks
Wednesday, August 04, 2021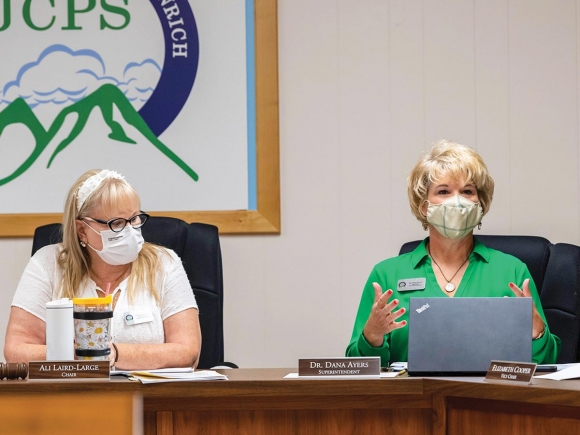 Jackson County School Board Chairwoman Alli Laird-Large (left) and Superintendent Dr. Dana Ayers during discussion of masking options for the upcoming school year.
Due to an increase in COVID-19 cases and transmission rates following the spread of the Delta variant, the Centers for Disease Control and Prevention has updated its guidance for public schools to recommend universal masking for students, staff and visitors in grades K-12.
North Carolina Gov. Roy Cooper had already announced new health guidelines for North Carolina public schools on July 21, which suggested schools should require masks indoors for all students and staff in grades K-8, and students and staff in high schools who have not been vaccinated should also be required to wear masks indoors.
Those guidelines from the Governor's Office however, gave local school boards the power to decide what their local mask policies would be.
"Local school districts should continue to protect students and staff by requiring masks and testing as outlined in the guidance," said Cooper. "The most important work our state will do next month is getting all of our children back into classrooms safely for in-person learning. That's the best way for them to learn, and we want their school days to be as close to normal as possible, especially after the year of disruption they just had."
With the start to the 2021-22 school year just around the corner, and COVID-19 cases surging, North Carolina Health and Human Services updated the StrongSchoolsNC Public Health Toolkit for the second time in one week. The Toolkit provides guidelines for North Carolina Public Schools to operate safely during the COVID-19 Pandemic, according to the latest guidance from CDC and the American Academy of Pediatrics.
The latest update, made July 29, proposes universal masking indoors for students, staff and visitors to schools with grades K-12 due to the current rapid increase in COVID-19 cases, caused by the Delta variant. According to the Public Health Toolkit, while the original virus spread from one person to an average of two or three people, the Delta variant is spreading from one person to an average of six people.
Haywood County
Following contentious public input, and relatively little board discussion, Haywood County School Board decided to begin the 2021-22 school year without a mask mandate.
This is not the first time the Haywood County School board has taken on the issue, having previously attempted to do away with the state's mask mandate in Haywood schools last summer. Board attorney Pat Smathers warned the school board that such a move would be illegal. The board took his advice and instead passed a motion stating that the board publicly opposed the mask mandate .
Haywood County Health and Human Services Director Sarah Henderson and Haywood County Medical Director Dr. Mark Jaben presented information to the school board at the special called meeting July 27. Both health officials recommended to either start the year with the guidelines laid out by the state or devise standards of transmission and infection rates that would determine the need for temporary mask mandates in the future.
"Tonight, the conversation's around mask or no mask in school, but this might not be the actual question we should be asking," Jaben said. "Rather, to achieve both learning and safety, the better questions might be, what is the threshold of infection above which we get neither learning nor safety? What must we do to provide that margin of safety? And where are we right now?"
Jaben said that in his view, making masks optional is essentially like having no masks, in terms of the risk of someone's choice upon someone else. In his presentation to the board, he stressed the need for flexibility in decision making to be able to require masks if cases are surging to dangerous levels and pivot away from masks if numbers come down within the margin of safety.
The board did not discuss what would be done in the future if case counts or transmission rates continue to rise.
Henderson outlined the consequences of making masks optional. Without masks, all students in a classroom will be considered close contact if another student in the classroom tests positive for COVID-19. According to Henderson, during the last 53 days of the school 2020-21, there were 62 positive COVID-19 cases in the school system. If the same number of cases occurred while not wearing masks, over 1,000 students would have had to quarantine for 14 days.
Henderson expressed the concern that if students returned to school without masks, the number of students that would be required to quarantine due to close contact would be extremely high.
"It's about healthy children and that's why we're here. We all have the same goal and it's to keep our kids in the classroom," said Henderson.
According to Henderson, around 9 percent of Haywood County residents age 12-17 are vaccinated.
In addition to county health officials, 16 parents spoke during the public comment portion of the meeting. Of those, 14 asked the board to start the year without a mask mandate, or allow them to be optional, and two pleaded with the board to continue requiring masks.
Parents asking the board to make masks optional most often cited the pain and hardship mask wearing puts on children. Some said that if masks were only required for unvaccinated students, unfair segregation would ensue. Many claimed that wearing masks didn't serve any protection against the virus, and that since children had not been wearing masks at summer camps, sports and church activities, they shouldn't have to wear them to go back into the classroom.
"Standard cloth surgical masks offer no protection. The particle that comes through is 60 to 140 nanometers or one micron. The pore size in a surgical mask is 200 to 1,000 that size. They are basically nothing. They don't help our children whatsoever," said Stephanie Bell, a parent who has spoken at several of the most recent board meetings imploring the board to stop requiring masks.
Kay Miller, chairwoman of the Haywood County Republican Party, also spoke at the meeting.
"This is a liberty issue, and don't let anyone tell you that if you don't support this, that you're selfish or you don't care about your neighbor or your family member, it's liberty. It's about liberty. This whole exercise this last year has been about control and compliance. It's time to stop the compliance, and we're not going to put up with the control," said Miller. "If Gov. Cooper reinstates a mask mandate, don't do it. I encourage you to not do that. Listen to the parents of the children that are in the schools and those of us who pay taxes. We have a voice."
Several parents that asked the board to make masks optional blamed the board for children having to wear masks over the past year and a half. However, until July 30, masks were state mandated and local school boards had no power over the decision. Despite that, members of the school board had previously tried to buck state requirements and allow children to attend summer school mask-free .
"It's ridiculous as the board members yourselves that are making the rules and handing them down to these children. You have to stop. If these children, the parents that pay your paychecks, vote for you and put you on the board. We're asking you to please, as residents of the county to stop," said Rachel Price.
Parents that were pleading with the board to keep masks mandatory for students and staff cited the safety of children, as well as teachers and staff. They said that until everyone, including children under the age of 12, had the chance to get vaccinated, the safest option would be to keep wearing masks.
"Children need their education and social activities, and parents need to get back to work. The best way for these things to happen is for students and teachers to stay healthy," said Virginia Moe. "If our schools become sources of contagion, no learning will take place when people are sick. Your responsibility is teaching and learning. You are on the school board because you care about Haywood County. You care about the citizens. You care about the students and the teachers. We are relying on you as our school leaders to keep our schools safe places where students can learn."
Natasha Bright asked that a mask mandate remain in place, until parents who would like to vaccinate their children have the opportunity to do so.
After a long meeting of input from the public and Haywood County Health officials, discussion amongst board members was brief.
"It has been our desire since the beginning to make sure our children are treated fairly, respectfully and to do what's right for them in every decision we make. So we appreciate you all being here and giving us your input," said Rev. Bobby Rogers.
Board members David Burnette and Jimmy Rogers echoed thanks to the community for sharing input and thoughts on the issue.
"My personal goal is to make sure that every person is treated fairly, that we protect our rights and our freedoms, and at the same time try to protect the health and the welfare of all the students and educate them. And that's a fine line and hopefully we do what's best for the children," said Burnette.
Chairman Chuck Francis expressed his personal view concerning politicization of the issue at hand, as well as that of establishments at large.
"I feel like this has become highly politicized, unfortunately," said Francis. "And unfortunately, I think some of our scientific communities nationwide have fallen prey to politics at times and unfortunately it's caused a lot of emotions. The establishments that we trusted and we lived our whole lives looking for guidance, has somewhat let me down and I feel like we've come to a point in our nation where we need to protect those that cannot be protected, our children."
Francis then suggested that Haywood County Schools start the school year without a mask mandate.
"I think that the Haywood County Consolidated School system, following the termination of the current mask mandate on July 30 at 5 p.m., make mask wearing optional for all personnel, students and visitors to schools and facilities in Haywood County."
Francis asked the board if anyone would like to make a motion to that effect. Rogers made the motion, seconded by Logan Nesbitt, which passed unanimously.
According to Shining Rock Classical Academy School Director Josh Morgan, SCRA — the only public charter school in Haywood County — will begin the year with a mask mandate indoors for all students and staff. The decision was made with guidance from Haywood County health officials.
Jackson County
Jackson County Schools will begin the 2021-22 school year with a mask mandate for all students, staff and visitors, with a plan to reassess the mandate regularly as the school year progresses.
Superintendent Dr. Dana Ayers presented the school board with three options for masking to start the 2021-22 school year. Option A would require masks for all students and staff grades K-12. Option B would follow Gov. Roy Cooper's guidance and require masks for all students and staff in grades K-8, as well as unvaccinated students and staff in grades 9-12. Option C would make masks optional for everyone.
Regardless of which option the board chose, Ayers laid out a schedule for the decision to be reassessed at board meetings throughout the school year. When discussion opened up to the board, member Wes Jamison asked, "If you're unmasked and a student tests positive for COVID, that classroom is basically shut down, is that correct?"
Ayers confirmed that was correct. According to current health guidelines in the Public Health Toolkit , if students are unmasked in a classroom and one of those students tests positive, all students in the classroom would be considered a close contact and would have to be quarantined for at least 10 days.
According to the Toolkit guidelines, anyone who is fully vaccinated, and has no symptoms of COVID-19, does not need to quarantine after having close contact with an infected person. The same is true for people who have not been vaccinated, as long as the subjects were appropriately and consistently distanced and wearing masks.
"I think all of us feel that we would like to keep the schools open and the classrooms open as much as we can," said Board Chairwoman Ali Laird-Large.
Large noted that if masks were optional, it would be difficult to ascertain who is vaccinated and who is not.
"It's most important for our kids to be in the classroom five days a week, because we did not get that for the last year and a half," said Board Member Abigail Clayton.
The board decided to go with option A, requiring masks for all students, staff and visitors indoors. They felt this option would give students in Jackson County Schools the best chance at in-person instruction, five days per week. Elizabeth Cooper made the motion, which was seconded by Clayton.
"I want to make everyone aware that we will be revisiting this," said Laird-Large.
According to Ayers' plan, the decision will be reassessed at the Sept. 28, Nov. 23, Jan. 25 and March 22 board meetings.
"That doesn't mean it can't be discussed at every meeting, but it will be on the agenda at those meetings," said Ayers.
"I think we all hope that this isn't something that has to continue the entire school year," said Clayton.
JCPS athletic programs will follow current NCHSAA guidelines. However, after July 30, the requirement for athletes to wear masks during indoor activities will become a local option. The board delegated this issue to school administration.
Macon County Schools
Superintendent Dr. Chris Baldwin and public health officials will continue to monitor the situation, but based on current COVID-19 transmission rates in Macon County, the school system plans to start the school year without a mask mandate.
At the Macon County School Board meeting July 22, five parents spoke in public comment to express the view that Macon County Schools should not require masks for students during the 2021-22 school year.
The first woman to speak said, "I believe it is in the best interest of the psychological development of our children to get rid of these masks." She argued that children were scared and that by wearing masks at school they were in greater danger of human trafficking because teachers and staff were not as easily able to identify a child while they are wearing a mask.
Another woman asked that masks be optional for children. She said that children have been involved in sports, summer camp and church opportunities without masks and that they shouldn't be required to wear them when they head back to school. She also argued that children do not keep their masks clean or well-cared for and they are therefore ineffective. This woman's husband spoke next, echoing concerns about masks and asking that children not be required to wear them.
"I honor and respect that some people feel like they want to wear a mask, that's fine. But the other side of that is, the respect has to go both ways," said another man, imploring the board to make masks optional.
Baldwin said that because face coverings would be a local option, according to the new guidance from the state level that will take effect July 30, he has been in regular conversation with Macon County Public Health Director Kathy McGaha about the best course of action moving forward.
"Based on the current level of COVID-19 transmission in our community, she does not recommend starting the school year off requiring face coverings," said Baldwin.
Baldwin noted that this recommendation is based on current transmission rates, and there are several weeks before school starts. Baldwin and McGaha will continue to monitor the situation in order to make the safest decision for Macon County Schools.
"She and I will continue to monitor the COVID transmission rate in our community and will also discuss parameters and thresholds regarding what level of transmission within the community, what level of transmission within the schools might lead us to have a temporary face covering requirement at some time," said Baldwin.
Baldwin said that while he and McGaha would continue to monitor the situation, they were hopeful Macon County Schools would begin the school year without a face-covering mandate. The board will discuss the matter further at their Aug. 16 meeting.
Swain County Schools
The Swain County School Board decided July 29 to make masks optional for all students, staff and visitors. In making this decision, the board made clear that the decision was based on current conditions and was subject to change if COVID-19 transmission rates grow to dangerous levels in the community.
Superintendent Mark Sale presented a staff survey to the school board. According to Sale, two thirds of staff responded to a survey regarding masks in schools. Of those who responded, two thirds wanted masks to be optional for students and staff in schools. One sixth of respondents wanted all students and staff to be masked indoors.
Swain County Health Department Director Alison Cochran presented current COVID-19 information to the school board. According to Cochran, 40.7 percent of the total population of Swain County have been vaccinated. Of the 12-17 age population, 258 people have been vaccinated. Cochran said that the Moderna vaccine should be available to people age 12-17 beginning Aug. 1.
The board discussed the importance of flexibility in the decision about masking in schools, and the retaining the ability to change course quickly when conditions require.
A motion was made to make masks optional at this time, a decision that can change according to conditions in the schools or community. The motion passed unanimously. The decision about mask requirements will be reassessed as necessary.