Archived News
A new phase for Pathways Center
Wednesday, August 11, 2021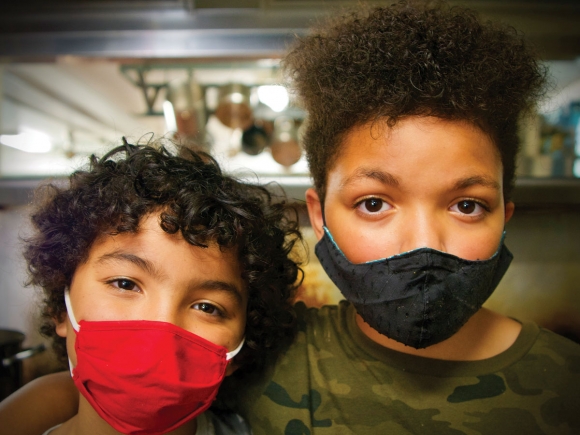 Faylen (left) and Liam Kelly helped prepare dinner at Pathways on Aug. 7. Cory Vaillancourt photo
It's been nearly seven years since Haywood Pathways Center served up its first meals to the needy, after the then-prison was famously "flipped" by television renovation star Ty Pennington into its current incarnation as a faith-based residential recovery center. Yet, the need still remains.
In fact, over those seven years it's never waned, and with the litany of issues that led to its creation — homelessness, drug abuse, recidivism — now complimented by COVID-19, an affordable housing crisis and a distinct lack of year-round living-wage jobs, Pathways remains an important community resource that transforms lives while saving taxpayers money.
As Pathways matures and evolves, so must its approach. Plans both complete and underway suggest Pathways is now about to serve up a heaping helping of workforce development.
HOLY COW!
Shortly after the creation of Pathways in late 2014, the nonprofit's governing board set up a five-year plan. A recent addition to the Pathways portfolio marked the completion of that plan.
"With the opening of Holy Cow, that was our last big goal on our original plan — to open a social enterprise," said Executive Director Mandy Haithcox of the cleverly named food truck launched in September 2020.
Starting a new line of business during the pre-vaccine days of the Coronavirus Pandemic was not a great decision for some, but fortuitously, it worked out for Pathways as traditional bricks-and-mortar restaurants struggled with capacity limits and sheepish crowds hesitant to gather.
"We've had overwhelming support from the community and we've felt very loved with all of that," Haithcox said. "Our generator just died and so we've not been out for a couple of weeks, but we hope to be back out this week, and we we're at a point where we're breaking even so we feel like we're doing pretty good with that."
The truck operates with a supervisor and two line cooks, both of whom are former Pathways residents that made it through the faith-based recovery program and are now gainfully employed.
It's by no means the first time former residents have moved out into the community into the workforce; Pathways has had an employment specialist for some time now, and will continue to utilize that position by making connections with employers across the county.
But now that the initial five-year plan is history, directors met this past March to craft a new one, and not surprisingly, it has a special focus on food.
The vast majority of food at Pathways is donated. Cory Vaillancourt photo
"I think what's important to talk about is we really wanted to make sure that we are sharing our story and want to be able to engage our churches in our community again, especially because we've been providing services throughout COVID, but we've been closed to volunteers up until January of this year," said Haithcox. "Everyone's kind of reticent to come back, as are we to allow a whole influx of people, but we want to engage folks."
One of the ways Pathways has driven that community engagement is through its volunteer programs, especially the cook teams who show up to craft meals for the program's residents every single night of the week. Residential capacity at Pathways is 96 people, although the facilities remain at 80 percent capacity because of the congregate nature of the living environment.
"Right now, we only have 12 cook teams," Haithcox said. "We had 35 before COVID. We value our partnerships with the cook teams, because that's a huge piece of how we connect folks to community and, people are able to foster connections that way."
Pathways' campus closed to volunteers for several months back in 2020, meaning no more cook teams. Now that it's open again, many of the teams — churches, civic organizations and the like — have found different ways to spend their time and haven't returned.
"Well, one, I think we didn't have cook teams at all for a while, so people don't know that we are taking people back. We are still requiring masks on campus inside for safety reasons because we're communal living, and that includes cook teams. You know, it's uncomfortable. People don't necessarily want to do that."
Staffers and residents have pitched in when necessary, but the recent resignation of the kitchen manager could have been perceived as another setback. Haithcox, however, saw it as an opportunity.
"One of the bigger pictures or bigger goals we want to implement is an official employment and vocational skill training route," she said.
That being said, a new kitchen manager is about to transform the way Pathways graduates residents back into the workforce.
Haithcox didn't want to reveal the name of the person Pathways had selected for the position, but she expects that if all goes well, they'd begin work in the next few weeks, doing many of the things the previous coordinator did, with a few notable exceptions.
Cook teams are a vital link in community engagement at Pathways. Cory Vaillancourt photo
"If it's the person that we hope it will be, they have a unique set of skills and experience of being an executive chef for decades, being the head of culinary departments in colleges, and also working in homeless shelters and helping develop soup kitchens and social enterprises," Haithcox said. "It's not something you find every day."
First, some residents don't know much about cooking healthy, nutritious meals for themselves. That could change with the inclusion of life skills classes designed to provide residents with instruction on how to make things that are good, and good for them.
Second, residents could end up with intensive job skills training as they progress through recovery, so when they leave Pathways — or perhaps, even before that — they can help satisfy current demand for workers in the food service industry.
"So instead of the fast food positions, we can look at higher-end restaurants, which typically pay a little bit more and ideally we'd be able to have people go from being in whatever class it is to volunteering or working on the food truck, to have real life skills, be able to put it on their resumes, so they can build on that," Haithcox said.
Finally, the new kitchen coordinator could help manage that important community connection — the cook teams.
More than half of the remaining days in August have no cook team scheduled, but on a recent Saturday, Chaplain Bob Cummings, of the Holy Resurrection Orthodox Church in Waynesville, showed up with his regular crew of volunteers.
Among them were Faylen, 8, and Liam Kelly, 11. The Kelly boys came with their mother, who said she's trying to teach the kids responsibility and service, and keep them on the right path.
"I was excited," said Faylen, who spent the afternoon stirring salsa for the 120 tacos Cummings and others had prepared. "I mean, it's really helpful to the homeless and people who don't get to eat because they're recovering and if they don't have anything to drink or eat they're going to pass away, so we've got to do something about it."
Liam said that if someone asked him about volunteering at Pathways, he wouldn't hesitate to recommend it.
"They need help in recovering," he said. "Coming here would be a very good opportunity. Everyone's very nice, and it's a very good experience."
You can help
Haywood Pathways Center is appreciative of the volunteers and donors who help keep residents moving on the right path toward productive, self-sufficient lifestyles. Cash is always welcome, however there are plenty of other ways — your valuable time, for example — that you can advance the Pathways mission, "To glorify God by proclaiming and showing love through a Christ-centered ministry that brings life transformation in a safe, accepting and caring environment." Cook teams, drivers, tutors, babysitters, front desk clerks and chaplains are always welcome, as are tradespeople with special skills like plumbing, carpentry and landscaping. To volunteer, call or email Jasmine at 828.246.0332 or This email address is being protected from spambots. You need JavaScript enabled to view it.. To make a tax-deductible donation, visit www.haywoodpathwayscenter.org.
Leave a comment
2

comments
A very good article on the wonderful work that Haywood Pathways Center does. Thank you for telling their story. Their staff are big hearted and hard working and believe in the cause. It's a sad statement that Waynesville has such a homelessness problem and I take my hat off to all the staff and wonderful volunteers that keep the doors open for those neighbors in need.

Friday, 08/13/2021

Thank you for this coverage. Pathways fights this battle in the trenches 24/7/365 and they do an incredible amount of good. Their goals are getting people off the streets, helping them get housing, jobs, life skills, and learning how to give back to Waynesville and society. Anyone who wants to help cook, even if they just want to try out once or twice can contact Pathways and they'll hook you up with an established team. You'll want to keep coming back!!!!

Wednesday, 08/11/2021