Archived News
Residents file suit against Mission Health
Wednesday, August 18, 2021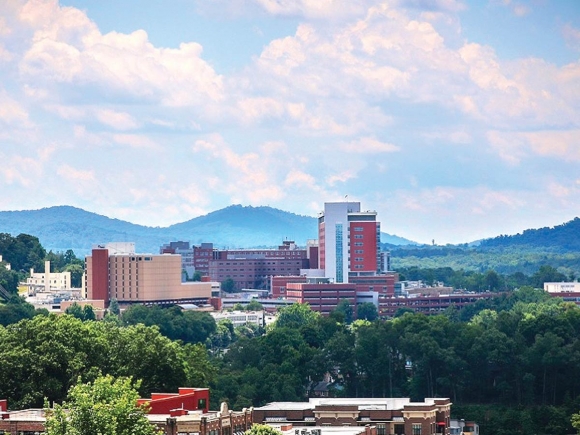 Mission Health and its parent company HCA Healthcare now face a class action lawsuit claiming the health system has a monopoly in the region.
A group of Western North Carolina residents has filed a class action lawsuit against Mission Health System and its parent corporation HCA Healthcare, claiming the health care giants are operating a monopoly that violates North Carolina's antitrust and consumer protection laws.
According to the lawsuit, HCA has monopoly market power across seven counties — 90.9% in Yancey County; 90% in Madison; 86.6% in Buncombe; 85.4% in Mitchell; 78.7% in Transylvania; 76.4% in McDowell and 74.7% in Macon.
The plaintiffs — William Alan Davis, Richard Nash, Will Overfelt, Jonathan Powell, Faith Cook and Katherine Button — claim the monopoly market share in the seven WNC counties allows the healthcare system to charge more than twice the average cost for services.
Mission Health was the last nonprofit healthcare system in the region until it was purchased by HCA in 2019. Dr. Ron Paulus, who was Mission's CEO during the purchase, claimed HCA would be able to pour more financial resources into rural healthcare. Opponents of the $1.5 billion sale, however, feared a takeover from the for-profit conglomerate would lead to higher costs and lower quality care.
The plaintiffs claim that is exactly what has happened since HCA took over, despite efforts by the Attorney General's Office to ensure the purchase agreement protected the welfare of residents in Mission's coverage areas. The purchase agreement, which had to receive approval from Attorney General Josh Stein, included a provision for an independent monitor to be the watchdog to ensure HCA/Mission was meeting its obligations of the agreement.
Gibbons Advisors was hired as the independent monitor firm and has held public input meetings across Mission's coverage area. Those meetings have often been tense, with residents expressing frustration over changes made under HCA's ownership and not getting the answers they need.
However, Mission's monopoly allegedly goes farther back than the HCA purchase. The class-action suit claims Mission has operated its hospital system as a monopoly since 1995 when it merged with its only competitor in the region — St. Joseph's Hospital. Since the merger, the lawsuit asserts that Mission became the only inpatient general acute care hospital provider in Buncombe and Madison counties.
"From 1995 until 2016, Mission was immunized from antitrust liability by a state statute under which it was issued a Certificate of Public Advantage ("COPA"). COPAs are a form of regulation in which a hospital is permitted to operate as a monopoly in exchange for subjecting itself to state oversight," the lawsuit reads. "In 2016, after years of lobbying by Mission executives, the State repealed the COPA, leaving in place an unregulated monopoly. Once that repeal occurred, both Mission and any later purchasers of its assets, including HCA, lost any immunity from suit under the antitrust laws."
According to the suit, after the COPA was repealed and before HCA purchased Mission assets, Mission engaged in "improper restraints on competition" by enforcing unlawful terms and arrangements with private payers, including commercial health plans and third-party administrators of self-insured plans.
Examples listed as improper restraints include tying all or nothing arrangements, gag clauses and other anti-competitive terms and negotiating devices. The lawsuit claims that these practices increased the prices of hospital services, insurance premiums, and copays or deductibles paid by residents in Mission's 18-county WNC service area.
HCA reported revenue of $51 billion in 2020 with a net income of $37 billion. The lawsuit asserts that HCA — the world's largest for-profit hospital chain — has been subject to about 20 prior Federal Trade Commission antitrust proceedings in the past and purchased Mission knowing full well of the monopoly it held in the region.
"When HCA purchased Mission's assets effective January 2019, HCA did so precisely because of Mission's outsized ability to dictate prices and other contract terms to its customers," the lawsuit states.
The suit also claims HCA continued these improper restraints in its agreements with commercial health plans and third-party administrators after purchasing Mission and has also refused to fully comply with a rule enacted by President Donald Trump's administration to increase transparency in healthcare pricing.
"Were HCA to comply and reveal to consumers and regulators the true prices that it charges, the public would know that HCA/Mission's prices for key services are by far the highest in North Carolina," the lawsuit reads.
For example, the lawsuit claims that according to a large commercial dataset, HCA is charging more than two times the state average for a C-section without complications.
Another claim in the suit says that HCA has been cutting costs and staff "at an alarming rate" to maximize profits and has reduced rural access to services by consolidating services at its flagship facility in Asheville. This point has been a major complaint in the western counties with Mission-affiliated hospitals, especially Angel Medical Center in Franklin and Highlands-Cashiers Hospital on the Plateau.
"HCA cannot deny the negative effects that unregulated hospital monopolies inflict on our Nation's healthcare system. Indeed, in 2018 — while it was negotiating its takeover of Mission — HCA complained to an agency in Florida about a competitor's 'monopolistic dominance,' stating that 'patients suffer from lack of access to care in their community,' they 'have little to no healthcare provider choice,' and 'this type of monopolistic environment within the healthcare market stifles innovation and breeds a culture that negatively impacts the cost and quality of care.'"
The lawsuit came as no surprise to Franklin Mayor Bob Scott, who had major concerns about how HCA's purchase of Mission hospitals would impact his town's rural hospital and local services. Even before the purchase, Scott and many others in Macon County were outraged when Mission decided in 2017 to shut down Angel Medical Center's labor and delivery unit. That closure forced expectant mothers to either drive 25 minutes over the mountain to Harris Regional Hospital in Sylva or drive over an hour to deliver at Mission Hospital in Asheville.
Scott called out elected leaders on Facebook after the lawsuit became public, claiming they hadn't done enough to protect residents from Mission and HCA practices to this point.
"Sen. Corbin, where have you been for the past four years as we have struggled against a for profit hospital taking over our community hospital? Where were you when we stood outside Angel with our signs trying to keep Labor and Delivery open for our young families? Or when doctors began leaving? Or when I tried to get local elected officials to join me in questioning the sale and what would happen under a for profit hospital corporation (HCA) with a rather interesting track record?" Scott said, referring to Sen. Kevin Corbin, R-Franklin. Corbin represents the region in the General Assembly.
Scott added that legislators showed little support when he and Highlands Mayor Pat Taylor traveled to Raleigh to voice their concerns to Stein and his staff. While he's been told by other local and state officials to "butt out" and that the mayor doesn't have any business intervening in the hospital's business deal, he hopes the lawsuit brings more attention to what's going on at Mission facilities.
"Now perhaps we can get some help. I am afraid it may be too late. Folks from all over Western North Carolina have sounded the alarm," Scott said. "What is a mayor to do? Sit on his hands while health care is shifting from our town to a metropolitan area? I remain adamant to stay in this fight until I am confident that our residents will continue to receive the finest medical care as possible without having to be flown somewhere else."
Though Scott didn't feel like he or the community had the support from Corbin, the senator issued a joint statement with Rep. Brian Turner and Sen. Julie Mayfield on Aug. 10 after the lawsuit was filed.
"While we are still reviewing the complaint, we applaud these citizens for taking action. The summary reflects what Western North Carolina individuals, doctors, and businesses have reported experiencing since HCA purchased Mission Health: higher costs, downgraded quality of care, and reduced access to health care, especially in rural areas," the statement read. "HCA's practices are particularly troubling because they acquired a non-profit hospital with a regulated monopoly in Asheville, leaving no realistic alternatives for many types of care in the region. HCA promised to maintain quality of care in the Mission Health purchase agreement and it is time for them to fulfill that promise by competing fairly and focusing on patients."
In a conference call with the media Aug. 10, State Rep. Brian Turner and State Sen. Julie Mayfield said they support the lawsuit and applaud the plaintiffs for raising important issues.
"People are glad someone is finally paying attention, and a group of folks had the courage to step up and take on this issue," Turner said, adding that Mission is the region's largest private employer, impacting many residents' lives and livelihoods.
"This lawsuit is not the be-all, end-all, fix-all of the problem," Mayfield said. "But we do hope it is a strong step in the right direction in addressing many issues and concerns we have heard."
Both Mayfield and Turner said that in the more than two years since for-profit HCA purchased the hospital system, they've not heard from a single patient, physician or staffer who's had a positive word to say about the changes.
HCA has been the defendant in other similar lawsuits . According to The New York Times , HCA paid out $95 million in criminal penalties after pleading guilty in December 2020 to charges that it obtained some of its money by cheating government healthcare programs. The criminal complaints were filed in federal court in Florida, Texas, Georgia and Tennessee and claim that HCA "intentionally misidentifying marketing expenses as reimbursable patient costs, haggling with home care agencies to strike illegal deals, and claiming on a reimbursement form that idle space in a hospital was being used for patient care."
The $95 million was just a partial judgment within a larger criminal and civil investigation into HCA's business practices. In total, HCA agreed to pay $840 million in criminal and civil penalties, making it the largest fraud settlement in American history.
Mission Health Spokesperson Nancy Lindell issued the following statement to the media: "Once we have been served with the lawsuit, we will respond appropriately through the legal process. We are committed to caring for Western North Carolina as demonstrated through more than $330 million in Charity Care and uninsured discounts we provided in 2020, expansion of hospital services including the opening of the North Tower, a new Pediatric ER, and securing land for a new 120-bed behavioral health hospital. Further, we have invested in our colleagues with onboarding nearly 1,200 new members this year and providing more than $3 million in student loan and tuition reimbursement in 2020. Mission Health is committed to the health and well-being of every person who comes to us for care and we are proud of our dedicated hospital teams that are facing the many challenges of this pandemic and the exceptional care they have provided to our patients."
Leave a comment
3

comments
how do i get in touch with lawyers in charge of law suit..

Wednesday, 09/15/2021

Lately I have been in need of several different specialists. It's taking months to see a Gyn that I have yet to see. After waiting over a month, it was cancelled because they were short of staff and I can't get in now for another month. I'm in Franklin and this appointment is in Sylva. I have issues that need addressing, this isn't a routine appointment, but they had nothing else for me.
It took two months to get in for an endoscopy as I got worse and worse with, I now know, bleeding ulcers.
Very frustrating.

Friday, 08/20/2021

GET OUT OF WESTERN NC, HCA! We want labor and delivery! We want accurate and reliable healthcare with NO HIDDEN FEES! We want reasonably priced prescriptions. We want our GPs, PCPs, and specialists to STOP LEAVING for better employment opportunities!

Friday, 08/20/2021