Archived News
Highlands looks for balance of progress, preservation
Wednesday, September 22, 2021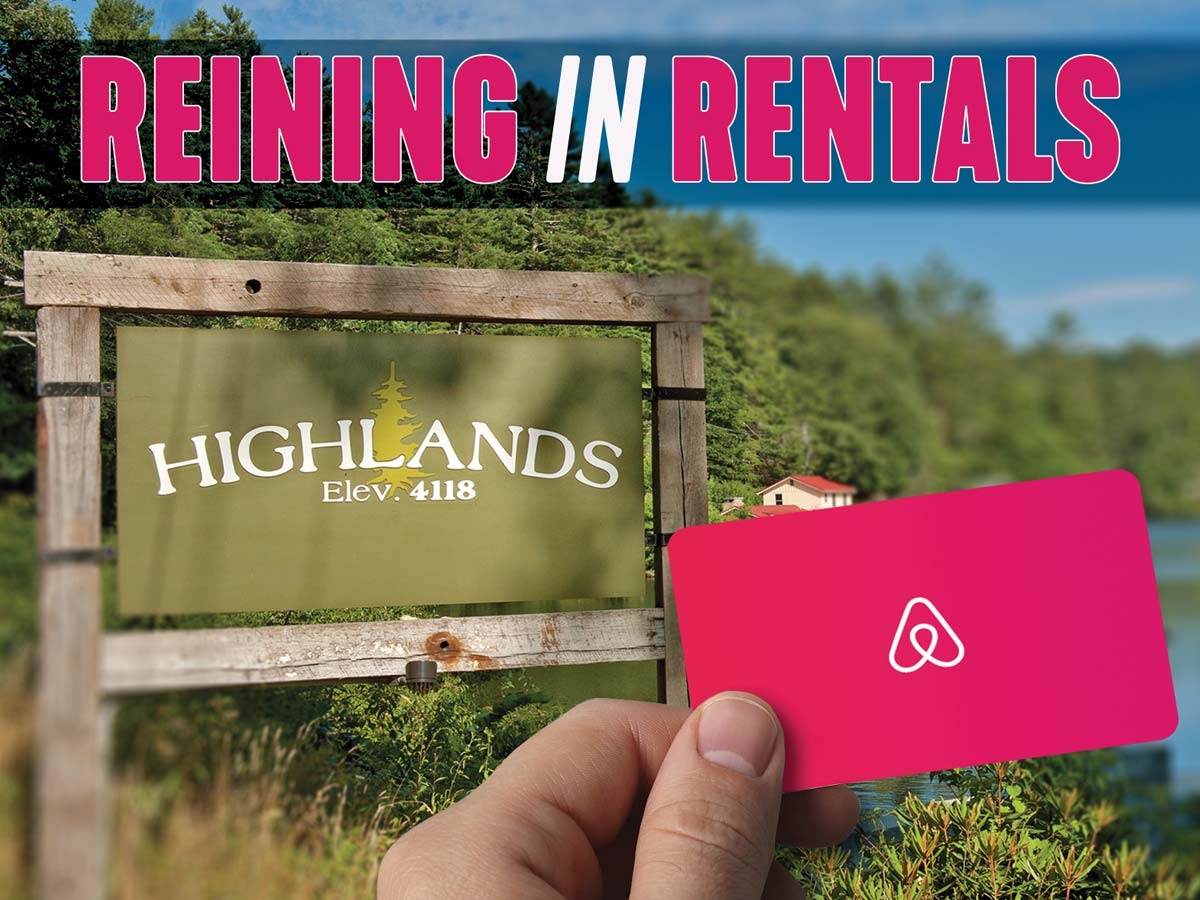 Discussions going on right now in the town of Highlands are the same discussions happening across the nation as the short-term rental industry continues to grow, leaving little room for the local workforce and changing the housing landscape of the community.
A quick search of available AirBnbs in Highlands shows more than 200 listings in the area ranging from cabins, apartments, luxury houses and everything in between. Many of them concentrated in the downtown residential areas.
"The people who have moved here — the hometown folks — are concerned with losing the community fabric of Highlands because the short-term rentals are making our residential zones into clerkless hotels," said Mayor Patrick Taylor.
During an Aug. 24 meeting, Highlands Board of Commissioners voted to direct staff to enforce all of the town's residential ordinances as written. While a broader discussion about the UDO is being had, the big takeaway from that meeting is that the town will start enforcing the part of the ordinance that bans short-term rentals from the R-1 residential district beginning Jan. 3, 2022.
The UDO states that "any use not specifically set forth in the use category is expressly prohibited." Since short-term rentals aren't specified, they are not allowed under the current UDO. The town's R-2 Districts, however, do specifically allow for "tourist homes" with a special-use permit. A tourist home includes bed and breakfasts and inns "Where sleeping accommodations of not more than four rooms are provided for occasional transient paying guests."
R-3 Districts in Highlands do not allow for any overnight accommodations because all hotels, motels, B&Bs and inns are classified as "commercial uses" and require a special permit. Beginning Jan. 3, those in violation of the ordinance will receive a violation notice.
A group of Highlands residents was not happy with the board's decision. The day after that meeting, a small committee led by Jennifer Huff started a GoFundMe page to raise legal fees for potential litigation against the mayor and commissioners. The committee is made up of Huff, Debi Bradshaw Martin, Caroline Ragsdale, Will Pichard, Becky Blakeney, Chris Rideout, David Bee, Julia Weller, Chris Weller and Kristy Jones-Favalli.
Huff said the group began organizing after an Aug. 19 commissioners' meeting where the board discussed its interpretation of the UDO residential districts. Since short-term rentals are not specifically listed as an R-1 District use, the board and its attorney J.K. Coward Jr. determined short-term rentals are prohibited in R-1. Huff claims this is a "reinterpretation" of the existing ordinance.
"The Town has never interpreted or applied the zoning ordinance in that manner and has allowed STRs in the R1 zone for decades. In fact, Town officials have represented to property owners that there were no restrictions on STRs in the Town of Highlands," Huff stated in an email response to questions. "Town officials have made contrary representations to STR owners. In fact, up until a week before some people closed on their homes and made it expressly known it would be used as a short-term rental, the Mayor himself said there were no issues."
As of Tuesday, the GoFundMe account had raised over $115,000 toward its $200,000 goal with more than 170 donors. Some people have made $5,000 and $2,500 donations toward the effort, and Huff said more is coming. The funds will be used to pay the PR costs, retainer and legal fees. All funds will be managed and disbursed by Highlands Area Vacation Rental Owners/Manager, LLC, established to manage the litigation.
Taylor said he is hopeful any potential litigation against the town can be avoided with further discussions.
In a memo to Taylor, Coward agreed STRs are not defined in the UDO but that perhaps they should be. With board interest in reviewing STRs and the special permit opportunity for R-2 and perhaps even R-3, commissioners asked Coward to employ an expert to guide future discussions.
Following a Sept. 16 closed meeting of the town board, Taylor signed a fee agreement with Craig Justus with Van Winkle Law Firm in Asheville. Justus will be reviewing and advising the town board on the current residential ordinances related to STRs, lodging and will provide legal advice as the review of STRs in residential areas moves forward.
"In this day and age, zoning laws and ordinances become very complicated and we needed someone with special knowledge of residential issues and Mr. Justus had the expertise to advise us," Taylor said. "I hope we can avoid a lawsuit and I'm more and more confident we can after a careful review of the issue," he said.
Huff said the committee of short-term rental owners is not as hopeful given the commissioners have already made the decision regarding the ordinance's interpretation without input from all sides. The group has retained the Asheville law firm of Allen Stahl + Kilbourne, with attorney Derek Allen acting as lead counsel. However, Huff said she was not willing to discuss the committee's legal strategies at this time.
"Compromise should have occurred before we were forced to raise money for possible litigation, and now taxpayer's money will be spent in response," she said. "Real leadership would have avoided this altogether. Our group does not advocate for an 'us vs them' position, but it astounds me how 'our side' didn't matter until we started raising money for possible litigation."
On Sept. 3, the committee's legal team submitted a public record request to the town. As of Sept. 20, Taylor said the town was still working on pulling together the requested minutes and other documents.
Double-edged sword
For a small, high-end town like Highlands, the economy runs on second homes and the hospitality industry, but the affordable housing crunch is being exacerbated by the STR market.
"What's happened to us over the last several years has been that we no longer have long-term rentals and that does impact folks. Even our upper-level management people that work at our businesses have a hard time finding housing," he said. "Even at Town Hall, almost everyone in our town government commutes from Franklin or elsewhere to work in Highlands."
While there are myriad benefits for guests who choose Airbnbs over hotels or resorts, Taylor said it's been a double-edged sword for Highlands. On one hand, Taylor knows visitors staying in STRs help provide income to local businesses and restaurants, but on the other hand, more visitors to STRs means those businesses and restaurants need to hire more staff during a time when there's an extreme shortage of workers available.
"Someone has to provide options for these workers. Real estate values are strong because of our short-term rentals. Someone can buy a small moderate home close to town, renovate it and make it high end and rent it out short term for $1,000 a weekend," Taylor said.
He added that the resort community also benefits from STRs because the town as a whole only has about 340 hotel beds. When Old Edwards Inn, for example, hosts a large wedding, having available STRs around town helps them to be able to accommodate more people.
Meanwhile, he can understand the desire to rent out a part-time residence when the price to build in Highlands right now is between $400 to $500 per square foot.
"The temptation is to do short-term rental to get an immediate return on investment," Taylor said. "AirBnb is taking 10,000 rental units every year and we can't replace them at the same rate. It's leading to a long-term housing crisis and my concern is it will keep getting worse."
Huff still thinks the benefits of STRs outweigh Taylor's concerns about them, including an increase in room tax collections, hosting tourists from all over the world and Highlands' huge wedding industry. She added that Old Edwards Inn, the largest employer in Highlands, sent out a compelling letter of support of STRs because there are simply not enough hotel rooms for guests.
"Another benefit is many of us have bought these properties and put in extensive remodels or repair dollars. We've improved property values as a whole. Next, we employ many people from handyman services, cleaning crews, lawn maintenance, plumbers, electricians, and many others," Huff said. "Finally, not all STR owners are 'out-of-towners.' Many of these houses have been in people's families for generations, and short-term rental income helps keep that family home where it belongs — with their family."
Huff said she found the argument that short-term rentals are to blame for lack of affordable housing to be totally unsupported and that short-term rental owners shouldn't be held responsible for a problem that clearly falls in the purview of town leadership. "They are elected to run the Town and to solve problems, and not trample on property rights of owners. Where are the apartment buildings to house people in Highlands? Should short-term rental owners really be told what they can do with their properties?" she said. "Furthermore, if the Town abolishes rental of property located in the R1 Zone, how does that create affordable housing for others?"
At the end of the day, Huff said it comes down to the STR owners' property rights, and that those rights can't be taken away after one Zoom meeting.
"We are real people who will be affected with real financial problems, and this was brought on by the town allowing the use of short-term rentals for many, many years. Additionally, we truly believe we are saving Highlands because of the deep financial toll that will affect businesses, jobs and tourism," she said.
She said STR owners have already experienced cancellations from guests unsure how their summer 2022 plans will be affected. Others, she said, have said they don't want to visit a place that no longer welcomes them.
"Consider why people rent our homes to begin with: they want a whole house to relax and enjoy, they want cooking facilities, and they want to bring their dogs. Many enjoy our fireplaces, fire pits and whatever other amenity the home offers," she said. "We work very hard to ensure our guests feel very welcome and 'at home.' The vast majority of guests are very respectful of our home, and our neighbors."
Taylor said the discussion regarding where short-term rentals should be allowed is far from over and there will still be plenty of time for community feedback during the coming months as their legal team guides the board through a thorough review of its ordinances.
"We've gotten criticism for dragging our feet on this, but we've had to deal with COVID just like everyone else," he said.
Commissioner Donnie Calloway was the only board member to oppose the decision to enforce the ordinance as is, but he did not return a phone call asking for comment on the issue.
Rise of AirBnb
Short-term rental business AirBnb started out as an idea to rent an air mattress in someone else's home in 2008 and is now a $130 billion company after going public in December 2020. Similarly, VRBO started as a vacation rental company in 1995 but has shifted its services to mirror Airbnb in recent years.
With more than 7 million properties and 4 million hosts around the world, there's no doubt tourism destinations everywhere are trying to figure out how to manage the growth while also dealing with a nationwide housing crisis and worker shortage.
Asheville City Council voted in 2018 to ban most short-term rentals within city limits for the same reasons — affordable housing shortage and to keep its residential areas from becoming de facto hotel districts. Discussing the issue at an Aug. 24 council meeting, Asheville City Attorney Brad Branham said researchers have also found that short-term rentals like AirBnb are causing the price of long-term rentals to increase.
Some short-term rentals were grandfathered in and short-term rentals are still allowed outside the city limits. The decision has been controversial and enforcement has been an issue while some property owners continue to operate their rentals illegally.
Places like New York City, San Francisco, New Orleans, Las Vegas, and Honolulu also have short-term rental restrictions in place.
Taylor said legislation being discussed in the N.C. General Assembly could provide more guidance for local governments trying to find answers. House Bill 829 and HB 911 would make it illegal for local governments to regulate short-term rentals in most ways. HB911 passed a third reading on Aug. 11 and was referred to the Committee on Rules and Operations in the Senate. There's been no movement on HB 829 since May.
Taylor said the N.C. League of Municipalities is watching the legislation and trying to keep local governments apprised of the situation. Taylor sat in on a Zoom committee meeting a couple of years ago along with then Rep. Kevin Corbin, R-Franklin, who is now in the Senate, when the topic was discussed.
"They are reviewing that issue and whether the state should weigh in and there are a lot of different views from legislators so I don't know what will happen," he said. "The biggest problem with a ban is trying to enforce those prohibitions so it will be interesting to see what happens. My concern is that some of the legislation could be buried in the state budget bill along with other things."