Archived News
Dogwood Health Trust reflects on 2021 progress
Wednesday, September 29, 2021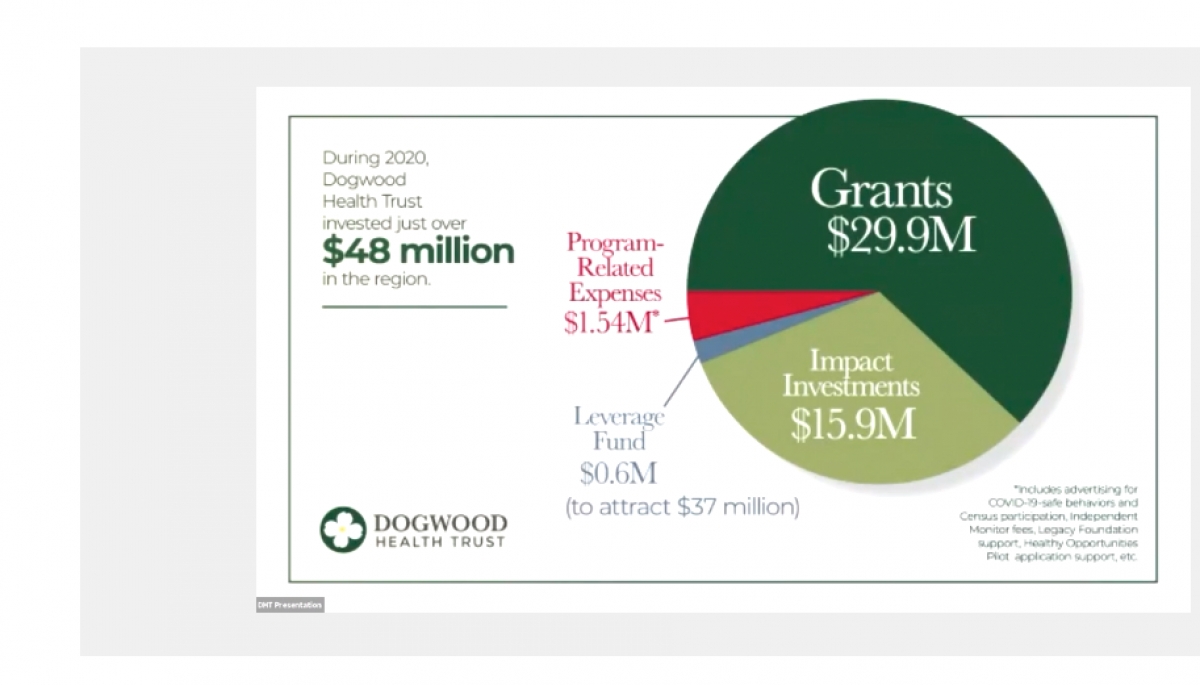 Dogwood Health Trust had lofty goals when it was formed in 2019 with the mission to dramatically improve the health and wellbeing of people throughout Western North Carolina.
With those big goals for the 18 most western counties came big resources — the foundation was established as part of the negotiation when nonprofit health system Mission Health was in the process of being sold to for-profit HCA Healthcare.
Proceeds from the sale — $1.5 billion — were placed into the care of the new foundation to meet its mission. Dogwood had to ramp up quickly, setting up a board of directors, establishing goals, hiring a CEO and additional staff, creating a grant application process and finding an equitable way to distribute funds in the region.
If that wasn't enough to take on, Dogwood had to quickly shift priorities when the COVID-19 Pandemic hit the region in 2020.
"Since we were first funded two years ago, a lot has changed," DHT Chairwoman Janice Brumit said during a recent virtual community meeting. "We're in an ongoing pandemic and social justice issues have risen up and given us more opportunities to achieve positive change."
Despite the challenges of the last 18 months, Brumit said Dogwood had invested over $48 million throughout the region during 2020, which includes $29.9 million in community grants, $15.9 million in impact investments, $600,000 invested into a leverage fund to match state and federal grants and $1.5 million toward program-related expenses.
"As of last Friday, we've approved more than $65 million in grants so far," she added.
The round of virtual meetings gave Dogwood's growing staff of 40 a chance to go over the foundation's four main focus areas — education, housing, health and wellness and economic opportunity — and their successes over the last year.
DHT Board member Sam Lupas, a real estate developer and broker in Cashiers, said he's proud of the foundation's work toward funding affordable housing initiatives through Mountain Projects and Habitat for Humanity, expanding primary health care services in Jackson and Macon counties and being chosen to participate in the Healthy Opportunities pilot program through the North Carolina Department of Health and Human Services.
Dogwood's interim CEO Susan Mims came on board in October 2020 after the foundation's first CEO, Antony Chiang, stepped down after only holding the position for a year. She has more than 20 years of clinical and healthcare leadership experience in North Carolina and served as the chief executive for Mission Children's Hospital for over a decade. Before her time at Mission, she was the medical director at the Buncombe County Health Department.
"Approaching our second full year of operations gives us chance to reflect on the work we've done and dig in with a vision for our path forward," she said. "We shifted our focus to the regional response of urgent COVID-19 needs and continue to address pandemic needs in 2021 while building our team and our structure."
In April, Mims said Dogwood launched its online portal for local organizations to apply for grants and receive guidance from staff members during the process. DHT approved grants to 148 organizations.
Several nonprofit leaders gave testimonials regarding the grant application process with DHT while explaining the programs being expanded thanks to DHT funding.
Molly Hemstreet, co-executive director of The Industrial Commons, said Dogwood awarded them a general operating grant to support their mission of scaling up employee-owned social enterprises and industrial cooperatives in Morganton. This kind of business model fits well with Dogwood's mission of building a local workforce and overcoming the inequalities of generational poverty.
Landon Ward, an environmental studies lecturer at UNC-Asheville, said Dogwood has provided grant funding toward a literacy program that aims to "bridge the opportunity gap for students of color" and dismantling racial injustice in WNC.
Heather Boyd, executive director of Smoky Mountain Housing Partners, an affordable housing initiative of Mountain Projects, said Dogwood provided a grant for a homeownership program.
Jackie Kiger, COO of Pisgah Legal Services, said Dogwood has supported the nonprofit in two ways — a grant to help residents sign up for the Affordable Care Act health coverage and helping them apply for a multi-year WNC Economic Recovery program grant with the goals of reducing child poverty and increasing the rate of insured residents.
Sara Thompson, former director of the Southwestern Commission based in Sylva, was recently hired by Dogwood after serving on the DHT board for a year. Thompson now serves as the Vice President of Impact and will use her expertise in helping with the Economic Opportunity piece of the puzzle.
She said one of her main goals will be to "build a more diverse economy with increased job opportunity" with work readiness programs, retaining and growing existing business and fostering entrepreneurship.
Ereka R. Williams will soon join DHT as Vice President of Impact-Education. Williams, current associate provost for Academic Strategy and Institutional Effectiveness at Winston-Salem State University, will be responsible for the visioning, development and implementation of ambitious impact strategies to help improve early care and education and K-12 school systems and will work closely with Thompson to expand post-secondary opportunities.
Moving forward into the next year, Mims said Dogwood's staff would continue to work on establishing relationships and building partnerships in the communities of WNC as they work with more stakeholders to meet the needs in education, housing, economic opportunities and health and wellness.
They encourage nonprofit leaders to reach out regarding possible grant funding opportunities and welcome feedback from communities across the region. For more information about how grant
funding has been distributed, visit
dogwoodhealthtrust.org.