Archived News
Below the belt: Vulgarity, divisiveness push NC political discourse to a new low
Wednesday, October 13, 2021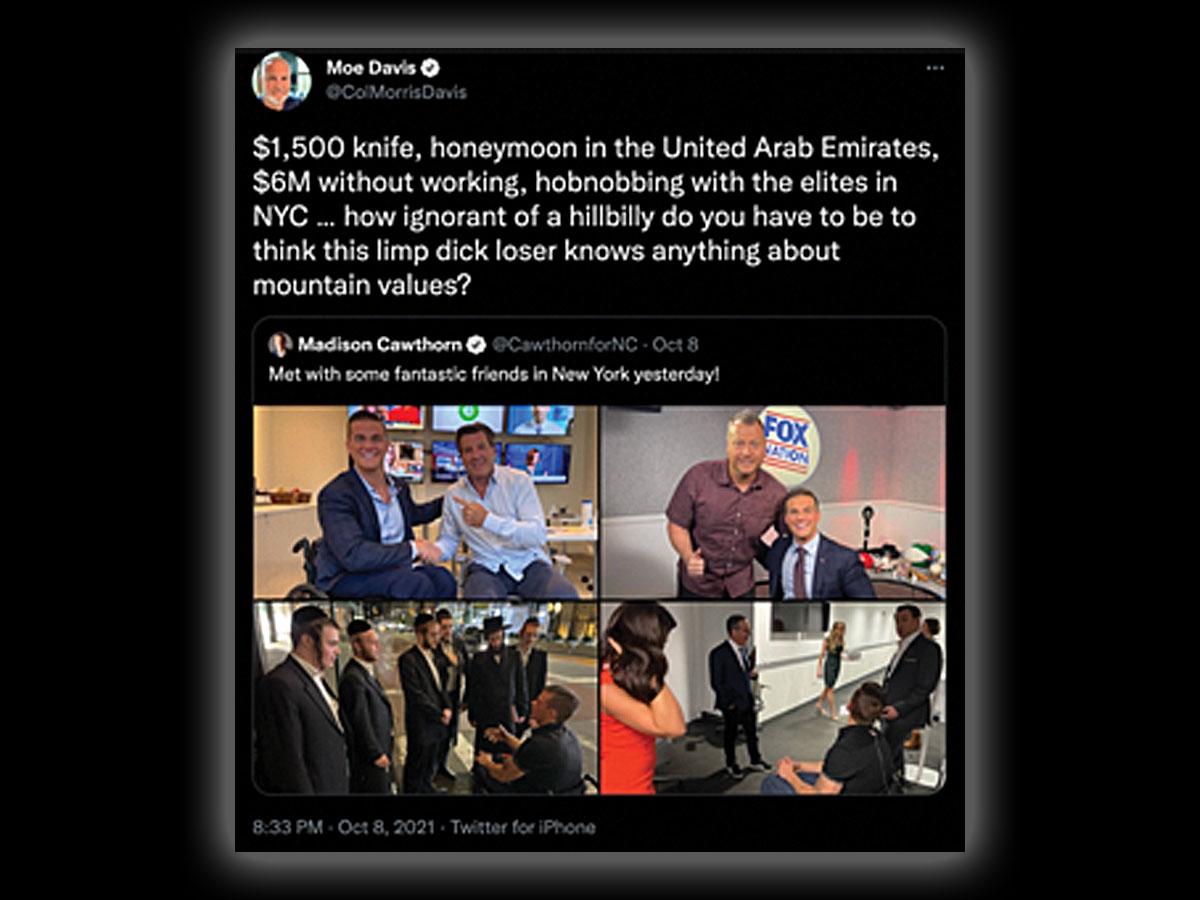 North Carolina's known as a purple state where fierce partisan divide is the norm, but after two high-profile politicians — one a former NC-11 candidate and the other the current lieutenant governor — prompted outrage with recent vulgarities, their respective parties are stuck in a tough spot and facing difficult decisions over how to respond.
Democrat Moe Davis has been openly critical of Rep. Madison Cawthorn since losing the NC-11 Congressional contest to him last November by more than 12 points. While serving on the founding board of the FireMadison.com PAC, the outspoken Davis also regularly jabs at the freshman Republican through social media.
On Oct. 8, Davis took his criticism of Cawthorn to a whole other level: below the belt .
Literally.
"$1,500 knife, honeymoon in the United Arab Emirates, $6M without working, hobnobbing with the elites in NYC … how ignorant of a hillbilly do you have to be to think this limp dick loser knows anything about mountain values?"
The next day, Davis doubled down by responding to an anti-Biden tweet from Cawthorn that said, "Gas prices have risen to a seven-year high. Thanks, Joe!"
Davis' response again made reference to the congressman's genitals.
"Coincidentally, Maddie's obsession with guns, knives, alpha/beta males and warrior chest pounding is likely fueled by something that hasn't risen in 7 years."
Davis defended the tweets — much like he defended a 2019 tweet about stomping on the necks of "NCGOP extremists" — by decrying pearl-clutching "purity politics" and questioning the willingness of Democrats to fight fire with fire.
But some people weren't buying it. Including his own party.
"The NC 11th Congressional District Democratic Party Executive Committee has been made aware of social media posts from past NC-11 congressional candidate Moe Davis over the last 48 hours that we deem to be highly inappropriate," said Matt Ballance, NC-11 Democratic chair, in an emailed statement.
Ballance went on to say in the statement that while Democrats were more than disappointed with what they call a lack of leadership and action on Cawthorn's part, derogatory remarks about any real or purported physical disability are "completely unacceptable."
Then, Ballance addressed the sweeping generalization Davis made about Western North Carolina's residents.
"The people of this district have fought the stereotype for many years that our area is filled with 'ignorant hillbillies,'" Ballance said. "Labeling in this manner those in our area who do not hold one's certain political beliefs does nothing to hinder the stigma that we have fought for ages. These mountains are filled with good, intelligent, hard-working people from all walks of life."
Ballance's Republican counterpart, Michele Woodhouse, was quick to condemn Davis' tweets and express support for Cawthorn, but Woodhouse was also quick to compliment Ballance for his statements.
"I commend NC-11 Democrat Party Chair Matt Ballance for denouncing yet another vile personal attack by failed Democrat Congressional candidate Moe Davis," Woodhouse said. "Chairman Ballance agrees with me that the hard-working people of NC-11 do not need any more hateful political rhetoric from his party."
Taking issue with the last part of Woodhouse's statement, Ballance said that although Davis has a "unique platform" as the last NC-11 Dem candidate, "Moe Davis speaks for Moe Davis, not the NC-11 Democratic Party."
Davis, however, isn't the only one helping to drive North Carolina's political discourse to a new low. Around the same time Davis was making his sweeping generalizations, Republican Lt. Gov. Mark Robinson drew national attention and calls for his resignation by making some sweeping generalizations of his own.
On Oct. 6, video surfaced of a Robinson speech at the Asbury Baptist Church in Seagrove this past June, where he referred to homosexuality and transgenderism as "filth."
After railing against the requirement that children must attend school (true) and have no choice in where they go (false), Robinson opined as to what happens once they get inside.
"Then when [kids] get there, what do they teach them? Teach them a bunch of stuff about how to hate America. Teach them a bunch of stuff about why they're racist. Teach them a bunch of stuff about transgenderism and homosexuality. I'm saying this now and I been saying it and I don't care who likes it. Those issues have no place in a school. There's no reason anybody anywhere in America should be telling any child about transgenderism, homosexuality, any of that filth. And yes, I called it 'filth,' and if you don't like it that I called it filth come see me and I'll explain it to you."
Robinson refused to back down from the remark, responding that he was being viciously attacked because he was talking about "removing the sexualization of children from the classrooms in our public education system."
In his video response, Robinson offered no differentiation between "filth" in the classroom and "filth" as a descriptor for an entire community of people who do not hold the same beliefs on human sexuality that he does.
A number of NC Democrats subsequently weighed in on Robinson's remarks, including Ballance's NC-11 Dems.
The statement by Ballance says NC-11 Dems are "appalled" by Robinson's remarks, which are completely in line with previous remarks disparaging not only the LGBT community but also Jews and Muslims .
Turning the tables, Ballance called for Woodhouse to likewise condemn Robinson's comments, saying that "the door swings both ways on this issue" and that there should be "no problem whatsoever with the NC-11 GOP leadership denouncing Lt. Gov. Robinson's comments."
Woodhouse, however, stopped well short of doing that.
"Lt. Gov. Mark Robinson released a video response to his remarks on Saturday. The very best spokesperson to give a response about Lt. Gov. Mark Robinson's comments is the next Governor of North Carolina, Mark Robinson," she said via email on Oct. 12. "Lt. Gov. Robinson speaks his mind and stands firm in passionately fighting for all North Carolinians, he states this very clearly in his Saturday video."
Leave a comment
7

comments
Robinson is correct. Moe Davis is simply a vile man that is too vile even for Democrats.

Monday, 10/18/2021

LETS GO BRANDON

Friday, 10/15/2021

Sorry Biden voters. There are no refunds.

Friday, 10/15/2021

Finally a Democrat is speaking up while his party is not. Good for Moe Davis after loosing by being discouraged by the party when speaking up. The Democratic party in this debate shows its traditional milktoast strategy for losing elections and driving folks away from a party that could, should and doesn't counter punch attacks from their competitors.

Friday, 10/15/2021

DISGUSTING of Moe to lie saying he's a progressive. and DISGUSTING rhetoric coming from two parties. Shame on both of you.

Thursday, 10/14/2021

I supported Mr. Davis in the last election and was sorry that he lost. It saddens me to see him speak about ANYONE like he did. Every word may be the honest to God Truth, but never lower yourself to someone else's standards, it only makes you look worse.

Wednesday, 10/13/2021

I supported Mr. Davis in the last election and was sorry that he lost. It saddens me to see him speak about ANYONE like he did. Every word may be the honest to God Truth, but never lower yourself to someone else's standards, it only makes you look worse.

Wednesday, 10/13/2021