Archived Outdoors
Wheelchair-accessible trail comes to Cades Cove
Wednesday, November 03, 2021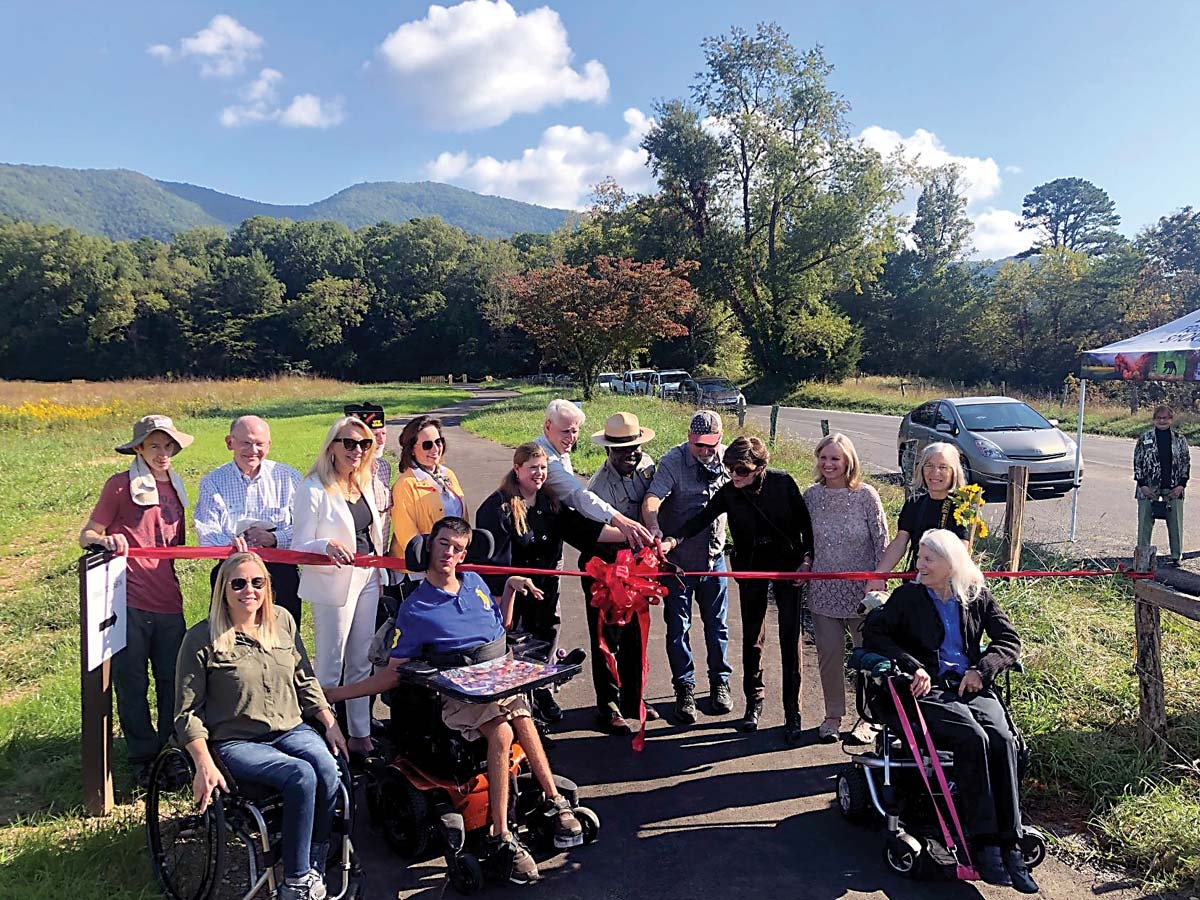 Smokies Superintendent Cassius Cash leads a ribbon-cutting ceremony for the new trail. NPS photo
A new wheelchair-accessible trail in the Cades Cove area of the Great Smoky Mountains National Park offers a half-mile pathway at the John Oliver Cabin with a unique pastoral view.
Paved and about 8 feet wide, the trail offers space for wheelchairs and other mobility devices to pass each other. A $150,000 donation from the National Park Foundation coupled with $57,000 from Friends of the Smokies made the trail possible. It meets standards from the Architectural Barriers Act and provides access for visitors of all ability levels to see one of Cades Cove's most popular historic homesites.
"The work of making our parks more accessible for all is so important," said Superintendent Cassius Cash. "Now all visitors have the opportunity to leave the roadway and be more fully immersed in the Cades Cove story through a trail experience within the historic landscape."
The trail looks over fields associated with the home of Cades Cove's first European settlers, John and Lucretia Oliver, who settled there in 1818. The fields provide outstanding wildlife viewing opportunities for deer, turkey, bears and grassland birds.
Cades Cove Loop Road and the John Oliver Cabin are open daily from sunrise through sunset. Learn more at nps.gov/grsm/learn/historyculture/cades-cove-history.htm
Leave a comment
1

comment
Thank you for doing this. When we visited in the 1970's and 1980's I could easily walk to this cabin through the meadowland. It's a good memory. Now that I have been living with multiple sclerosis since 1987, this walk is no longer possible. Thank you for opening this walkway for those of us who love the outdoors but need assistance.

Saturday, 11/13/2021