Archived Outdoors
Smokies volunteers honored for service
Wednesday, November 17, 2021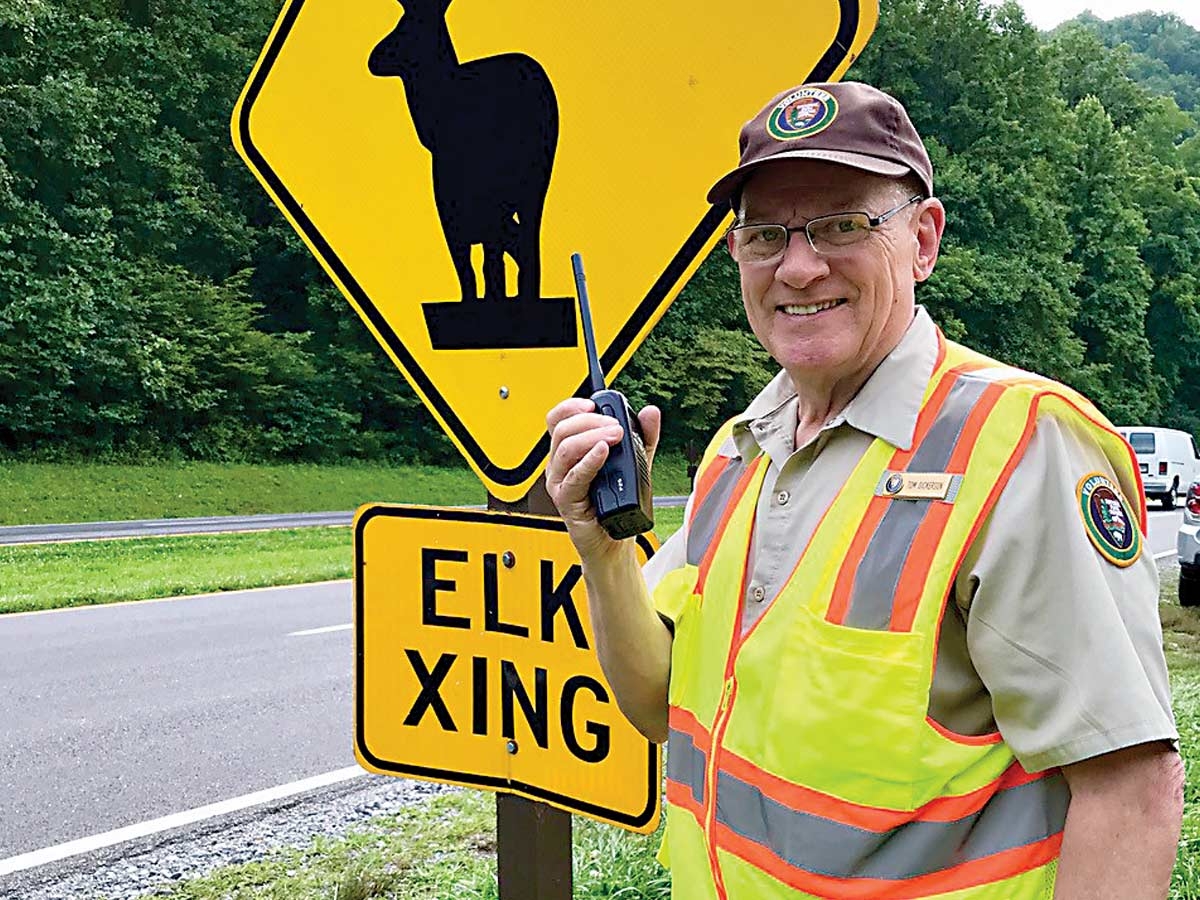 Luftee Rover Tom Dickerson is one of 70 volunteers who helped manage elk viewing in 2020. NPS photo
A pair of volunteer organizations within the Great Smoky Mountains National Park earned regional recognition for their service in 2020.
The Elk Bugle Corps and Luftee Rover volunteers received the Regional Hartzog Award for Outstanding Volunteer Group, a highly-competitive award that recognizes above-and-beyond contributions volunteers make in national parks nationwide. The 70 volunteers in the Elk Bugle Corp and Luftee Rover programs dedicated more than 2,400 hours of service in 2020, providing safe elk viewing tips and ensuring that visitors don't disturb elk while viewing them.
"These special volunteers exemplify gold standard service that has come to be a signature of the Smokies volunteer program," said Superintendent Cassius Cash. "We are deeply grateful for their service and dedication."
The popularity of elk viewing has grown exponentially since elk were reintroduced to the park 20 years ago in Cataloochee. Since that time, the elk herd has expanded across the region and into the Oconaluftee area of the park. Visitor viewing often presents management challenges due to congestion, viewing behavior and animal disturbance. These volunteers remained on duty day after day to ensure the elk's long-term protection.
"This work has often been in inclement weather, or with overwhelming crowds, and the volunteers eagerly respond by arriving early and leaving late," said Wildlife Biologist Joe Yarkovich. "Through it all, their passion to help protect the wildlife of Great Smoky Mountains shines through as an example for all of us to follow when helping the public in the most visited national park in the country."
Nationwide, nearly 250,000 volunteers annually donate their time, skills and talents to the National Park Service. In the Smokies, more than 2,000 Volunteers in Parks perform a variety of activities each year. To join them, visit nps.gov/grsm/getinvolved/volunteer.htm.