Archived News
Former deputy sues DA over Giglio Order
Wednesday, December 01, 2021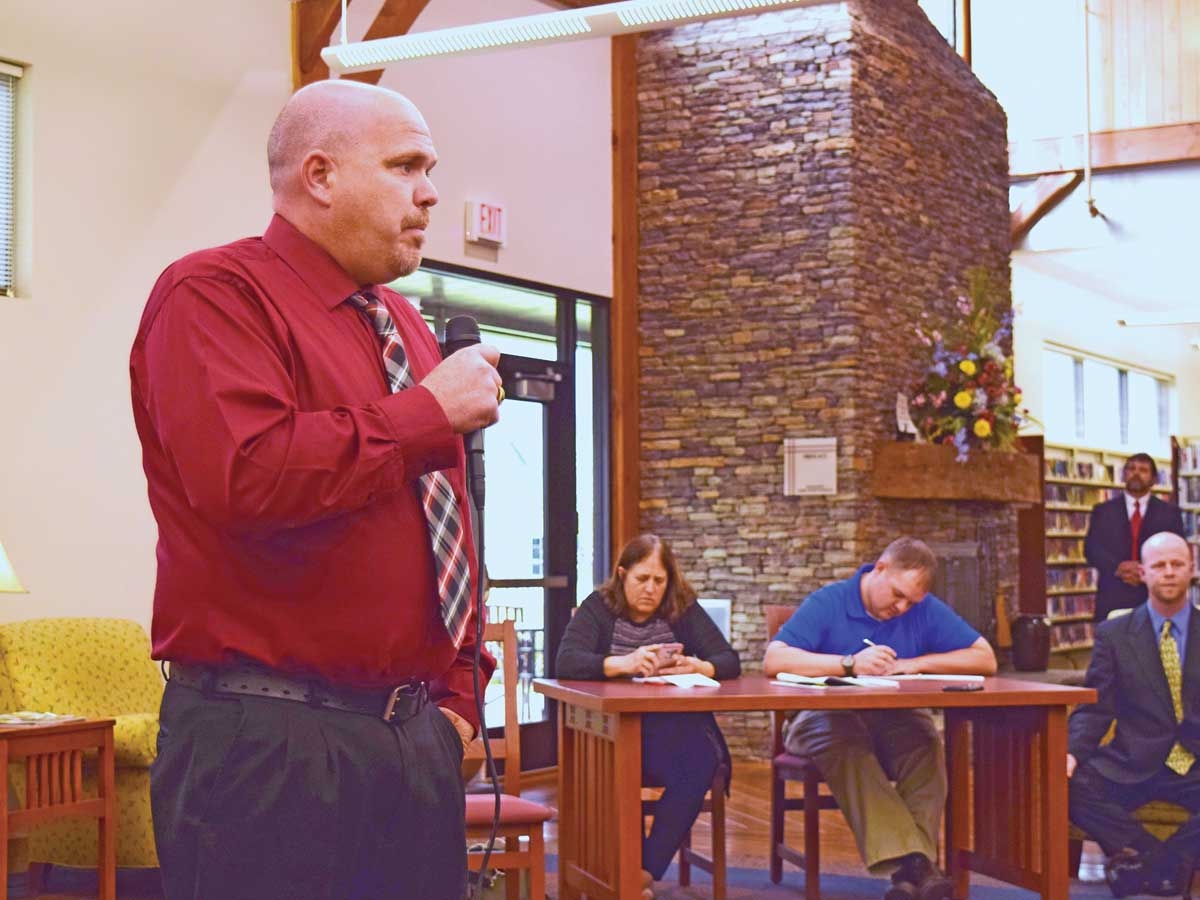 Eric Giles speaks at a candidate forum in 2018 when he ran for Macon County sheriff. File photo
Former Western North Carolina law enforcement officer Eric Giles is suing District Attorney Ashley Welch and Assistant DA John Hindsman Jr. for issuing him a Giglio Order in 2018.
Simply put, a Giglio Order means a law enforcement officer has lost credibility to the point the DA's office will no longer use his testimony in court. An officer not allowed to give testimony in court against the people he or she arrests makes them ineffective for patrol duties.
Since being issued the Giglio Order, Giles was demoted to bailiff duties and then transferred to the jail to work as a detention officer. He resigned a few weeks after being transferred to the jail and is not able to find employment as a certified law enforcement officer in the district.
"Plaintiff Giles can no longer obtain employment as a certified law enforcement officer in North Carolina as a result of the 'Giglio letters' issued by the Defendants," the complaint stated.
According to the letter Welch issued, Giles had misrepresented his duties as a law enforcement officer on multiple occasions and the DA's office has a constitutional obligation to disclose any information that could be used to impeach the testimony of a prosecution witness, including instances of untruthfulness and potential bias.
"In compliance with our procedures, prosecutors in our office recently reviewed materials and information in our possession regarding substantial violations," the letter stated. "Unfortunately, in a review of these materials and information, the findings of the committee revealed that on more than one occasion you misrepresented your duties as a law enforcement officer in your employment with both the Clay and Cherokee County Sheriff's Office in public forums."
Giles filed a civil action lawsuit Aug. 27, 2021, in Clay County Superior Court claiming the DA and ADA violated his federal constitutional rights to due process, equal protection and freedom of speech while acting under color of state law. He then filed a lawsuit in September in federal court against Welch and Hindsman individually and in their official capacity.
Prior to Aug. 28, 2021 — when Giles received the Giglio Order from Welch's office — he was employed by the Cherokee County Sheriff's Office and had previous experience working with sheriff's departments in Macon, Graham and Clay counties as well.
During 2018, Giles signed up to run for sheriff in Macon County as a Democratic candidate against Republican incumbent Robert Holland. In March, Giles was invited to a candidate forum hosted by Macon County News and The Smoky Mountain News. During his time to speak, Giles stated he worked at four different agencies and had been a member of the drug task force in Cherokee County. However, the complaint states that Giles misspoke and was actually a member of the drug task force in Graham County — not Cherokee.
The complaint goes on to say that MCN reporter Brittney Lofthouse — who helped moderate the forum — accused Giles on social media May 9 of lying about being on the Cherokee drug task force and being a victim advocate when he was employed by Clay County Sheriff's Office.
Giles claims he posted on Lofthouse's original post on Facebook trying to correct what he'd said at the candidate forum. He also shared a letter from fellow law enforcement officer Rocky Sampson verifying that Giles had been a victim witness coordinator for Clay County.
"Therefore Brittany (sic) Burns Lofthouse circulated untruthful rumors about Plaintiff Giles having affairs with young women when he worked in Graham County and in Clay County," the lawsuit states.
Welch said at the time that there were other reasons why the Giglio was issued for Giles, but she couldn't elaborate on specifics since Giglio Orders are not public record. Giles made the letter public by sharing it with the media.
It was assumed Welch also knew about the allegations that Giles had been inappropriately involved with a female student while he worked for Graham County. Giles told SMN in 2018 that he resigned from his deputy position with Graham County Sheriff on good terms, but a 2014 memo to Graham County commissioners states that the county denied Giles' request for unemployment benefits because of "behavior unbecoming of an officer."
SMN spoke to the female student in question at the time. She had since graduated and said nothing inappropriate had happened with Giles. No official charges were made against Giles.
Giles' lawsuit also points fingers at Lofthouse, claiming she had several conflicts of interest, including being married to a Macon County Sheriff's deputy who worked for his opponent — Sheriff Robert Holland — and the fact that she went to work for the DA's office under Ashley Welch.
"The Defendant Welch is a Republican and was a vocal supporter of Robbie Holland as a candidate for Sheriff of Macon County during the 2018 election," the complaint reads. "The Defendant Welch was a financial contributor to the campaign of Robbie Holland …"
According to candidate contribution records, Welch did donate $1,000 to Holland's campaign for re-election.
The defendants claimed it was their duty to send the letter based on the decision in Giglio v. United States, but the plaintiff claims the reasons for sending the letter were not reasonably related to the defendants' function as prosecutors.
The complaint states that the letter had "adverse affect" (sic) on Giles' campaign for sheriff. Holland won re-election in the fall 2018.
"The Defendants gave the Plaintiff no meaningful opportunity to be heard or to present evidence on his behalf prior to sending the 'Palmer Giglio letter' to the Plaintiff's employer," the complaint reads.
After receiving the letter, Giles was informed that Cherokee County Sheriff's Office would be conducting its own investigation of the allegations outlined in the Giglio letter and he would be suspended with pay pending the results. Giles was later told that the DA's office failed to provide any evidence against him. Therefore, the investigation could find no wrongdoing on Giles' part and placed him back on patrol duty the next day.
In February 2019, Giles came upon an automobile accident in Murphy while on duty, smelled alcohol on the breath of the driver and called Officer Brandon Morgan with the Murphy Police Department to tell him about the situation. Morgan arrived on the scene to assess the situation and arrested the driver, who had a blood alcohol level of 0.13, well beyond the legal limit.
Morgan took the driver to the magistrate judge on duty — Cliff Owl — but after reviewing the information, Owl told Morgan he would not find probable cause to issue a warrant on the driver because Giles was involved. Owl said he had been told not to accept any charges involving Giles due to the Giglio Order.
Several months later, Giles was involuntarily transferred from patrol duty to bailiff duty at the Cherokee County Courthouse. Several months after that, Giles was told by Sgt. Jake Chapman that he could either transfer to the detention center to work as a jailer or he would be terminated per instructions from Sheriff Derrick Palmer.
Giles chose to transfer to work at the jail as a detention officer as a "direct and proximate result of both the 'Palmer Giglio letter' and the DA's refusal to allow Giles to be involved in charging anyone with a crime. Several weeks later, Giles resigned his position with Cherokee County.
According to the complaint, Welch's office had previously issued oral Giglio Order directives to sheriffs in the district indicating her office would not use testimony from particular deputies due to alleged bad conduct from those deputies. However, it also claims Welch's office routinely used those deputies as witnesses in court without disclosing the alleged bad conduct to the defense attorneys on the case.
The complaint alleges that Hindsman and Welch acted "maliciously" in issuing the order to Giles, knowing the order could cost him the election and his employment. Giles is asking that the order be rescinded and that he be awarded $25,000 for loss of income and emotional distress.
Giles is being represented by Murphy lawyer Zeyland G. McKinney Jr., while Welch and Hindsman are being represented by Kathryn H. Shields, special deputy attorney general with the N.C. Department of Justice.
Leave a comment
1

comment
Well, if he can't find a new job in law enforcement, I guess this means he'll have to find a new career. Perhaps a security guard.

Thursday, 12/02/2021