Archived News
No sleep until January: Retailers rejoice over bustling holiday season
Wednesday, December 01, 2021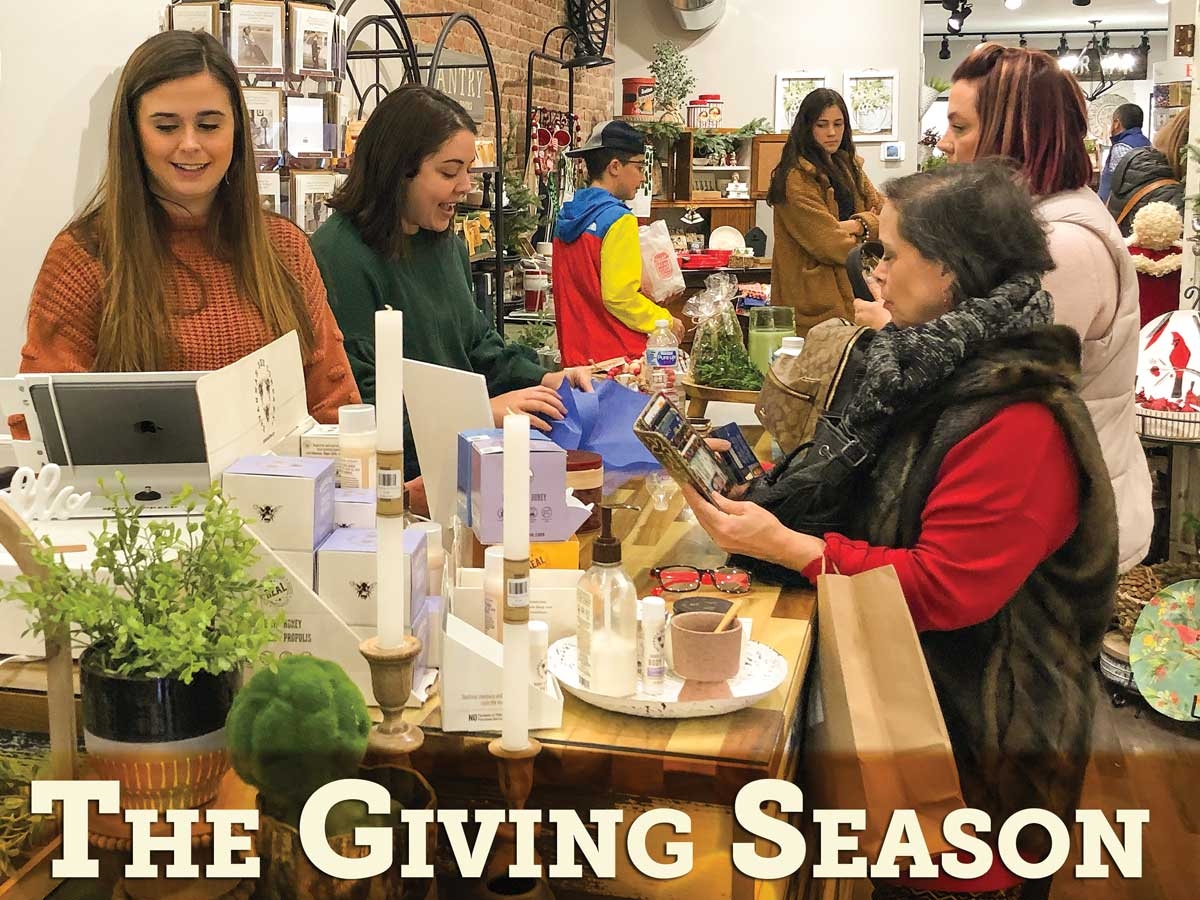 The holiday shopping season tends to be a stressful time for shoppers as well as retailers with large crowds, long lines, mounting tension and explosive tempers as everyone is in a rush to get everything on their list.
But the energy that settled in around the small town shopping areas in Western North Carolina last weekend felt different. It was calmer, less crowded, more joyful and filled with more gratitude for the important things.
"Everyone was just so friendly when they came through the doors, but we do work in a happy place," said Joyce Massie with Green Hill Gallery on Main Street in Waynesville. "We're looking forward to the 'Night Before Christmas' when we all stay open later and the rest of the holiday season."
In its Holiday Outlook report released in September, KPMG predicted strong seasonal sales despite supply chain disruptions, rising costs and the continuing spread of COVID variants. Retailers also reported they expect to see sales grow by 7% compared to historical growth (which tends to be 3-4%).
The National Retail Federation predicts that 2021 holiday sales will grow between 8.5 and 10.5 percent from 2020, with overall sales between $843.4 billion and $859 billion. Online shopping is also expected to increase between 11 and 15 percent for a total of $218.3 billion to $226.2 billion. Local businesses throughout the region back up those predictions by reporting record sales years.
Customers line up at the counter of Sassafras, a new store in Downtown Waynesville, on Black Friday. Jessi Stone photo
Despite the exhaustive shopping weekend, Patricia Miller and her sister Roseann were found in good spirits Monday morning behind the counter at Affairs of the Heart in downtown Waynesville. They were chatting with a regular customer who visits from Florida every year.
"Oh man, I laugh so hard every time I come in here," the man said, referencing all the humorous gift items available from socks, greeting cards, T-shirts and so much more.
Miller said her business had a great weekend with Friday and Saturday being equally busy when typically Small Business Saturday is usually the busiest day.
"We had the most awesome weekend. Friday and Saturday were both busy and we were definitely up from last year's sales," Miller said.
Massie agreed that last year's holiday shopping season went surprisingly well considering the pandemic, but already this year's numbers are surpassing 2020.
"We had a couple of banner days this weekend that together probably equaled the Church Street Festival crowds," she said. "We did good during 2020 and we've done well this year too."
Jim Davis, co-owner of The Jeweler's Workbench, said he is also seeing record numbers and expects to have another record sales year.
"I've been here for eight years and this has been our best year ever," he said.
Susanne Blumer, proprietor of Sassafras on Main, is celebrating her first holiday shopping season in Waynesville. She's owned a similar store in Black Mountain for four years and decided this year to expand when the former Cedar Hill Gallery building became available. The Waynesville location is now twice the size of the Black Mountain store with two levels of great gift ideas from kids toys, puzzles, books, games, art supplies and more.
"We've had a fantastic season since we first opened in October," she said. "I was expecting big things and it has exceeded all my expectations."
Robin Blu in Hazelwood and Waynesville help promote Small Business Season to support local retailers. Donated photo

Adjusting to changes
The COVID-19 Pandemic has continued to impact the economy, forcing business owners to rethink their approach to the big holiday shopping days like Black Friday, Small Business Saturday and Cyber Monday.
With the pandemic at its height last year, a majority of retailers decided to close on Thanksgiving Day and extended their Black Friday deals for several days to give customers more space and time to shop safely. For the first time, many small businesses had to quickly pivot to offer online commerce and curbside/pick up services to stay in business.
This year, COVID cases have stabilized, vaccines are widely available and restrictions on businesses have lifted. Business owners are still mindful of safety precautions like masks and hand sanitizer, but now are faced with other challenges as the pandemic drags on — mostly with supply chain issues and shipping delays. The shortages have caused delays for vendors, retailers and consumers.
While the cost of silver and gold had been higher before the pandemic, Davis said that was something they'd already gotten used to, but this year the Jeweler's Workbench has found it difficult to get small parts, like watch batteries.
"We've had some trouble getting things and it's taking longer to get and send items, but I think it's starting to get better," he said. "And I think people started shopping earlier this year because they know about the supply chain issues going on, so they've been understanding."
Even with these setbacks, retailers are hopeful their online sales will continue to grow to new heights. The survey found that retailers predict ecommerce sales will surpass 2020 levels and grow by 35%. Online sales have also benefited from retailers expanding to offer curbside pickup and/or delivery services.
Green Hill Gallery, which used to be Blue Owl Gallery before it moved to the other side of Main Street, carries a majority of items that are produced within a three-hour radius of Waynesville. That means suppliers are local and it's easier to get new items on the shelves. However, even local artists have had challenges with getting certain materials.
Massie said the store sells a lot of local pottery and landscape pictures of Western North Carolina. Artists have had a hard time getting enough clay to make their products. Local artist Doug Cavanah has had a hard time getting the aluminum he uses for his popular panoramic photos sold at the gallery because the cost increased. Many artists have absorbed the additional material cost to keep their prices the same.
On a positive note, everything in Green Hill was made in the U.S. if not directly in WNC. Massie said that's given her business and others a leg-up this holiday season as more people want to spend their money locally on locally made products.
"There are so many more people wanting to shop local and refusing to buy anything overseas right now," she said. "And 99 percent of what we offer is local."
Retailers also went into the holiday shopping season during a major labor shortage. Not being able to hire enough help for the holidays has forced some small businesses to reduce their operating hours.
Many local businesses operate the store with only one or two other employees. The labor shortage has forced some retailers and more restaurants to limit their hours to ensure they aren't overworking their small staff.
"Yeah, if it gets any busier we'll have to hire another person," Massie said.
Blumer said she felt fortunate to be able to staff Sassafras during the shortage and employs 12 people in a mix of full-time and part-time positions.
Betty W. Gates, owner of B & B Gifts in Sylva. Donated photo
Feeling grateful
Local retailers are feeling extremely grateful for their success during such a challenging time. They were grateful more people chose to shop local this season instead of shopping only online or at the larger retailers.
"We're blessed to be where we are, not all towns have been so lucky," said Miller.
With this gratitude also comes a little bit of foreboding joy — that feeling of waiting for the other shoe to drop.
"You just worry about how long it will last," Miller said. "Is this the new normal or will it go back to the way it was? Is this sustainable growth?"
These are hard questions to answer right now. Coming out of 2020, tourism predictions said our small mountain towns probably shouldn't expect the same tourist influx once people could travel abroad once again, but that's not what anyone has experienced this year.
For now, retailers are appreciative of locals and tourists alike who keep them going all year long.
"We're still so dependent on our seasonal events to bring people in, but we also want to pull more locals in so they know going to Asheville or Amazon are not their only options," Massie said.
"I really think Waynesville is on the cusp of really becoming a destination. I just expect it to get better and better," Blumer said. "We're just thankful to be part of it."
A customer leaving Affairs of the Heart wished Miller and Roseann well until next time.
"I hope y'all get some rest after your busy weekend," he said.
"We can sleep in January," Miller said.