Archived News
Jackson declares Darrell Woodard Day of Service
Wednesday, December 15, 2021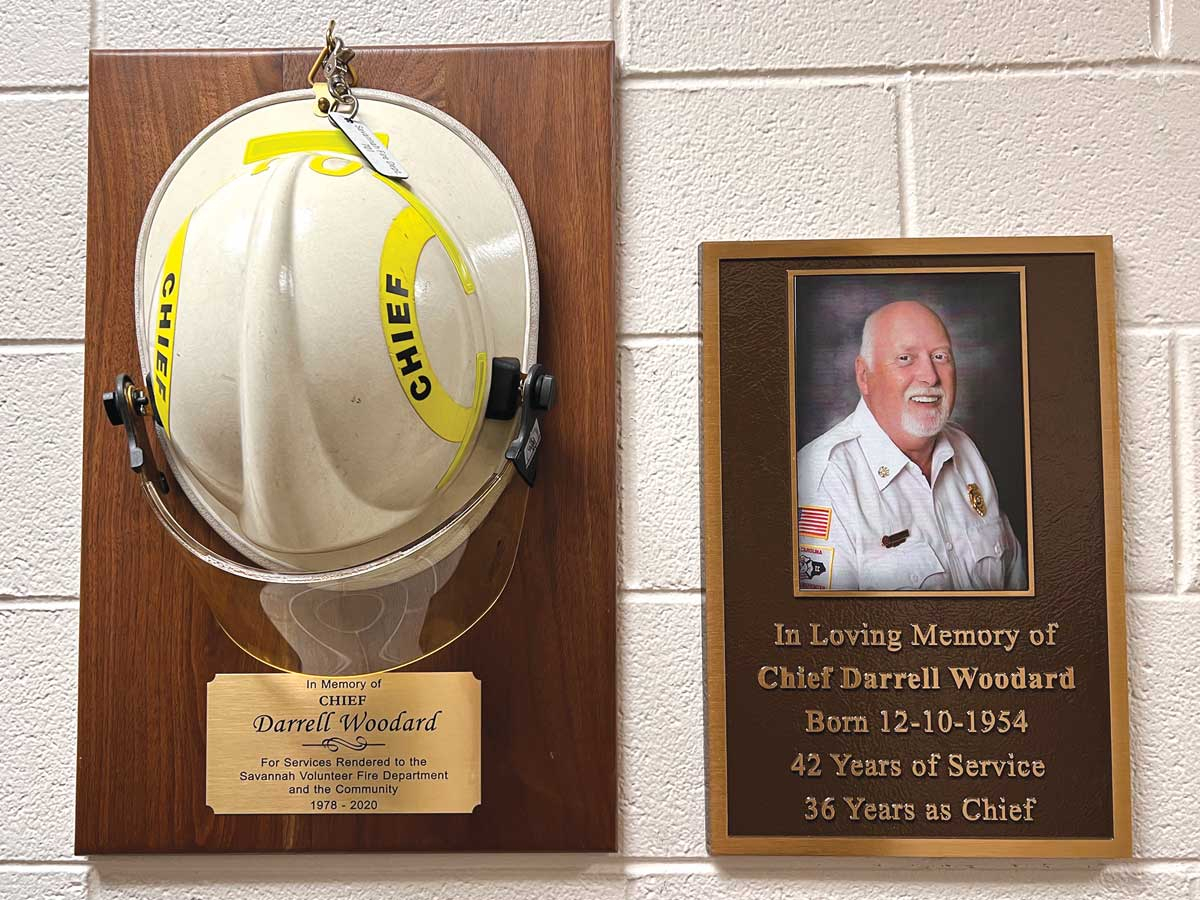 Plaques honoring Darrell Woodard displayed inside the fire station. Joel Rogers photo
Jackson County and the Town of Sylva have officially declared Dec. 10 as Darrell Woodard Day of Service.
Darrell Woodard was an active firefighter for over 42 years, had been Chief of the Savannah Volunteer Fire Department in Jackson County since 1984 and served as a Jackson County Fire Services Coordinator. He died from complications of COVID-19 on Dec. 29, 2020. Because he contracted COVID-19 in the line of duty, he is listed as a Fallen Firefighter.
"Darrell Woodard was in all aspects a community hero in the Savannah community, in the Town of Sylva and Jackson County. He has just always lived a life of service to the max," said Joel Rogers, Woodard's son-in-law.
Rogers was the man behind the creation of Darrell Woodard Day of Service. He and his wife Cheryl, Woodard's daughter, live in Tennessee where they work for the Salvation Army. After several years of pandemic and widespread loss, Rogers didn't want to see his father-in-law remembered as another victim of COVID-19. Rogers instigated the day of service to honor Woodard for the work he did for his community.
"I desperately wanted his memory to not be reduced down to, 'he passed away from COVID.' Forty-two years plus of active service on the fire department and decades and decades of serving the community, I desperately wanted to do what little I could to make sure that he was remembered for more," said Rogers. "And to help turn a difficult year and a difficult time — it still is sad, we still have lost someone we love, we still miss him and have the times where we cry and have the memories that hit us and all of that — but I wanted to take some of the grief out of a day that could just be filled with sadness."
When Rogers brought his idea to the town and county boards, it was well received. Several town and county commissioners had their own positive memories and stories of Woodard to share with Rogers.
Woodard was the type of person who was always striving to help people in any way he could. According to Rogers, he wasn't only tuned into his official work radio, ready for the call to action to assist with emergencies, he was also tuned into those less urgent needs of his community.
The family receives news of the declaration from Sylva Commissioner Mary Gelbaugh. Tammy Rockwell photo
"When we're at her [wife, Cheryl] family's house, you just have to know that the radio may go off and he's [Woodard] gonna get called to an accident or a fire, or he's gonna get a phone call that there's somebody who is in need of help with something," said Rogers.
Woodard was known just as much for his neighborly help as he was for his emergency help. After mowing his own fields, he would drive up the road to mow the fields and yards of senior citizens who couldn't mow their own land. He also helped with maintenance and repairs around senior's houses. He helped deliver boxes of food to community members who needed them.
"I mean, you name it, Darrell did it. If it's something somebody needed and he had any power to fix it, he would fix it. It just was who he was, just was built into his nature," said Rogers.
Approval by the town and county boards of the Darrell Woodard Day of Service was done on the downlow, without much fanfare, and for good reason. Part of Rogers' plan was to surprise his wife, their family and Woodard's widow, Leigh Woodard, with the official proclamation on Woodard's birthday, Dec. 10.
Rogers coordinated with the Savannah Volunteer Fire Department to host a toy drive. The fire department took toy donations from Nov. 29 through Dec. 10. Rogers had planned to bring his family with him to the fire department on Dec. 10 for the presentation of the official declaration. However, Leigh Woodard had heard about the toy drive and on Dec. 10, she called the station to see what help they still needed and offered a hand to box up the toys that evening.
"So while she's inside bagging up toys and getting stuff boxed up to deliver to The Salvation Army, that's when we were setting up outside with the rest of the fire department, extended family, family from the community, her son had flown in from Texas and my wife and I came over from Tennessee," said Rogers. "She walks out thinking she's taking bags of toys out to The Salvation Army's truck and is ambushed with family and with love, and then reps from the town council and from the county commission officially give her the declarations that they had drafted. It was a precious time for sure."
Through the toy drive, Woodard's family and the Savannah Volunteer Fire Department helped to fill a shortage of donations in Jackson County for the Salvation Army's Angel Tree program, a program that works to donate clothes and presents to the children of families in need.
Rogers and his family hope that the toy drive will be an annual event. In the coming years, Darrell Woodard Day of Service will expand in breadth and reach as family members, who this year were surprised by the declaration, have input on how best to serve the community.
"He would hate to see his name attached to anything like this. He hated accolades, he hated awards, hated all of that," said Rogers. "But I think he would be incredibly proud to see his name attached to something that got people out and serving others."