Archived News
Ghost Town developer pleads his case
Wednesday, December 15, 2021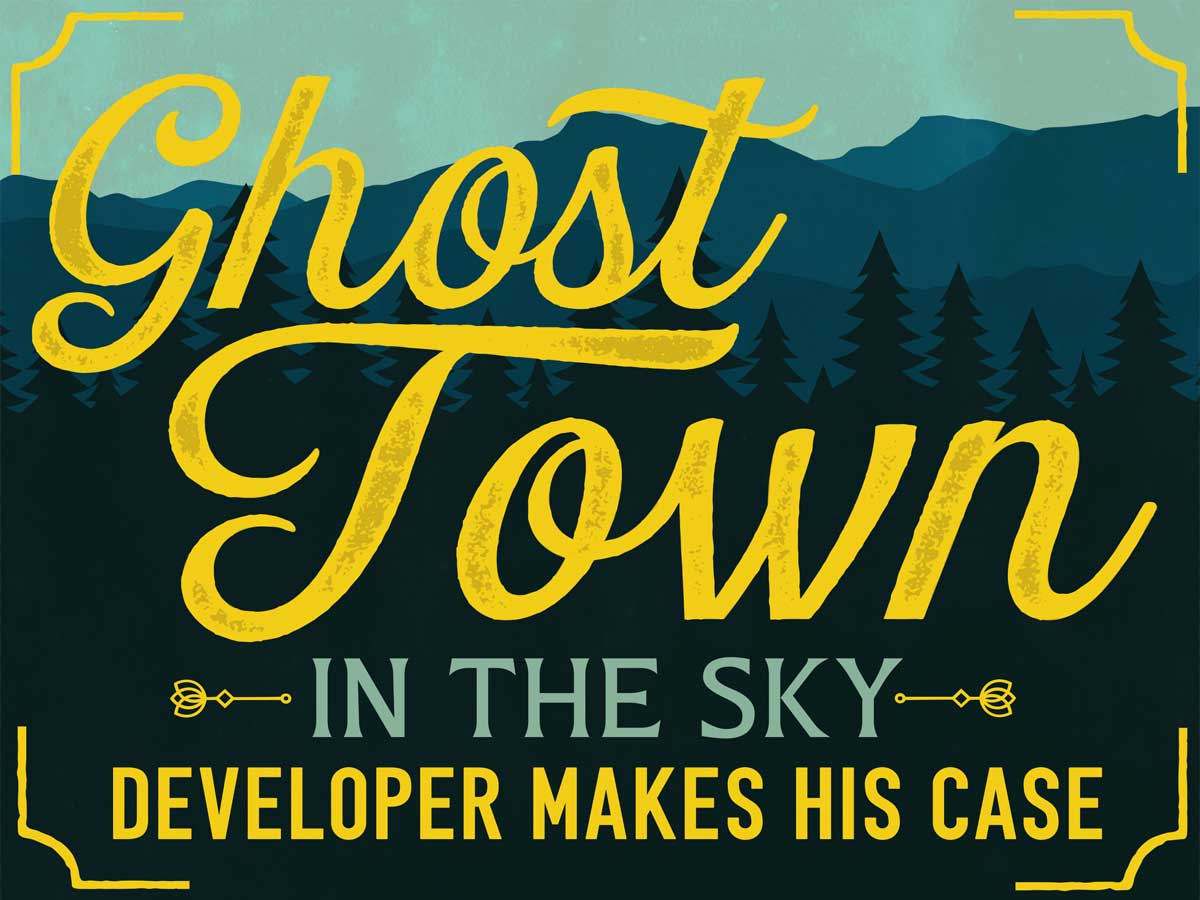 Ghost Town developer Frankie Wood made his case to members of the Maggie Valley business community during a presentation at Elevated Mountain Distilling Company on Monday.
With the air of Custer's last stand, Wood drew a line in the sand against certain members of the Maggie Valley Board of Aldermen and made an impassioned plea to business owners to recognize what he sees as land rights being taken away. His entire case teetered on the connection he made between Ghost Town in the Sky and his other developments throughout the valley.
Wood and his allies at Elevated Mountain rallied business owners to answer questions and share details about Ghost Town as well as other projects he has planned. Wood wanted to get their input on what they would like to see in Maggie Valley's future.
Over 40 people, including Maggie Valley Aldermen Tammy and Phillip Wight, gathered at the site of the former dinner theater to hear what Wood had to say.
Ghost Town
Matt Ferguson, chief innovation officer of Storyland Studios — the firm hired to design the new Ghost Town in the Sky — started the meeting off with a detailed presentation of the plans for Ghost Town.
"We're building a story that touches the emotions, it encompasses all that Ghost Town has to offer, but we want to elevate it from just old west Ghost Town to the 'in the sky' part, the uplifting aspect of the story," said Ferguson.
The plans are expansive, and his presentation included artistic renderings of the proposed project. It included wide-scale modernization of existing assets, the construction of five differently themed levels and the creation of a network of cabins and glamping opportunities for guests.
Level one is imagined as Latitude Landing. This would include the current Ghost Town parking lot which would introduce the brand with a decorative front gate. There are also plans to turn the existing A-frame building into a shopping and dining area and construct a lodge style hotel on the opposite side of the lot.
"We want to use modern technology whether it's wristbands or it's tickets on your phone that would allow people to go into the park, go into the core of Ghost Town and just enjoy it as another part of Maggie Valley, without riding all the rides," said Ferguson.
The next level is currently nicknamed Boojum Territory, after the Appalachian sasquatch legend. This level would be nature themed, with a sense of discovery. The main portion of this level would be the hidden village of the boojum with natural, treehouse-like architecture. Outdoor recreation would include zip lines, rock climbing and a roller coaster. An evening light show would imitate synchronous fireflies.
Leading from the Boojum Territory up to the classic Ghost Town would be Cherokee Trail. This level seems to be in the midst of an identity crisis. Despite its name, Ferguson said it would honor the history of the first frontier, celebrating famous pioneers as well as the native people of the area.
"A little bit of a nod to the Native Americans of this area," said Ferguson.
Next up on the mountain visitors would encounter the original Ghost Town. The effort here is to bring back something as close to the original theme park as possible, with the train, can-can and music shows, cowboy stunt shows and dining. Here there would also be modernized retail opportunities that feature Appalachian crafts and a moonshine demonstration.
"This is all about bringing the Ghost Town back to life, everything you remember and even better," said Ferguson.
The final level, above the original Ghost Town, is being called Cloud Camp, for now. This level would be dedicated to celebrating the Native history of the area. There would be Native dancing and craft demonstrations as well as Native history. It would also be home to two large roller coasters and a Ghost Riders in the Sky show.
There are plans for a boutique hotel on top of the mountain, themed for the national parks and incorporating Native American architecture.
One attendant at the meeting asked, "Have you been in talks with Cherokee about Ghost Town or how that would impact them, or how Harrah's and Ghost Town would have any affiliation with each other?"
Storyland has not reached out to Cherokee, though Ferguson said that "absolutely we want to talk with them and collaborate with them."
One attendant raised concerns about sewer and water at Ghost Town, as the property has never been connected to the town's sewer and water system.
"The town has made commitments that once we know what we need, they'll be with us on it," said David Angel, owner of Elevated Mountain Distilling.
"That's at a state level, too," Phillip Wight chimed in. "There's already grant money, we just have to have that plan in place, we can talk to Mr. (Mark) Pless (Haywood's state House representative) down in Raleigh. That is available, it just has to be seized upon for the infrastructure of sewer and water."
The team could not give a timeline or a budget for the project, though Ferguson did say that the park would be constructed in phases and that if they could start tomorrow, the parking lot portion could be completed in one and a half years.
One member of the audience asked Ferguson who would work at Ghost Town and where they would live. Ferguson insinuated that the other properties Wood is working to develop in the Valley are intended for workforce housing. Ferguson estimates that a minimum of 200 jobs would be created from the new Ghost Town in the Sky.
Following Ferguson's presentation about the park, Amber Keeney, manager at Sippers in the Valley, asked the question that seemed to be on everyone's mind: "So, there was a mention of needing the local business owners' support. What would that look like so far as the local business owners and how could they support a project like this?"
Keeney's family opened the Sippers in the Valley Coffee shop in 2016. They decided on Maggie Valley because of the excitement surrounding the possible opening of Ghost Town at that time. The opening never panned out, but Keeney hopes that this time around it will, and that the influx of visitors will help her business.
Other Properties
Before the next presentation from Angel could begin, an attendee asked how the pieces actually fit together.
"Mr. Wood, many of the projects that you've started have had some controversy around them, and they're smaller projects here in the valley floor. I don't really see how that relates to the mountain. The issues I've heard from other people are things like density issues, a number of houses going in and properties becoming more dense here on the valley floor, which is different in my mind from what you're suggesting on the mountain. Can you explain some of that? And maybe it would be more palatable if folks saw the investment on the mountain, instead of the valley floor."
Angel began his attempt to explain the connection by noting the lack of available workforce. This problem, he said, is exacerbated by a shortage of affordable housing. He went on to define a 1031 property exchange, which allows a person to avoid capital gains taxes when selling an investment property by reinvesting proceeds from the sale within certain time limits.
"Developers work with people and want to do that," said Angel. "One of the things I've learned from working with Frankie is he has a network of people who have lots of money to spend because they have lots of money that they're selling things and bringing in, and they need to reinvest that. So, he works with them as the developer."
Angel said this is the reason Wood's name is on some of the properties he is working to develop and not on others. According to Angel, this has been a source of misinformation around Wood's dealings in Maggie Valley. Wood stressed that much of the information circulating about him was false. He insisted that he was ready and willing to show his plans to the community, regularly if it was what people wanted.
"We'll do it once a month, I don't care because we've got nothing to hide," said Wood.
Matt Ferguson of Storyland Studios presents plans for Ghost Town in the Sky. Hannah McLeod photo
Angel also explained to the crowd the nature of PUDs, or planned unit developments. He mentioned that the Maggie Valley Board of Aldermen is likely to review what is allowed within a PUD, as well as the possibility of restricting all RV parks and campgrounds within C-1 and C-2 zoning after newly-elected Alderman Jim Owens recommended the move during his first board of aldermen meeting.
The PowerPoint Angel had prepared contained slides with images of several Maggie Valley properties not related to Ghost Town that Wood is working to develop. However, questions from the crowd and exhortations from Wood himself took precedence, and Angel never finished what he had prepared.
Issues with the town
The meeting eventually took a turn toward what seemed to be the critical issue for Wood and Angel — their qualms with a slew of zoning decisions by the board of aldermen. Most importantly, they are concerned about the possibility that the board will amend its current policy in order to ban campgrounds and RV parks from C-1 and C-2 zoning — even in the case of a PUD, — until its Unified Land Ordinance is adopted. This will be the first Unified Land Ordinance in Maggie Valley's history.
"What's being forced on us right now is basically just a campaign promise to stop RV parks, stop campgrounds and stop anything like that until the UDO is adopted," said Angel.
Wood claimed that this ruling would affect the RV PUD that was approved earlier this year. However, according to Town Manager Nathan Clark, any ruling to prevent RV Parks or Campgrounds from C-1 and C-2 zoning, even in the case of a PUD, would not overturn previously approved PUDs.
"Because he already has a permit, it wouldn't affect his building on that land," said Clark. "At the January meeting, a more in-depth discussion will take place about who is affected and why."
Wood and Angel were clear about their underlying message — the zoning restrictions aren't only a problem for Wood and his developments, they are a direct infringement on the rights of all landowners in Maggie Valley.
"How do we slow it down? Because I don't want y'alls property to be restricted because of what I was guaranteed to do. They're trying now to restrict everybody's property. Because it's the only way they can do it. They can't just target me like they've been doing, so they gotta get all local folks, business owners in this town and go and more or less put a restriction on their properties and devalue your property," said Wood. "The new aldermen come in, they're gonna take over, the mayor's gonna take over, bottom line, they're gonna tell us what we're going do with our properties. They don't want the growth. They made that perfectly clear. A retirement community, that's all they want. They should have told us that before we spent millions of dollars in this community."
The argument hinges on the discrepancy between zoning recommendations from the planning board and zoning decisions made by the board of aldermen. Before aldermen can vote on how to zone a certain property, they receive a recommendation from town staff. The town planner works with the planning board to determine what the best zoning is for a property, taking into consideration, among other things, the request of the landowner.
According to Town Attorney Craig Justus, one thing that cannot be taken into consideration during the zoning process is a landowner's plans for the property.
Wood has had at least one property that has not been zoned according to town staff and planning board recommendations . He claims this is due to personal prejudice. The property, on Campbell Creek, was requested to be zoned R-3, C-2 split zoning. The town staff and planning board investigated, and recommended the R-3, C-2 split zoning to the board of aldermen. Following public input and board discussion, the board did not take the recommendation of staff and zoned the property R-2.
According to Angel, a similar instance happened during the zoning process for Wood's Ferguson Hill property. Wood had requested R-3 zoning, staff investigated and recommended R-3 zoning to the board, and the board of aldermen decided on an R-1, R-3 split zoning.
Adam Hambleton, a business owner, expressed a similar issue with the zoning process in Maggie Valley.
"So how do we stop that?" asked Keeney. "Because those five people on that board have proven before that no matter how passionate a couple of them are, all it takes is one mayor and a couple of friends to shut it down mid track. No matter how passionate, what papers, what studies …. So how do we prevent that from happening?"
The consensus? Take it to the town board. Urge the board to accept zoning recommendations as they are determined by town staff.
"Get behind Kaitland Finkle [Maggie Valley Town Planner], let her do her research, let the planner do their research and make their recommendations," said Hambleton.
"They want to build and run this community as a 100% retirement community. But, all your local businesses depend on the tourist people coming through. Well, they've made it point blank that it is a retirement community. And I don't think everybody just wants that," said Wood.
The call for a public hearing and direction for staff to draft a text amendment is on the agenda for the Dec. 14 board of aldermen meeting, which happened after press time this week. If the motion passes at that meeting, the public hearing will take place at the board's January meeting.
"I would like for everyone to just realize what is happening in the community. You've got people like us that really want the best," said Wood. "They have stomped me to the ground until they almost pushed me out. And the only reason I haven't is for some of the good folks like you guys here in this town. That's the only reason I ain't done left here. And I'm trying my best to stick it out."
Leave a comment
2

comments
The five alderman and the mayor are elected officials. We do live in a democracy, the last time I checked. The newly elected alderman ran on smart growth, which doesn't include RV parks. They were elected with one of the highest turnout elections Maggie Valley has ever seen. The people have spoken. I am not willing to see Maggie Valley turned into a qausi Myrtle Beach just so rich developers can get a write off on their taxes. I also find it hard to believe that the developers cannot find 200 people that already live here to work at Ghost Town. The need for "affordable housing" argument seems sketchy at best. So the plan is to import 200 random people into the region to work at Ghost Town and they will live in RV's across the valley floor. That sounds terrible. Why not put the RV parks on Buck mountain where Ghost Town is? Answer is because they don't want to look at them either. With no specifics on a budget or timeline I wonder if Ghost Town is really the priority at all. I have lived in the valley far longer than Frankie Woods and his associates, I do not want to see losses to my investment due to a decline in home values because trailer parks on wheels line the valley floor. Maggie Valley still to this day does not have a grocery store, a pharmacy, a hardware store, nor a bank. My family literally drives into Waynesville for nearly everything. Talk about losing tax revenue. These would seem to be more of a priority than any RV park. Maggie Valley should support families not developers.

Thursday, 12/16/2021

destroying a beautiful area by cramming in even more people on top of people just like what happened to gatlinburg and pigeon forge. progress is NOT ALWAYS GOOD. leave well enough alone. stop the development.

Thursday, 12/16/2021