Archived News
Public hearing slated for RV moratorium in Maggie
Sunday, December 19, 2021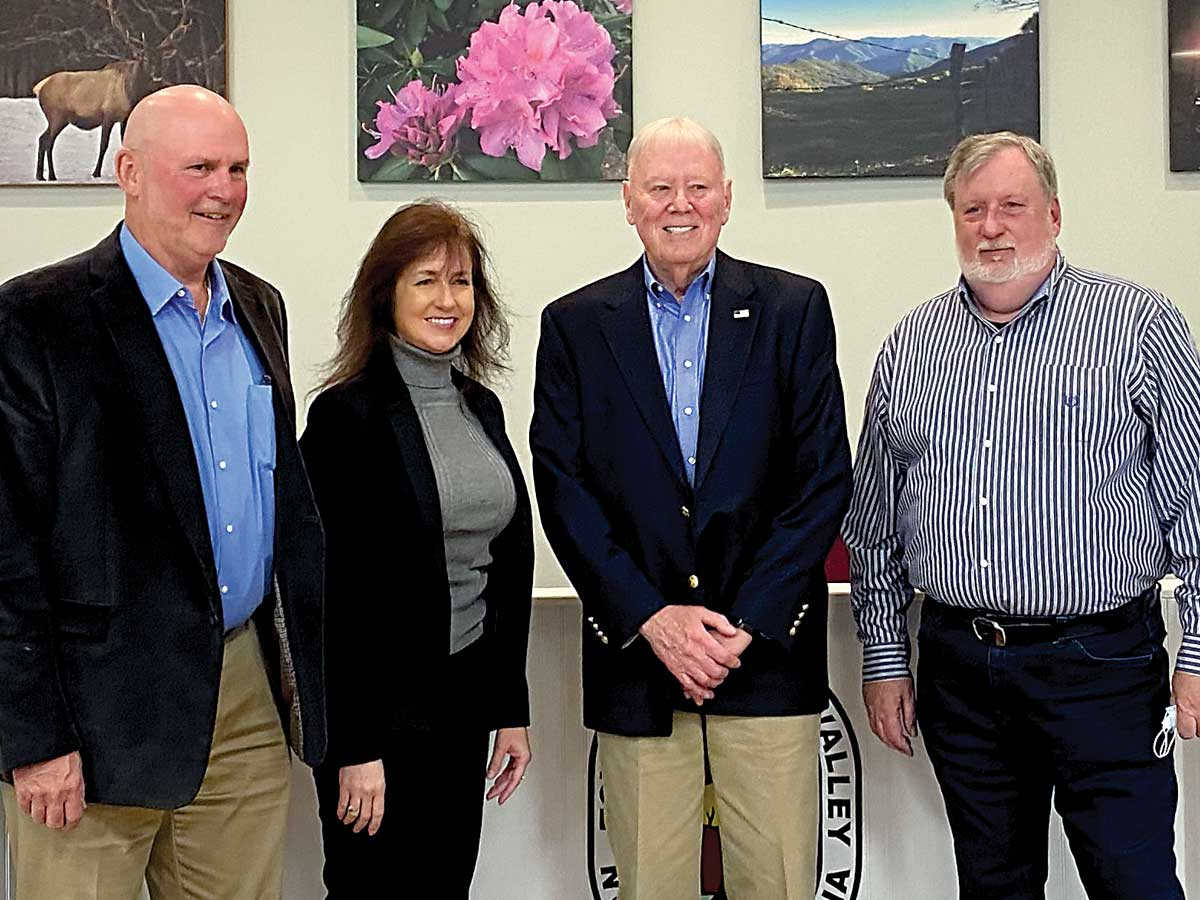 From left: Maggie Valley aldermen John Hinton, Tammy Wight, Jim Owens and Mayor Mike Eveland.
Maggie Valley Town Hall was packed Tuesday evening for the regular December Board of Aldermen meeting. This was the first regular meeting for incoming board members John Hinton and Jim Owens, and a meeting of great concern for anyone with an opinion about the future of development in Maggie Valley.
North Carolina Representatives Mark Pless, R-Haywood, and Mike Clampitt, R-Bryson City, were in attendance.
On Monday, Ghost Town developer Frankie Wood held a meeting for business owners in Maggie Valley where he made his case, not only for the future of the mountain top theme park, but the future of all development in the valley. He argued that if residents weren't vigilant, the governing board would take away certain rights of landowners in the valley.
"They're trying now to restrict everybody's property. Because it's the only way they can do it. They can't just target me like they've been doing, so they gotta get all local folks, business owners in this town and go and more or less put a restriction on their properties and devalue your property," said Wood.
Of particular interest to Wood, and other Maggie Valley landowners was the vote for a public hearing to discuss prohibiting campgrounds, RV parks and RV PUDs in C-1 and C-2 zoning. Wood has already been approved for at least one RV PUD, and has applied for more.
Alderman Jim Owens raised the issue at the December agenda setting meeting and was able to get the vote for public hearing on the agenda for the Dec. 14 meeting.
"I don't like the idea of a moratorium at all. You have people out here who have hundreds of thousands, a million dollars in property and some of those people spent that money for this purpose, with it being an allowed use in our UDO (Unified Development Ordinance) now. So now that these people have purchased this property, we're going to put them on hold, and I just don't think that's right," said Alderman Tammy Wight.
Though the board room was packed, only a few people spoke during the time for public comment. Among them was Betty Jo Campbell Beasley. Beasley still lives in the same house her family built when they moved to Campbell Creek in 1850.
"Our town needs growth. I have lived here all my life. There is a great opportunity that has been given to us, and it has been a door slammed in their face. I'm embarrassed by the way this has been handled," said Beasley. "This town needs to be rebuilt. It needs growth. Right now, there's a lot of snakes in our town, but sometimes there's a big bird that comes along and gets the snake."
On advice from Attorney Brian Gulden, the board decided against a text amendment to prohibit RV parks and campgrounds, and instead chose to hold a public hearing for a moratorium on RV parks and campgrounds. A moratorium enacts a temporary pause on RV parks and campgrounds, rather than a text amendment which would have to go before the planning board, and be more permanent. The moratorium, if passed, will last for 61 days or more, up to six months, until the unified development ordinance is passed.
"The reason a moratorium might be more appropriate is you all have a UDO that is coming forward in the next couple of weeks or months," said Gulden. "If for instance, you had and considered a text amendment, and the text amendment passed that said 'we're removing campgrounds, RV parks, RV PUDs and storages from the C-1 and C-2 district,' that wouldn't allow anybody in the community to develop their property in the C-1 or C-2 district for any of those reasons that you removed from the ordinance. In essence, it infringes upon someone's investment backed expectations."
On the other hand, a moratorium allows the board to put a pause on RV parks, campgrounds, RV storage and RV PUDs until it can figure out the appropriate district in which to allow them, any conditions it would like to impose on them and where it wants to have them. It allows the board to pause, until it can establish better regulations for this type of development.
"From my perspective as a lawyer, the moratorium is a far better tool to use than outright ban on campgrounds, RV parks, RV storage," said Gulden.
"If we do the ban, it would be forevermore," said Mayor Mike Eveland.
Following lengthy discussion from the board, the motion to hold a public hearing for a moratorium on RV parks, RV PUDs, campgrounds, and RV storage passed. Eveland, Owens and Hinton voted in the affirmative and Phillip Wight and Tammy Wight voted against. The public hearing on the issue will be held during the Jan. 11 meeting of the board of aldermen.
Leave a comment
1

comment
RVs have taken over the roads in Waynesville/Maggie Valley. Many folks are pulling huge rigs 9n dangerous roads and putting other drivers and pedestrians at risk. Not to mention personal property. People from this area don't want campgrounds everywhere. We need businesses that support local citizens with year round jobs and good benefits.

Friday, 12/31/2021