Archived Arts & Entertainment
JAM program gives students sense of place
Tuesday, December 21, 2021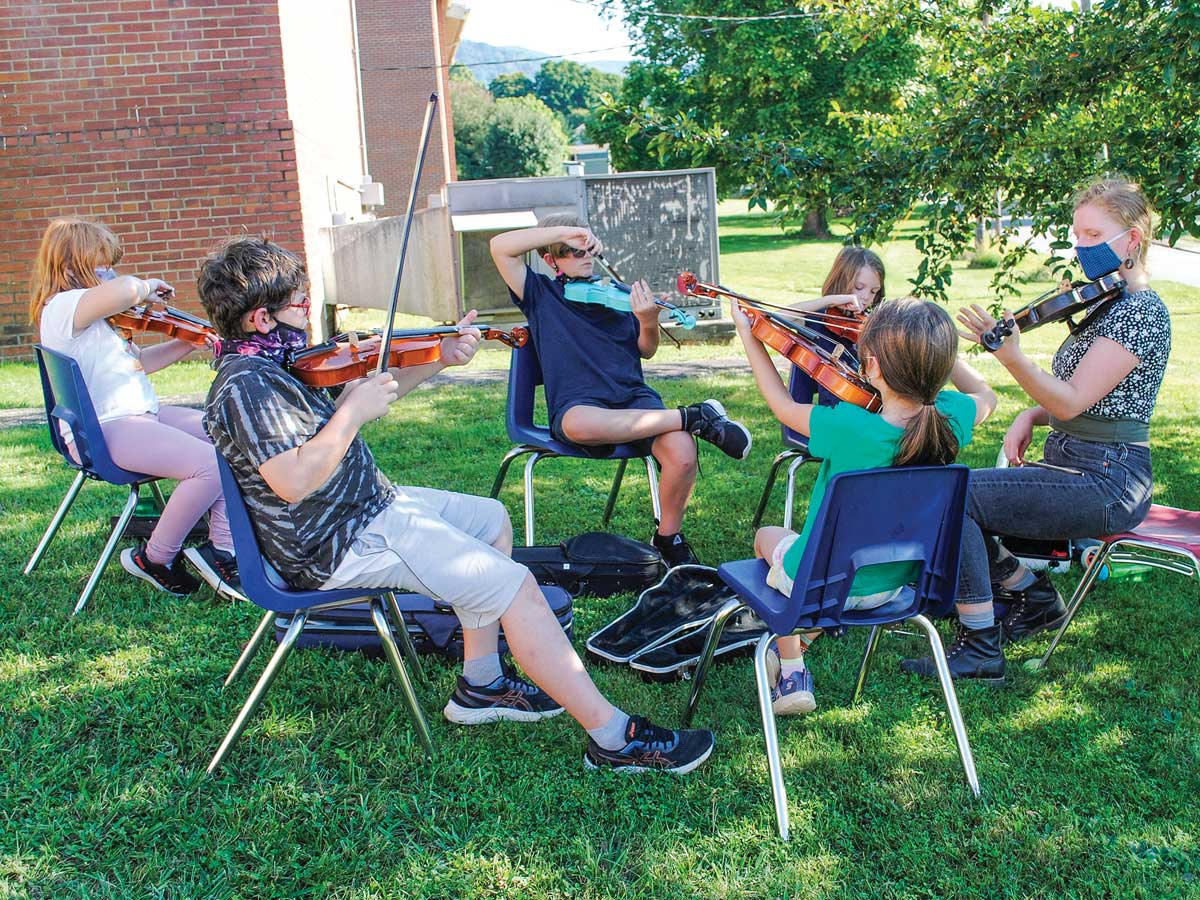 Students in a fiddle lesson outside the Folkmoot Friendship Center.
There is a special moment that happens whilst playing music, a moment when concentration takes over as a musician uses both hands in a complicated way on their instrument or tunes into harmony with another voice. It is a moment when nothing else exists. All of a sudden it is only the musician and the sounds that are being created. Despite anything and everything else that may be challenging or distracting, in that moment it all disappears.
Every student of music has felt this feeling before. The spare moments of total concentration, an almost meditative state one emerges from feeling lighter, refreshed, maybe even accomplished. For students of the Junior Appalachian Musicians program, this feeling isn't isolated, it's wrapped up in the friends they make throughout the program and the history and heritage they learn along the way.
The Junior Appalachian Musicians program, also known as JAM, is a nonprofit after school program for children in grades four through eight. JAM is the parent organization, providing communities the tools and support they need to teach children to play and dance to traditional old-time and bluegrass music, though each JAM program is individually operated and funded. The program introduces music through small group instruction on instruments common to the Appalachian region, such as fiddle, banjo and guitar.
JAM was founded over 20 years ago in Alleghany, West Virginia, in spring 2000 by guidance counselor and traditional musician Helen White. Her vision was to enrich the lives of children through active involvement in the music of their community.
Travis Stuart has been an instructor with the JAM program in Haywood County since it began. He had been playing music since he was young, and in his travels playing and teaching, he saw firsthand what White had put together up in West Virginia. He and his brother Trevor went to the North Carolina Arts Council to try to bring JAM to the state. Not long after, Haywood County became the second location for JAM and the first affiliate in North Carolina.
Instrumental in getting the ball rolling was Joe Sam Queen, director for the Haywood County Arts Council at the time. Queen had been directing the Smoky Mountain Folk Festival and seen all sorts of great musicians from Haywood County play on that stage. But the festival only happened once a year and it was a time for performance. Queen recognized a need for education in the tradition of Appalachian music, so when the Stuart brothers got involved with JAM, Queen jumped on board and helped make the JAM program available under the umbrella of the HCAC.
"My interest in square dance is very connected to my interest in music. You don't have one without the other," said Queen. "My interest came from understanding that I've always been trying to promote young musicians. We were so excited when they came to us in the arts council, and we could support them. They had helped develop the program in West Virginia. They'd gone up there and helped their friend develop the program."
JAM has been making space to pass down and learn the art of Appalachian music for over 20 years now, with Haywood County Arts Council Executive Director Morgan Beryl excited to help keep the tradition alive.
"It's a very low-cost way to provide an after-school activity to kids that builds skills that they can use for a lifetime," said Beryl. "I think that is definitely part of the mission of the Haywood County Arts Council is to provide community services in the art world to youth. I also think part of the Haywood County Arts Council's mission is preserving our traditional Appalachian craft culture. Appalachian music obviously fits into that realm, and we want to make sure that it continues locally."
Students of the JAM program can choose to learn guitar, fiddle or banjo. Another teacher is dedicated for advanced students, and band instruction where students can take what they've learned on their own instrument and apply it to playing with others.
The JAM program is modeled after the traditional way of learning music in Appalachia — by ear, in a group setting with the greater goal of playing together.
"The way we teach, it's like we learned," said Travis Stuart. "We try to do ear training, get kids to listen, so it's a little bit of a different approach than a traditional music class."
Final performance for guitar students at the Queen Auditorium in the Folkmoot Friendship Center.
Learning by ear is not only the traditional form of learning Appalachian music, which typically happened on front porches, in kitchens or next to the fire, it's also vital to be able to play traditional Appalachian music. A musician playing in a traditional group setting has to be aware of the other musicians around them, be able to hear chord changes, listen for where a melody fits in and find harmonies by ear.
"I'll play a song and say, 'the chord changes here,' and they might not hear it at first, but after listening to it, I can tell by the look in their eyes when they hear that change, they recognize that change. Picking up melodies too, some kids can pick up melody faster than others, and some kids can hear a chord change faster than others," said Stuart. "My brother, he's a fiddle player. He could hear the melody of a fiddle tune, which is based in the Scottish Irish folk music. He could just pick those up really fast. Being mostly banjo and guitar, I could pick up and hear the chord changes pretty early on."
Thanks to a partnership between the Haywood County Arts Council and Folkmoot USA, the Folkmoot Center is currently providing a home for JAM program lessons.
"Folkmoot is definitely our biggest sponsor. They've been incredibly generous. They donate that space to us every week," said Beryl.
In addition to learning music, students who partake in the JAM program are making lifelong connections. As part of the registration for current JAM students, the arts council put out a survey to gain insight on the program. According to Beryl, preliminary results show that students' favorite parts of the program are things like making new friends, getting to hang out with instructors and the overall sense of community.
"That really gets to the heart of what we're trying to do, which is give students the opportunity to meet other kids that like to do the same types of things and build those long-lasting relationships around a hobby that can get them through the everyday swirls of life," said Beryl.
This semester, Fritzie Wise joined the Haywood JAM program as coordinator. Music is central to Wise's life, and she is excited to be able to facilitate the learning of music and the connecting of peers.
"It's a wonderful opportunity for them to get together once a week to be together, to play music and to learn the history of our mountain music," said Wise. "I think it's something that gives them purpose and it's something they can share with their families and share with their friends. It's a constant thing in their life, every week. Especially after COVID, they need places where they can be together with other kids their age, finding the music, learning the history and playing it together."
"It's just a great way to socialize. It's a great social skill. Music is just another kind of intelligence that we all should partake in in our lives to make us better people," said Queen.
There is no doubt that music is a valuable skill, one that can serve as a meaningful connection between people. But the JAM program also serves as a connection to heritage and place.
"It just gives kids a kind of sense of place. They play music that came from here," said Stuart.
Learn more
For more information, or to sign up, visit haywoodarts.org/junior-appalachian-musicians-jam/