Archived News
Spoof Awards 2021: The Mr. Congeniality Award
Wednesday, December 29, 2021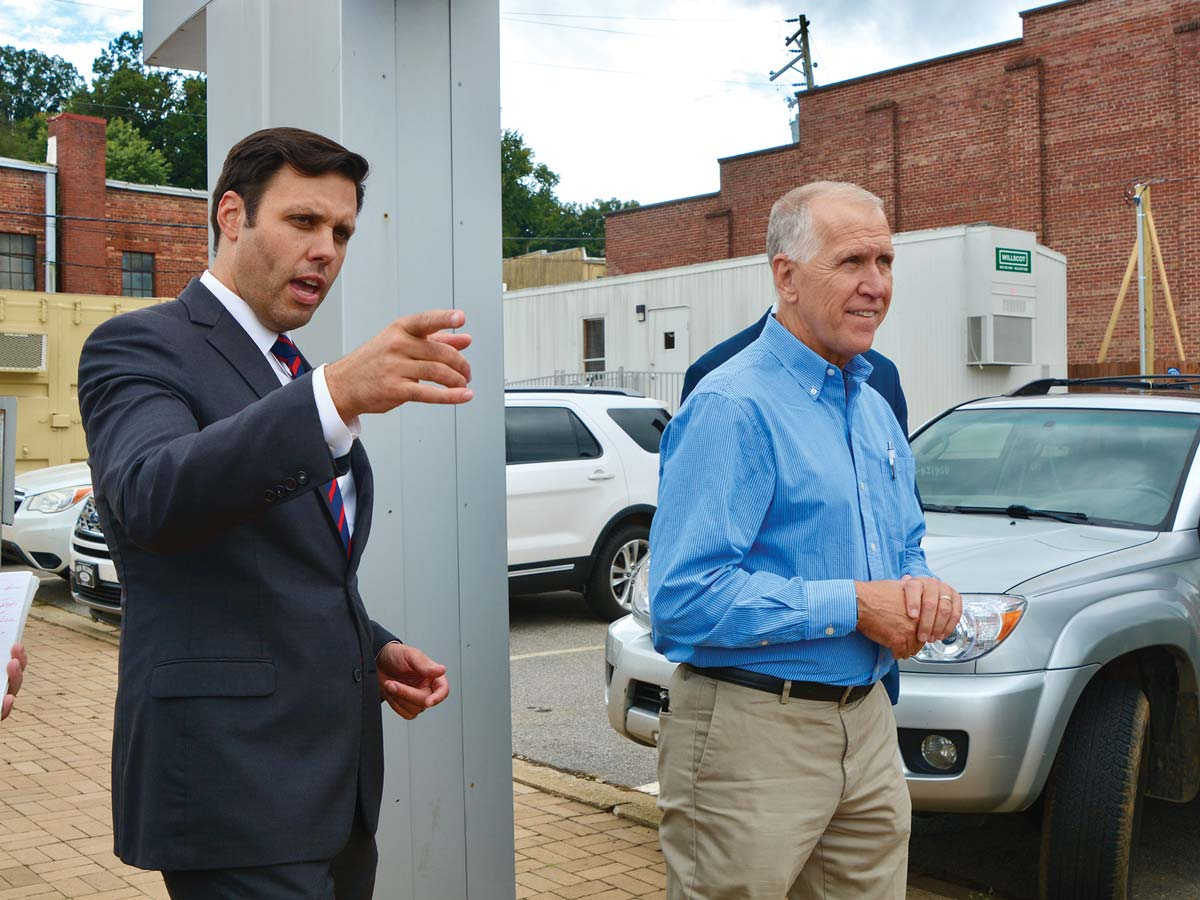 Canton Mayor Zeb Smathers (left) guides U.S. Sen. Thom Tillis on his second tour of flood-ravaged Canton in September. Cory Vaillancourt photo
And what a year it was for Canton Mayor Zeb Smathers.
While still shepherding the rejuvenation of his tiny mountain mill town's central business district through the Coronavirus Pandemic, Smathers and family were dealt an unexpected and devastating blow of their own.
On Aug. 2, Smathers' brother-in-law Jonathan Jorstad — a gregarious, popular and well-known member of the community — unexpectedly passed away.
Two weeks after that, the deadly flooding that ravaged Cruso made its way downriver to the same place it always does — downtown Canton.
Once could hardly have blamed Smathers if he'd curled up into a ball and hid out in his basement, paralyzed by the magnitude of personal and public grief and loss.
But Smathers did the exact opposite. Along with Canton's Board of Aldermen (Gail Mull, Dr. Ralph Hamlett, Kristina Smith and Tim Shepard), Smathers became the face of the flood as he worked tirelessly to secure aid from Washington and from Raleigh, and gained national recognition in the process.
Beginning the day the floodwaters receded, Smathers began a seemingly endless schedule of meetings and phone calls designed to ameliorate the crisis.
In between meetings, the Democrat Smathers hosted regular press conferences not only with elected officials like Sen. Thom Tillis, Gov. Roy Cooper, Lt. Gov. Mark Robinson and North Carolina House Speaker Tim Moore, but also with county officials and first responders — almost all of whom are Republicans.
Smathers lobbied the White House regularly for a FEMA declaration that was slow in coming, pressing for federal aid while reassuring constituents (many of whom do not live within the town limits of Canton).
He did most of that in his trademark suit and tie, looking like a slightly more backwoods version of cartoon secret agent Sterling Archer, while the rest of the county slogged around in muck boots and waders.
It wasn't all tie clips and wing tips for Smathers, though. On the night of the flood, as the Pigeon River poured into homes near Canton's ABC store, Smathers went out to check on his sister and on Alderman Dr. Ralph Hamlett, eventually rescuing Hamlett and his daughter and a neighbor from the waters rising around their homes by carrying them through the water, on his back, to his truck.
Remarkably, through all the interviews and press conferences Smathers conducted, he never mentioned his heroics even once — until asked directly by The Mountaineer newspaper some days later. Were it not for that interview, the world may have never known.
That's why Smathers is this year's "Mr. Congeniality," for going above and beyond the call of duty in difficult circumstances with a sense of dignity and class that has made Canton, and Haywood County, proud.