Archived News
Spoof Awards 2021: The Tale of Two Statues Award
Wednesday, December 29, 2021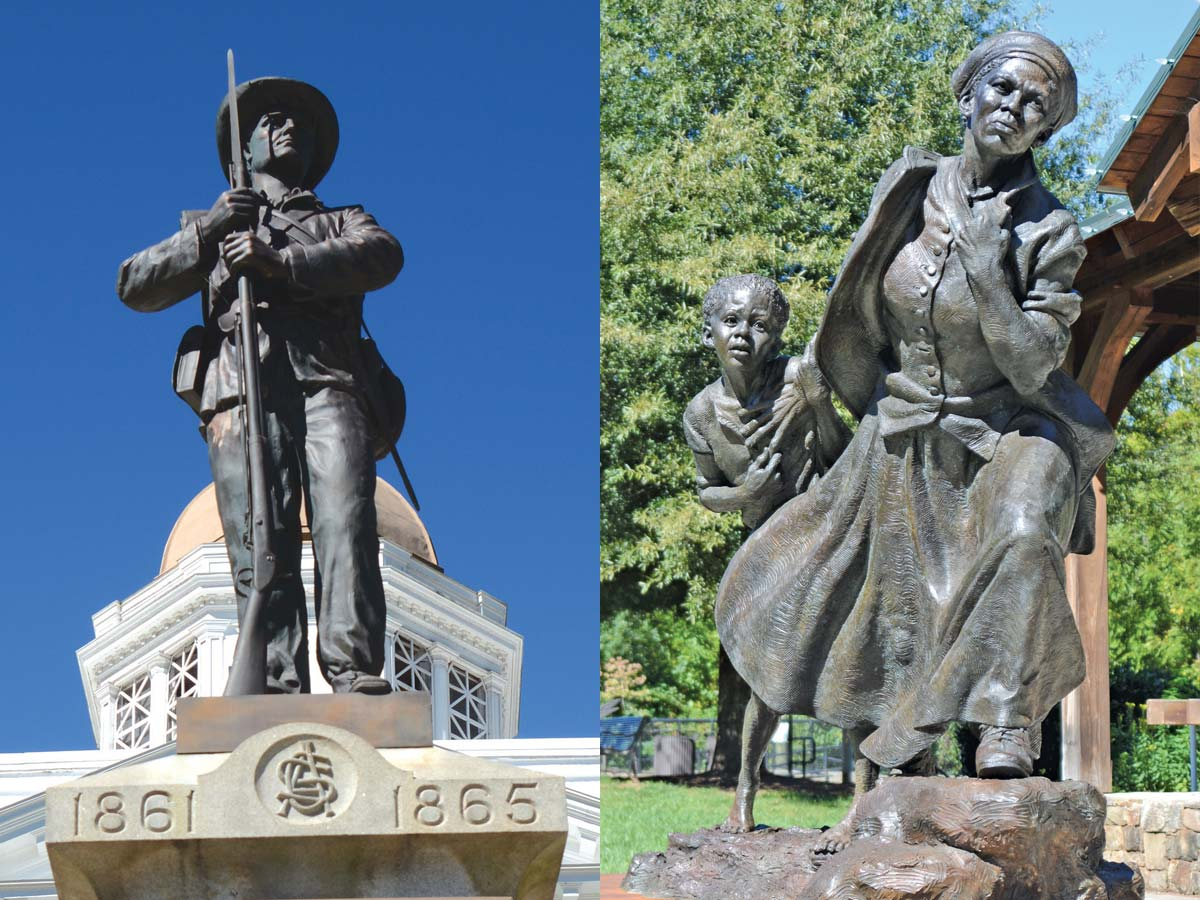 This fall, the century-old Confederate soldier statue (left) and newly created sculpture depicting Harriet Tubman (right) painted a clear contrast in downtown Sylva. Holly Kays photos
The Town of Sylva and Jackson County share this award for the two opposing statues that occupied downtown Sylva this fall.
The first, depicting an unnamed Confederate solider, has stood in place since 1915, while the second, portraying abolitionist hero Harriet Tubman, is a traveling exhibit by Cashiers sculptor Wesley Wofford that just arrived in September and will be gone by the time this paper publishes.
While it's been around for more than a century, the Confederate statue came under fire amid a nationwide debate on the place that Confederate monuments should have in the modern public square. Last year saw a pair of opposing protests , along with hours of public comment and debate before both town and county commissioners. Ultimately, county commissioners decided to keep the Confederate statue in place. This year, they installed new plaques on the base to cover the original, pro-Confederate messaging.
To say those changes did little to mollify the statue's opponents would be an understatement, but Harriet Tubman's arrival brought widespread celebration .
Leave a comment
2

comments
What an embarrassment! To think that the comment submitted by TR Cook is from a person with my last name! I can only hope that we are not related! Please, someone, get his/her patient list and contact them to warn them to find another physician. This guy is a lunatic! What disgusting things to say. Very hard to believe that someone can have the intelligence to get the schooling to become an MD, and to not even understand the reasons for the civil war! Hey, SMN, get this guy outa here! "loathsome communist inspired haters"? What?

Wednesday, 12/29/2021

Tub woman, famous for doing laundry for white people got a statue—albeit an ugly statue like the trashy crap showing a deranged mlk in d.c. Georgieboy Floyd, the most famous negro hero in history got a bust of his own. Meanwhile a statue of a soldier representing the brave men who fought a vile ravaging invader is denigrated by the loathsome communist inspired haters that rear their ugly heads in the most civilized communities.

Wednesday, 12/29/2021