Archived Outdoors
Five ways public lands won big in 2021
Wednesday, December 29, 2021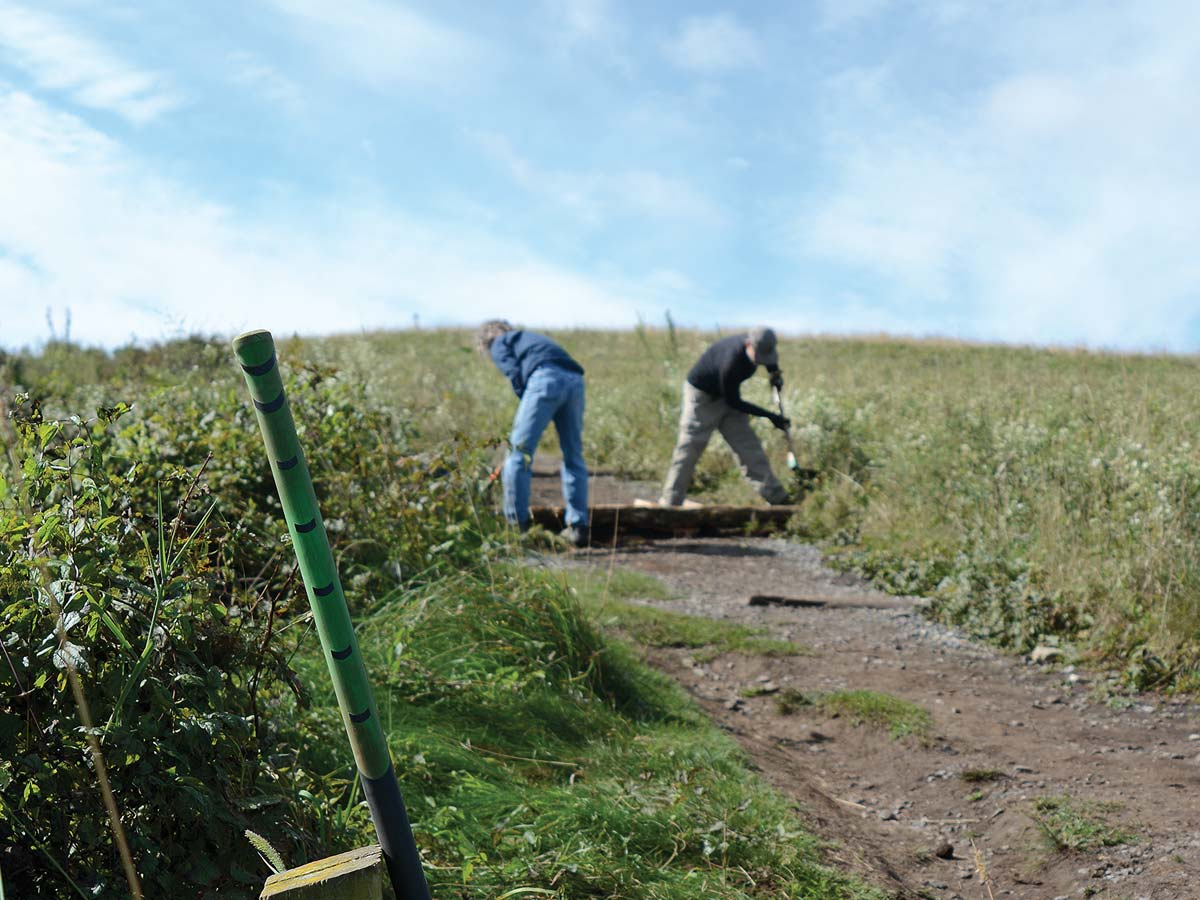 Grass and flowers are growing tall on Max Patch  after new rules went into effect cracking down on overuse of the area. Holly Kays photo
For Western North Carolina's outdoor enthusiasts, a toast to 2021 means a toast to the impressive slate of conservation successes that took place on the region's public lands this year.
The challenges associated with welcoming ever-increasing numbers of new users to these backcountry gems aren't going anywhere, as evidenced by crowded parking areas, toilet paper flowers and granola bar wrappers along trails, and continued — and sometimes violent — human-bear conflicts.
But today, we're celebrating the good — newly conserved lands, expanded trail systems and volunteers who take it upon themselves to keep this beautiful region looking its best. As 2021 draws to a close, it turns out that there's plenty to celebrate.
Seth Alvo, the Asheville YouTuber who spearheaded the Berm Park project, flies off one of the course's most impressive obstacles. Holly Kays photo
Anticipation on Chestnut Mountain
Canton's Chestnut Mountain Nature Park project started the year out as a major headline, with Asheville YouTuber Seth Alvo calling on his subscribers in December 2020 to help fund a top-of-the-line bike skills park on a section of the 450-acre property. By February, he'd raised more than enough to fund the $200,000 project, and now Berm Park is all but finished, waiting until spring for final touches and a grand opening.
Berm Park is just one aspect of the larger vision for Chestnut Mountain, which Canton's leaders see as a game-changer that will boost tourism, economic development and quality of life in the mountain mill town. The full master plan is expected to take about two years to build out and includes backcountry hiking and biking trails, overnight shelters, a playground and picnic pavilion, event lawn, greenway trail and more — all located adjacent to U.S. 23 just about 2 miles from downtown.
"The impact that it can have on us and the quality of life," said Town Manager Nick Scheuer, "can't be overstated."
Biking the Plott Balsams
The past year saw some confident strides forward in an effort to build the highest-elevation biking trail east of the Mississippi on 912 acres of ridgetop land in Jackson County.
Conserved in 2019 through a complex agreement involving the Town of Sylva, Jackson County, the Eastern Band of Cherokee Indians, Mainspring Conservation Trust, The Conservation Fund and private donors, the land is owned partly by Sylva and partly by the EBCI. Both governments agreed to work with Nantahala Area SORBA to develop concepts for a trail system there, which the nonprofit unveiled in February.
In a first-of-its-kind arrangement between the two governments, the EBCI and the Town of Sylva agreed to enter into a joint master planning process that will envision a single, cohesive trail system for the two properties rather than dividing it into two separate projects down the property line.
A master plan is expected to be complete by early 2022. Then will come the search for funding and, eventually, new trails in the Plott Balsams.
Max Patch makeover
A viral drone photo taken in September 2020 showed the beloved bald in the Pisgah National Forest trampled down and covered with tents, blankets and trash — and that image spurred a surge of action.
This summer, the U.S. Forest Service issued a slate of new rules for recreation at Max Patch, most notably banning camping, large groups and off-leash dogs. And as pandemic fears eased, the Carolina Mountain Club reinstated a program it had begun just prior to COVID-19 that stations a volunteer at the trailhead, tasked with answering visitor questions and making sure everyone's aware of the rules.
That all seemed to have an impact. Nearly a year to the day after the infamous photo was taken, grass and wildflowers had reclaimed the mountain. The crowds of picnickers and partiers had disappeared, replaced by smaller groups of hikers grateful for the restored experience.
"I actually saw birds fly," said Mike Wurman, who took the 2020 drone photo. "I've never seen birds up here, because there's always too many people."
Wurman spoke while performing trail work during a National Public Lands Day event that drew 50 people to come help with projects aiming to keep Max Patch beautiful. Their presence was a testament to the significance the place holds for so many people, and to the need for community buy-in to safeguard the experience it offers.
A bear crosses I-40 using a large culvert originally installed with just water in mind, not wildlife. Wildlands Network/National Parks Conservation Association photo
Road crossings for wildlife
A collaborative effort that's been gaining steam since 2017 got its first big win this year when the N.C. Department of Transportation announced that the bridge replacing the existing crossing at Exit 7 of Interstate 40 would include an underpass specifically for wildlife.
Safe Passage: The I-40 Pigeon River Gorge Wildlife Crossing Project , is a group of two dozen federal, state, tribal and non-governmental organizations dedicated to providing safe ways for wildlife to cross I-40 and other area roadways. The organization spent its first two years collecting data on just how many animals die while crossing the highway in the Pigeon River Gorge, but during that period it started talking with the DOT and discovered that the agency was planning to replace five bridges in the corridor — offering Safe Passage an unprecedented opportunity to impact infrastructure that will be around for decades.
The Harmon Den bridge at Exit 7, the first of the five, is under construction now and is scheduled for completion in May 2023. The bridge crosses Cold Springs Creek, and its underside will feature two purpose-made paths — one on either side of the stream — to allow animals to move from one side to the other. A 9-foot fence will guide animals away from traffic and under the bridge. The structure will be the first of its kind in the state.
Perks for parks
For the first time in more than three years, the state got a new budget in 2021 — and it included more than $500 million in funding for parks, trails and conservation projects over the next two years.
Included in that funding is $12.2 million to help buy the 2.5 square miles of former ranch property in Haywood and Buncombe counties that will one day become Pisgah View State Park , along with $29.25 million for a new Complete the Trail Fund, whose mission is to plan, build, promote and maintain North Carolina's 12 official state trails. With $91 million for the Parks and Recreation Trust Fund and $100 million for the N.C. Land and Water Fund in the next two years — above the recurring funding those programs already receive — local projects are sure to get some dollars too as those organizations progress through their upcoming grant cycles.
"I think the pandemic showed us how much people want to be outside and need to be outside," said Reid Wilson, secretary of the N.C. Department of Natural and Cultural Resources, "and this budget is responsive to that."
Leave a comment
1

comment
When I heard of the underpasses planed for the migration of wildlife, I was thrilled beyond belief! While hiking paths and cleanups are important, we have rarely focused our attention solely on the health and well-being of our wildlife. Like humans, these non-human animals are just trying to live their lives and survive. We are finally giving them that chance.

Tuesday, 01/04/2022