Archived News
Jackson County tourism stronger than ever
Tuesday, January 04, 2022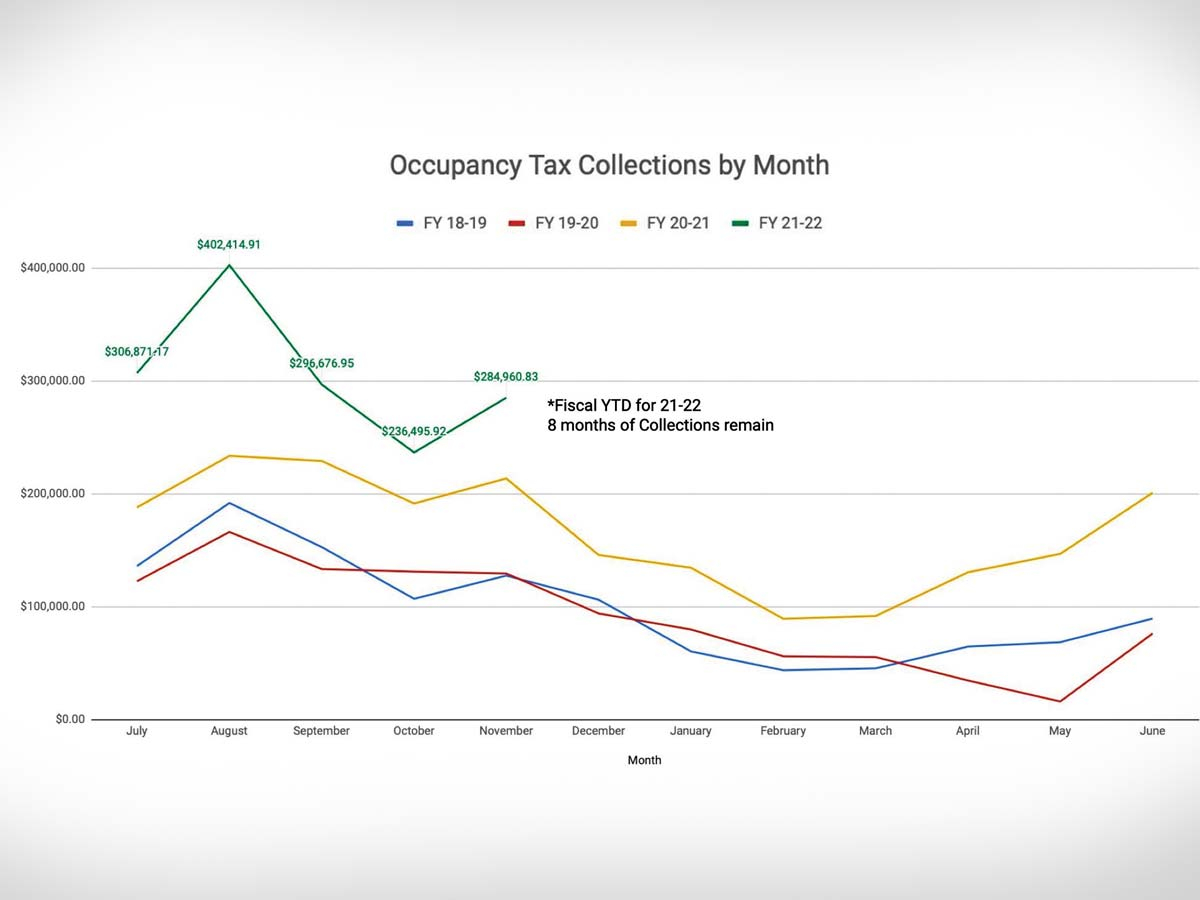 Tourism in Jackson County is set to break all records for fiscal year 2021-22, and for the first time ever, county officials will get to choose capital projects to fund with tourism dollars.
"We have increased tourism spending in Jackson County to the tune of almost $300 million, and that is only second behind Buncombe County," said Jackson County Tourism Development Authority Director Nick Breedlove.
At the end of 2021, tourism was employing more than 2,000 people in Jackson County, an increase of more than 200 tourism-related jobs from the previous year. According to JCTDA reports, tourism generates $84.5 million in paychecks.
"A lot of people see tourism as traffic concerns or littering. What I see is it helps put food on people's tables and helps people pay their mortgages," said Breedlove.
According to Tourism Economics, a nationwide firm, people visiting Jackson County spent $292 million at local businesses in 2021. That's an average of more than $800,000 going to local, small businesses every day.
Positive trends
One positive trend seen throughout 2021 is the number of available short-term rentals in the county and the amount of revenue they generate. On every overnight stay in Jackson County there is a 4% room tax, which funds the JCTDA budget. Airbnbs, and similar short-term rentals had explosive growth around the country during the pandemic . Just in the Cashiers, Sapphire, Glenville area, the short-term rental market has grown by at least 300 homes in the last three years.
"That does have an effect on housing, rentals and affordable housing. That's a challenge that not only we, but a lot of communities are facing right now," said Breedlove.
While the share of people staying in short-term vacation rentals may be increasing, the percentage of people staying in hotels and motels appears to be decreasing steadily. For the 2019-20 fiscal year, more than 60% of overnight stays in Jackson County were short-term vacation rentals.
During the month of October, occupancy in commercial lodging sat at 74.8%, while short-term rental lodging was at 67% occupancy. However, commercial lodging generated $1.5 million in revenue and short-term rentals generated $5 million.
"We're seeing this trend continue and everyone nationwide is wondering if it's going to correct itself and people will shift back to hotels. But right now, people are feeling safer to get settled into an Airbnb and clean it and just hang out as their home camp for vacation," said Breedlove.
Another positive trend is the amount of money collected through occupancy tax. Collection in Jackson County is ahead of schedule. JCTDA has already collected $1.2 million, 88.6% of its annual budget, with eight months of collection still remaining in the fiscal year.
"We expect to break every record in the TDA's history in terms of occupancy tax collection," said Breedlove.
The two busiest months for Jackson County tourism are July and October. During fiscal year 2019-20, Jackson County sold just under $50 million in accommodations. This year, with eight months remaining in the fiscal year, Jackson County has already sold $40 million in accommodations.
Capital Projects
This year, Jackson County may get its first opportunity to use some tourism revenue for capital projects in the county. Over the last year, tourism development staff have examined best practices and spoken with other destinations to learn how best to use tourism dollars for capital projects. JCTDA has now created an application for capital projects, which is currently under review and should be open during the first or second quarter of 2022.
All capital projects will have to be approved by the Jackson County Board of Commissioners, and the parameters outlined in the Jackson TDA's enabling legislation means that they will have to somehow relate to tourism. The statute mandates that two-thirds of occupancy tax funds be used to promote travel and tourism in Jackson County and that the remainder be used for tourism-related expenditures. The law defines tourism-related expenditures as those designed to increase use of lodging, meeting or conventino facilities, or to attract tourists or business travelers to the county.
"Capital projects are something we've been talking about since we began the TDA," said Breedlove. "We wanted to make sure we went about it the absolute best way, to use these tourism dollars that are coming in at a record pace to reinvest in our community. Assets that residents and visitors alike can enjoy."
Other projects
Jackson County TDA funded two grants in 2021 — $35,000 for future growth planning in the Cashiers area through the Urban Land Institute and $3,800 to the Blue Ridge National Heritage Area to produce videos of artisans in Dillsboro to generate awareness of Appalachian crafts.
The organization has also worked toward greater environmental sustainability, funding the purchase of litter pickup tools, bear-proof recycling containers, "Leave No Trace" signs and electronic trail counters for Panthertown Valley.
"As we see more visitors, as a lifelong resident here, I don't want to grow tourism for growth's sake. I want it to be sustainable, I want these mountains to be here for generations to come," said Breedlove.
To ensure smart, sustainable growth, the JCTDA is funding efforts that work to spread visitors throughout the year, bringing in tourism during less busy periods of the year.
"We're not trying to attract everyone here on a Saturday in October, because they'll have less of a great experience, but it will also be crowded. So we're trying to spread people during our need period which is January through March. It's a time when the crowds clear out and the mountains are crisp, clean and cool," said Breedlove.
The JCTDA also purchased three billboards along the main corridors coming to Jackson County from Atlanta, Cherokee and Asheville. The new signs communicate that there are five breweries in Jackson County, farm-to-table dining and shopping.
"We've heard from all of our merchants they've seen an increase in business since we put these out. So it's a small investment to drive business into our small towns."
The tourism department also partnered with a new public relations firm, Lou Hammond Group, to promote Jackson County. Commissioner Gayle Woody noted at the Dec. 14 work session that this firm was instrumental in getting an article about Dillsboro in Our State Magazine.
"I had a Dillsboro merchant tell me that October was the best sales she'd ever had in all her years. And she thought that was a big part of being in the magazine," said Woody.
The firm has also worked to get the word out to influencers, travel writers and meeting planners about the unique scene Jackson County offers. Jame , a new Mediterranean restaurant in downtown Sylva, has become a popular spot for travel writers. Ilda , another new eatery in downtown won mountain restaurant of the year from Eaters Carolina.
"During the pandemic, we focused on community first and foremost because we recognized that if we don't focus on our small businesses and restaurants, when our visitors come back, there won't be anything to come back to," said Breedlove.
Research
In an effort to strengthen its return on investment, research has been a big component of JCTDA's work over the last year.
"It's something that we're spending a lot on, but it drives every decision we make in terms of tourism marketing."
The group now partners with Visa so JCTDA can know, month by month how much visitors spend, what origin markets they come from, and how they spend their money. The top origin markets for 2021 were the Greenville-Spartanburg area, Asheville, Atlanta and Charlotte. Most people from those areas stayed in Jackson County overnight.
Leave a comment
3

comments
Short term rentals add more money into the local economy than the corporate out of state owned lodging where minimum wage staff labor. In AirBnB a homeowner may rent a room, downstairs or guest house. That money goes to the homeowner residing there. In my case, I no longer rent long-term due to the damage often compiled during the longer term. With a vacation rental, my investment is monitored weekly, I pay a local cleaning service, more than a minimum wage, I pay a local realty company to manage the rental. I pay a local contractor to refurbish the properties I purchase. I pay local service people to maintain these properties. These are all local people that make more than any motel pays their own hourly employees. Yes, I do live in Sylva, I bank in Sylva. I purchase property, furniture, cars all in Jackson county. The records posted in this article also show that more revenue is derived by vacation rentals than hotels owned by corporations outside our area despite their oversized voice and political clout.

Sunday, 01/09/2022

"A lot of people see tourism as traffic concerns or littering. What I see is it helps put food on people's tables and helps people pay their mortgages," will no longer be the case once Airbnb has completely wiped out the housing market. Already retail and food service staff are struggling to find affordable housing, not to mention that people who live year round in this community are finding it less and less possible to ever own a home. Tourism is not a bad thing in and of itself, but Airbnb is destroying the world and more specifically Jackson County. We must regulate before it's gone too far, or we are putting tourism above the wellbeing of Jackson County residents. The way its going the only people "paying mortgages" with tourist money are either business or Airbnb owners, which is not only a small group of residents, but some of which don't even reside here.

Wednesday, 01/05/2022

"A lot of people see tourism as traffic concerns or littering. What I see is it helps put food on people's tables and helps people pay their mortgages," will no longer be the case once Airbnb has completely wiped out the housing market. Already retail and food service staff are struggling to find affordable housing, not to mention that people who live year round in this community are finding it less and less possible to ever own a home. Tourism is not a bad thing in and of itself, but Airbnb is destroying the world and more specifically Jackson County. We must regulate before it's gone too far, or we are putting tourism above the wellbeing of Jackson County residents. The way its going the only people "paying mortgages" with tourist money are either business or Airbnb owners, which is not only a small group of residents, but some of which don't even reside here.

Wednesday, 01/05/2022