Archived News
Campground, RV moratorium passes in Maggie Valley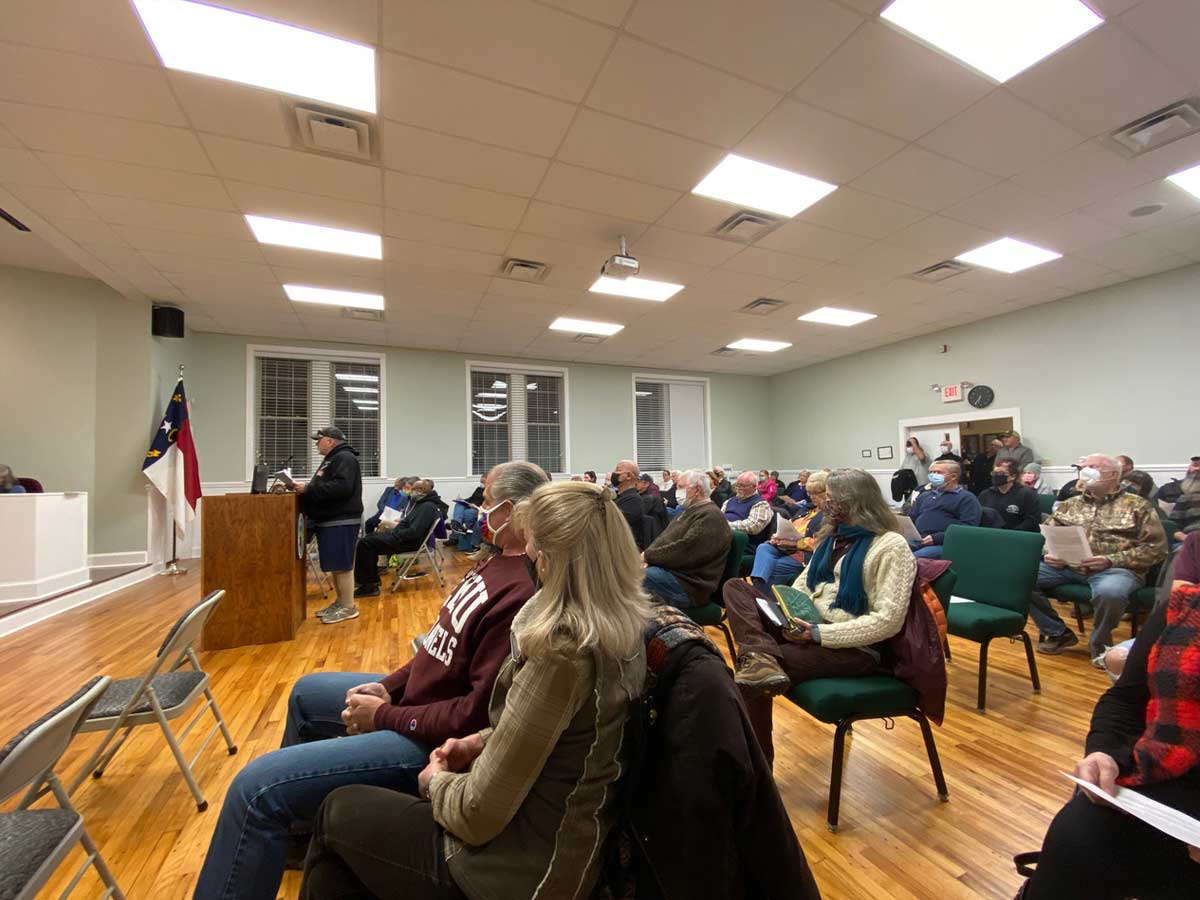 A packed house listens to a speaker at Tuesday's town board meeting in Maggie Valley.
Anyone looking to create a new campground or RV park in Maggie Valley is out of luck. For the next six months, the town has a moratorium on RV parks, RV Planned Unit Developments, RV storage and campgrounds.
On Tuesday night, Jan. 11, the board passed the moratorium with a 3-2 vote. Mayor Mike Eveland, Jim Owens and John Hinton voted in favor of the measure, while Phillip and Tammy Wight voted against it.
"I was the one that put the motion forward. I have been against growing, I think a dozen campgrounds in Maggie Valley is more than enough," Owens said. "The people spoke to us during the campaign."
Owens first brought the issue to the table at a Dec. 7 agenda setting meeting where he suggested removing campgrounds from what is permissible under C-1 and C-2 zoning.
"About a month ago we had an election that drew the largest voter turnout in history, and the voters were both vocal and very engaged," Owens said during a December agenda setting meeting. "And during the campaign, the most passionate and consistent appeal was 'please no more campgrounds in Maggie Valley.' We heard that loud and clear from so many of the people that were out voting during the campaign, we talked to dozens and dozens of people."
Through conversation with the board and town attorney, the idea eventually morphed into a moratorium — essentially a pause on any new permits for RV parks or campgrounds in the valley. The moratorium decided upon will last for six months, or until the new Unified Development Ordinance is passed. The planning board is currently working on preliminary drafts of the new UDO.
"The reason a moratorium might be more appropriate is you all have a UDO that is coming forward in the next couple of weeks or months," said stand-in town attorney Brian Gulden at a Dec. 14 meeting. "If for instance, you had and considered a text amendment and the text amendment passed that said 'we're removing campgrounds, RV parks, RV PUDs and storages from the C-1 and C-2 district,' that wouldn't allow anybody in the community to develop their property in the C-1 or C-2 district for any of those reasons that you removed from the ordinance. In essence, it infringes upon someone's investment backed expectations."
A
t a Jan. 11 meeting, the board room was crowded with at least 60 Maggie Valley residents as well as State Reps. Mark Pless and Mike Clampitt. However, when it came time to speak on the issue, only six people made their way to the podium. Of those, three spoke out against the moratorium, though one of them was representing a number of people with written statements against the moratorium, and two spoke in favor of the moratorium. The last man referenced an article from The Mountaineer and stated that tourism was not "out of whack."
Those who spoke against the moratorium claimed it would stifle growth as well as tourism in the valley during its most difficult season — winter. Those who spoke in favor claimed that the real damage being done in the valley was the crowding of RV parks and campgrounds, which was harming tourism in the long term.
Dave Angel, owner of Elevated Mountain Distilling, spoke of the importance of tourism for Maggie Valley. Angel serves on the Haywood Tourism Development Authority board and noted the increase in the amount of people staying in short-term rentals , of which he says RVs are a significant portion, instead of hotels and motels.
"This moratorium directly goes against the economic growth opportunities of this town," said Angel. "We live right next to the most visited national park in America and we're putting a hindrance on the ability for those people that want to experience that to stay here in Maggie Valley."
"I've never been into a growing town, that the town was lined with nothing but campgrounds and RV storage," said Mitch Robinson. "To me, allowing that would block any future growth that matters in the long term to the valley. So I'm speaking in favor of the moratorium until we do more research and find out what's the best for the long term."
One of the people speaking out against the moratorium was William Clark, a lawyer in Asheville with Roberts and Stevens,who represents Frankie Wood, the principal Ghost Town Developer who is also a principal with Coastal Development Carolina, a development company. Clark claimed that the moratorium was directed at Wood and Coastal Development Carolina. The company is trying to build several RV PUDs in Maggie Valley. Some have already gained town approval, but any future development of this type would be banned by the moratorium. Clark noted that the planning board has gone against staff recommendations on multiple occasions now regarding zoning and rezoning requests from Wood.
"Mr. Wood and his companies cannot help but feel that this is directed at his development," said Clark.
T
he board discussed the issue at length, even though each member's mind appeared to have already been made up. The mayor has been vocal and consistent in his stance against any more campgrounds or RV parks in the valley. Both Hinton and Owens made that same promise a part of their campaign last fall .
"It's not about property rights, it's about how people want the town to look, the voters of Maggie Valley," said Hinton. "We need an updated UDO, it's long overdue. This moratorium is just a pause, while we get the UDO in place."
Tammy and Phillip Wight have questioned the decision to enact such a broad moratorium since it was brought to the table at the beginning of December. Tammy Wight has been vocal in her concerns about restricting residents' property rights and the flow of tourism in Maggie Valley.
"The timing of this moratorium can easily be viewed as a gross misuse of power," said Tammy Wight. "I don't see this as a question of whether Maggie Valley needs campgrounds or RV parks, I see it as a landowner having a right that is being taken away."
Phillip Wight said the board should do everything in its power to encourage growth in Maggie Valley. He noted that running a business in Maggie Valley is already difficult due to the fluctuation in visitors, and the board should do what it can to help business owners.
"I don't really understand why this issue is first and foremost on our agenda," said Phillip Wight. "There's no record in the last probably 15 years of this being an issue. And that goes back to answering the number one question, 'a statement of problems or conditions necessitating a moratorium.' There's no problems, there's not any condition. It's just fear, and fear of what's coming."
"The right thing for Maggie Valley is to vote for this moratorium," said Hinton. "Put aside your special interests, your secret agenda. Do the right thing for the people, the voters of Maggie Valley vote for this moratorium and get this UDO in place. Take the emotion out of it."
Eveland chafed at the idea that restricting RVs and campgrounds would hinder tourism.
"You're a liar when you say this is going to hurt tourism," said Eveland. "You have no clue. Look at the last two years on how tourism has been and how it is evolving in Maggie Valley as we speak. The numbers don't lie and we are going to continue to grow."
"I don't condone the name calling because I think it degrades the entire board and I think we're better than that," said Tammy Wight.
The bigger issue seems to be the coming UDO and what uses will be allowed under which zones. The moratorium will only last for a maximum of six months, while a UDO will be a permanent set of rules for zoning and development moving forward. All aldermen alluded to the importance of the UDO, urging fellow board members and residents to focus their attention there.