Archived News
Broadband a vital factor in Jackson's growth
Wednesday, January 26, 2022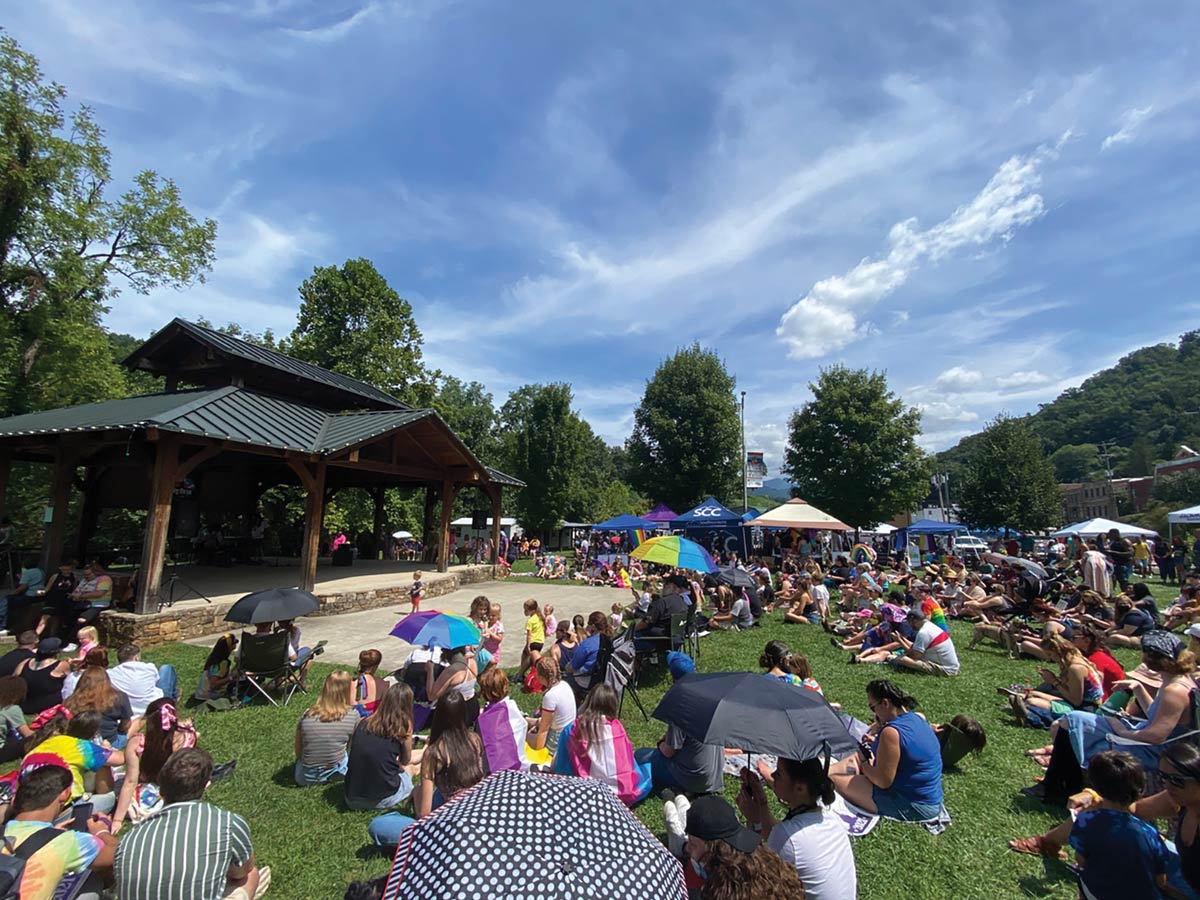 During an event at Bridge Park last summer, event organizers experienced technical issues due to poor wifi connection.
Broadband will be an important part of any and all future growth in Jackson County. Now, reliable Wi-Fi is free for all in a large portion of downtown Sylva.
In December, the county was able to roll out public Wi-Fi for the Main Street area of downtown Sylva. The free Wi-Fi extends from the fountain at the courthouse steps to Jackson General Store on West Main Street and covers Bridge Park. It was important to Economic Development Director Tiffany Henry that Bridge Park have reliable access to free Wi-Fi for events like Concerts on the Creek and the Farmers Market.
"Shortly after the NCIA grant project that we weren't able to go after, I was notified that Southwestern Commission and Land of Sky both received an NC partner connect grant for their region," Henry said during a Jan. 18 commissioner meeting. "Basically, it was first come first serve, and out of that I reached out to all of these partners, and we were able to deploy public Wi-Fi for downtown Sylva and that actually went live and launched at the end of December. I wanted to point out the power of partnerships and collaboration because we couldn't have done it without all of our partners."
In order to roll out the project, Jackson County Economic Development partnered with the Jackson County Chamber of Commerce, the Southwestern Commission, Skyfi Inc., Balsam West, Jackson County Tourism Development Authority, Town of Sylva and more than a dozen downtown property owners.
"We're really excited, and sustainability is one of the biggest pieces of that," said Henry.
Jackson County has continued to see growth and new construction throughout the pandemic years, though most of that has been in the residential sector.
According to a 2021 Comprehensive Economic Development Survey, 52% of renters and 21% of homeowners in Jackson County have difficulty affording housing. The population of Jackson County increased by 7.8% between 2015 and 2020 and is expected to increase by another 4.1% by 2025.
Much of the WNC region has experienced similar growth patterns over the last several years. The pandemic found some people looking for more than the confines of big-city life , and tourism numbers surged after the first few months of shutdown. In many areas, even the volatility of the building market doesn't seem to have stymied growth.
"The increase in construction cost and/or building materials has not slowed construction in Jackson County," said Jackson County Planning Director Michael Poston.
In 2021, Jackson County issued just over 300 new residential building permits.
"That's kind of probably closer to what they experienced in the early to mid 2000s before the 2008 housing bubble burst," said Poston. "That's where we're seeing a lot of the current building trend, in that market."
Additionally, in the last five years there have been six new multifamily housing developments built near Western Carolina University. This type of housing is geared toward WCU students.
For the majority of those new homes, as well as existing homes in Jackson County, internet service will be an important utility. With schools doing more online learning than ever, and people working remotely, reliable access to internet has become a necessity.
Outside of the portion of downtown Sylva that now has access to free public Wi-Fi, the goal for broadband is to identify the most underserved areas in order to direct funding to those places. Jackson County was able to receive some funds through the Rural Digital Opportunity Fund. According to Henry, in the RDOF reverse auction with the Federal Communications Commission, Charter won over 11,000 locations in Jackson County.
"We are sort of the conduit to the rest of the western part of the state, where they also want some RDOF dollars," she said. "So, they'll be building out that sort of backbone and then partnering and pairing that with the state GREAT grants and the CAB programs, and then the Stop-Gap program. I think we're working on sort of putting several different pieces together to make one really all-inclusive coverage across the county."
According to Henry, the best thing residents can do to help the broadband expansion process along is go take the North Carolina Broadband Survey at ncbroadband.gov/north-carolina-broadband-survey.
"That's something that will continue to be extremely critical, for any of these upcoming grant opportunities," said Henry. "We use those maps to help us determine where those gaps in coverage exist and update those FCC maps. So that survey, I can't stress the importance of that enough, like if every single person would do that it could be amazing. Because then we can actually map who has it and who doesn't."
For the NC GREAT Grant , internet service providers are applicants for the grant funding. It is the provider's responsibility to apply for the grants; the county can only support and encourage those applications.
The target areas for this program are those that are currently served by less than 25 megabytes per second download and 3 megabytes per second upload. According to Henry, a large portion of the county falls under those criteria. Guidelines for the program will be released Jan. 31, and applications will be due April 4.
"We don't anticipate any cap on those award amounts," said Henry.
The CAB program is a partnership between local municipalities and the North Carolina Department of Information Technology. This program gives the county the opportunity to be strategic in directing funding to locations in the county that haven't been served through other funding sources. CAB is a relatively recent program which will start with pilot counties in March. Each county will have a federal match of up to $4 million.
"I do want to point out, the GREAT grant vs. the CAB," said County Manager Don Adams. "There are guaranteed amounts of money that are coming to Jackson County for the CAB program. So, if you really look at these two programs, the GREAT grant program is driven by the internet provider. Meaning they're going to go to the state and applying for things that make sense for them, versus the CAB program really is designed for us to go through a process so we as a county can prioritize where we wish to invest money."
According to Henry, ARPA funds can be used for the CAB program, but not for the GREAT grant.
"It's important that we get this information in front of you so that you're starting to think, what resources do we want to set aside to support this effort?" Henry told the County Commissioners at the Jan. 18 meeting.