Archived News
Omicron brings fewer deaths, more hospitalizations than previous variants
Wednesday, February 02, 2022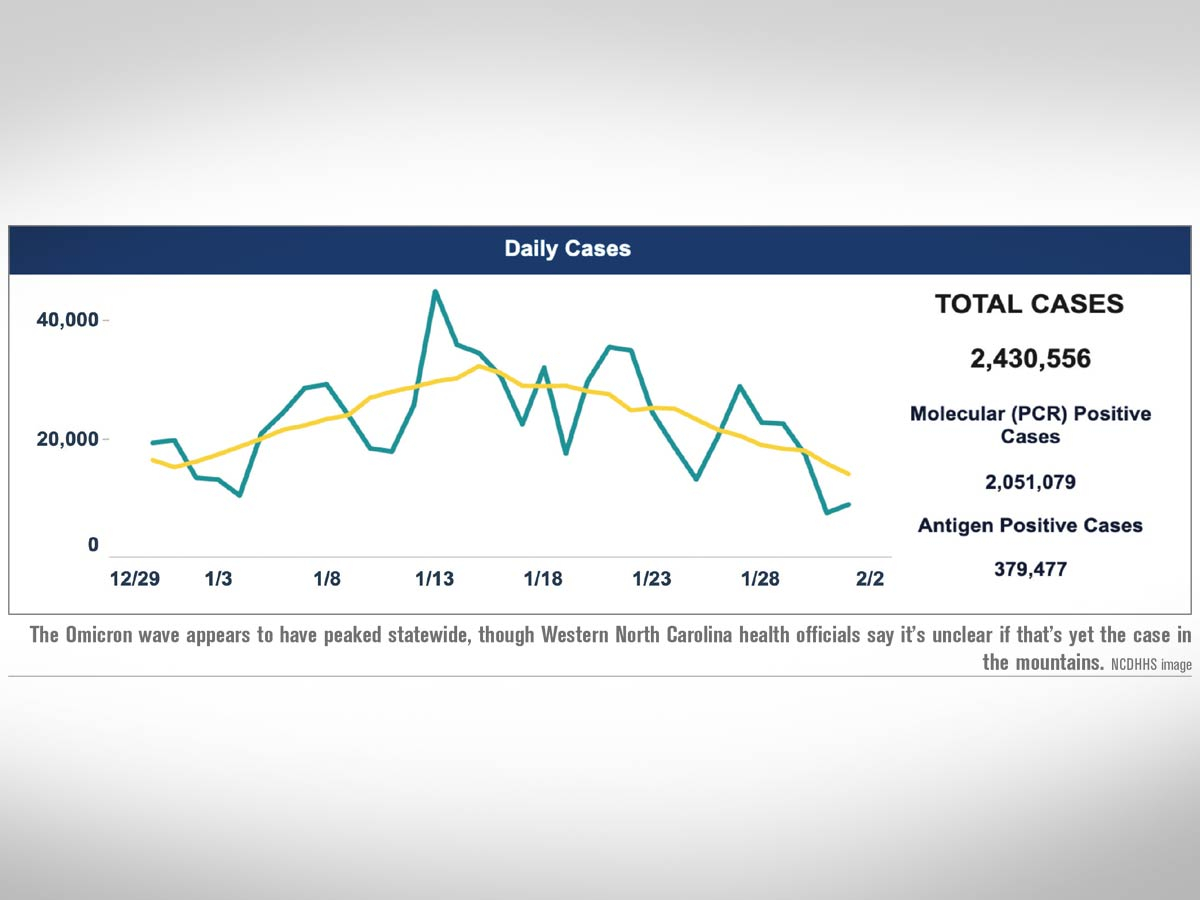 After case counts soared to unprecedentedly high levels throughout the month of January, the Omicron wave of COVID-19 appears to be receding in North Carolina — but public health officials in Western North Carolina are hesitant to say that's yet the case locally.
"We are typically slightly behind the statewide trends," said Anna Lippard, deputy health director for Jackson County. "Our cases are still too high to know if we've 'peaked.' Reported case rates did decrease last week. However, decreases are likely due in part to decreased testing related to recent weather events and MLK holiday."
Lippard's comments aligned closely with those of health officials in Haywood, Swain and Macon counties. Allison Richmond, the public information officer for Haywood County Emergency Management, said that Haywood County is seeing a 41% positive test rate — well above the desired cap of 5% — and high numbers of new cases, so it's not safe to say that the wave has yet peaked locally. However, it might be plateauing. The weekly COVID update Richmond sent Feb. 1 reported 773 new cases in the past week, less than 1% higher than the 767 new cases reported the previous week.
"It looks like we have at least plateaued and may be heading downward," Macon County Public Health Director Kathy McGaha said of case counts in that county.
While case numbers are extraordinarily high compared to previous COVID-19 surges, the Omicron wave has proven far less deadly. Between Dec. 25, 2021, and Jan. 20, 15 COVID-19 patients died in Haywood, Jackson, Swain and Macon counties, with 6,018 cases reported during that same time period according to state data. Between Aug. 25 and Sept. 20, the height of the Delta surge, those four counties saw triple the number of deaths — 48 total — despite much lower case counts. The counties reported 3,013 COVID-19 cases during that time period, though it wouldn't be accurate to extrapolate a fatality rate from those figures, because the date of death is offset from the date of case detection.
Though the Omicron wave brought far fewer fatalities, it produced a surge of hospitalizations, peaking statewide at 5,201 on Jan. 26 — well above the previous highwater mark of 3,992, set Jan. 13, 2021. In the western 17 counties, 266 people were hospitalized with COVID-19 as of Feb. 1, of whom 49 were in the ICU. Across the region, 135 ICU beds were in use, 62 were empty and with sufficient staffing to use, and 50 were unreported or unstaffed.
"Like hospitals and health care systems around the region, our capacity has been challenged by this latest surge of COVID-19, and we have seen a notable increase in the number of Emergency Room visits and increased wait times for patients as a result," said Chelsea Burrell, wellness manager and health educator at Harris Regional Hospital.
Over the past two weeks, Harris has averaged seven COVID-19 patients at any one time, of whom 75% to 85% are unvaccinated, Burrell said. Meanwhile, a Haywood Regional Medical Center spokesperson said that hospital has averaged 23 COVID-19 patients over the same period, with more than 80% unvaccinated and an average admission age of 60.
As of 9 a.m. Feb. 1, the Mission Health system had 176 COVID-positive inpatients, of whom 142 were at Mission Hospital in Asheville, nine were at Angel Medical Center in Franklin and two were at Highlands-Cashiers Hospital. At the Cherokee Indian Hospital, six people were hospitalized with COVID-19 as of Jan. 31, of whom five are over the age of 60. Only one is unvaccinated, said Eastern Band of Cherokee Indians Public Health and Human Services Secretary Vickie Bradley, but the other five either did not finish their immunization series or did not receive their booster shot.
During the height of last winter's surge, Harris was treating 25-30 COVID-19 patients and HRMC had 20-25; on Jan. 3, 2021, Mission housed 162 COVID-positive patients across its network.
North Carolina does not track how many COVID-19 patients are hospitalized primarily for COVID-19 and how many are COVID-positive but hospitalized primarily for some other reason. When New York Governor Kathy Hochul released a report Jan. 7 making that distinction, it showed that in 43% of New York's statewide hospitalizations at that time, COVID infection was not included as one of the reasons for admission.
However, spokespeople for both Harris and HRMC said that the COVID-19 patient numbers those hospitals report to the community "reflect the patients who have been admitted with a primary diagnosis of COVID-19."
COVID-19 is the cause of all hospitalizations in Cherokee, Bradley added.
Staffing shortages are another factor challenging hospital capacity. As of noon Feb. 1, Harris had 99 job openings and HRMC had 169. At full capacity, HRMC would employ about 800 people, meaning that the 169 open positions account for 21% of the total.
Vaccinations and boosters are currently available to anyone over the age of 12, with walk-in appointments available at various locations regionwide. Free testing is also available at multiple locations, including Lake Junaluska and Medical Park Loop in Sylva. Find a testing site and register for an appointment at lhi.care.
Leave a comment
1

comment
41% positivity rate! That is madness.

Wednesday, 02/02/2022