Archived News
Sylva tables chicken discussion
Wednesday, February 16, 2022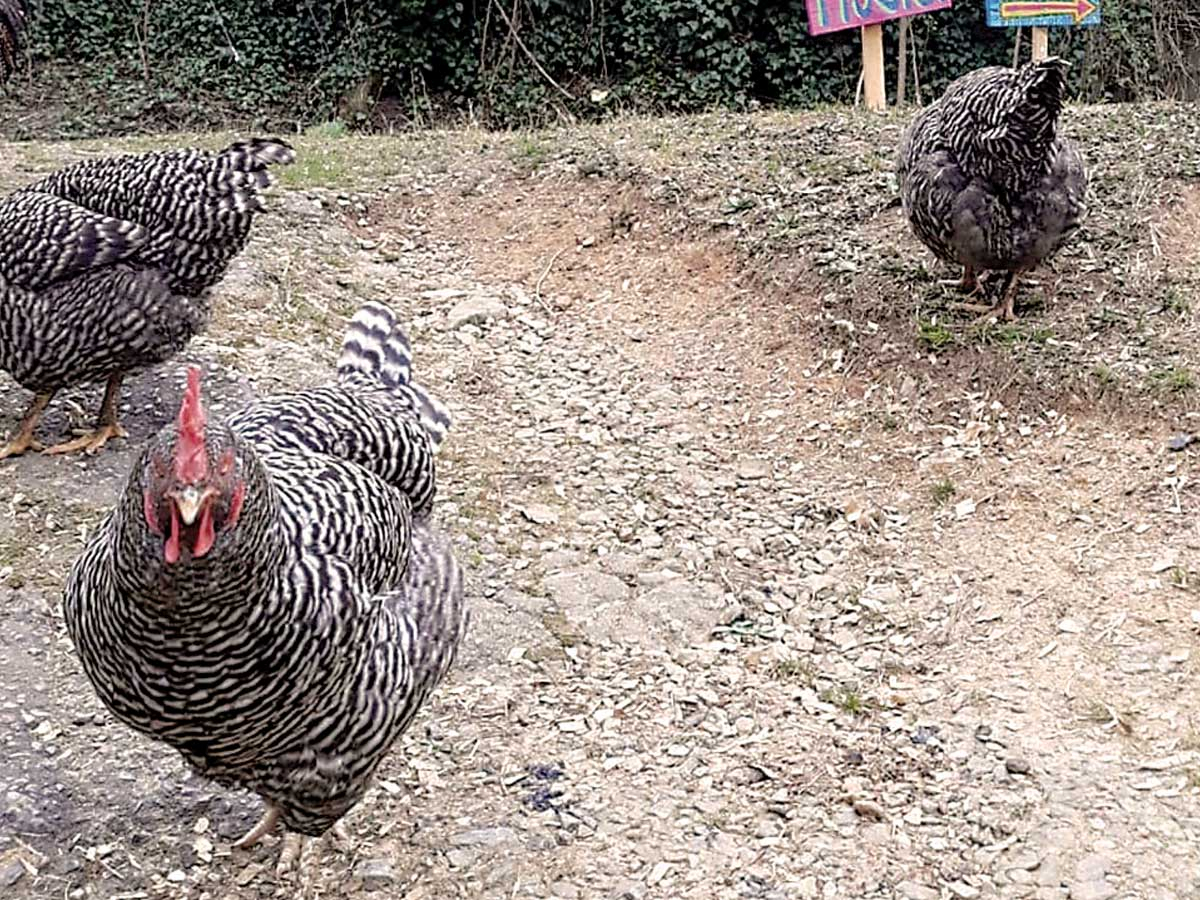 A few members of the chicken flock at Jackson Arts Market. Jackson Arts Market photo
After community members showed up in force to object to certain provisions of Sylva's proposed updated zoning ordinance, commissioners tabled the most controversial items, including a provision regulating in-town chicken-keeping, for further discussion.
"I am very disappointed in who this ordinance really represents," said one Sylva resident. "This is not about the citizens. This is about how we present ourselves to the rest of the world to bring in tourism, and to bring in money. Which is fine, but it becomes more about money and not about welfare, which is what this is supposed to provide us, safety and health."
Municipalities across the state are required to update development regulations and Land Use Plans/Comprehensive Plans to comply with the new Chapter 160D of the North Carolina General Statutes. The goal of 160D is to consolidate current city and county statutes for development regulations into one coherent chapter.
To comply with the necessary updates, Sylva contracted with WithersRavenel to update its current Land Use Plan , as well as its Zoning and Subdivision Ordinance , following the completion of an ordinance assessment in the spring of 2019.
What's changing
In the updated zoning ordinance, Sylva has reorganized, consolidated and renamed zoning districts. The town previously worked under a pyramid zoning structure in which each zoning district allowed the same uses as all less-intense districts.
The updated ordinance includes updated development standards to require open space, landscaping, buffering and sidewalks; increased design standards to expand throughout the community beyond downtown; required use of native species in landscaping on new development; and commercial corridor overlay to promote shared driveways, pedestrian access, safety and design elements along N.C. 107.
A few provisions in the ordinance were of particular interest to those who showed up at Sylva's town meeting Thursday night — regulations on chicken keeping within town limits; a requirement to use native plants when meeting landscaping requirements for commercial, industrial and institutional entities; and size limits for accessory structures on residential property.
Chicken Keeping
At least 10 people spoke at Thursday's meeting in opposition to the changes in the ordinance regarding chicken keeping.
The updated regulations would permit no more than 10 hens on any lot within town jurisdiction. Roosters would only be permitted in low- and medium-density residential zones. The regulations require chickens to be secured in a coop during non-daylight hours, with coops kept in rear yards only and with a minimum setback of 15 feet from the side and rear property lines. Chicken coops would have to be closer to the chicken owner's primary residence than that of any neighboring units.
The primary concern of those speaking out against the restrictions on chicken keeping was the existing flock of chickens that live in downtown Sylva at the Jackson Arts Market. The Jackson Arts Market has started a petition listing a multitude of reasons it would like to be able to keep its flock of chickens. As of press time Tuesday, the petition had 507 signatures.
Kayla Peck spoke about the free, educational benefit of having the chickens at the Jackson Arts Market. She also noted that the chickens are a big draw to passersby and thereby contribute greatly to the success of the vendors at the market.
"If you want to keep Sylva, Sylva," said Peck, "it needs the chickens."
Those who spoke during public comment could not speak highly enough of the JAM chickens, saying that they have become a staple of the downtown atmosphere, beyond just the Jackson Arts Market.
"The chickens provide an organic waste disposal service for restaurants in town and provide fresher eggs than those found in stores," said Molly Harrison. "I vend at the [Jackson Arts] Market every weekend, and every weekend we have people show up strictly to enjoy the chickens. People bring their children to play with them regularly and teenagers bring their families during holiday visits. The chickens are mascots of the arts market and a few even do tricks."
She went on to say that she feels this ordinance is targeting the JAM chickens unjustly.
Other residents raised concerns about what they saw as unfair standards imposed on people's ability to keep chickens within town limits.
"It's vital that any change in local policy prioritizes food security and sustainability, not aesthetics," said Garret Craig. "Basically, the ability of our people to care for the people that they love. The proposed restrictions on chickens and beekeeping seem to unjustly target citizens with less capital, who may even benefit the most from raising restricted livestock, are arguably unnecessarily cruel."
The minimum lot size, 15-foot setback, coop locations and rear yard location requirements all bothered people arguing for looser restrictions on chicken keeping in town.
"I don't think lot size should really pertain to the number of chickens and how they can use the land," said Chloe Burnette. "Chickens do not need specific laws stating where they should sleep at night. As long as they're still secured in a pen, behind fencing, on the property, most chickens prefer to sleep in the trees at night."
Commissioners sought to address the concerns citizens had about restricting chicken keeping within town limits.
"I don't think anybody is really wanting to restrict the number of chickens," said Commissioner Ben Guiney. "The idea is to have a family flock, something that's manageable by a family."
Guiney has eight chickens himself. He noted that in the past, he has had 10-12 chickens and that this number is a lot of work.
"I would be open to increase the number to 15 or 20, but there are limits," said Guiney. "There are limits. Someone having 100 chickens in their backyard is not good for the chickens and it's a public health issue."
Commissioner Greg McPherson spoke to the crowd about living downtown, though he seemed to be addressing one individual directly.
"It's a very close-knit community and very close quarters," said McPherson. "I've not complained about your rooster at all, but your rooster wakes me up every night at 2 o'clock in the morning, every night. You live in a community where you have neighbors. You're not sensitive to that. This ordinance is not getting rid of your chickens, it's getting rid of 50 chickens that are living in the mud at this point. Your lot needs to be regulated because it is not sanitary. Your rooster needs to go away because I don't want to be downtown in a business where I would like some peace and quiet and hear your rooster. I just think that in this ordinance, there needs to be some process for us to talk about the noise that these animals are going to make."
Commissioner David Nestler proposed removing the more controversial pieces from the zoning ordinance update for further discussion. In the meantime, the board could move forward with the updated zoning ordinance and revert to current ordinance language on those more controversial issues until they could be hammered out. The rest of the board agreed to this tactic. Issues removed from the zoning ordinance update included agricultural uses (including chicken keeping) and penalties available for the board to impose regarding environmental code violations. These subjects will be discussed further at a later date.
Accessory Structures
Several residents also expressed concern over the limit to accessory structures. The updated ordinance states that for residential principal uses, the aggregate area of accessory structures may not exceed 25% of the floor space of the principal use building.
During public comment, one resident suggested that all residents be allowed an accessory structure up to 500 square feet so as not to penalize those with a smaller residential footprint.
Commissioner Nestler suggested changing the language in the zoning ordinance to permit residents a 500-square-foot accessory structure, or 25% of the principal building size, whichever is greater.
"That way someone that lives in a 600-square-foot-home that might be on a two acre lot doesn't have only 60 square feet of accessory structure use," said Nestler.
According to McPherson, Sarah LaRose suggested this accessory structure size determination change. The rest of the board approved of the change, and the zoning ordinance will be updated accordingly.
Non-native plants
Adam Bigelow, horticulturist, botanist and regional expert on native plants in southern Appalachia, spoke during public comment about the language surrounding native plants in the ordinance.
"I'm grateful that there is an inclusion of a native plant ordinance and a requirement and using strong language, because native plants in the landscape is a vital part of our much-needed move toward sustainability," said Bigelow. "I do have concerns over the wording that would allow the zoning administrator to let substitutions of exotic and possibly even invasive plants be substituted based on perceived supply chain issues, plant availability, or what I didn't understand, lack of native species."
After hearing Bigelow's comments, the board discussed removing the allowance for permitting non-native plants.
"We can create a market for native plants if you actually encourage the people to plant them," said Guiney. "I know that's tough and it costs people more money, someone wants to put a plant in that's really cheap, but that winds up being a race to the bottom because that also has other consequences to the environment we all share."
Guiney argued for no exceptions to the native plants rule for landscaping. The requirements apply to all places where landscaping is required. According to Karen Mallo of WithersRavenel, this includes commercial, industrial and institutional uses but does not apply to individual residential homeowners.
McPherson requested input from Bigelow, asking what people can buy at Walmart that is beneficial but non-native.
"Very little," said Bigelow. "But there are a lot of resources that I am happy to provide, links to regional nurseries, places where there is potential for the board to incorporate language that has a resource list of where to find plants so that we're not limited to Lowe's, Walmart and Country Road Farms."
The board agreed to remove the exception for substituting native plants during required landscaping.
Stay informed
The next planning board meeting is set for 5:30 p.m. Thursday, Feb. 17, via Zoom. The next Sylva Town Board Meeting will be held Feb. 24. All Town of Sylva meetings are available via YouTube at bit.ly/sylvameetings. To sign up for public comment, contact Amanda Murajda at This email address is being protected from spambots. You need JavaScript enabled to view it..