Archived News
WNC schools repeal mask mandates
Wednesday, February 23, 2022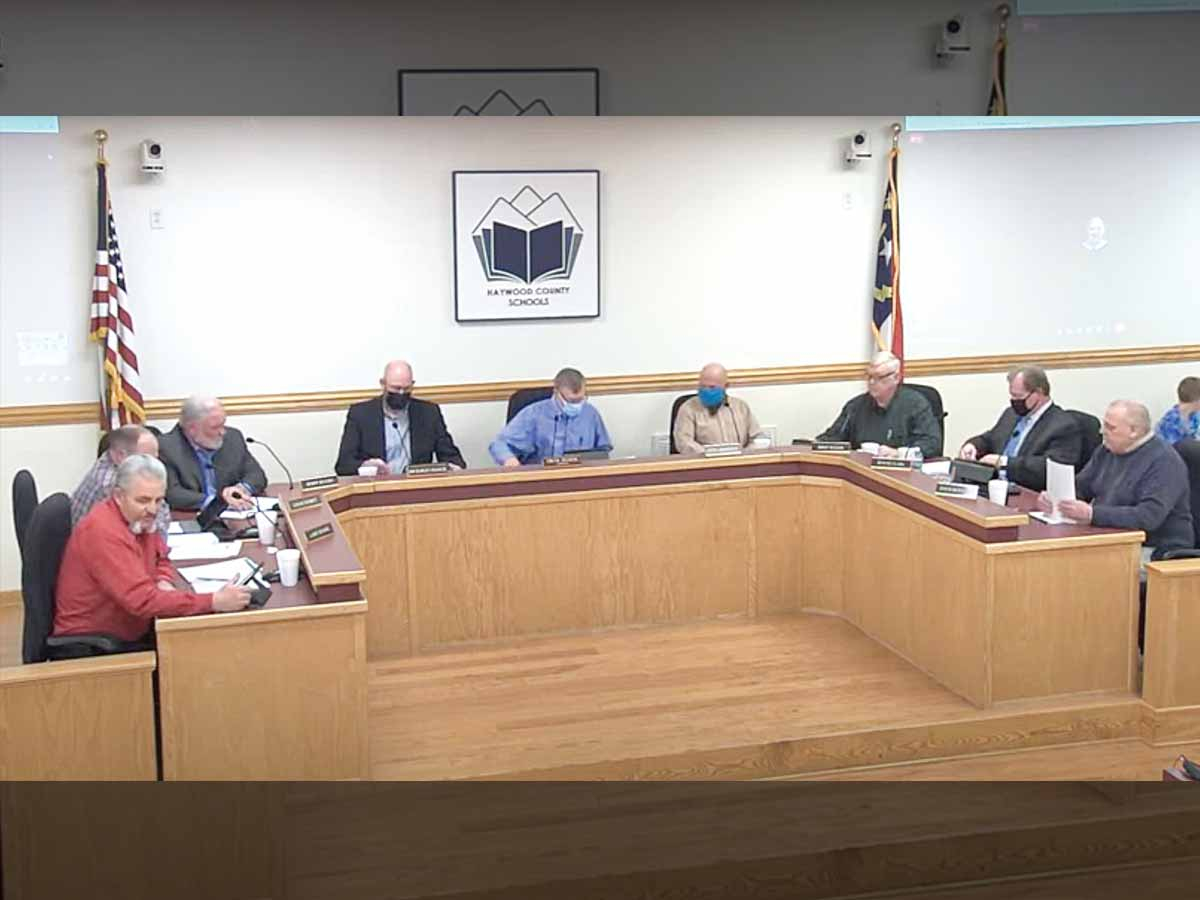 Haywood County Schools made masks optional on Feb. 15. HCS photo
School systems in all four counties of The Smoky Mountain News' coverage area are no longer requiring masks in schools. The slew of decisions came on the heels of updated COVID-19 guidance and new direction from North Carolina Gov. Roy Cooper.
The StrongSchoolsNC Public Health Toolkit still recommends universal masking indoors in areas of high or substantial transmission rates. According to the CDC, Haywood, Jackson, Macon and Swain counties all currently have high transmission rates .
However, last Thursday, Feb. 17, Gov. Roy Cooper held a press conference in which he encouraged schools and local governments to end their mask mandates.
"We are taking a positive step on mask requirements to help us move safely toward a more normal day to day life," said Governor Cooper. "It's time to focus on getting our children a good education and improving our schools, no matter how you feel about masks."
Two weeks ago, the StrongSchoolsNC Public Health Toolkit was updated with guidance that students and staff who have been exposed to COVID-19, regardless of masking, and are not symptomatic, do not need to quarantine. Individual contact tracing and exclusion from school after an identified exposure is no longer recommended statewide in K-12 schools. This guidance took effect Feb. 21.
Students and staff are still expected to follow the 5+5 quarantine model . Those who test positive can either isolate for five days and return to school wearing a mask on days 6-10 or isolate for 10 days and return to school as usual.
Per federal mandate, students and staff will still be required to wear masks on school buses.
These decisions came as COVID rates have been declining in the region. Haywood County currently has the highest test positivity rate of the four counties. As of Feb. 13, the state database put the two-week positivity rate in Jackson County at 18.1%. Macon's was 19.7% and Swain's was 23.4%. The database listed Haywood's most recent positivity rate at 25.7%. Those figures are all higher than the statewide positive rate of 17.8%.
School boards across the state are reassessing their mask policy. However, as of Feb. 22, 46 of North Carolina's 115 School districts had mask mandates.
Macon County Schools has been operating with masks optional since the school board made that decision on Oct. 25, last year.
Jackson County Schools decided to repeal its mask mandate and make masks optional during an emergency board meeting Thursday, Feb. 17.
"I am pleased to report that our covid data has shown drastic improvement," said Superintendent Dr. Dana Ayers. "With the updated quarantine requirements looming, I felt it necessary and appropriate that we revisit our mask policy this week."
As of Feb. 17, Jackson County Schools had one positive staff member and seven positive students. Among the total student and staff population of approximately 4,200, JCPS has a positivity rate of 0.2%. Quarantine numbers are a bit higher, totaling 39 students and staff across the district as of Feb. 16.
JCPS had called its emergency meeting prior to the announcement of the governor's press conference. According to Ayers, the meeting was called in response to positive COVID trends within the school system.
JCPS will continue to notify students and staff who have been exposed to a positive COVID-19 case. According to the updated Public Health Toolkit, people who have been notified should wear a well-fitted mask for 10 days after exposure, be tested immediately if symptomatic and again on day five after exposure.
During her nine months with JCPS, Ayers has refrained from making any recommendations to the board concerning masking. She regularly presented COVID-19 information and the most up-to-date data to the board but said she did not make recommendations because she wanted to have fruitful conversation with the board.
Now, she said, knowing the current data and changes coming down the pipeline, she feels strongly enough to make a recommendation to the board.
"I recommend JCPS move to mask optional beginning Monday, Feb. 21, to coincide with toolkit updates that are also effective that date," said Ayers. "Families, students and staff who wish to continue wearing a mask certainly have that choice."
The board discussed the issue and voted unanimously to end the mask mandate. Board members noted that legislation still requires boards of education to vote on masking monthly and that the Jackson County School Board would revisit the issue regularly.
Haywood County Schools voted to make masks optional for all students and staff during a Feb. 15 regular meeting.
"Tonight, the Haywood County School Board voted to make masks optional for all students and staff effective immediately, February 15, 2022. We would like to thank the Haywood County Health Department for their assistance through the pandemic," said Dr. Trevor Putnam, associate superintendent.
Students and staff will still be expected to follow the 5+5 quarantine model adopted at the special called board meeting last week following a presentation from Haywood County Medical Director Dr. Mark Jaben and Public Health Director Sarah Henderson.
In a scathing press release issued around 9 p.m. that night, Henderson and Jaben advised the board that the Health Department did not support the decision to make masks optional.
"Directly opposing the health department's best-practice recommendation, the board has opted today to go against its previously endorsed approach to masking to move to a masks-optional policy," said the release. "Downward trends hold promise that we could get to acceptable levels soon, but case rates, test positivity, and an overwhelmed health care system remain at or near the peak of prior surges — too high to prematurely remove measures."
In making the decision, said the press release, Haywood County School "assumes full and total responsibility for medical decisions and outcomes that result from their decision" and "acknowledges that they are now the ones best able to assess the impact on health, wellbeing and medical needs for the school system."
Twenty-five people signed up to speak in public comment at the meeting, the majority of whom came to ask the board to make masks optional for students and staff. Only one parent asked the board to follow the recommendations of the North Carolina Department of Health and Human Services for COVID protocols.
A common tactic among almost all parents and members of the public pleading for optional masks was to take a shot at the integrity of the board members.
"My recommendation to y'all is to stand up and be a man and vote," said Cody Henson. "Wake up, school board. County commissioners, wake up. If you don't stand up and have a backbone for the people of this county, I will personally run against y'all."
His assertion that school board members should "stand up and be a man," is fair, only because all nine members of the school board are in fact men.
This may have been the first meeting at which young students came with their parents to speak directly to the school board about masks. At least four students in elementary and middle school grades took to the podium to plead with the board. Some alongside their parents, some on their own. One said only, "you are smothering us."
Two other elementary students compared their fight for making masks optional to that of the civil rights heroes they were learning about in schools — Dr. Martin Luther King, Jr. and Rosa Parks.
Swain County Schools voted to make masks optional during its Feb. 14 school board meeting. Staff presented information to the board regarding updated COVID-19 guidance in the StrongSchoolsNC Public Health Toolkit, as well as current case and quarantine counts within the school system.
Amber Frost, Assistant Health Director for Swain County, presented up to date COVID information to the board.
"As you can see, we are coming down but we're still pretty high," said Frost. "And compared to the peak that we had last year, we're just now getting down to the highest level of where we were before."
The motion to make masks optional passed 4-1 with Chairman Gerald Mckinney, Cody White, Mitchell Carson and Travis Crisp voting in favor and Kim Carpenter voting against.
"I am at the point, with the good news, I think it'd be worth a try to look at a week from today, that's the twenty-first, having masks optional," said Mckinney. "If a week from then or five days from then all of a sudden it blows up, then we'd have to go right back to it because we're going to protect kids and we're going to protect staff. I think we've tried our best and it has worked.
"This is hard," said Carpenter. "Everybody's gone through a lot, parents, students, faculty and staff. Through this whole process I have listened to the health care providers who I trusted with my children as they were growing up and I still trust."
Carpenter noted that case counts are still high in Swain County.
"I don't want people to have to wear masks, I don't want to wear a mask anymore, but I think going without masks and then asking everybody to put them back on in a few weeks is going to be impossible. It's not going to be fair to the kids at that point either. So my thought is, let's stay the course where we're at, we've done a good job so far keeping the kids in school and activities, and I think we need to stay the course until there's a certain time that we see the numbers going significantly down," said Carpenter.
School boards will continue to address masking policies on a monthly basis.