Archived News
A labor of love: After 20 years, Petty walks away from MDCS
Wednesday, March 02, 2022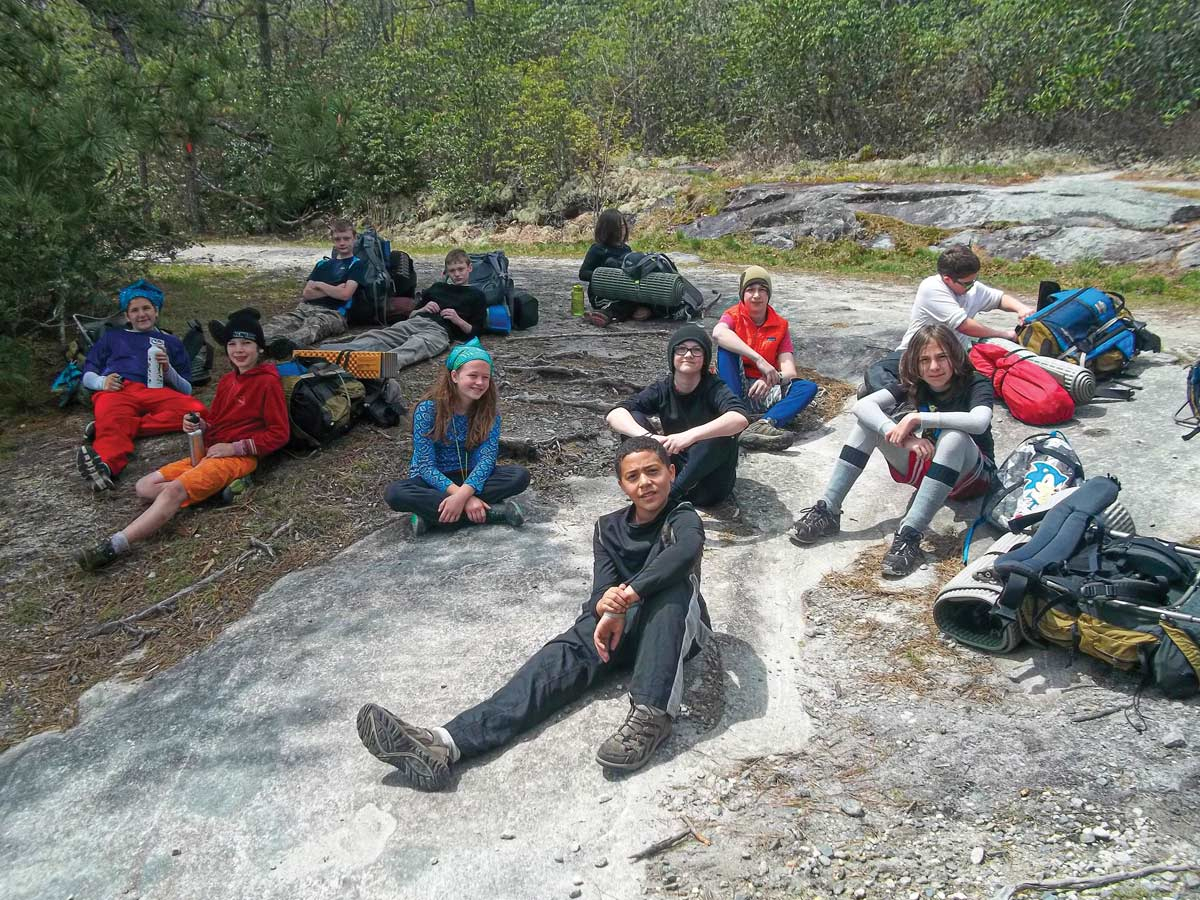 Mountain Discovery Charter School in Swain County is celebrating its 20th year serving students in Western North Carolina. The school has largely been a labor of love, a massive effort of parents and staff to provide the most well-rounded education possible to students throughout their elementary and middle school years.
One of those parents has been there all 20 years, outlasting the education of his own sons — the passion project that got him involved in the first place. After 20 years, Carter Petty is stepping away from the school he helped build. And though he is stepping down from his current position as Interim Director, he has served the school in several capacities throughout the years.
Petty grew up in Atlanta. As a first-grader, he attended a public school that was about a five-minute walk from his house. However, as second grade rolled around, Atlanta Public Schools had begun the process of integrating. Instead of allowing their child to ride the bus for an hour and a half to get to school each day, Petty's parents decided paying for private school was a better option.
"So, I spent second grade through high school in private schools and really had no idea how privileged I was until I got out and attended the University of Georgia," said Petty. "It's still a college environment, but you do begin to get a feel for what you've been given and how lucky you were just to have been born into the circumstance you were born into."
Petty studied English at Georgia, earning a BA in the subject. It was during work for his master's degree in technical theater and design that he met the woman who would become his wife. After traveling throughout their twenties, the couple eventually settled down in the mountains of Western North Carolina and started a family.
As the couple's oldest son approached school age, they began looking at options for his first year. Like all first-time kindergarten parents, the Pettys were anxious about sending their child anywhere that didn't seem like the perfect fit. After touring a number of local elementary schools, the couple was at a loss. That is, until a friend of a friend suggested an alternative.
"A friend of ours that my wife met had kids the same age, and they were of a similar mindset," said Petty. "This friend knew somebody whose child was struggling at West Elementary. An only child, kind of a misfit at West, was getting beat up on the bus and just a bad situation for him. She was looking for alternatives and they discovered charter schools and started pitching it to friends."
Through this connection, Petty was invited to an informative session about charter schools. Out of that meeting coalesced a group of 12 parents, the steering committee, which began the process of developing a charter with the goal of opening the first charter school in Swain County.
The concept of creating public charter schools as alternatives to traditional public schools became popular in the late 1980s due to the work of a small group of policymakers and educators. The idea gained traction throughout the following decade and in 1991 Minnesota became the first state to pass a charter school law.
North Carolina passed its own charter school law in 1996. Originally, the law capped the number of charter schools in North Carolina at 100. This cap was lifted in 2011, and now there are 204 charter schools in the state, serving approximately 8% of its school children. Charter schools receive a percentage of the per-pupil funds from state and local school districts depending on the number of students they enroll.
Charter schools in North Carolina are public schools operated independently of the public school system. Although they are largely publicly funded, charter schools are exempt from many of the requirements imposed by state and local boards of education regarding hiring and curriculum. Because they are technically public schools, charter schools cannot charge tuition or impose special entrance requirements. Students are usually admitted through a lottery process if demand exceeds available space.
These days, even after a prospective school gets its charter authorized by the State Board of Education, there is a full year of required planning. However, when Mountain Discovery got its charter approved in February 2002, the planning year was optional. MDCS decided to forgo the planning year and began school just six months later.
"That planning year was an option, but you didn't have to do it," said Petty. "And there was so much urgency, especially from the woman whose child was getting bullied on the bus every day. But we didn't take that, so our first year was crazy. Just absolutely crazy."
Mountain Discovery opened its doors in the fall of 2002, welcoming 65 students in grades K-6. Those first couple of years, school took place in the old Dollar General store by Ingles, down the hill from where Mountain Discovery sits today.
"We weren't on the first wave," said Petty. "Which was really nice because we did have people we could call and say, so how did this go for you? And what'd you do about that? Those kinds of things."
During this first wave of charter schools in North Carolina, there was some federal funding available for start-up costs. MDCS began during that sweet spot when charter schools had been operating in the state for a few years, so there were models to follow and learn from, but funding was still available to offset start-up costs.
Petty had helped the school through its creation phase as a member of the founding board for Mountain Discovery. However, in 2003, just one year after opening, the school needed a new director.
"It was one of those times when I had a little bit of a lull in my business, and I didn't want to see this thing fall," said Petty. "I had the business background, because it really takes the entrepreneurial spirit and skillset, and then the instructional leadership skillset to do this. And I don't have the instructional leadership skill."
In 2003, Petty took on the position of co-director alongside someone who did have that instructional leadership skillset, a teacher and member of the school's board who had taken time off to stay at home with her children while they were young. The pair led Mountain Discovery for five years, before Petty continued in the position as sole director for the school.
"I always wanted to teach, that was my notion behind getting the masters in technical theater and design," said Petty. "I love to teach. So that's kind of what kept me here, and I just wanted to see it through for my kids."
There are two core principles that draw parents and students to Mountain Discovery Charter School. One is the community.
"I absolutely love our close-knit, special school," said Brook Stillman, teacher and parent at MDCS. "There are hundreds of moments every day that are so unique and special. Kids sharing a hand, a snack, a smile. Kids encouraging others to try hard and never give up. Kids coming out of their shell, becoming comfortable in their own skin and confident in who they are as people. A place where 'weird' is normal and accepted. Kids who had few friends and were bullied elsewhere are 'popular' because as my kid said, 'everyone is popular!'"
"It's a very accepting environment, and we've had so many kids who struggled in a larger, more traditional environment that came here and just blossomed. It's really cool to see," said Petty.
Another principle at the core of Mountain Discovery is experiential learning.
"Experiential learning was something that really meant a lot to me," said Petty. "I was a horrible student until grad school; until I decided that it was time to stop having fun and actually graduate college."
What does experiential learning look like in a classroom setting? The concept is almost synonymous with project-based learning. It's all about real-world application for ideas and lessons.
In math, this can look like a focus on engineering. Eighth-graders at MDCS just finished a math unit in which, as part of a lesson on formulas, students were instructed to build bridges out of dry pasta with the goal of holding as much weight as possible. One of those bridges ended up holding over 100 pounds.
Science and history are often taught through outdoor excursions like camping, hiking and canoeing trips. Through exploring the mountains of Western North Carolina, students learn about the history, culture and environment of the place they live. The goal is to get students to experience as much of the curriculum as possible.
"I brought my kids to MDCS because of the outdoor learning, field trips and experiential learning," said Amy Jo Harvey, teacher and parent at MDCS. "They are outside every day and spend half of their classes engaged with projects and outdoor experiences. I feel like MDCS encouraged them to love learning and value intelligence."
"The kids love it," said Petty. "I mean, they don't complain when they come back in August. They complain when they're home on a break for too long."
The current Mountain Discovery campus was constructed two years after the school began operating. It was a labor of love with countless community members volunteering time to make it happen.
Today, the small buildings housing classrooms are situated in a circle, connected by a covered wooden porch that spans all the buildings. The porch is lined with flower boxes that the students plant and maintain in warmer months. In the center of the circle is a large outdoor space where recess and physical education take place. Even on a cold February morning, students are bundled up in jackets and hats, playing with peers. The occasional shriek of joy pierces above the hum of jovial voices.
There are 172 students currently enrolled at MDCS, though total capacity is 188. Like all learning institutions, the pandemic created acute challenges for teaching and learning.
"I think everyone in the nation realized that, well maybe we overreacted just a little bit. And we were part of that," said Petty. "We completely shut down in the spring of 2020."
Because of the individual attention students receive at Mountain Discovery, Petty and the rest of the staff knew which kids were likely to be the most negatively affected by the pandemic, shutdown and remote instruction. Almost immediately after school switched to remote learning, MDCS was able to bring a few students back in, with intense social distancing, to provide extra help.
"In the fall of 2020, we built on that and started doing a hybrid where we had a crazy amount of schedules," said Petty. "Our third-grade class is going to have the highest number of kids that don't satisfy the read-to-achieve requirement that we've ever had. And I'm sure that's going to be the case across the state."
To mitigate the impact of the pandemic, staff have laid out a two-year plan to get back on track.
"With my background being what it was when I started doing this, I started reading everything I could about education," said Petty. "One thing that really lodged with me, I can't tell you where I got it, was 'one bad year for a child takes at least two years to make up, and two consecutive bad years might not ever be made up.'"
But the pandemic brought around some positive changes as well. The quick shift in learning style means that now the school has an electronic device for every student.
Petty served as co-director of the school from 2003 through 2009, and sole director from 2009 through 2018. At that point he stepped down from the directorship and filled the role of CFO. However, soon after that change the school was in need of another director and Petty stepped in on an interim basis. After 20 years in a leadership position, this will be his last school year with Mountain Discovery.
Through it all, serving with a dedicated, passionate and self-sacrificing team that is willing to do everything it can to provide the best education possible for their students has been the highlight for Petty.
"My hope for the future is that it flourishes in whatever way the community wants it to flourish," said Petty. "Part of the charter school movement was, 'let's give these people some government funding and let them experiment a little bit and try different things.' And you know, what we've implemented works, especially on a small scale."
Leave a comment
2

comments
I had the privilege and honor of working with and under the guidance of Carter Petty. There has never been a leader as committed and dedicated to the students at Mountain Discovery Charter School. I have fond memories of students and staff. Congratulations on your school retirement and best wishes for your future endeavors.

Thursday, 03/03/2022

I had the incredible privilege of working under Carter's direction for a number of years. What a phenomenal leader he has been, pouring his heart and soul into the success of the school, the students, and the staff. My sons were fortunate to have attended and graduate from MDCS. Carter's presence will surely be missed!

Thursday, 03/03/2022