Archived Arts & Entertainment
'Jewgrass': Nefesh Mountain brings a different perspective to bluegrass music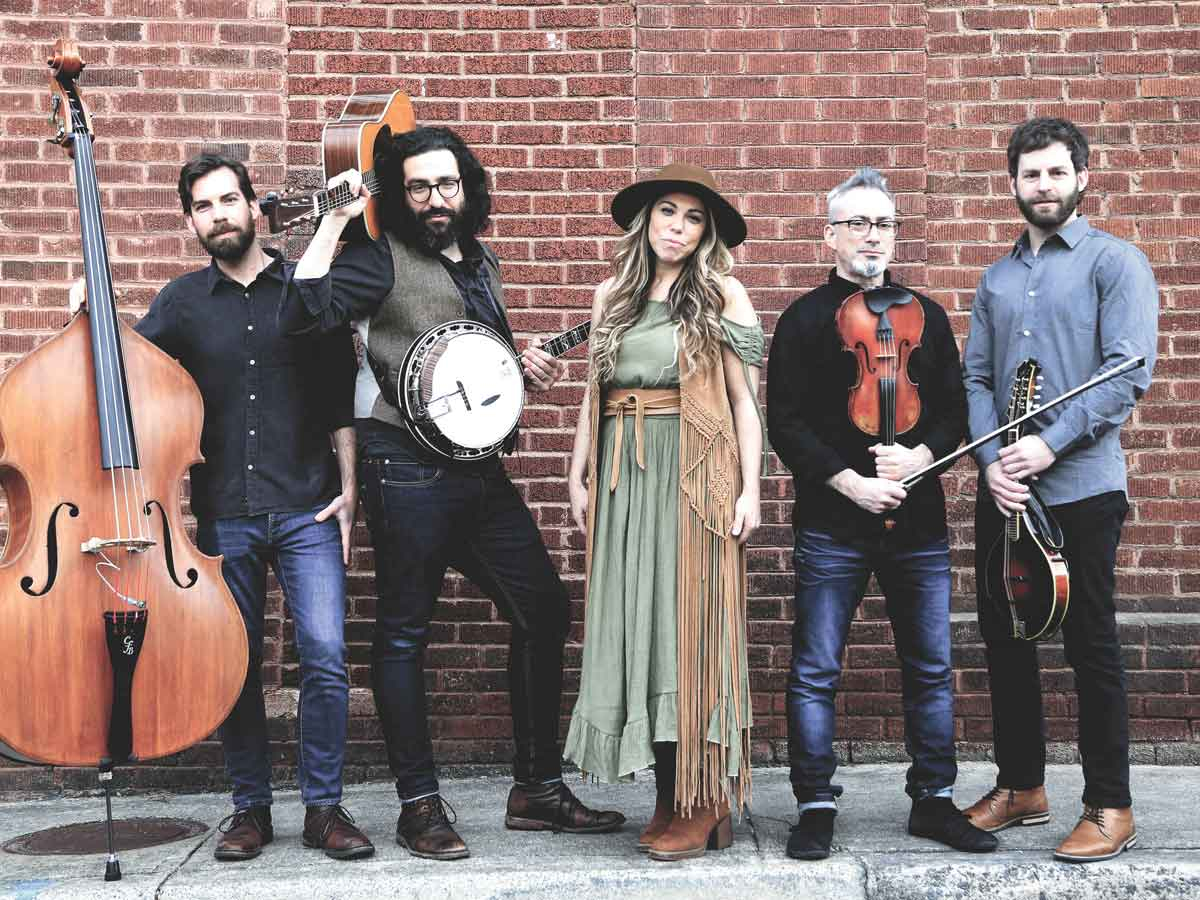 Left to right: Erik Alvar, Eric Lindberg, Doni Zasloff, Alan Grubner and David Goldenberg are Nefesh Mountain. Jeffrey Delannoy photo
The word "Jewish" can be used to describe both an ethnicity and a religious faith; some people are one or the other and some people are both, but you don't have to be either to appreciate the cross-cultural crunch Nefesh Mountain brings to the stage.
"I spent my whole childhood in Brooklyn, very Jewish on my mom's side of the family, going to Hebrew school and everything," said Eric Lindberg, who plays guitar and banjo and sings. "Going down South during the summers and playing guitar with my uncles and learning blues and old-timey stuff, I really fell in love with this wide-open South that was so different than Brooklyn."
Lindberg's uncles lived in North Georgia, which is not known for its large Jewish populations but is known for the same Appalachian musical traditions that span the storied mountain range running from Alabama through Western North Carolina all the way on up to Maine. Assimilation was the name of the game, Lindberg said, and he let his music do the talking for him while earning a degree in jazz performance from Rutgers.
Nefesh Mountain's lead vocalist, Doni Zasloff, had a somewhat similar experience in the Northeast.
Raised in Philly and Washington, D.C, Zasloff earned her degree in musical theater from Brandeis University in Massachusetts.
"I grew up loving my Jewish identity but also kind of being a rebel in it," Zasloff laughed. "I always thought of myself as like, a Jewish cowgirl or a spiritual cowgirl. I just wanted to understand my spirituality. I was challenging it, but I always felt very connected to that part of me. Even if I was angry about certain parts of the religion, I felt like I wanted to find my own place in it."
Zasloff fell in love with Americana, bluegrass and country music but said that Lindberg really opened her eyes, her ears and her heart to the depth and beauty of old-time music.
"I think he really exposed me to that in a way that I just fell in love with it," Zasloff said.
While falling in love with the music, Zasloff also fell in love with Lindberg. The two began working together in 2010 and began performing as Nefesh Mountain around 2014, after they'd realized how well Jewish cultural traditions — instrumental, vocal and liturgical — meshed with bluegrass themes.
"Bluegrass has always been kind of a spiritual folk music," Lindberg said. "If you listen to the old Flatt and Scruggs recordings and the Stanley Brothers, there is so much gospel in there, so much faith, there's so much pain, even though it sounds happy. It's the happiest sounding sad music that you'll ever hear."
The Jewish people have long been known as much for their suffering as their spirit, both of which are evident in Nefesh Mountain's three studio albums.
Their most recent, "Songs for the Sparrows," features two tracks in particular that amplify a perspective not often heard in this type of music.
"Pieces of the Sun (For Anne Frank)" is wistful yet shiny and asks amazingly simple questions with amazingly difficult answers.
"Tree of Life" invokes the memory of a 2018 mass shooting at a synagogue in Pittsburgh with stark, plucky notes beneath Lindberg and Zasloff's words of healing and of hope.
"In this day and age where there's so much hate and antisemitism and racism, I think that us being outwardly Jewish and also all about peace and love and inclusion, we're really just hippies who want to spread good vibes," Zasloff said. "We've learned maybe that our music can break down some barriers between people and kind of open people's hearts."
Depending upon which Nefesh Mountain songs you hear, they can sound like a high-grade contemporary bluegrass act or a serene, reflective, eastern-influenced revival. The Times of Israel called Nefesh Mountain a "spiritual hybrid" while Rolling Stone said "Songs for the Sparrows" was "a master class in string music." "Nefesh" means "soul" in Hebrew.
Underscoring that point is the roster of bluegrass royalty that regularly records with Lindberg and Zasloff.
"Jerry Douglas has become like, our 'Uncle Jerry,'" Lindberg joked.
Douglas, a dobro and lap steel player, has long been a bluegrass boundary-pusher, not unlike Nefesh Mountain.
"And Sam Bush, too. Jerry Douglass, Sam Bush, Bryan Sutton, I mean, these are guys that I grew up listening to. Bryan's a little bit younger, but those guys, Sam and Jerry, are my absolute heroes and now to call them friends and to make this music for them to put their stamp on was huge for me, because it wasn't just this little husband-and-wife team from the New York area being like, 'We're gonna play bluegrass and it's gonna be somewhat Jewish.' They really helped us roar with it a little bit," said Lindberg.
Roar they have, from last fall's edition of MerleFest to the hallowed stage of the Grand Ole Opry, where Nefesh Mountain made their debut this past December.
Their current tour brought them to Asheville's Isis Music Hall last week, and keeps them in the region through St. Patrick's Day.
Leave a comment
1

comment
I am so looking forward to seein/hearing you at the Parlor Room in Northampton on the 13th of May. I'm a newcomer to Western Massachusetts -- moved here to be near my daughter when my husband died...
We lived in Philadelhia but had a house in Newland, NC and spent summers there. we "discovered" the Kruger Brothers at the Sugar Grove festival years ago. I've been following Nefesh Mountain for several years and thrilled that you will be playing here!!! See you on the 13th and lots of good luck. And, oh, by the way, your daughter Willow is a gem!!
Pat Wisch

Saturday, 05/07/2022