Archived News
Race for Jackson County School Board
Wednesday, April 20, 2022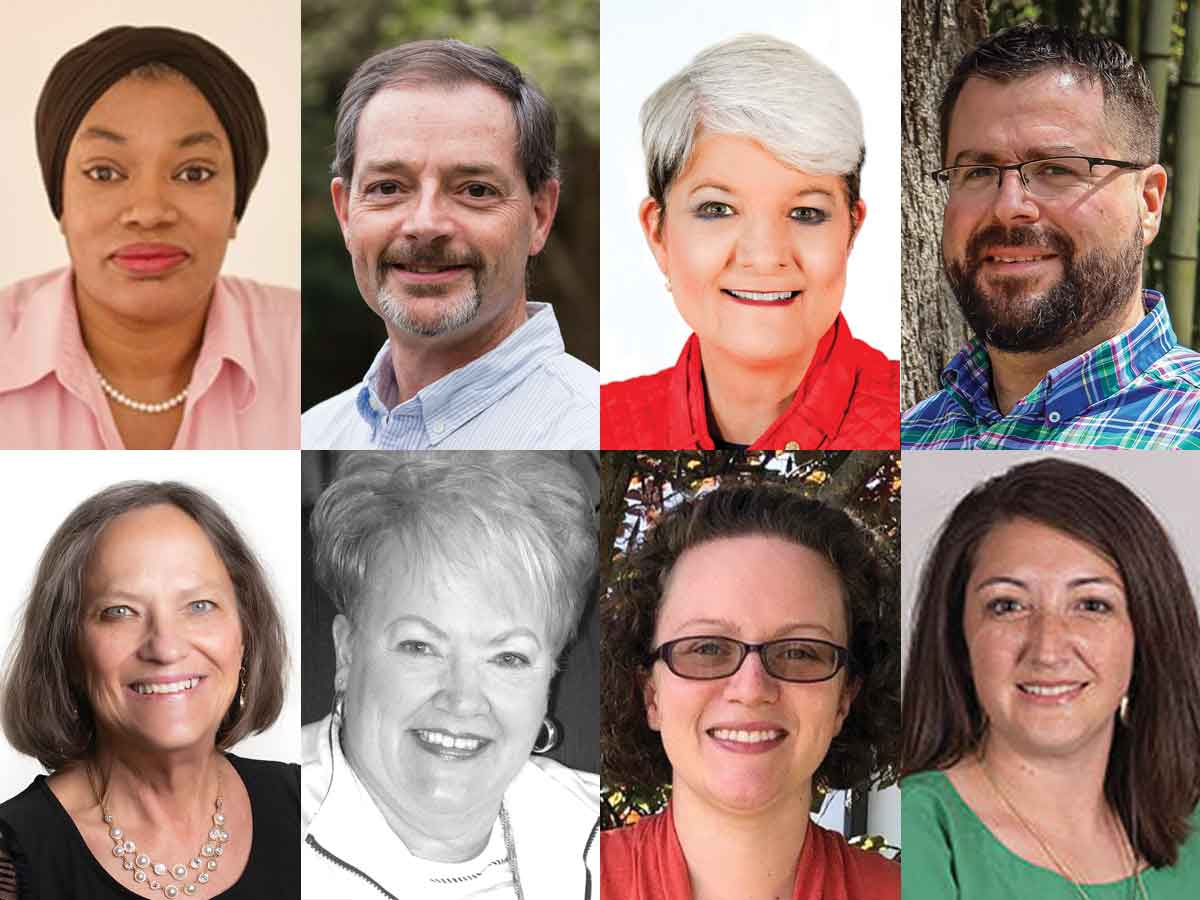 Clockwise, from top left: Kim Moore, Frederick Buskey, Lisa Buchanan, Wesley McKnight, Abigail Clayton, Courtney Umphlett, Lynn Dillard, Joy Rose
Ten candidates are running for three open seats on the Jackson County Board of Education this spring. Only one incumbent is running, while two other seats will have a newcomer following the Primary Election.
Though the race is non-partisan, it is decided during Primary Elections. All Jackson County voters are eligible to vote in the race for board of education.
According to Jackson County Board of Elections Director Lisa Lovedahl, Jackson County is one of about 30 included in a law that made county school boards non-partisan and placed them on the primary ballot.
Primary Elections take place May 17, with early voting beginning April 28. After board members have been elected, the board will vote to make one member chairman for a two-year term.
District 2
District 2 covers Sylva's North Ward, as well as Scotts Creek. Abigail Clayton currently represents the district. She was elected for her first term in 2018 and is running for reelection this year. She has two competitors for the seat, Courtney Umphlett and Lisa Buchanan.
Abigail Clayton
Age: 38
Birthplace: Anchorage Alaska
Place of residence: Sylva (since 1995)
Occupation: Vice-President/City Executive for State Employees' Credit Union in Cullowhee
Experience in education: While I am not a formal educator, I am a huge supporter of our local schools. I am an active volunteer with JCPS and my career has allowed me to introduce financial education in our local schools.
Why are you the right person for the job? As a parent of a JCPS student, I can bring a voice for parents. As a supporter for our local educators, I bring their perspective to the Board. I have a special needs younger brother who is also a JCPS student, so I can provide perspective for those within special education. I also serve this population in our community as the local program coordinator for Special Olympics. Everyone in our community deserves to be heard, and I feel like I am excellent at listening to all parties and doing what is best for the children of Jackson County.
Top priorities for Jackson County Schools: I will strive to give all stakeholders (parents, the community and our local educators) the transparency and the voice they want and deserve. I am proud of our strong leadership and will continue to support their efforts to do what is right for the children of Jackson County. I will ensure that improving the education and well-being of our students is at the forefront of all decisions.
Courtney Umphlett
Age: 33
Birthplace: Salisbury
Place of residence: Sylva
Occupation: Owner of Wonderworks Music Studio and The Sylva Art Bar
Experience in education: I have accumulated 13 years in education in various capacities. My experiences include three years as a music teacher in public schools as well as a reading/math tutor and after school program educator in JCPS; lead and substitute teacher for preschool classrooms at the Early Learning Center in Sylva; and contracted teacher for various band and choir programs throughout WNC. Through my business, I teach private piano and voice lessons to students in Sylva and online around the globe as well as manage the various aspects of an education business from budgeting to observations of teachers.
Why are you the right person for the job? I am a passionate supporter of public education and believe it is one of the best things our nation does. Having been in the classroom as well as married to a JCPS teacher of 16 years, I know the ins and outs of our public education systems today. I understand what proposed actions may better the school system or make things harder on the staff. My 10 years running an education business bring a unique perspective to the board. I am willing to work with anyone to bring good and lasting change to JCPS as well as listen to those whose opinions may differ from my own. We are all in this together, and working together is the only way we can achieve success.
Top priorities for Jackson County Schools: Continuing the funding and support of preschool in Jackson County. Working with high schools to explore a wide variety of opportunities for post-graduation tracks such as: college, apprenticeships, career and technical education, or entering the workforce. Responding to the mass teacher and staff exodus we are seeing in our public schools. Jackson county is not the only one, but it doesn't mean we can't work to figure out the reasons why this is happening and develop solutions to make the education world seem like a desirable career again.
Lisa Buchanan
Age: 57
Birthplace: Sheppard AFB, Wichita Falls, Texas. My family moved back to Jackson County when I was 5 years old.
Place of residence: Sylva
Occupation: I am a North Carolina State Bar Certified Paralegal. Commercial Documentation Specialist for HomeTrust Bank.
Experience in education: I have volunteered with Jackson County schools as a soccer coach at two area schools. I was a founding board member for the Smoky Mountain Touchdown Club and have volunteered with Jackson County Bible Club. I have taught at a private school on a volunteer basis.
I have raised four children who attended Jackson County schools. My sons were involved in athletics as JCPS students, and my youngest son graduated from Jackson County Early College. I have a passion to see every Jackson County child provided with an education that equips each child to reach his or her full potential.
Why are you the right person for the job? I have always had a passion to improve the lives of and protect children. In addition to the opportunities I have had to work with children in Jackson County schools, I have volunteered in many other aspects for Jackson county youth. At the national level I am a volunteer with Veterans for Child Rescue. I am a State Bar Certified Paralegal, and I believe this training and knowledge will serve me well as I serve our community. I believe strongly in the power of prayer and will seek God's will for the needs of our children.
Top priorities for Jackson County Schools: Transparency, Teacher Support, Academic Excellence and Safety. I support open communications and open meetings and everyone's voice will be recognized and valued.
We need to redirect resources to the classrooms and give our teachers the support they need. Although our county has need of improvement academically, our teachers and school-based staff are a dedicated, hardworking team. I'm committed to providing much needed resources, wholesome curriculum, and encouragement to these valuable individuals to improve overall student performance.
I will work hard to provide each child with a safe education, both the safest environment and the most wholesome, age-appropriate curriculum possible.
District 4
District 4 covers Cullowhee, Caney Fork, River and Canada. It is currently represented by Ali Laird-Large, who is also chairman of the Jackson County School board. She has represented district four since first being elected in 1998 and is not running for reelection. Wesley McKnight, Kim Moore, and Frederick Buskey are competing to represent district 4.
Wesley McKnight
Age: 41
Birthplace: Tampa, Florida, though I have lived in Jackson County for 16 years.
Place of residence: Cullowhee
Occupation: Detention Center Psychotherapist
Experience in education: I received my MSW from WCU, BSW from WCU, and my AA from SCC. My participation in educating others: my wife and I are raising four children, the oldest of which will graduate this year and enter the armed forces. I worked in two classroom settings for three years total with an additional year as an intern. I have coached more than fifteen sports teams including football, wrestling and basketball.
Why are you the right person for the job? My passions, life experience and work experience are the perfect recipe for the position. Through my work as a child psychotherapist and coach, I have demonstrated passion for improving outcomes for our youth. As a parent of four children, I empathize with the needs of parents. My previous work in classrooms allows me to relate to challenges that present for educators. My current position on two separate boards provides me with experience participating in the operation of boards concerning youth.
Top priorities for Jackson County Schools: Mental health, sports and arts, and teacher support.
North Carolina ranks high in youth mental health challenges and low in mental health resource access. I aim to help ensure that our county outshines the state's statistics.
As a parent and coach, I have witnessed many children have positive experiences through sports and arts. I aim to support these programs and capitalize on the positive impact they have on our community.
The teaching profession is suffering nationwide. We need to provide our teachers with the resources and support to ensure they can continue to provide outstanding education within our schools.
Kim Moore
Place of residence: District 4
Occupation: Business owner, Moore Joy in Family
Education in experience: I attended Greensboro College for accounting and spent over 20 years in ministry, hospitality and running a successful business, Moore Joy in Family. My life's work has included studying, reforming and building curricula that include leadership and economics for all grade levels. My husband, Charles, and I have been married 24 years and have successfully raised and educated five children. We have proudly used private school, cottage school, public school and homeschool to educate our children, one of whom is a graduate of Smoky Mountain High School.
Why are you the right person for the job? I am Kim Moore, a concerned mom, running for the Board of Education, District 4. I genuinely care about the people of Jackson County and the education of our students—they are our future leaders
Top priorities for Jackson County Schools: I believe we are in serious need of education reform that includes, but is not limited to, prioritizing academic excellence and freeing teachers from unnecessary bureaucracy. Teachers need to have freedom in the classroom to use their training and expertise to creatively educate students.
I strongly advocate for the teachers of Jackson County to receive a significant raise. I believe the taxpayers of Jackson County deserve to have transparency regarding school board discussions about all education and budget decisions.
Frederick Buskey
Age: 59
Birthplace: San Francisco, California
Place of residence: Cullowhee, North Carolina
Occupation: Leadership Development Consultant
Experience in education: I spent 17 years as a teacher and administrator in grades pre-K through 12 and 13 years coordinating and teaching in principal licensure programs at Western Carolina University and Clemson University. I "pre-tired" in 2019 and founded Strategic Leadership Consulting and have continued to train and coach district and building level leaders for multiple school districts in North and South Carolina
Why are you the right person for the job? We are facing unprecedented challenges. Successful strategies of the past aren't enough to meet these challenges. We need to rethink and evolve. This work will require creative thinking and collaboration. In my business, I have demonstrated the ability to help school leaders approach problems differently. My role as the Board Chair at HIGHTS has provided me with insights into the challenges facing our most vulnerable youth and families, as well as some of the promising practices that can sustain them. I believe we need to build our future together. The work in front of us is not partisan work, it is priority work. I believe in the power of public education and in the potential of our community to meet today's challenges by working together.
Top priorities for Jackson County Schools: Recruit, train, and retain teachers. The teacher shortage will only get worse.
Mental health issues have been on the rise for several years, but the pandemic has only accelerated the problem. Many of the factors are beyond the school district's control, but the impacts are being felt inside our schools and we need to support teachers, administrators, and families.
Following the pandemic, learning loss is huge and disproportionately impacts the students who were already the most disadvantaged. Our teachers have responded heroically, but heroism is not enough, and we need to look for more ways to support our teachers and prepare them to meet this truly unprecedented challenge.
District 5
District 5 covers Cashiers, Hamburg and Mountain Precincts. Margaret McRae currently represents the district. She was originally appointed to represent the district and won reelection in 2018. McRae is not running for reelection this cycle. Lynn Dillard, Sarah Peterkin, Rick Robson and Joy Rose are competing for the seat.
Lynn Dillard
Place of Residence: Cashiers (47 years)
Occupation: Retired Educator
Experience in Education: My educational background includes two degrees from Emory University: a Ph.D. in Educational Leadership with concentrations in Curriculum and Measurement and a Master of Arts in Teaching. My areas of licensure include Superintendent, Principal (K-12), Curriculum Specialist, Exceptional Children's Program Administrator, Teacher (K-3, 4-6, 6-9 Language Arts) and Academically Gifted (K-12). I have served for 10 years on the Blue Ridge School Education Foundation which monetarily supplements educational materials and equipment not ordinarily provided by the Board of Education.
Why are you the right person for the job? I have made over 15 national presentations on innovative educational ideas including to the annual meeting of the National School Boards Association in San Francisco. Because of my school and community involvement, I was selected as "Educator of the Year" by both the Jackson County Chamber of Commerce and the Cashiers Area Chamber as well as "Woman of the Year" twice by the Jackson County Community Development Council. My 40-plus years of educational and community involvement have been exciting and rewarding. I would like to continue my career representing the southern end of Jackson County on the School Board.
Top priorities for Jackson County Schools: My priority is to support the Superintendent in creatively re-engaging students who have lost interest in the traditional presentation of curriculum or students who learn differently. I am also an advocate for early literacy and the opportunity to include career courses in Early College.
Sarah Peterkin
Age: 32
Birthplace: Tallahassee, Florida
Place of Residence: Cashiers
Occupation: Pastry chef, manager
Why are you the right person for the job? I understand the importance of happy, supported teachers, who then help create successful, happy, productive students.
Top priorities for Jackson County Schools: Providing the best academic, athletic, fine arts, and extra-curricular opportunities for all students and schools should be the focus of school board members. My hope is all schools can offer inclusive classrooms and support for our teachers in those classrooms. Providing necessary support to maintain all buildings and facilities is an ongoing need and priority
Rick Robson
Place of Residence: Cashiers
Occupation: Real Estate Appraiser
Experience in education: I have volunteered for every job I've been aware of over the last 20 plus years that had anything to do with kids and/or education in the Cashiers community.
I was on the board at the charter school and Blue Ridge School, my kids went to both schools, my wife and I volunteered at both schools. My wife and I tutored at both schools, we still tutor at Blue Ridge School. I was on the Board of the Boys and Girls Club, I am on the Board of Hampton School, I am on the Cashiers Literacy Council, I have been on someone's Scholarship committee every year for over 20 years.
Why are you the right person for the job? This job doesn't require an expertise in the academics of running the school system. That's Dr. Ayers's job. This job needs someone that can best lookout for the people, schools, staff, faculty, kids and their families. Naturally, I will look out for my district, but I will also look out for the other districts too.
Joy Rose
Birthplace: El Dorado, Arkansas
Place of Residence: District 5
Occupation: Business management
Experience in education: I raised two children who attended public schools and briefly taught as a substitute teacher in the Guilford County schools. I also have experience in business management, Christian leadership and community volunteering.
Why are you the right person for the job? I will provide oversight into all board decisions. I will strive to keep the primary focus on academic excellence and support increased benefits for teachers. As an experienced business leader and community volunteer, I have the wisdom and fortitude to help guide our Board of Education in the improvement of all Jackson County schools.
Top priorities for Jackson County Schools: My three overarching goals as a member of the Board of Education are to ensure oversight, academic excellence and teacher support.
My oversight responsibility has a three-prong focus: curriculum, parents' rights and unbiased instruction. I will advocate for age-appropriate curriculum, media and internet access in the classrooms, libraries, and media centers. My oversight responsibility is to support parents' authority over their children's moral and character development and advocate for unbiased and politically neutral instruction.
Academic excellence MUST be the primary focus of our schools in Jackson County. I will advocate for lower student-teacher ratios in all classrooms, particularly in special needs classrooms. I support having additional funding allocated directly to classrooms in order to bring students up to grade level.
Teachers and parents are essential to each student's academic progress. Hiring and maintaining experienced teachers will require additional funding which I fully support. Reducing teachers' excessive paperwork and non-academic tasks will be addressed. I will foster open communication between parents, teachers and students.
Leave a comment
4

comments
Thanks for sharing this important information. I wish candidates had been asked their opinions on recent book-banning in schools. My takeaway from this article is that Wesley McKnight rises to the top of the list of candidates. Our best public servants are those who have dedicated their lives to public service prior to running for elected office. McKnight has an MSW among other indicators of commitment to service.

Friday, 04/29/2022

Thanks for sharing this important information. I wish candidates had been asked their opinions on recent book-banning in schools. My takeaway from this article is that Wesley McKnight rises to the top of the list of candidates. Our best public servants are those who have dedicated their lives to public service prior to running for elected office. McKnight has an MSW.

Friday, 04/29/2022

Thanks for sharing this important information. I wish candidates had been asked their opinions on recent book-banning in schools. My takeaway from this article is that Wesley McKnight rises to the top of the list of candidates. Our best public servants are those who have dedicated their lives to public service prior to running for elected office. McKnight has an MSW.

Friday, 04/29/2022

Thank you for your excellent work in providing the community with all the information we need. I wonder if you could find out where the money is coming from that is paying for at least TWO digital billboard advertisements for Lisa Buchanan and Kim Moore. I certainly hope it's not from some out-of-town or out of state group.

Wednesday, 04/20/2022