Archived News
Five Republicans vie to become Macon's next sheriff 

Wednesday, April 27, 2022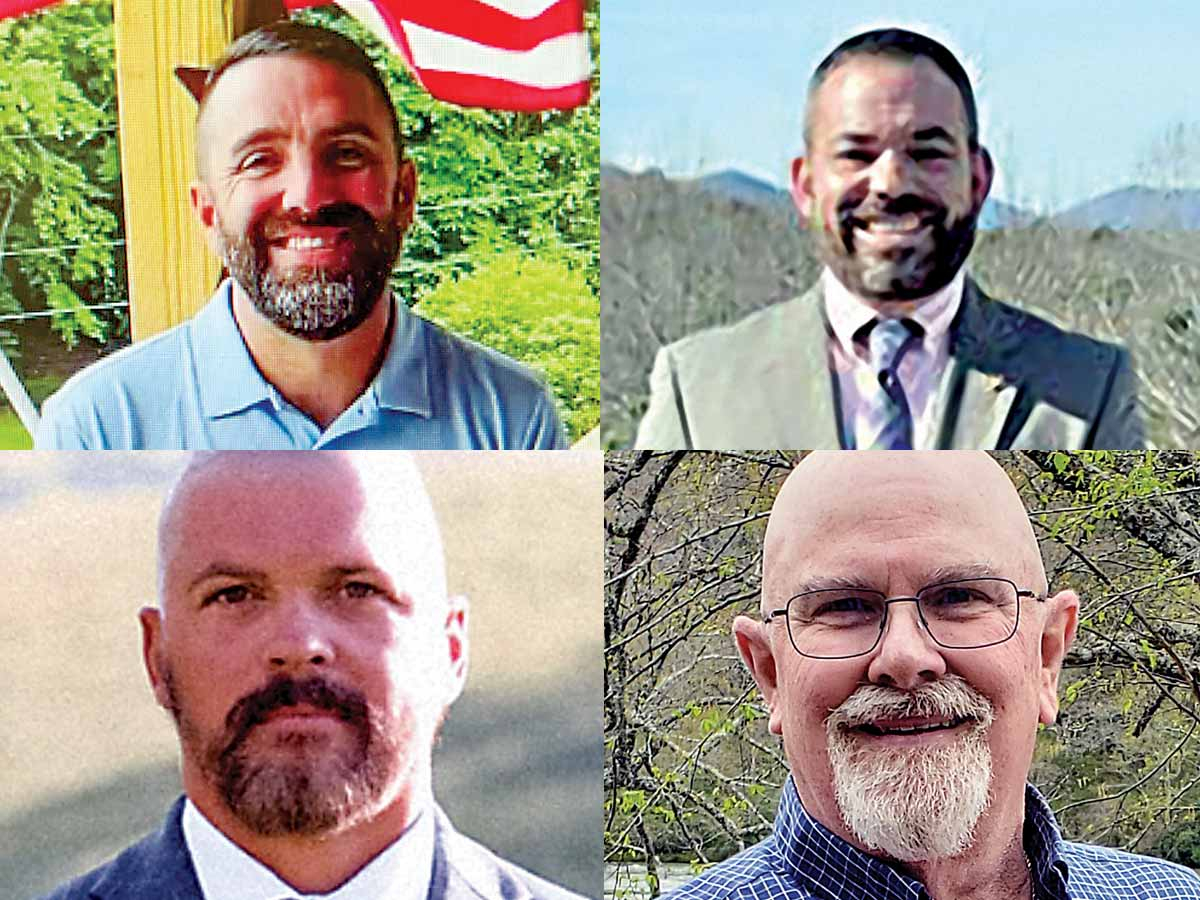 Clockwise from top left: Brent Holbrooks, Dereck Jones, Bob Cook, Clay Bryson.
Among the sheriffs retiring in Western North Carolina who will leave big shoes to fill is Macon County's Robert Holland, who has served in that position for almost two decades.
The candidates to replace Holland bring a variety of experience. Of those five men, three currently serve under Holland at MCSO, although in different divisions, while the others are newcomers with their own unique backgrounds in law enforcement.
Dereck Jones
Dereck Jones has served in MCSO for 17 years and holds the rank of captain. While he has served in a few different capacities, he's currently in charge of the county detention center.
Jones began as a junior detention officer but also served as a member of the special response team (SRT), the county's version of a SWAT team, and also worked patrol and investigations for several years. In 2018, he was promoted from sergeant to lieutenant and became the detention center administrator. He was promoted to captain just when the office was restructured and the entire command staff received that rank.
While Jones boasts diverse experience at MCSO, he highlighted his current role as a good example of why he's prepared to become sheriff.
"It's the highest liability position, and during the last three and a half years, I've had the opportunities administratively to work on the budget with the chief deputy," Jones said.
In addition to his current role overseeing jail operations, Jones also highlighted his other collateral duties, such as his involvement with Special Olympics, Project Lifesaver (a community safety program that makes it easier to find missing individuals with conditions like autism or dementia), mental health task force and the safe schools task force.
Jones said that along with combating the ongoing drug issues and associated property and domestic violence crimes — including a push to enhance drug treatment and community interdiction services — a big priority of his would be enhancing courthouse security. As of now, there is a metal detector at the entrance that is often unmanned.
"I went around with a captain when we were looking at securing the courthouse with metal detectors … and a lot of research went into what we needed and how we could organize and implement the program," he said.
Jones said that while he understands sheriff is a political position, he is a deputy before he's a politician, and that's the way he'd intend to run the office.
"I'm a law enforcement professional seeking to do what needs to be done through community involvement," he said.
Clay Bryson
Like Jones, Clay Bryson is a captain at MCSO, although he oversees the patrol division.
Bryson said his interest in law enforcement flourished after participating in a youth program under former Sheriff Homer Holbrooks. It was there that he was mentored by Holland before Holland was ever elected to his current position.
"It was unique that he was my mentor when I was just 11 to 12 years old, and now he's my boss," Bryson said.
Bryson has served most of his career on patrol but also did two years of narcotics investigations. What sets Bryson apart from the field more than anything may be his 21 years running police canines. Since 2012, he's also trained canines not only for MCSO but also other regional agencies.
In addition, Bryson has served on the SRT for years and has been its commander since 2012.
"I wear a lot of hats," he said.
Bryson said drugs would obviously be a top concern for his administration, but he won't promise to take all drugs off the streets, something he sees as impossible given the nature of the trafficking network.
"The majority of drugs come from Atlanta, and the majority of those drugs are coming from Mexico," he said. "We've got to do what we can and deal with them appropriately when they get here."
Bryson said he has three specific areas he believes he can enhance. First, he wants to educate youth on drugs that come into the area, especially considering how many encounter them at home or in their social circles. Next, he wants to ensure drug laws are enforced within MCSO jurisdiction. Finally, he wants to focus on rehabilitation.
"There are those that you arrest, and when they get in the jail setting, we need to make sure we have the adequate resources for them," he said.
Bryson said the decision to run for sheriff wasn't made lightly and only came after a good deal of prayer and discussion with his family.
"The sheriff is not a title for me," he said. "To me it's the passion I have inside and the fact I feel led to be where I'm at, and I want to continue giving."
Brent Holbrooks
Brent Holbrooks is a lieutenant at the MCSO who has been with the office about 23 years.
Holbrooks, the son of former Sheriff Holbrooks, said that in his 23 years while he's also worked courthouse security, he believes his greatest strengths are his abilities as an SRT operator and his experience in civil process. Civil process is one of the sheriff's three statutorily mandated duties and requires deputies to serve individuals with non-criminal papers, including domestic violence protective orders.
Although Holbrooks said he respects Holland, he isn't happy with the status quo.
"I don't think his command staff that he currently has would necessarily be my command staff," he said, adding that he would make other staffing changes. "It'd be a reconstruction of the whole department."
Holbrooks touted his experience coming face-to-face with the drug trade.
"I worked the road, and when working the road, you have to know the ins and outs of the drug trade," he said.
Holbrooks noted that he has experience far beyond just encounters during patrol.
"In the past, I have worked as an undercover narcotics officer and bought drugs undercover in neighboring counties," he said.
Like Jones, Holbrooks said getting courthouse security up to speed would be one of his early priorities.
"Just like every other department and business around the nation, everybody suffers staff shortages," he said. "With that being said, we need to get the courthouse secured, and we need to get the X-ray machines up and going."
Holbrooks' final appeal was for people to trust his experience, not only with MCSO but within the greater community.
"I'm a father, I'm a husband, and most importantly, I'm a Christian," he said. "I've taken great pride to get to know the citizens of Macon County for almost 23 years. This election is not about me, it's about you, meaning the public, and of course, our youth."
Bob Cook
Unlike the three other candidates mentioned in this story, Bob Cook came to Macon County a bit later in life. Born and raised in Newton, Iowa, Cook joined the Navy in 1972 and served until 1992 as a personnel specialist.
Cook's final duty station was in the Jacksonville area, where he chose to stay and pursue a career in law enforcement.
"I worked at Jacksonville Beach Police Department for two and a half years then transferred over to the Jacksonville Sheriff's Office and stayed 22 years there," Cook said.
"During my time in law enforcement, I had the pleasure of doing just about anything an officer can do, from patrol to traffic to evidence processing to community policing to investigating burglary and economic crimes," he added. "I was the first detective in North Florida to investigate food stamp fraud."
Cook said his longest gig was working as an undercover narcotics detective, something he did for 14 years. He said in that capacity, his investigations, which included the use of wire taps, led to the seizure of kilograms of methamphetamine and crack cocaine at a time.
Eventually, Cook found his way to Macon County. While he'd owned property in Franklin since 1999, he and his late wife moved up permanently in 2015. Since moving to the area, he's worked at the police academy in Franklin as a training coordinator, a position he resigned to run for sheriff.
While Cook is "comfortably retired" and doesn't need the income from a job, he said he feels called to the position because he's worried about a "good ol' boys' system."
"I had people tell me they wouldn't vote for anyone from the Macon County Sheriff's Office," he said.
"Three of my opponents are working there and they don't have their law enforcement retirements, they have their eye on the future as far as reelection," he said. "I don't. I'd be happy if they had a term limit."
Cook believes that it will take someone from outside MCSO to "fix it" and noted that he's the best candidate to address the issues facing the community. While he said he wants to reorganize the department and shrink it down to something more fiscally manageable, he also wants to increase patrols to certain outlying areas, such as Otto and Cowee.
"Unless they have to call them, they don't see a deputy out there," he said.
Republican Chris Browning, also running for sheriff, did not return multiple phone calls and Facebook messages requesting an interview for this story.