Archived News
Five compete in Jackson Sheriff primaries
Wednesday, April 27, 2022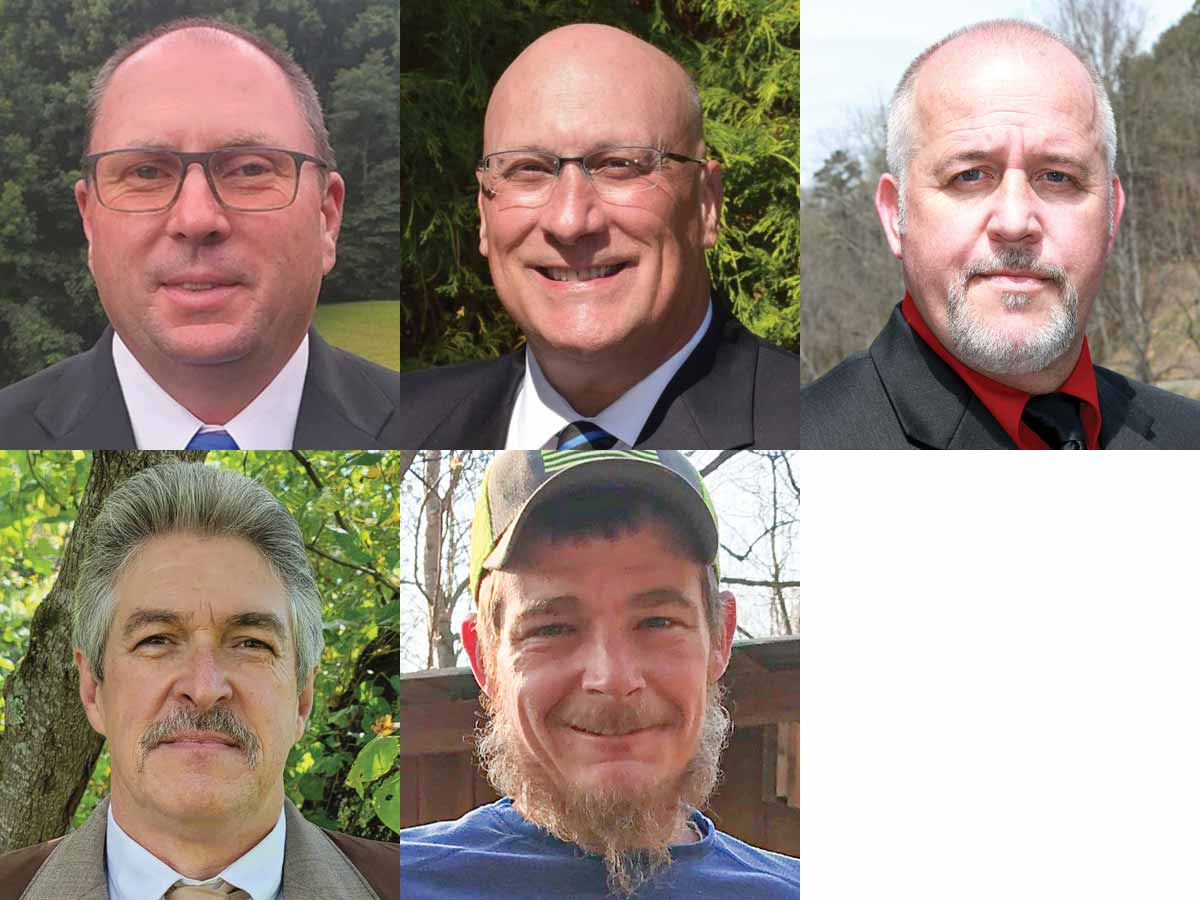 Clockwise from top, left: Rick Buchanan, Jimmy Ashe, Doug Farmer, Andy Anderson, Robin Gunnels.
Residents of Jackson County are tasked with selecting a new sheriff during the midterm elections this year. But first, voters must select both a Republican and Democratic nominee from a pool of primary candidates.
Current Jackson County Sheriff Chip Hall is retiring from his post after eight years on the job. Hall was first elected sheriff in 2014. Prior to that, he had served in the department as second-in-command to Sheriff Jimmy Ashe (three-term sheriff, 2002-2014). Now, Ashe is running again. He will faceoff against Robin Gunnels and Rick Buchanan in the Democratic primary; Doug Farmer and Andy Anderson will compete in the Republican primary.
Democrats
Ashe has decided to run for sheriff once more because his time away from the department has given him a fresh perspective and many citizens have asked him to run again, he said.
"I retired in 2014 after 35 years in law enforcement, 12 of those years were as the sheriff, and I had an opportunity to look at the county through different eyes, through the eyes of a citizen," said Ashe. "A lot of citizens contacted me because they wanted me to run again. Many citizens said somebody's got to clean this mess up."
Ashe described the "mess" as a continuing drug problem with increasing incidents of overdose, long response times to 911 calls, personnel issues and deaths in the detention center. Jackson County detention center has reported three inmate suicides since November 2014.
When it comes to the safety of inmates and staff in the Jackson County Jail, Ashe says greater oversight and more diligent searches are paramount.
"It's about procedures and then leadership and then supervision over the people that are tasked with supervising inmates," said Ashe. "It's not an easy job, but it's much easier to get it before it comes in than to have to deal with it after people have either died in jail or have been subjected to overdoses."
Ashe sees drugs as the root of a lot of crime in Jackson County. He wants to address the issue in a three-pronged approach — rehabilitation, education and enforcement. Rehabilitation, he says, will require advocating to and by legislators. Education, like what was done for methamphetamine years ago, is needed to teach people about opioids and opiates like fentanyl and heroin. Enforcement, according to Ashe, requires the cooperation of judges, district attorneys and federal courts.
"Working with the sheriff's office since July 22, 1981, I know the problems, and I have the solutions," said Ashe. "So many concerned citizens contacted me, wanting me to run again."
Robin Gunnels was born and raised in the mountains of Western North Carolina and moved to Sylva in 1983. He worked for Western Carolina University Police for almost 14 years before moving on to work at the Jackson County Sheriff's Department. Shortly after Ashe was elected sheriff in 2002, Gunnels left "because of the politics involved." For the past 22 years, he has owned and operated his own business, Custom Truck Covers & Accessories. Gunnels currently works for the Swain County Sheriff's Office. This is his third attempt for the position.
Gunnels said his experience in law enforcement, as well as owning a small business, make him uniquely equipped to take on the job.
"Being able to deal effectively with the public is the primary focus," said Gunnels. "I have made a career in this business that I own, and I've served the public. In a small community, if you don't treat people right, word of mouth will kill you. I believe that my strength is actually being able to work with the general public and provide their needs and take care of business."
One objective for Gunnels is boosting the morale of law enforcement. Gunnels would aim to lead the department by example, working alongside his staff to build support. He also plans to invest in training and education to enhance job performance.
"It would be to do as I do, not as I say, because I want to be a working sheriff," said Gunnels. "I don't want to sit behind a desk and point fingers and dictate. I want to actually get out and do, build rapport, build relationships."
In order to address the issue of drugs in Jackson County, a promise central to Gunnels's campaign, he wants to create a drug task force.
"I currently work in a situation where I work with federal marshals, DEA agents and ATFs, and I have built some bridges and made some connections so that those resources can be made available," said Gunnels. "It's so huge right now, and other administrations have let it get out of hand. It's not been addressed in a proper manner. Everything that happens in our county crime-wise can be related back to the drugs."
Rick Buchanan has been serving his community as a member of the Savannah Volunteer Fire Department for over 35 years and has been working at the Jackson County Sheriff's Department since 1991.
Buchanan worked his way through the department beginning his career there as a dispatcher, detention officer and patrol deputy. He has worked as an investigator and certified school resource officer. He worked his way up to sergeant and is now a lieutenant.
"I had a humble response to an overwhelming request from so many in our community," said Buchanan. "People know that I'm courteous, compassionate and respectful, and I'll treat people the way that I wanna be treated. If they come to me with a need, I'll do my best to try to help them."
Buchanan is the only candidate in the Democrat or Republican primary that is currency employed at the Jackson County Sheriff's Office.
"I have a distinct advantage, and working knowledge of, all the issues that are facing our community," said Buchanan. "I'm on the front lines, addressing and adapting to the changes every day. I think I've got a solid working relationship with the staff at the sheriff's office. My intention is to place experienced leaders and frontline staff in the best positions to ensure that they have the training and resources they need to be successful in their careers."
As a current member of the department, Buchanan sees its biggest challenge as recruiting and retaining personnel. If elected, Buchanan wants to invest in staff by initiating a training program so that employees can have careers and advance within the department.
In order to address the prevalence of drugs in Jackson County, Buchanan has reached out to neighboring counties and agencies in an effort to create the kind of partnership he sees as paramount to improving this issue. He is also in contact with counseling services in an effort to provide grant-funded substance use counseling for inmates in Jackson County.
Republicans
Doug Farmer began his law enforcement career with 11 years at the Macon County Sheriff's Office. Following a short stint with the Highlands Police Department, Farmer spent a year in Iraq training that country's police officers. In 2010, he went to work for the Sylva police Department, where he remained until he retired in 2019.
"I have great respect for the job," said Farmer. "I know the job and I see the issues within the county, and it hurts me to see the county in the condition it's in right now, as far as the drugs and other things that's going on. I believe that I bring the experience to take care of some of these situations. My public communication is good and dealing with the public, that's a passion of mine. I've dealt with the public most of my life."
Farmer said that, if elected, he will take a more aggressive, targeted approach to going after drug dealers in Jackson County. Part of that will include community patrols, something Farmer says there isn't much of in Jackson right now. He would like to see deputies patrolling not just the main roads, but also more remote secondary roads.
"Just the presence of a patrol car in a neighborhood is a to deterrent crime, statistically," said Farmer. "You might say that it's old school, but it works, it's effective and it only deters crime. It also provides an extra layer of safety for your neighborhood, and it makes your citizens feel safer."
Farmer also wants to add a second deputy to patrol the Cashiers area. He says this will enhance officer safety and provide better response times to the remote area.
Farmer wants to continue the placement of a school resource officer in every Jackson public school. He also wants to expand education opportunities related to law enforcement for JCPS students. Programs like safety courses for first-time drivers and education about what to do when pulled over by an officer or are involved in a car accident.
"I want to make Jackson County a better place for everybody's family. Whether you're visiting or whether you live here permanently, I want to make it a safe place," said Farmer. "I want people to know that their sheriff's department is out there working and doing their best for them."
Andy Anderson is the only candidate with no experience in law enforcement, something that is not a requirement to be a sheriff in North Carolina. Anderson joined the Army at 18 and served for six years. In 2011, he was discharged and has since worked as an aviation technician and heavy machinery mechanic.
Anderson decided to run for sheriff after several run-ins with Jackson County law enforcement over the past few years. He has been arrested for failure to appear in court, as well as mask violations in the county courthouse among other things.
"The tyranny needs to stop," said Anderson. "There's a real problem in the Jackson County government and in our jail in particular. I've spent several hours in that jail, and my rights were, I can't say severely deprived, but I sure did witness other people's rights being severely deprived."
Anderson said the problems facing Jackson County need creative solutions. He thinks an outsider's perspective, especially that of a competent mechanic who is used to coming up with creative solutions, could be the best fit for sheriff in Jackson County. Further, he believes that a sheriff candidate with a law enforcement background could be a conflict of interest.
"We have to fix this machine on a fundamental basis. We need to go back to the blueprint," said Anderson. "The law enforcement, they don't have respect for the authority of the constitution. We the people, the sovereignty in this country, we are the royalty, not them. When the king's guard forgets their place, it is the people's duty and obligation to rein in those authorities."
Leave a comment
1

comment
You have messed up the pictures and names above. Robin Gunnels is the picture on the left, bottom row. Andy Anderson, you know, the one that's been in jail, is the ball cap dufus on the right, bottom row.

Friday, 04/29/2022