Archived News
Jackson County elects new school board members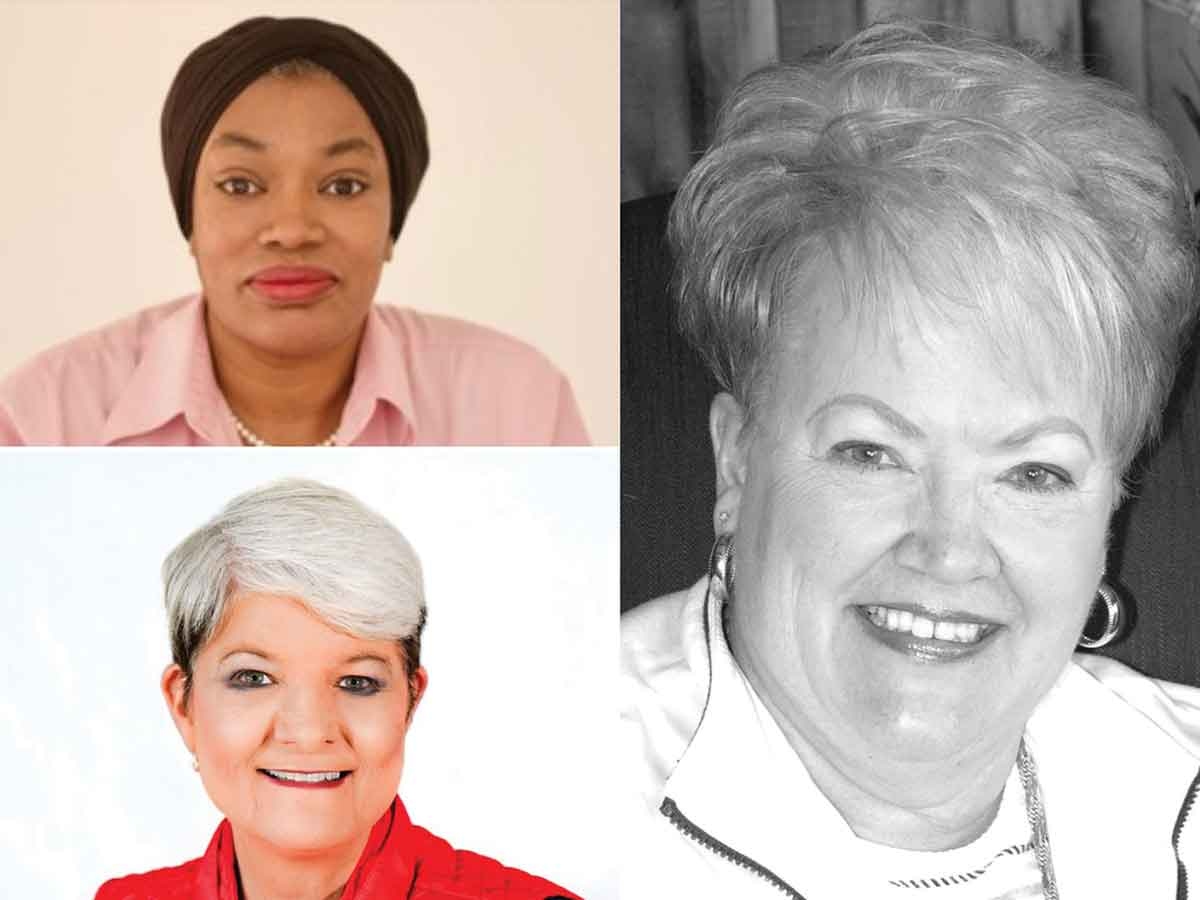 Kim Moore (upper left), Lisa Buchanan (bottom left) and Lynn Dillard will join the Jackson School Board.
This election cycle there were 10 candidates running for three seats on the Jackson County Schools Board of Education. Of those, Lisa Buchanan, Kim Moore and Lynn Dillard came out on top and will join the board this July. Though this is a non-partisan race, it is decided during the primary election.
Board chairman Ally Laird-Large was not seeking reelection and will be leaving the board alongside Margaret McRae, who also did not seek reelection. Abigail Clayton currently represents district two. She was seeking reelection but was defeated by Lisa Buchanan and will leave the board this July.
Lisa Buchanan won the race to represent district two, which covers Sylva's North Ward, as well as Scotts Creek. She beat out two opponents for the seat, Courtney Umphlett and Clayton.
Buchanan is a North Carolina State Bar Certified Paralegal and Commercial Documentation specialist for HomeTrust Bank. Her priorities include transparency, teacher support, academic excellence and safety.
"My number one commitment is opening up communication," said Buchanan. "So many people approached me and expressed concerns about not having any communication, not being able to approach the school board, administrators, asking questions and not getting answers. I think that there's an underlying lack of confidence. And of course there's a lot of hot button issues right now, as far as curriculum, appropriate curriculum for elementary age and that kind of thing."
Buchanan won 2,865 votes, or 43% of the vote. Her next-closest opponent, Abigail Clayton won 2,463 votes or 37% of the vote.
"I was absolutely thrilled and humbled by the confidence of my voters," said Buchanan. "I'm excited to be able to move forward and start working for our children. I want to bring everybody together so that we're working as a team and not working as adversaries."
Kim Moore won the race for district 5, which covers Cullowhee, Caney Fork, River and Canada. Moore owns "Moore Joy in Family," a local business. She and her husband have been married 24 years and have raised and educated five children. According to Moore, they have proudly used private school, cottage school, public school and homeschool to educate their children, one of whom is a graduate of Smoky Mountain High School.
Her priorities for the board include academic excellence and freeing teachers from unnecessary bureaucracy.
"Teachers need to have freedom in the classroom to use their training and expertise to creatively educate students," says Moore.
Moore won 53% of the vote for district four, or 3,521 votes. Just behind her, Wesley McKnight won 29% of the vote, or 1,940 votes.
"I believe we are in serious need of education reform that includes, but is not limited to, prioritizing academic excellence and freeing teachers from unnecessary bureaucracy," she said.
Lynn Dillard won the race for school board in District 5, which covers Cashiers, Hamburg and Mountain precincts.
"I am extraordinarily honored and happy," Dillard said following her win.
Dillard is a retired educator who holds a PhD in educational leadership with concentrations in curriculum and measurement and a Master of Arts in teaching. Her priority is to support the superintendent in creatively re-engaging students who have lost interest in the traditional presentation of curriculum or students who learn differently. She is also an advocate for early literacy and the opportunity to include career courses in Early College.
Dillard said her experience set her apart from her competitors.
"[Voters] chose me for my experience in Jackson County Schools, helping so many students who are differently abled, being a principal and serving on the Blue Ridge School Education Foundation."
Dillard won 38% of the vote for district five, or 3,521 votes. Joy Rose, Dillard's next-closest competitor won 26% of the vote, or 1,730 votes.
"I'm going to support the superintendent on re-engaging all lost learners in Jackson County," said Dillard. "We have a lot of kids who just don't want to go to school, who are not interested. It's not serving them well for what they plan to do in their lifetimes. That's a main goal for us and improving early literacy is a big one."
According to Jackson County School Board Policy the school board will elect a chairperson and a vice-chairperson to serve for a term of two years, or until their successor is elected and qualified by taking the oath of office. An organizational meeting for the election and qualification of officers will be held at the regularly scheduled July meeting of the board.