Archived News
Making conversation: UNC System considers state of free expression on campus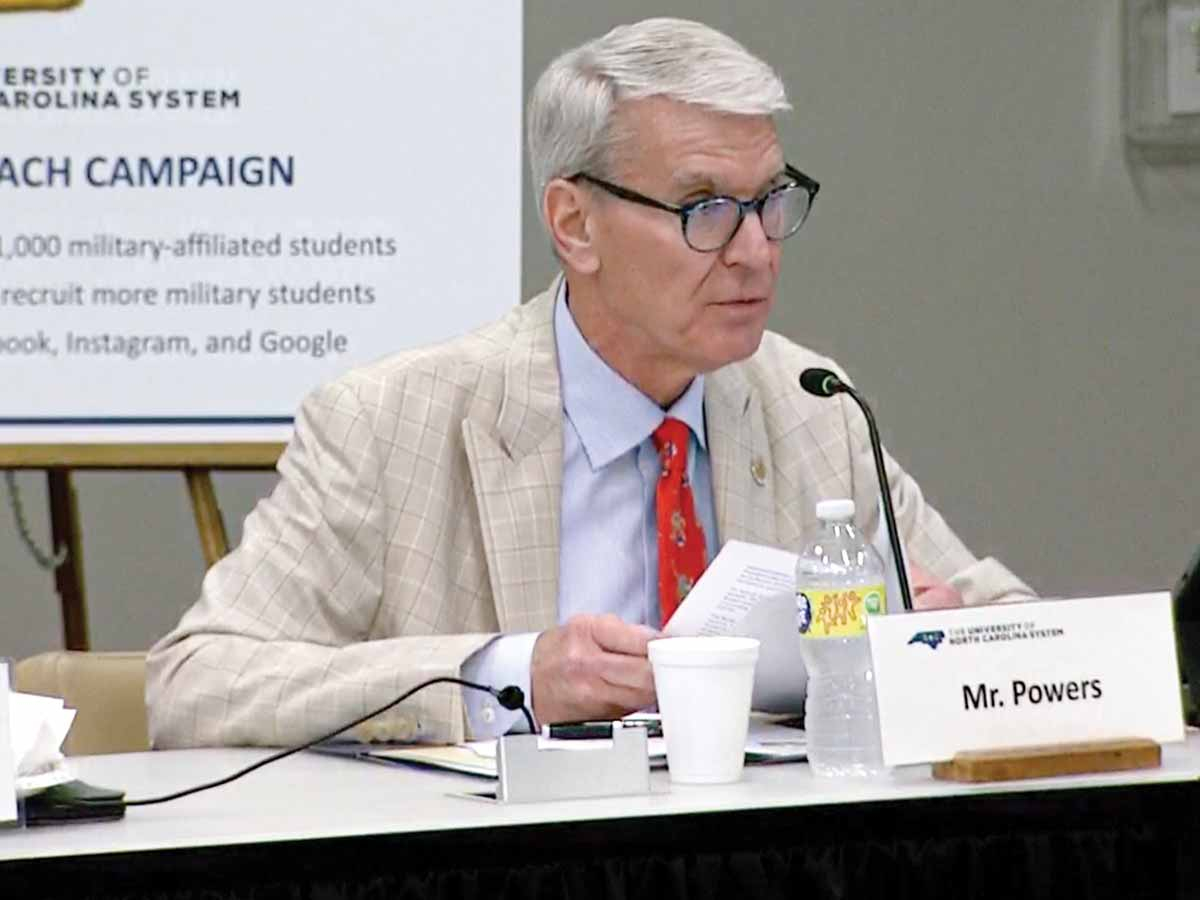 Board of Governors Member David Powers chairs the Committee on University Governance. UNC photo
A five-part series exploring free speech and free expression on college campuses wrapped up last week in the University of North Carolina Board of Governors' Committee on University Governance with a report on the results of a survey examining how those issues play out on UNC campuses.
"I'm proud of this report because it showcases exactly what a university ought to do, which is bring independent expertise and scholarship to a pressing challenge," UNC System President Peter Hans said during the May 25 committee meeting. "The survey was faculty-led, the results are compelling. It doesn't necessarily fit neatly into any kind of preferred political narrative, but it does make clear we've got a challenge with free expression. Too many students reluctant to speak their minds, hash out ideas, and that undermines the goals of a higher education."
Survey results showed that faculty do not tend to push political agendas in class, but that significant percentages of students worry about the consequences of sharing their true opinions and self-censor as a result — with conservative students facing unique challenges in this regard.
The survey, based on responses from 3,408 students at eight of UNC's 17 institutions, built on a 2020 report specific to UNC Chapel Hill. The researchers — Timothy J. Ryan, Jennifer Larson and Mark McNeilly, who are all from UNC Chapel Hill and authored the 2020 report, and Andrew M. Engelhardt of UNC-Greensboro — aimed to glean about 500 responses from each participating university. Five of the eight institutions —UNC Asheville, Appalachian State University, UNC Chapel Hill, UNC Charlotte, UNC Greensboro, UNC Pembroke, UNC Wilmington and N.C. Central University — exceeded 450 responses. Asheville, Pembroke and Central fell short with 444, 281 and 169 responses, respectively.
Former U.S. Solicitor General Seth Waxman, one of two speakers invited to present following the survey results, praised the study as "the first among equals," saying that he hasn't "seen a more thoughtful study than the one this group did."
Faculty and politics
The report had four key findings, the first being that, contrary to what is among many a popular belief, faculty do not generally push political agendas in class.
The survey used a "fly-on-the-wall" approach, randomly choosing a class from each participant's schedule for detailed questioning. Few students said that directly political topics were discussed in the class selected, with the figure between 3 and 8% at universities surveyed; the frequency of indirectly political topics ranged from 9-30%. In classes where political topics did come up, students overwhelmingly said that professors encouraged participation from students regardless of political stance.
At UNC Chapel Hill, only 2% of liberal students, 0% of moderates and 11% of conservatives disagreed with a statement saying that their professor invited participation from both conservative and liberal students. The highest numbers came from UNC Greensboro — where 6% of liberals, 8% of moderates and 16% of conservatives disagreed with the statement — and from UNC Pembroke, where 2% of liberals, 21% of moderates and 10% of conservatives disagreed.
Students often self-censor
Despite encouraging indications regarding faculty behavior, the study concluded that UNC campuses do not consistently achieve an atmosphere that promotes free expression — and that conservative students face distinctive challenges.
Significant percentages of students said they worried about the consequences of expressing their sincerely held views, with about one-fifth saying they had self-censored more than once as a result.
The source of their worry varied. At Appalachian State University, for example, where 22% of respondents said they had self-censored more than once, 39% said they would be concerned about other students' opinions, 22% said they would be concerned about their instructor's opinion and 15% said they would be concerned about their grade if they said what they really thought. Concerns extended to consequences outside the classroom, with 17% saying they were concerned about social media and 12% saying they were concerned about the code of conduct. Specific responses varied between campuses, but the trends were largely similar.
While students of all political persuasions reported some concern about the consequences of speaking their mind, conservative students reported much higher levels than liberal students. At ASU, only 27% of liberals said they would worry about other students' opinions, compared to 57% of conservatives. Just 6% of liberals said they would worry about their grade, while 27% of conservatives said the same. Only 11% of liberals said they had self-censored more than once, but the level among conservatives was nearly triple that, at 31%.
Students want constructive engagement
Compounding the issue is the result of a series of questions gauging student willingness to socialize with people of opposing political persuasions. While conservative students were mostly indifferent, with a slight preference for socializing with other conservatives, liberal students — who make up the majority in the institutions studied — showed a much stronger preference for socializing with like-minded peers.
"Imagine how as an implication of this the social experience and the risks a student would take in expressing their sincerely held views might be quite asymmetrical depending on what those views are," said Ryan, one of the report's authors.
Though students showed a lopsided willingness to socialize with those from the opposite end of the political spectrum, results did show an across-the-board desire for more opportunities to engage with those who think differently. At ASU, 27% of liberals said there were too few opportunities to hear liberal speakers, but a slightly higher 35% said there were too few chances to hear conservative speakers. Students of all political persuasions agreed that there were too few opportunities for constructive engagement — 52% of liberals, 57% of moderates and 64% of conservatives.
However, framing those engagement opportunities is important.
The survey showed that students who scored higher on open-mindedness criteria were less likely to engage in political dialogue than those who scored lower. However, open-minded students were more likely to say they would attend a political event if it were framed as consensus-seeking (presenting a point of view, considering the other side, identifying points of agreement) rather than as adversarial (defending a point of view, criticizing the other side, persuading others to agree).
UNC System President Peter Hans speaks during a May 26 Board of Governors Meeting. UNC photo
Tools for change
McNeilly, another of the study's authors, said that each university should take time to consider the results and plan to actively promote a campus culture that prioritizes free expression and the exchange of ideas.
"We need to have constructive dialogue, but to actually do constructive dialogue, students need to be taught how to do that," he said. "None of us are very good at having a constructive dialogue."
Universities should consider developing a specific class in civil discourse and integrate free speech and constructive dialogue concepts into orientation and other campus programming, McNeilly said. There are 250,000 students enrolled across the UNC system, so scale is vital to any impactful response.
He also proposed creating an ongoing forum across universities to discuss best practices and different approaches to addressing the issue. The Bipartisan Policy Center's " roadmap " to free expression on campus will be a useful resource in this endeavor, he said.
"As a professor, it's very tricky and sometimes risky to really open and broaden the conversation in a classroom today," he said. "Faculty need in one hand to be able to have the tools to do this, so they probably need some instruction on how to do that, but also they need to feel like they're supported by the administration as well as the boards in carrying out their duties to model free expression and have good, constructive debates in the classroom."
A vital mission
Following presentation of the survey results, the committee heard from Waxman, who was solicitor general under President Bill Clinton, and Noel J. Francisco, who held the same position under President Donald Trump. Though it may have been "unsettling" and "perhaps a little deflating" for the audience, Waxman said, he agreed with everything Francisco had to say about free speech, the first amendment, and the importance of civil debate.
While there are limits to free speech, Francisco said, "the purpose of these limits should not be to stifle speech with which we disagree, but instead the limits should be promoting the civil exchange of ideas — if someone's views are offensive, they should be heard and rebutted, not silenced." Outstanding questions about those limits, said Waxman, are mostly cultural — not legal.
Today's political discourse contains a "shocking level of incivility," Waxman said, with many students — especially conservative students — coming to college with an idea that faculty harbor preconceived notions of what values are and aren't acceptable. Students arrive "much more fragile and much more brittle" than in the past and are used to seeing online diatribes that would never occur if the individuals were sitting together in the same room.
"If universities are not up to the task of remediating that, I fear for our democracy," he said. "I can't underscore how important I think this mission is. The university has to focus itself on helping students understand that in open, respectful dialogue the process of having the patience and the self-confidence to hear each other, even if you don't agree, is just so important."
"If the only significant result of our discussions is to ensure that both conservative and liberal speakers are welcome on campus, I will posit that we have failed in our task," said Committee Chair David Powers. "I believe we can only claim success when every student in the UNC System, all 250,000 of them, feel that they have a right to express their opinions without fear, in their classrooms and their extracurricular activities."
Over the last decade, said Hans, the UNC System has worked to ensure that its policies and regulations encourage free expression — but success will require more than formal policy alone. Over the coming months, the system office will convene a series of conversations with university chancellors and other "thoughtful voices" on campuses to discuss how to set firm expectations among the student body.
"How do we make clear that open-minded engagement, resilience in the face of disagreement, respect for classmates — these are core values on our campuses?" Hans said. "How do we make sure students are really prepared to take part in a big, noisy democracy?"
Leave a comment
1

comment
When you have conservatives openly saying that nonbinary folx don't exist and the LGBT+ community is evil, that's no longer speech, that's warfare. The problem isn't incivility, the problem is one of the two parties in this country are assholes.

Wednesday, 06/08/2022