Archived News
Sylva settles on railroad depot restroom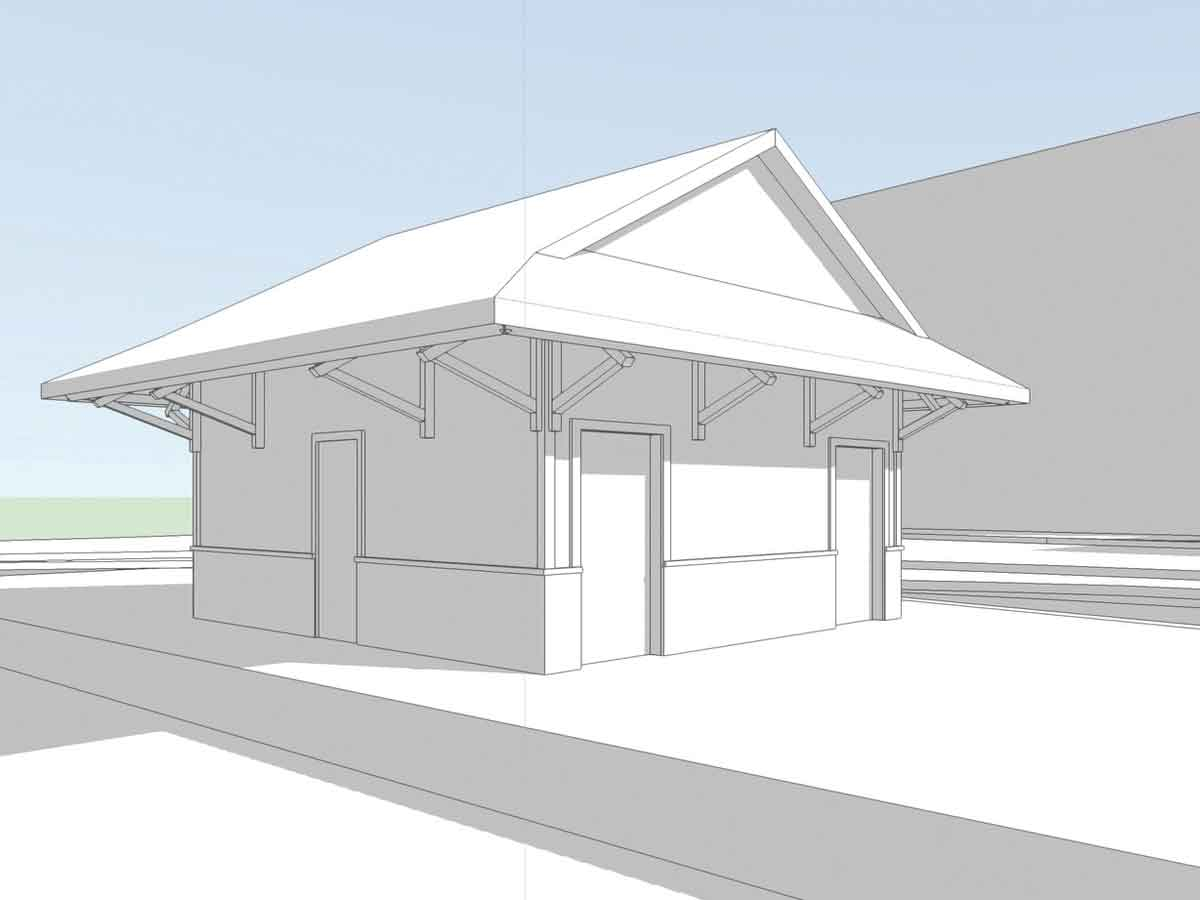 The Sylva Board of Commissioners has seen preliminary plans for a bathroom at the old railroad depot. Donated photo
Sylva residents and visitors to the town can expect to see a new public restroom at the old railroad depot downtown, if discussions with the railroad go as planned.
"What doesn't resonate with me is our population increasing, our cars increasing, our walking and our traffic increasing, and we shut down a road. That doesn't feel good to me," said Commissioner Mary Gelbaugh.
At a board retreat June 2, commissioners had an extensive and nuanced discussion about two possible locations for a public restroom in downtown Sylva — Spring Street between Main Street and Mill Street, and the old railroad depot. The board has been split on this issue since discussion began early this year.
The town received $250,000 in direct appropriations through the state capital infrastructure fund, direct appropriations in the state budget, for the project and has toyed with the idea of using some American Rescue Plan funds if more money is needed.
At a May 5 meeting, commissioners approved a plan to temporarily close Spring Street to conduct a traffic study to determine how permanently closing Spring Street for a public restroom might affect traffic flow in the area. However, a public hearing on the issue May 12 demonstrated relatively strong public opposition to that site. Spring Street is now open again to normal, one-way traffic.
According to architect Mahaley Odell Thompson, a bathroom at the Spring Street location is estimated to cost as much as $400,000, around $100,000 more than at the railroad depot location. That price estimate for Spring Street does not include redoing the pavers where Spring Street meets Main and Mill, something commissioners have discussed.
Gelbaugh made an argument for placing the bathroom at the old railroad depot location to preserve the historical site, noting that closing Spring Street has given the town good insight into what a permanent closure would mean.
"What I'm hearing from the residential side is they like that the road there, they like Spring Street there, whether it's a resident, or whether it's a commercial business downtown, this closing affected them, and it affected them in a negative way," said Gelbaugh.
Gelbaugh said that she is representing the will of her constituents in her appeal for the railroad depot location.
Commissioners Ben Guiney and Greg McPherson were also in favor of the railroad depot location. Thompson has said that a restroom built at the depot location could have architecture resembling the historic depot.
"Making the restrooms look like the Sylva depot as a heritage honor is neat and it's another tool for education," said McPherson.
Commissioners Natalie Newman, David Nestler and Mayor Linda Sossamon wanted to place the bathroom on Spring Street. Part of their rationale for this location was its proximity to Main Street.
"You can always drive down another street," said Newman. "But for someone in a wheelchair, or when I went down there the other day, walking down to the depot and then back up that hill, almost nine months pregnant with a toddler was not easy. So if I'm shopping on Main Street and I have to walk down Spring and across Mill to get down to the depot to use the bathroom with my toddler, I'm not even in a wheelchair, and it was not easy on me."
Sossamon had similar concerns for elderly people being able to access the railroad depot location from Main Street. Newman also mentioned constructing the bathroom on Spring Street in one lane, allowing traffic to continue flowing in the other. However, several commissioners had concerns about putting a bathroom so close to moving traffic.
"I'm the oldest person on the board. I'm probably the oldest person in the whole Town of Sylva staff," said Sossamon. "And I personally know, I can't walk down the hill just like Natalie said. Most of our shoppers are maybe women, women with children, or like Paige said, over 65. It's just not fair to try to make them walk all the way down that hill, across the street, around the curve and down, however we're gonna design it. At least nine businesses on Main Street have signs on their doors that say no public restrooms."
At the end of the discussion, Gelbaugh, Guiney and McPherson voted in favor of approving the railroad depot location for a public restroom. Newman and Nestler voted against the location as both were in favor of the Spring Street location. Though the mayor does not have a vote for typical measures on the Sylva Board of Commissioners, Mayor Sossamon was strongly in favor of building the restroom on Spring Street.
The town will still need to work out a deal with the Great Smoky Mountains Railroad to lease or purchase the land that the old depot sits on.
Leave a comment
2

comments
What about the near empty lot next to The Herald building? That would prevent the difficulty of the walking?

Sunday, 07/03/2022

Would a "moving sidewalk/escalator" be at all feasible? ( as in a mall or airport)

Monday, 06/13/2022