Archived Outdoors
Protecting the nest: Volunteer program aims to restore falcons at Devils Courthouse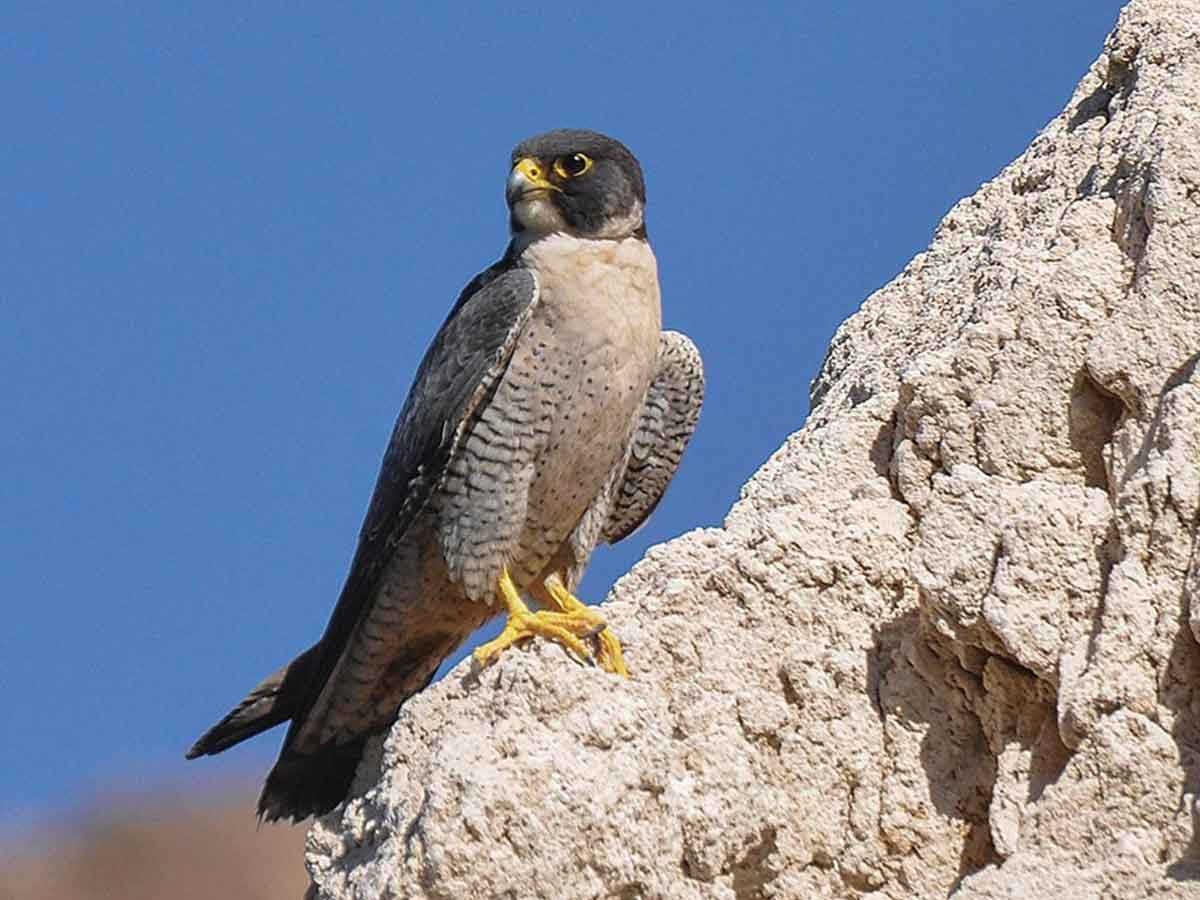 Though they've been removed from the federal list, peregrine falcons are still listed as endangered in North Carolina. Mitch Urban/NPS photo
For years, Blue Ridge Parkway staff have been concerned that visitor behavior at Devils Courthouse, a popular overlook on the 469-mile road's meander along the Haywood-Transylvania county line, is hurting the organisms that live there. A new volunteer program aims to combat the issue through education, one visitor at a time.
The rocky outcroppings that make Devils Courthouse a favorite spot for Instagram snaps also render it a unique — and important — habitat for state-endangered peregrine falcons as well as a potpourri of rare plant species. A stone wall marks the end of a half-mile trail to the top of the 5,720-foot overlook, but many visitors opt to scramble onto the rock cliffs beyond it, snapping pictures that are then posted to social media. These images entice others to visit and position themselves for the same shot — a search for #devilscourthouse on Instagram yields about 6,500 posts.
Climbing on the cliffs, which drop off steeply to the valley below, is dangerous for people. But it also tramples the delicate plant species who depend on this rare, high-elevation rock environment to thrive, and it dissuades peregrine falcons from nesting there.
One of the best-known raptors in North America, the peregrine falcon was once on the brink of extinction and listed as federally endangered in 1973. Banning DDT vastly improved the species' prospects, and it was removed from the list in 1999. However, populations remain low in North Carolina, and the species is on the state's endangered species list.
In the 1950s, there was only one mating pair in the entire state — in 2020, 16 sites were occupied by peregrine falcon pairs and four successfully reproduced, for a total of seven known offspring. Every year, the U.S. Forest Service closes several rock faces across the Pisgah-Nantahala National Forest during the breeding season to support restoration efforts.
Devils Courthouse is a perfect falcon nesting spot, but escalating visitation and changing visitor behavior has effectively evicted them. According to National Park Service data, a total of 14 peregrine falcons fledged from Devils Courthouse 2000-2007, with no young produced 2008-2010, though single peregrines were observed in the area 2010-2015. Two nestlings were produced in 2016, but subsequent nestings in 2017 and 2018 were not successful.
An impressive view spreads below the summit of Devils Courthouse. NPS photo
"When people are getting too close to where these birds nests, if they do have a nest, and they feel unsafe, it's common for them to either abandon the nest or no longer pursue nesting-like activities," said Community Volunteer Ambassador Olivia Burke. "And then the plants that live out on these rocky outcroppings are very sensitive."
The new volunteer program, Devils Courthouse Rovers , enlists volunteers to interact with visitors and let them know if they're doing something that might endanger the natural system they've come to see.
"My belief is that most visitors want to do the right thing," said Parkway spokesperson Leesa Brandon. "Sometimes they just don't really understand the consequences of one of their actions on a natural area like this. The education, I think most people really welcome it and are glad for it."
Outfitted for the elements with funding from the Blue Ridge Parkway Foundation, volunteers spend three to four hours per shift walking the trail, hanging out at the overlook and chatting with visitors. While they're primarily there to educate visitors about responsible enjoyment of the area, rovers also share their own knowledge about the site and may offer trip planning advice and hike suggestions.
The rover concept isn't new — the Devils Courthouse program is one of three operating on the Blue Ridge Parkway. The first one, at Craggy Pinnacle, launched in 2019, and its success led to establishment this year of programs at Devils Courthouse and Rough Ridge, near Blowing Rock. The Devils Courthouse program has seven established volunteers working a combined 20-24 hours per week, with two new volunteers on board and a few more in the interest stage.
"We had learned from the creation of a rover program several years ago for Craggy Pinnacle, that having volunteers that were willing to be on site in very popular areas with sensitive habitats or fragile ecosystems was an effective way to help educate park visitors about issues and to help be a presence to deter maybe some unsafe or illegal behaviors," Brandon said.
Devils Courthouse's status as desirable falcon habitat, however, makes that rover program distinct from the other two.
"It's an ideal spot for peregrine falcon nesting, and there's not many spots like that available or even that exist, these bare rock cliffs. So it makes it a unique need for them as to their nesting spot," Burke said. "All of our other rover programs focus on plants. Devils Courthouse has the plant need, but then also the falcons."
In Cherokee legend, the powerful mountain giant Judaculla danced and held court in an underground chamber beneath the exposed rock now known as Devils Courthouse. It rises above the surrounding spruce forest to 5,720 feet, with a strenuous half-mile trail leading to a summit offering views that on a clear day reach four different states.
Devils Courthouse Rovers gather for training. NPS photoDevils Courthouse Rovers gather for training. NPS photo
The rover program just launched this spring, so it's still too early to tell how it might impact the site's popularity with falcons or the success of rare plants. Even at Craggy, which has now had a rover program in place for three years, results are slow to manifest. Harsh conditions mean that plants typically take a long time to grow, even without interference from humans.
"We have great Rover coverage at this location during popular visitation times, so we feel optimistic that the plants we all want to protect have a better chance at survival," said Brandon.
Parkway staff intend to closely monitor Devils Courthouse, for both plant growth and falcon nests. Even now, there are some promising signs — a pair of peregrine falcons has been spotted hanging around the area. They appear to be in the courting phase and aren't likely to nest this year, but if they do pair up, they could well return to Devils Courthouse next spring.
"This is late in the year for nesting activity anyway, but since the theory is that nesting has not been successful in past years there due to human disturbance, our roving activities could pay off quicker than we thought," Brandon said.