Archived News
Neadeau named as interim Cherokee police chief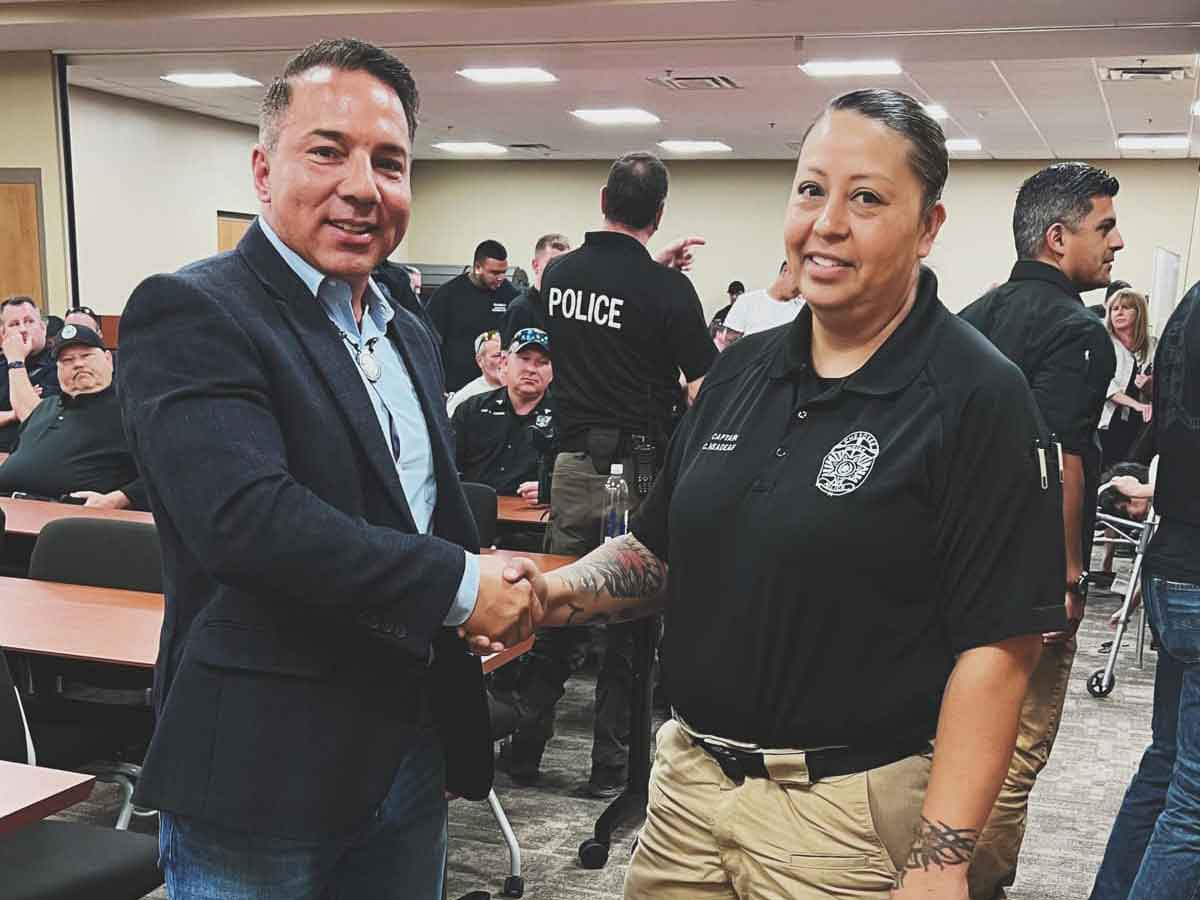 Principal Chief Richard Sneed welcomes Carla Neadeau as interim police chief. EBCI photo
When Chief of Police Josh Taylor's resignation becomes effective June 27, the Cherokee Indian Police Department's Captain of Corrections Carla Neadeau will take the helm as interim police chief.
"I have every confidence that Chief Neadeau will maintain the momentum at the CIPD and we will continue to see a safer and healthier community," Taylor said in a statement announcing the appointment.
Neadeau has been with the CIPD since 2009, serving as a supervisor for three years and a manager for eight years. She holds a master's degree in business administration and is three classes away from earning her second master's degree, this time in criminal law. She will be the first woman to lead the department.
"I have full faith that she will do everything in her power to ensure that our EBCI citizens are protected," said Principal Chief Richard Sneed.
Taylor announced his resignation on June 13, after just under 11 months on the job.
"For almost a year, I gave this job everything I had, and now it is time for me to step back and spend more time with my family," he said.
Taylor said he's proud of his team and the work they've done to make the CIPD an agency that officers want to work for, pointing to the fact that the department of 67 sworn officers now has only four vacancies, whereas a year ago there were at least 12. Community reporting and dedicated officers have cleaned up neighborhoods that used to be overrun with drugs, he said.
"I have learned a lot in this job, including the fact that while drug use drives a lot of our community's crime, drug use is often a symptom of the deep-rooted trauma and violence kids experience in their own homes," he said. "To make a long-term impact, we have to stop the cycle of violence against our most vulnerable family members, friends and neighbors."