Archived News
Overbooked: How Highlands is attempting to regulate its short-term rental industry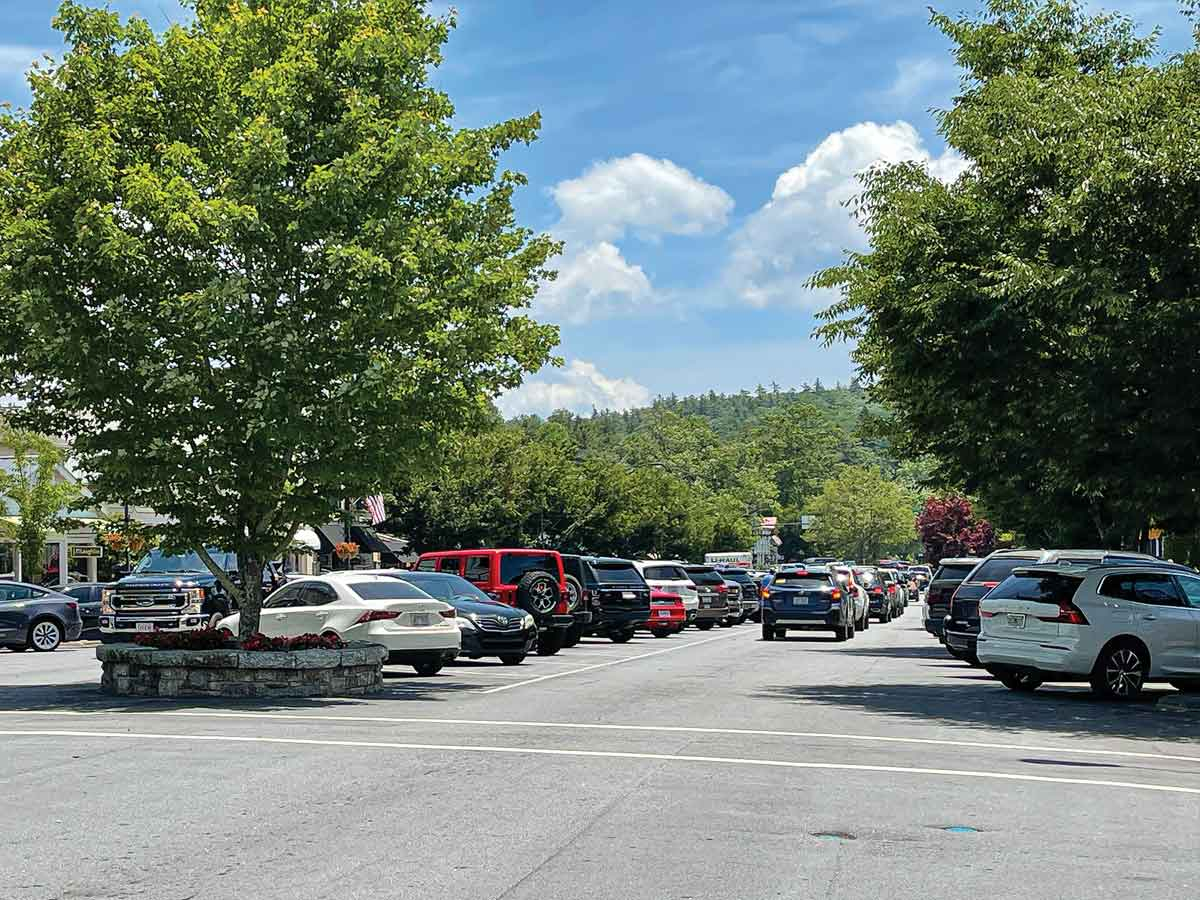 Parking in downtown Highlands is getting tougher to come by as more people make their way to the mountains. Kyle Perrotti photo
Short term rentals have existed in resort towns for decades, but as Airbnb and similar services have made them more popular around the country, Highlands has moved to ban most new STRs, leaving the community divided on what's become a critical issue.
At the heart of many of these debates is the supply of housing, especially as working-class people continue to have trouble finding homes to buy or even rent, with many getting purchased by second-home owners or investors whose only intent is to make money in the STR market.
The debacle in Highlands began last August when the town started hearing complaints from some residents that there were too many STRs, and an amendment to the town's unified development ordinance was passed on May 19 that used zoning regulations to prevent single-family dwellings from being used as STRs. On the heels of an N.C. Court of Appeals decision regarding Wilmington's attempt to regulate STRs, the debate was reframed.
Adding to the turmoil is the fact that an error in noticing the public hearing has made the town begin its amendment process all over again, which will only prolong the headache.
When Wilmington moved to regulate STRs, town officials argued they were doing several things to make them safer and more tolerable in neighborhoods, including mandating one parking spot per bedroom and putting a list of emergency numbers inside each unit. It also instituted a lottery to determine what properties could be STRs. Preexisting STRs that didn't win the lottery would have to cease those operations within a year, a mandate that they intended to enforce through a required registration of STRs.
This case was taken to court in the matter of Schroeder v. City of Wilmington, and the court of appeals eventually determined that while the city can regulate short term rentals through zoning, it can't require people to register their properties.
A heated debate in Highlands
Two citizens' groups on different sides of the STR issue in Highlands have gained traction. Both wrote letters to The Smoky Mountain News that ran within a week of each other.
First, on May 25, came a letter from Cathy Henson , President of the Highlands Neighborhood Coalition, which favors the ordinance amendment. Henson's letter called the amendment "a good first step in halting the unchecked proliferation of STRs in Highlands."
The next week, SMN ran a letter from Jennifer Huff of Save Highlands , who is also the plaintiff in a lawsuit against the town, in which she claims the amendment "clearly violates the law."
Henson and Huff also both spoke with SMN for this story.
Henson and her husband, who mainly live in Atlanta, have owned their Highlands home for almost two decades. While she said she doesn't have neighbors as close as some, she has still had some issues.
"What you learn in this new world of short-term rentals is that sound travels," she said.
Henson discussed the group she created about a year ago that now has a working board of five members, along with 75-80 members who stay in touch. While there are plenty of short-term rentals in bigger cities, Henson said she believes the concerns are different in small towns like Highlands.
"Cities are better equipped to absorb some of this," she said. "The hardest hit communities are rural and historically for second homeowners."
Huff is a retired Air Force officer whose husband still serves in the Air National Guard. While their main residence is in Charlotte, they also have two properties in Western North Carolina; one is a cabin in Jackson County and the other is a home in Highlands they bought in 2015 and renovated that they now list on VRBO. Huff said that "without warning," the town listened to a "very small group of people" and went forward with action to ban STRs.
"People had specifically bought houses for short-term rentals and been told that's fine," she said. "You can't just wake up one day and say we can't do this anymore."
Huff, who was introduced to the area when she and her husband got married at Highlands' Old Edwards Inn, said she loves the place as much as anyone else, but has concerns about property rights being taken away. It seems Huff has quite a bit of support, if a GoFundMe she started to cover legal fees that has raised $174,000 is any indication.
"The GoFundMe account will be used to pay the retainer and legal fees of the law firm incurred in the prosecution of the litigation," the page says. "All funds will be managed and disbursed by Highlands Area Vacation Rental Owners/Managers, LLC, established to manage the litigation. The treasurer of the LLC will be authorized to disburse payment of the GoFundMe funds to the law firm upon receipt of invoices for legal services rendered in the litigation."
Both Huff and Henson indicated they may be willing to work with the other side but they also both believe that feeling hasn't been reciprocated.
"We've said from the beginning we want to sit down and talk this out. If you want to hire a mediator, let's do that," Huff said. "But we have been ignored over and over again. We said that obviously we want to be good stewards and good neighbors, so if there's a [STR] guest that's being a bad neighbor we want to know."
"If there were a way to carve out exceptions for granny who needs to rent a room to pay her taxes, I'd be all for that, but it's different when it's investors," Henson said.
Reining in rentals
While the controversy surrounding the ordinance is in some ways complicated, the amendment itself is straightforward. Town manager Josh Ward said the board decided to investigate regulating short term rentals last August when it received a letter from concerned citizens who wanted to slow the proliferation of or outright ban STRs.
After working with Town Attorney Jay Coward and Craig Justus, a well-known property rights attorney who works for the Van Winkle Law Firm in Asheville, the amendment was drafted. Justus said because Highlands is one of the first towns to attempt to use zoning to regulate short term rentals, he had to go off his 30-plus years of experience in land use to think of what might stand up in court. He was also aware that the issue isn't isolated to Highlands and expects more towns may take up the cause.
"It's that conflict that a lot of communities are facing between growing populations that don't live there permanently and wouldn't provide ad valorem taxes but they're spending money and providing a lot of revenue for businesses that pay ad valorem," he said.
Ultimately, with the new ordinance completed, SMN was informed that Justus ceased his involvement with the town in the matter of STRs the same day he'd done his interview. In an email, Justus confirmed that he is "no longer engaged" but offered no further details.
The board then sought a second opinion from Chad Essick and Bob Hagemann of Poynter Spruill — the very firm that represented Wilmington in its quest to regulate STRs.
"They were up on that topic," Ward said.
The amendment passed, 4-1, last month. Ward said he believes the commissioners understand the fact that the long-term rental market is being hurt by the proliferation of STRs.
"Long-term rentals for workers are very difficult to find," Ward said. "People have to live off the mountain and commute up. I drive up here from Franklin."
Mayor Patrick Taylor called the situation "frustrating" for homeowners who live in Highlands full time, as well.
"My overall concern will be what the long-term future and interest of Highlands looks like if we just simply have a situation where there's an unlimited proliferation of short-term rentals," he said. "I live in a neighborhood myself, and I understand the desire to do short-term rentals. I understand many concerns about preserving the residential neighborhoods. If we only have short-term rentals, we lose a residential property that adds so much to the fabric of this community."
He also discussed the dwindling supply of long-term rentals.
"It's a real problem for the workforce in Western North Carolina and throughout the country," he said. "[The town has] 70 employees and only maybe three live in the town limits."
The one vote against the amendment was from Marc Hehn, who is in the third year of his first term on the commission. Hehn has a master's degree in city and rezoning planning and was in local government in South Carolina for 45 years. He took issue with not only the amendment, but the process by which it was proposed and passed.
"I thought they'd made such drastic changes that it oughtta go back to planning board," he said, also calling out the issue with not properly noticing the public hearing. "I think the public has a right to comment on the final draft."
Hehn lamented the board's action, as well as the mountain of legal costs associated with the lawsuit — especially considering there's a chance the town may have to pay the plaintiff's fees, as well.
"This is hundreds of thousands of dollars we're spending to push the envelope," Hehn said.
Hehn said he thinks the two sides agree on more than they disagree on and that if a few of the more controversial items could be worked out, there could be a compromise.
"I think this could all get hammered out if people were willing to work together," he said.
Highlands Town Hall.
The legal argument
Save Highlands hired the law firm Allen Stahl + Kilbourne out of Asheville and filed a lawsuit against the town. Derek Allen, the lead attorney on the case, said the heart of his work with Save Highlands is to protect his clients' collective right to continue to use their properties as they always have.
"It's fundamental in a constitutional sense, at both the state and federal levels, that if you are engaged in the use of your property, and it's not prohibited at that time, if an act or statute prohibits that use, it is allowed to continue as a valid nonconforming use," he said.
Essentially, "valid nonconforming use" is a term used to describe properties that would be grandfathered in, meaning they could continue to be used in a way that would otherwise violate the new ordinance because it had been used in that manner before the amendment was passed. While the court of appeals determined in Schroeder v. City of Wilmington that a town can regulate STRs through zoning, they can't require qualifying properties to register in any way.
"Our case is you can't take away grandfathered rights," Allen said.
Allen claimed that Justus and Coward agreed with that point, and yet the town "ignored" their advice, even though it seemed like the two sides were close to an agreement.
"The planning board had crafted an ordinance that I think was pretty close to being legal … it didn't go so far as to attack valid nonconforming uses," he said.
A meeting was even scheduled by the attorneys' clients to bring both sides together, which everyone took as a good sign.
"We were a day from having the meeting, and then all of the sudden it was off," Allen said.
Allen said he is particularly interested in the historical element of short-term rentals, noting that people have come to the region to stay in residential properties to escape larger cities dating back as far as the 1890s. In addition, Allen recalled that when he was growing up in Greensboro, people would rent out their properties sporadically throughout the year during events that drew large numbers of visitors.
"It's a fundamental property right," he said. "If it's yours, you can rent it."
Even though the amendment had passed a vote, it was later pointed out that the town hadn't properly noticed its ordinance change in accordance with state law. In a letter from Allen to Coward and Justus that was first reported by Highlands News , Allen makes his case, citing the applicable general statute.
"Before adopting, amending or repealing any ordinance or development regulation authorized by this Chapter, the governing board shall hold a legislative hearing," that statute reads. "A notice of the hearing shall be given once a week for two successive calendar weeks in a newspaper having general circulation in the area. The notice shall be published the first time not less than 10 days nor more than 25 days before the date scheduled for the hearing. In computing such period, the day of publication is not to be included but the day of the hearing shall be included."
The letter cites other statutes and case law to make its point. In it, Allen notes that the town had its legal counsel draft a new ordinance "mere days before the [May 16] hearing"
"Last year, the Town complied with N.C. Gen. Stat. § 160D-604(b) and Section 4.3.1 by submitting to the Planning Board its proposed draft amendments of the UDO," Allen said. "The Planning Board did its part, considered the proposed ordinance taking into account public comment and submitted a revised ordinance to the Town on Feb. 1, 2022. The Town, however, scrapped its originally proposed ordinance and the revised version the Planning Board recommended. Instead, the Town hired new legal counsel, had them draft a completely new ordinance, and only publicly revealed the new ordinance the evening of May 16, 2022, mere days before the hearing."
On the evening of May 19, the town approved more restrictive ordinance amendments to the UDO.
"The Town on the fly made the newly proposed ordinance substantially more restrictive by prohibiting — for the first time — vacation rentals in the R-2 district," Allen said. "No previous draft ordinance contained this restriction. Property owners in R-2 had no notice that the Town planned to restrict their property. Because of these issues, the Town must resubmit the draft ordinance to the Planning Board per N.C. Gen. Stat. § 160D-604(b) and Section 4.3.2 before it can be validly adopted."
Allen told SMN that one of the things he's been working on is obtaining records of communications from town leaders that pertain to the improperly noticed public hearing.
"It's wild that they would have missed that," he said.
Rebecca Badgett, an attorney who has worked for the UNC School of Government advising local governments for five years and recently got a faculty position, co-wrote the book Regulation and Taxation of Short-Term Rentals . She talked about the Wilmington case and the precedent it set as it relates to Highlands' case, particularly regarding grandfathered properties.
"We know that rental registries are prohibited," she said. "A rental registry would be every year you have to turn in name and address to local government and say 'hey, I'm running a short-term rental.'"
However, the argument becomes more nuanced when towns try to require a zoning permit to run an STR.
"The sticking point is that a permit looks an awful lot like a registry, in theory," Badgett said. "What is different with a zoning permit is that operational regulations are tied to it, so there are some standards they have to follow, so it makes it closer to land use laws that are allowed."
A potential trend
Badgett thinks more towns are going to start considering STR regulations, especially in the wake of the Schroeder decision that clarified that they can be regulated through zoning.
"I think I'm going to be following more towns regulating STRs, and what comes from that we'll see," she said.
While the Highlands Chamber of Commerce didn't have figures readily available for how many STRs exist within its jurisdiction, multiple sources estimated the number to be around 300. Either way, like Highlands, other counties across the region have seen a sharp increase in revenue generated via occupancy taxes from STRs.
Jackson County TDA Executive Director Nick Breedlove said in a normal year, STRs make up 20-30% of revenue but that they are now "trending upward toward 55%."
"In May 2022, the most recent report we have, we show 1,101 available listings on Airbnb and VRBO. In May 2021, that figure was 842 listings, and in May 2020 that figure was 706 listings. That data comes from analytics firm AirDNA, who compiles statistics for us," he said. "That does not consider independently listed STR's by owner or those managed by third party vacation rental firms like Bear Lake Reserve, Landmark Vacation Rentals, or Sundog Vacation Rentals. It's tough to estimate the total inclusive number of those, but I would estimate it is in the range of 1,500 total."
Haywood County Tourism Development Authority Executive Director Lynn Collins said that according to their tracking service, there were 899 short term rentals in Haywood County in February 2021. In February 2022, that number increased to 1,344. Two months later, in April 2022, it showed continued growth to 1,528.
There have been frequent conversations among the TDA board about the phenomenon as it relates to the affordable housing shortage, Collins said.
"In general, they have had conversations about if these houses were not short-term rentals would they be anything that would be considered affordable housing," she said. "I think the general opinion would be no, but that's not to say across the board that it would be that way."
A unique perspective
Hannah Banks has been a real estate broker for Highlands Sotheby's International Real Estate since 2020. She's also run a maid service since 2011 that largely services STRs in Highlands and the surrounding area. Perhaps most importantly, Banks, 37, has lived in the area her whole life. She said her home has changed dramatically in ways that disadvantage local people.
"The problem that we have in this area is there is nowhere for working class people to live," she said.
Banks, who now lives in Franklin, said half of the people she's worked with who've turned property into at least part-time STRs have been second-home owners and half have been investors. She talked about one investor she's working with now who has some lofty ambitions.
"He wants to do a huge, tiny-home vacation rental community," she said. "I'm really trying to talk him into doing at least part of that long-term rentals, because they're for the working-class. People can't afford to live up here."
Beyond the issue with housing inventory, Banks pointed out something no one else interviewed by SMN did. As more homes become STRs, there may not be enough people around the area willing to provide necessary services as she does with her maid business.
"I literally have people call me and say, 'I can't find anybody to clean my rental,'" she said. "I'm like, 'well, you're probably not going to, because everybody that's good is booked, and that's it.'"
At this point, Banks only accepts new clients that don't have a high turnover rate on their properties.
"There are always properties that need turnovers on the weekends where someone leaves in the morning, and someone else comes in the afternoon. See, all my staff comes from off the mountain," she said.
"The new investors and the STR owners are gonna have a hard time finding landscaping in addition to housekeeping and other things," she added. "There's different groups on Facebook, like 'What's Happening in Highlands' and people come in and say, 'how does anybody get anything done around here?'" she added.
Banks said many investors who've bought property don't consider that, including the one she's been working with recently.
"He wants to take those modern container kinds of tiny homes and just put a bunch of them in one little park," she said. "Well, that's a great idea, but you're not gonna find anybody that can service a hundred tiny homes. Good luck with that. You're gonna end up losing money unless you build some housing for some people that can work and take care of it."
Even though Banks gets some of her business as a broker from investors and she doesn't oppose STRs as strongly as some, she would still rather see more people who buy property with the intention of living in and interacting with the community.
"It's an attractive place for investors to come, but I would rather people that are invested and care about this area to buy property instead of just buying something to make money," she said.
Like many in Highlands, Banks ultimately just hopes the two sides can find a middle ground and come back together as a community.
"I think with the STR thing, they need to figure out a middle ground," she said. "Let the people who've been doing it for years keep it. But I think especially in town, maybe you can restrict some, or at least make guests stay longer. Instead of two or three nights, do a week or two or something. I mean, there's surely there's something that they can do."
And in the meantime, Banks hopes she can use her job to help local folks just looking to survive.
"I wanna deal with the locals," she said. "I'm a local, and I'm related to like everybody around here. I want to help locals find what they want, but everything is just so far out of everyone's price range."
"How is all this gonna affect the people that live here all year, not just the summer people, cause we kind of get left out," she added "And a lot of the planning and thinking of what this town should be like, no one asks us … I don't know what the answer should be, but I just know that I think that they need to do something different."
Cory Vaillancourt and Hannah McLeod contributed reporting to this story.
Leave a comment
2

comments
Affordable long term rentals for professionals relocating to Highlands are scarce. We are amazed at how many short term rentals are available but when contacting owners about considering a 1 year lease for their VRBO, we have been quoted as much as $4,200/month for a 1 bed/1 bath cottage which was beautiful, but looks to be less than a thousand square ft. Our daughter, an extraordinary Biologist here in Maryland, whose degree from Palm Beach Atlantic Christian College specialized in Environmental Science, Field Biology & Botany was offered a year long position in Highland's NC. Unfortunately we continue to look far & wide and cannot find affordable housing in the Highland's area. As a field biologist here in Maryland, she will be taking a serious pay cut to relocate, but her passion is to educate kids of the importance of our environment & help preserve Highland's natural resources. Highland's would certainly benefit from her knowledge, passion & wisdom but a suitable/affordable one year lease is paramount to her success in relocating. Thanks Cory Vaillancourt for your help & contribution in bringing this issue to light.

Thursday, 06/30/2022

My wife & I have rented our home in Highlands for 8 years even though these rentals are less than a third of the year. I believe that most STR owners are willing to work with those neighbors that oppose STRs to mediate changes in the UDO that would satisfy both groups. It is unbelievable that the Board of Commissioners totally ignored the economic consequences of a STR ban. Both sides should be able to agree that Highlands does not have enough hotel/motel rooms to house guests in our community. Old Edwards Inn supported STRs when their management said that they don't have enough rooms to house the number of guests that attend the events on OEI properties. What would the result of a total ban of STRs be on Highlands? If STR guests don't come to Highlands, you could see closings of many of our wonderful restaurants and shops. Money that would have been spent in Highlands is now transferred to other towns in the Carolinas, northern Georgia, or Tennessee. Though it hasn't been released to the public, I have heard that an economic report was done that would show the impact STRs add to the economy.

STR Ban Supporters also raise the issue that these homes could be used as long term rentals. This may have been true at one time before the cost of most of these homes passed $300,000. Quoting a statement in this column: " Working class people can't afford to live in Highlands." Though the citizens of Highlands haven't been informed of how much of their money has been spent on legal bills, this money could have been earmarked for a study on housing for our working class citizens.

I would like to thank Cory Vaillancourt and Hannah McLeod for their article, that gave a non-biased reporting of the STR fray in Highlands.

Thursday, 06/23/2022