Archived Arts & Entertainment
Making a mark: Haywood potter bridges nature, art and memories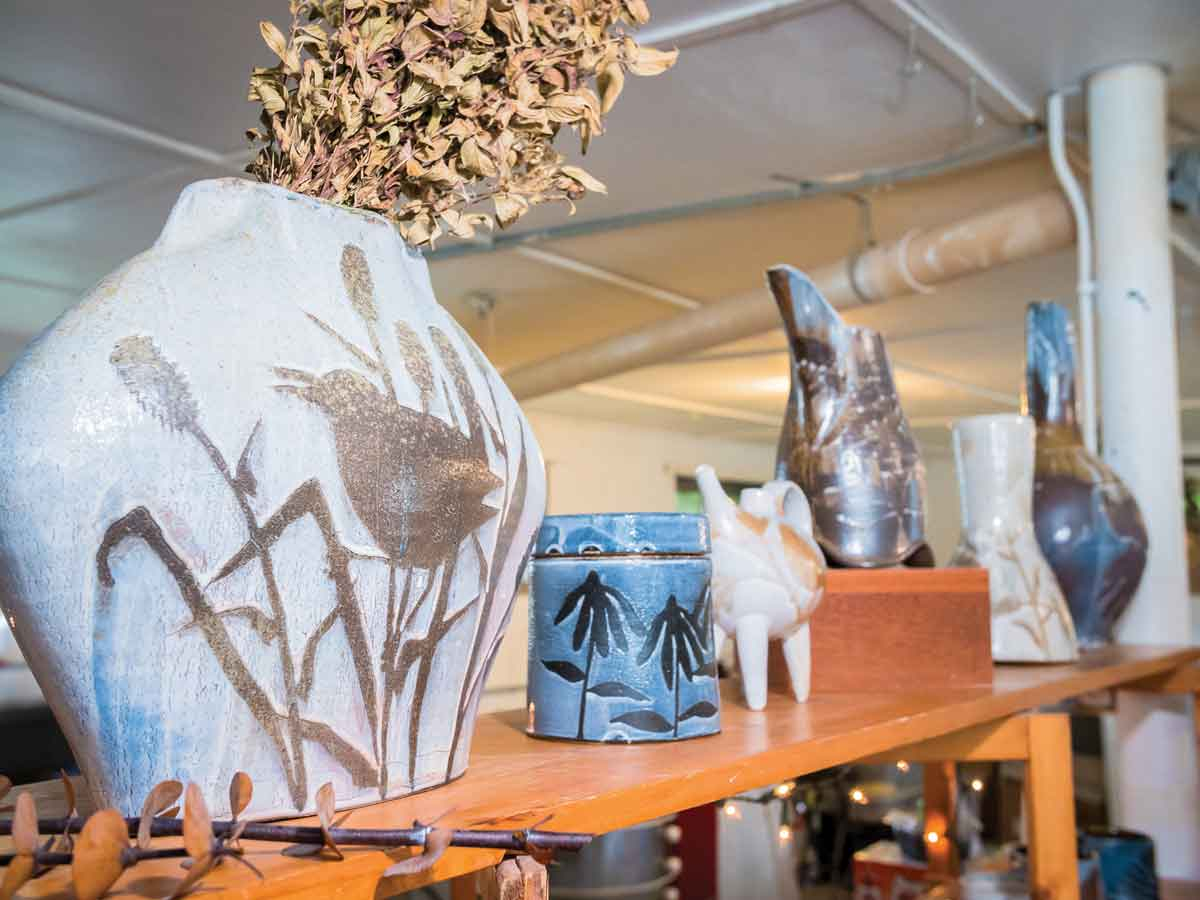 While studying English at the University of Mary Washington, Christina Bendo decided to, by chance, take an elective one semester — pottery.
"And I really fell in love with clay — the feel of it, the community around it," Bendo said. "It was just the act of making things, something that's always been part of my life. Even before clay, I loved baking as a kid, and was always making things. But, I never thought that was something I'd be able to do for my profession."
Raised near the Potomac River in Virginia, Bendo spent her youth running around the woods and creeks of the area. As far back as she can remember, Bendo has been inspired by nature, either in her work or in her daily life. After college, Bendo pursued pottery, ultimately parlaying her growing passion into a three-and-a-half-year apprenticeship and several artist residences.
By 2017, Bendo found herself in Western North Carolina, "blown here by the winds of circumstance," she reflected. And though she was making ends meet working other gigs, pottery remained at the core of her long-term vision of a life well-lived, personally and professionally.
"I've always appreciated the utilitarian aspect of the craft. These things you use every day, and being able to interact with the objects and having these really intimate connections with those handmade pieces — drinking a cup of coffee or using a plate to present a meal," Bendo said. "And the history of it, too. Humans have been making pottery for thousands of years, where the process is pretty much the same. You can make pots the same way our ancestors did — the same materials and same firing process."
Potter Christina Bendo in her Waynesville studio. (photos: Bob Peck)
Now 31, Bendo owns and operates a pottery studio just off Main Street in downtown Waynesville. Although she'd been slowly chipping away at her aspirations of having a place to create and sell her homemade wares, it was during the early days of the pandemic that finally led to Bendo turning her dream into a reality.
"During the shutdown, I got laid-off from my job and found myself trying to figure what I was going to do," Bendo said. "And while I was doing that, I would go out every week and hike the same section of the Mountains-to-Sea Trail in the Balsams — March [2020] through the summer, the same thing over and over again."
But, even though Bendo would traverse the same trail, she began to notice how each trek was as different and unique as the next, whether it be temperature, vegetation growth, or simply her mindset while disappearing into the depths of Mother Nature.
"It was those experiences out on the trail that started to come out in my work, where I've been doing seasonal collections based on those observations that I had," Bendo said. "And being on the East Coast, you can observe the changing of the seasons, where you go back to the same spot and see the gradual changes over the course of time."
For Bendo, her work with ceramics not only embraces her deep love of nature and art, it also touches upon a passion for the past, one which also reflects upon the moments created with her pieces now part of someone else's life.
"All I could hope happens with my pieces is that they end up being something that creates memories, maybe even get passed down as family heirlooms," Bendo said. "People come into the studio who are nature or pottery lovers or maybe just passing through and visiting, where they take a pot or mug home with them — what starts out as my idea has now become part of their story."
A tansy trefoil by Christina Bendo.
Walking into her studio each day, the journey to the here and now of what has come to fruition isn't lost on Bendo. If anything, the gratitude to do what she loves for a living is something at the heart of her pottery — fingerprints of talent and purpose all over each piece that gets picked up off the shelves and brought out into the world.
"It feels really good to be in this space, you know? It's this sense of accomplishment for making something, building something from the ground up. It's taken many years to get to this point where I can walk in and everything is just so dialed in with my creative process," Bendo said. "And I like being able to interact with people from the community, to welcome people into my space, where you just never know who will walk through the door — it's great to see all of it come full circle."
Want to know more?
The learn about the pottery and artwork of Christina Bendo, click on christinabendo.com. The site also serves as an online store for her handmade pieces. As well, if you'd like to make an appointment to visit the Waynesville studio, you can contact Bendo through the site.
Leave a comment
1

comment
Where is her studio... just off Main St.. doesn't tell me much.

Thursday, 07/14/2022