Archived News
Local shop lifts up customers and creators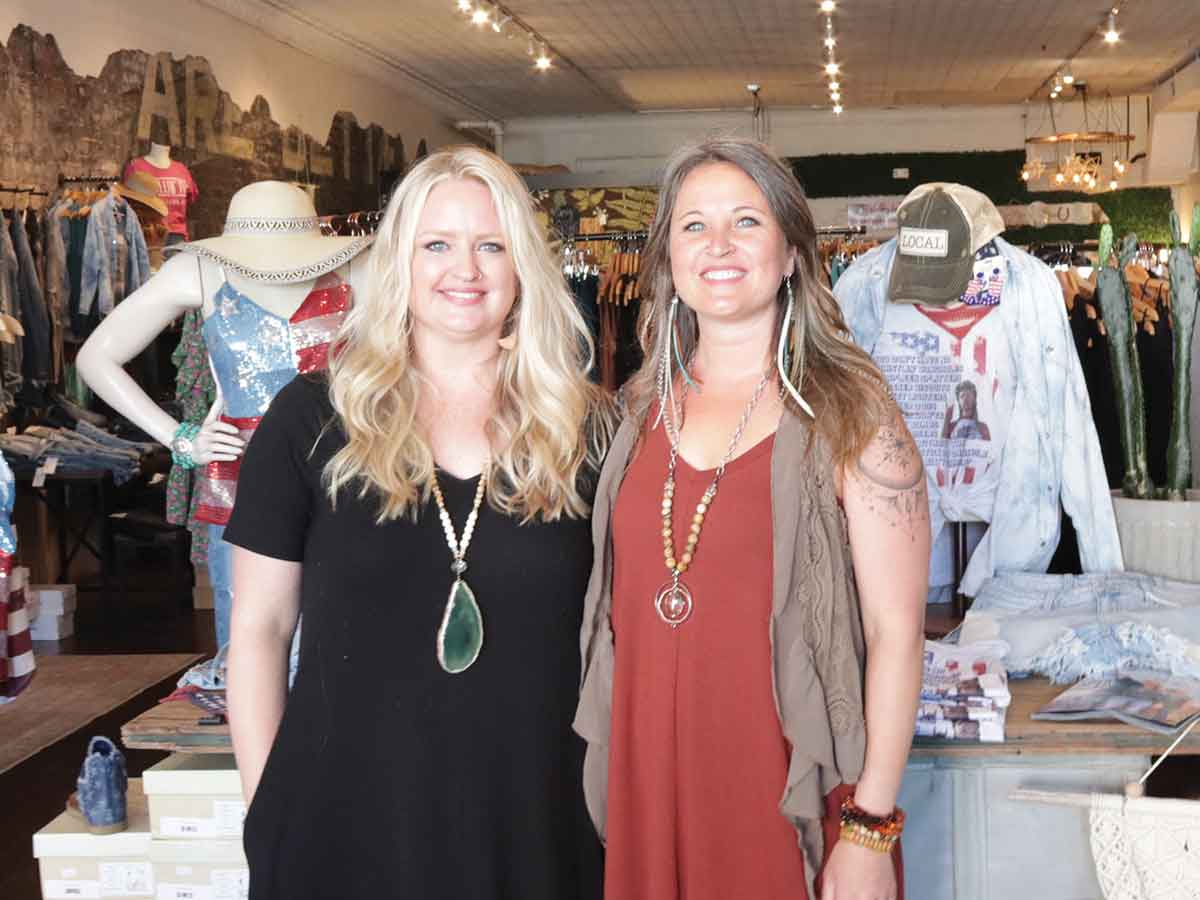 Soul Sisters Depot owners Haley Gaylord, left, and Chelsea Ramsey have found success with their eclectic shop. Michelle Harris photo
For Haley Gaylord and Chelsea Ramsey, opening their own small business was not an early career choice. But opening the successful, eclectic and unique Soul Sisters Depot just felt right. Surrounded by family members running their own businesses, the pair started selling their items while holding full-time jobs and raising children. Going to craft shows, local markets, and hosting trunk shows kept snowballing until it only made sense to consider a brick-and-mortar storefront.
Ramsey said they realized opening their own business would allow them to make more money and make them happier. The pair already had proven their resilience.
"We took a leap of faith," said Gaylord. "Our roots are here. We want to raise our kids here, so we are invested and dedicated to this community."
Originally opening Soul Sisters Depot in Clyde in September 2020, that leap of faith was a big test of whether their venture could succeed. It was the most challenging time, even for well-established businesses. But the new business owners embraced it, bringing their five children with their laptops for remote learning to work every day during the height of the pandemic.
For almost two years, Soul Sisters Depot had a following at their Clyde location but realized early this year the business had to move. In April, the pair had a chance to use all their scavenged, found objects, such as old doors and car parts, in cool vintage displays to create their Soul Sisters Depot vibe at their new Frog Level location.
At the new location, foot traffic picked up. Gaylord and Ramsey often notice multigenerational shoppers, seeing grandmas, moms and daughters come together to shop. Popular items at the shop include funny, funky graphic tees, bell bottoms and lots of items made by local artisans, such as candles, jewelry, and pocketbooks.
While Gaylord and Ramsey knew it was the right time to start their own business and had all the items they wanted to sell lined up, they didn't really know all the ins and outs of how to run a business. Hearing about Haywood Community College's Small Business Center (SBC) in the community, they knew they could find help and resources to answer all their questions. Through the Small Business Center, Gaylord and Ramsey learned about receiving funding for small businesses due to the pandemic and benefited from these funds.
As small business owners, another daunting task is where to begin to build a website. HCC SBC Director Ashley Swanger connected Gaylord and Ramsey to a project working with Western Carolina University students to design a website for the business. Creating a website will add a whole new dimension to Soul Sisters Depot.
"It is obvious that the shop is a part of both Haley and Chelsea," Swanger said. "They create a space that is part retail, part therapy. They lift people up and hold space for those who come in, whatever their needs may be on that day. Their space renews the soul from sharing celebrations to listening to challenges to helping you find that outfit that makes you shine."
See what Soul Sisters Depot is all about by visiting their 240 Depot Street location.
Leave a comment
6

comments
What a success story! And these two ladies model determination, vision, and passion. Their store is beautiful, fun, lively and guarantees to please! Definitely put this stop on you list if you're in the area. Support small business!!

Friday, 07/22/2022

What a success story! And these two ladies model determination, vision, and passion. Their store is beautiful, fun, lively and guarantees to please! Definitely put this stop on you list if you're in the area. Support small business!!

Friday, 07/22/2022

Encourage folks drop by. Great people, great products, great fun.

Friday, 07/22/2022

Two strong,smart,kind beautiful women. Their shop will truly feed your soul and delight your senses.

Friday, 07/15/2022

I was just in there yesterday for the first time. It's a great shop, the owners are friendly and accommodating. I love their style!

Thursday, 07/14/2022

Best store I've ever Encountered not only are they the best women you've ever met in the whole entire life there's souls just resonate beauty passion and loyalty and what they have to offer in their store is above and beyond what any other store has to offer

Thursday, 07/14/2022