Archived News
Clampitt calls for unification of Bryson City, Swain County emergency services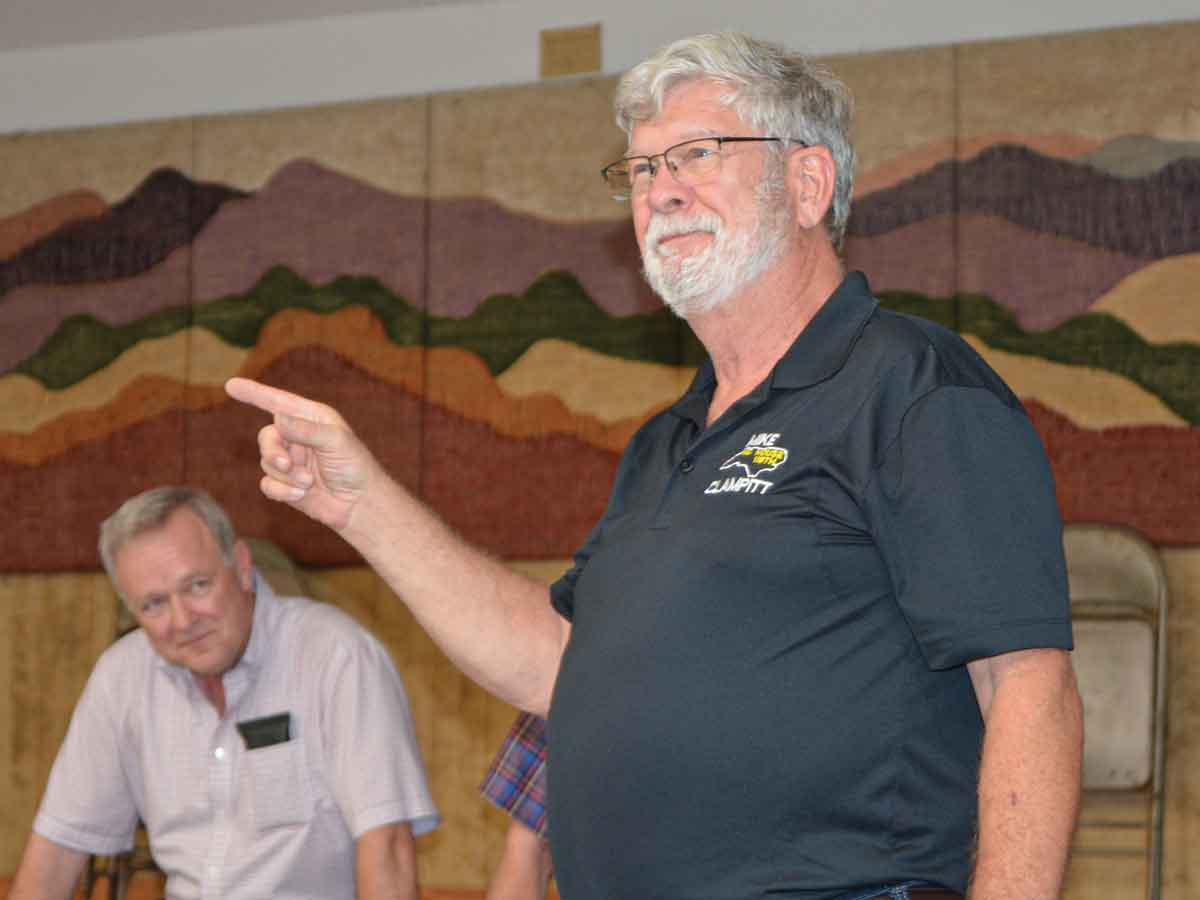 Rep. Mike Clampitt speaks to a crowd at a recent rally in Maggie Valley.
As towns and counties across Western North Carolina grow and attract more visitors, the services provided by those places must grow, as well.
Such is the impetus behind a push by Rep. Mike Clampitt, (R-Swain), to unify that county's emergency services with Bryson City's. In a May email from Clampitt to top county officials, including Swain County Sheriff Curtis Cochran, Bryson City Fire Chief Charles Bryson, Bryson City Town Manager Regina Mathis, County Manager Kevin King and County Commission Chairman Ben Bushyhead, Clampitt argued it is "imperative" that the best public safety can be provided at the "most affordable cost."
In the email, Clampitt outlines some of the features that would be warranted in a new joint emergency response facility — basically a large new state-of-the art fire station — that could be used by both Bryson City and Swain County emergency response personnel, as well as anyone else that may be called in to deal with any given emergency, such as the forest service or the county rescue squad. Some features would include a decontamination area, offices, classrooms, emergency operations center, accommodations and a commercial kitchen capable of feeding not only firefighters but also incident command personnel. In the email, Clampitt estimated the cost to be between $3-5 million.
The cost, of course, will be the tricky part.
"This may sound extravagant, but in reality it is an investment in the future of our area," Clampitt wrote.
In an interview with The Smoky Mountain News, Clampitt offered some specifics as to what he'd want to see. First, he spoke about a problem that exists statewide that has led to the decline of some emergency services agencies. There is simply less emphasis on their importance at the community level, he said, highlighting not only a 20% decrease in donations to departments but also a reduction in the number of people who are willing and able to volunteer.
"We have less volunteerss available as a resource these days," he said. "They don't have the free time they used to have."
Clampitt said it's important to keep in mind that while the departments would have a unified approach and there would be one large emergency services facility, each fire department in Swain County would still keep their jurisdictions.
Clampitt was himself a career firefighter who retired as a captain with the Charlotte Fire Department and led a host of programs geared toward emergency services personnel at Piedmont Community College.
"I lived and breathed public safety," he said.
Along with believing he has the right experience and credentials to make this argument, Clampitt mentioned several recent disasters in the region that have highlighted the importance of emergency services, from the 2016 wildfires to last summer's catastrophic flooding in Haywood County. He even talked about a recent tornado that touched down in Swain County and caused some property damage.
"I never thought I'd see a tornado in Deep Creek, but that's something we need to be ready for," Clampitt said.
"With more people coming to the area, there's also an increase in swift water rescues, and there are more cars and buses on the road," he added. "There are 40,000 people here during the summer."
If a large joint fire station were to be built like Clampitt hopes, the obvious question is, where will the money come from?
"As bad as I hate the word," Clampitt said, "you can call it a fire tax. [Swain County's] tax base isn't high enough to fund that adequately on its own."
According to a post on Coates' Canons from Kara Millonzi, a professor of public law and government at the University of North Carolina School of Government, such a tax would apply to all real and personal property that is subject to the county's general property taxes.
"Revenue generated from the services district tax is specifically earmarked to finance the fire services provided in this district," the post reads.
To make that possible, county commissioners must call a referendum on approval of a property tax levy, which will put the proposal in front of voters. Clampitt estimated that would probably come during the 2024 General Election.
"Having a fire tax gives departments a baseline so they would not have to depend on the county," Clampitt said.
"I can tell you I've researched this myself," he added. "From Haywood County west, Swain and Graham are the only counties that don't have a fire or public safety tax for the departments."
Clampitt is hosting a meeting on July 23 that he has invited local media, Swain County elected officials and people in local government and emergency services to. The meeting will be held at the Swain County Administration Building in Bryson City, and the public is also invited to attend. Those interested can RSVP by contacting DeAnne Mangum via email at This email address is being protected from spambots. You need JavaScript enabled to view it. by July 15.
Clampitt said he's looking forward to hearing what folks think of the proposal.
"I'm holding the meeting so I can hear all the complaints and gripes," he said with a chuckle. "But I'd like for everbody to approach this with an open mind and be receptive to future growth of Swain County and Bryson City and how emergency services can and does affect everyone's personal lives."