Archived News
After landmark SCOTUS decisions, midterm elections carry heavy consequences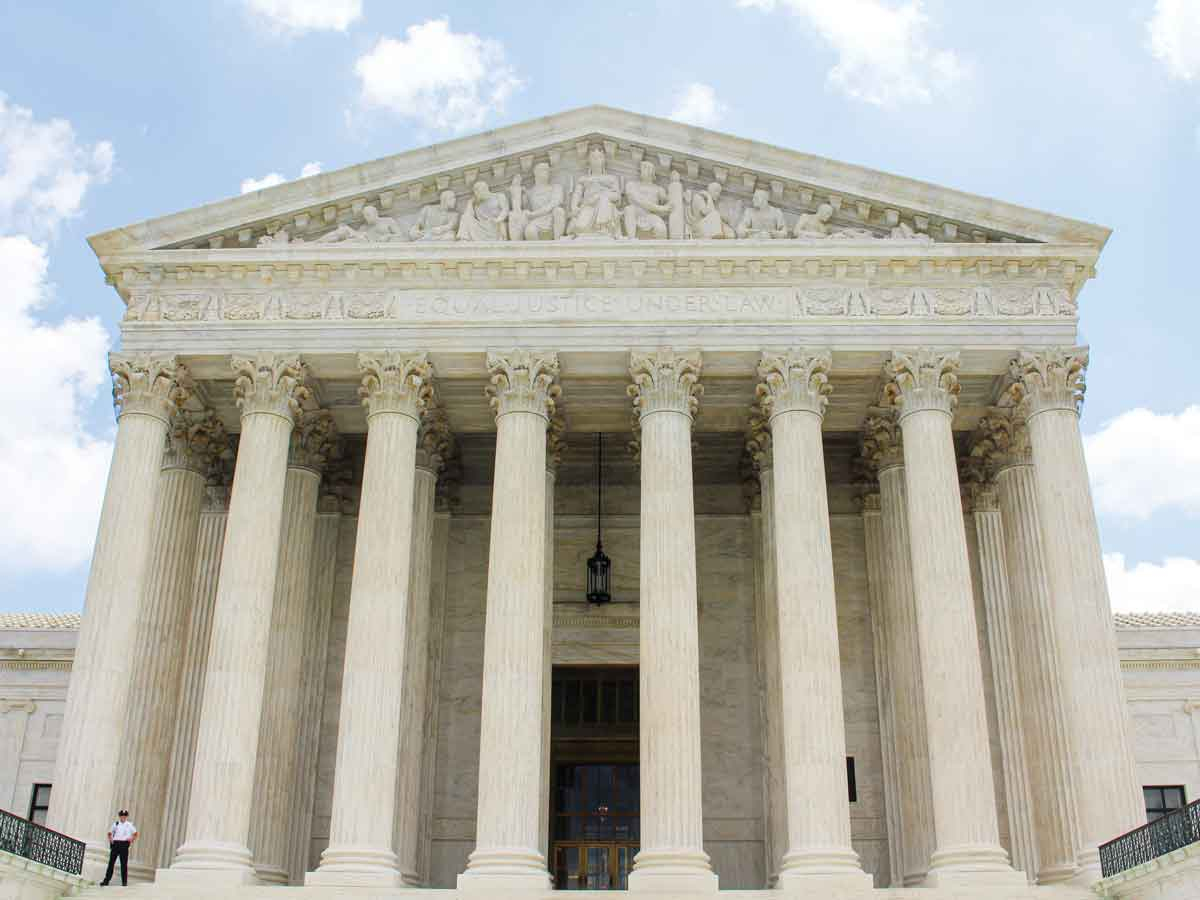 Photo by Claire Anderson on Unsplash
The United States Supreme Court shocked the world during its last term, issuing several rulings that had most conservatives cheering and liberals mournful over what they claim is a politicized judiciary.
But now that those rulings have been issued — with most returning more power to state legislatures to decide how they want to regulate things like abortion — the question in North Carolina becomes, what's next?
The answer entirely depends on what happens in November's midterm elections.
There's little doubt that Republicans will maintain their majority in North Carolina's General Assembly, but with Democratic Gov. Roy Cooper possessing his ever-crucial veto power, the real prize for conservatives would be to secure a veto-proof supermajority. According to a story from The Carolina Journal , to achieve that, Republicans would have to win eight of 13 Democrat-leaning House districts and two out of five Democrat-leaning Senate districts.
In addition, since any legislation based on the recent SCOTUS rulings is likely to be met with lawsuits, the makeup of the state Supreme Court is almost equally important. While Democrats currently hold a 4-3 advantage on the court, the two seats up for election this year are currently held by Democrats. Many think it's likely that at least one of those will go to a Republican, thus flipping the makeup of the court and making it more favorable to upholding laws passed by a conservative General Assembly.
Taken altogether, it seems that the 2022 midterm elections may end up being some of the most critical in quite some time for North Carolina.
A former justice's take
Speaking to The Smoky Mountain News, Retired North Carolina Associate Supreme Court Justice Bob Orr shared his concerns with the recent SCOTUS rulings. He began by talking about Dobbs v. Jackson, the case SCOTUS used to overturn Roe v. Wade, the landmark 1973 case that guaranteed a woman's right to an abortion.
"It was an extraordinarily activist decision in the way it was written … setting aside whether Roe and [Planned Parenthood v. Casey] were well reasoned decisions, setting aside personal policy decisions on reproductive rights, the decision literally said there is no protection under the federal Constitution against legislation that impacts the personal healthcare decisions of citizens," he said.
Orr discussed Justice Clarence Thomas' concurrence on the Dobbs ruling, which he said included Thomas' own "expansive perspective." Orr called out the fact that Thomas made it clear he could use that ruling to potentially strip other rights, such as gay marriage.
In Chief Justice John Roberts' concurrence, he attempted to get the conservative bloc on the court to take what Orr called a "more judicious approach" to the case that would have essentially ended with the same outcome without overturning Roe v. Wade itself.
"Both the Court's opinion and the dissent display a relentless freedom from doubt on the legal issue that I cannot share," he wrote, adding, "I am not sure, for example, that a ban on terminating a pregnancy from the moment of conception must be treated the same under the Constitution as a ban after fifteen weeks."
"I would take a more measured course," he also wrote. "If it is not necessary to decide more to dispose of a case, then it is necessary not to decide more."
"[The other justices] didn't do it," Orr said. "They took an extremely expansive position which I think has to be truly alarming across the country. I think it was unnecessary to reverse Roe, and not only reversing it but also completely gutting any federal protections under the line of cases that Roe was built on."
Orr said that the ruling points back to something he kept in mind the whole time he was on the North Carolina Supreme Court — basically, if rulings are too expansive, it's hard to predict how they might be used down the road by justices who may have an agenda they're working toward.
"I would tell my clerks we have to be extremely careful what we say, because 10 years from now, someone will pull this case, and if we didn't mean what we said we were creating problems," he said.
Orr lamented how the confirmation process for United States Supreme Court Justices has changed, noting that as it's become more political, so too have the justices. In addition, at the state level, as races for the appellate and supreme courts have been more influenced by fundraising tied to political parties, the candidates have drifted farther and farther into that world.
"It potentially compromises integrity of the court," Orr said. "You're supposed to leave your politics at the courthouse door."
Ultimately, Orr thinks the culmination of the court becoming more politicized has led the United States to a dangerous place. He used the recent Dobbs ruling as an example of how decisions are more "results oriented" instead of based on the application of the law as it's interpreted.
"I think Thomas is at the point where he's got the most conservative group of colleagues that he's had in his 30-plus years on the court, and he is hellbent in whatever time he has left to completely undermine positions that he disagrees with," Orr said.
Orr added that he believed the perfect example is the Dobbs case, as Thomas and the other four justices who agreed with him were simply looking for a case they could use to overturn Roe and eliminate a person's constitutionally guaranteed right to an abortion.
"I think other than Roberts, the other five in the majority on Dobbs, they were going to reverse Roe come hell or high water," Orr said.
'The last line of defense'
In a story from WRAL it is reported that Gov. Roy Cooper was on a call with several other Democratic governors and President Joe Biden, during which reproductive rights were the main topic of conversation.
"That Constitutional right that women have relied on for [nearly] five decades has been ripped away," Cooper said. "For now, at least, where you live will determine your rights."
Cooper said the state has already seen an influx of patients for care, adding that Planned Parenthood, the nonprofit reproductive health care group, told him that about one-third of women who visited the organization in recent days in North Carolina have been from other states.
"Right now, governors are the last line of defense, and they're also the first chance at progress," Cooper said.
In a phone call between several governors and President Joe Biden, Gov. Roy Cooper said that governors, given their veto power, are the "last line of defense" in protecting against laws that would take away a person's right to an abortion.
Following that meeting, on July 6, Cooper signed an executive order that takes steps to protect people who come to North Carolina from a more restrictive state to seek a safe abortion.
"The Supreme Court ripped away the constitutional right to reproductive freedom that women have relied on for five decades," Governor Cooper said in a press release. "For now, it's up to the states to determine whether women get reproductive health care, and in North Carolina they still can, thanks to my veto and enough legislative votes to sustain it. I am determined to keep it that way and people need to know that their votes in state legislative races this November will determine the fate of womens' health and freedom in our state."
What legislators say
Should Republicans be able to gain enough seats to exact their will and override vetoes, the question is what will their main focus be?
Chris Cooper, who heads up Western Carolina University's political science program, said he sees a few issues that are most likely to draw the legislature's attention. Cooper said that restricting abortion rights and stripping certain regulatory agencies of their power (based on the SCOTUS ruling in West Virginia v. EPA ) may be near the top of the list. Most importantly, Cooper highlighted the importance of SCOTUS using the recent slew of cases to reaffirm the power of the states.
"It was sort of the opposite of what you'd think," he said. "It's the federal courts weighing and saying it's states that matter."
And that's something Republicans in the state have rejoiced in, and it's also brought into even sharper focus their desire to pick up more seats.
While Reps. Mike Clampitt (R-Swain) and Gillespie (R-Macon) wouldn't comment on what legislation they'd possibly want to see, Rep. Mark Pless (R-Haywood) told SMN he believes his constituents would most want to see their Second Amendment protections strengthened (based on the SCOTUS ruling in New York State Rifle & Pistol Association v. Bruen ).
"That's something that's been attacked over and over," Pless said, adding that he also understands many want to see a state law that would restrict abortion access in the state.
However, Pless was also quick to point out that crafting quality legislation that holds up in court isn't something to be taken lightly. And beyond that, it has to be something that doesn't end the way HB-2 did with North Carolina suffering hefty economic consequences as businesses and events that would normally bring in a lot of money boycotted the state.
"That was a nightmare," Pless said. "There were some good things in that, but that's something that was advanced before it was ready."
"I know we're expected to make decisions on the important things that are important to people," he added. "I don't want anyone to think it's rushed, and I don't want anyone to think we're just throwing things out there with or without the supermajority."
Even if there are Republican supermajorities in the House and Senate, it shouldn't be assumed that the representatives are always on the same page just because they're in the same party. At an event last week in Maggie Valley, N.C. House Freedom Caucus Chairman Keith Kidwell (R-Beaufort) made a point of saying that group isn't afraid to stand up to Republican House leadership to do what they think is right. Kidwell and Vice Chairman Bobby Hanig (R-Currituck), who also attended that rally, were more candid about their desire to see certain issues addressed on the heels of the SCOTUS rulings.
"We do know the Freedom Caucus is gonna be pushing very hard for pro-life legislation, second amendment legislation, election reform, education reform, the things that we've been wanting to do that we could not do because we did not have the supermajority," Kidwell said. "Because we're going to get that in November."
While Kidwell and Hanig talked about their goals in a broader sense, they wouldn't go as far as talking about specifics of potential legislation. Although Kidwell said the drafting process for some bills has already begun and HFC members will be split into "working groups" to analyze certain issues and potential legislation, they don't want to tip their hand in a way that may give Democrats seeking to hold off a supermajority the upper hand in critical races.
"If we don't get elected, we can't do the good of the people," Hanig said. "It's a fine line to draw since some districts are going to be competitive."
Hanig also said that people likely won't see several large, impactful bills drop all at once come early next year when the legislature reconvenes for a full session.
"You can't do it all at once, because then you don't have anything to show at the end," Hanig said. "We're gonna space it out over a year. Whatever the top three or five biggest issues of the day are, that's where we're gonna start."
No matter how the 2022 elections pan out and no matter what legislation may be on the horizon, Kidwell said he was happy to see the Supreme Court acting so boldly.
"I think above Roe v. Wade, above the Second Amendment ruling, above the EPA ruling, is the fact that what those all said to me is the Supreme Court is back in the 10th Amendment business," he said. "They're throwing back to the states and letting the states run themselves."
When asked what legislation Sen. Kevin Corbin (R-Macon) would like to see passed based on the SCOTUS decisions, he talked about the potential for a voter ID law, which passed a state constitutional amendment vote 2016.
"The decision they made in regard to voter ID is extremely important," Corbin said. "We put it on the ballot, and close to 70% of public voted for voter ID. We crafted some legislation which was extremely welcoming to all kinds of IDs — student ID, military ID, driver's license — and the bill funded the machines that go into driver's license offices that can allow someone to get a non-driver's-license photo ID free of charge."
That legislation was passed, but the North Carolina Supreme Court determined it was unconstitutional before SCOTUS, on an 8-1 decision, overturned that ruling.
Like his Republican allies, Corbin was confident in getting a supermajority in the House and Senate.
"I think it's definitely looks favorable for a supermajority," he said. "From what we're hearing out there and with polling, it's indicating folks will vote that way."
Folks on the other side of the aisle have expressed concern with the rulings. Rep. Brian Turner (D-Buncombe), who announced last November this will be his last term in the house, didn't mince words when saying he thought abortion rights would be the first item in Republican crosshairs.
"I think they're going to be emboldened by the Dobbs decision," Turner said. "But they obviously know that women making their own health choices is extremely popular, so they won't want to do anything until after the election," he said. "We've had a number of heartbeat bills filed over the years. That's what they've shown they want to do."
However, Turner is skeptical that limiting gun control in North Carolina is as likely given the current climate.
"We seem to be in a pattern where a shooting happens pretty regularly, so I don't know if further loosening of gun regulations is something that'd get traction," he said.
Turner agreed with the Republicans interviewed for this story that in such a competitive election cycle they shouldn't talk too much about specific legislation that could either deter their own voters or drive Democratic turnout.
"They don't want some of their more competitive seats to get dragged into that," he said.
While Republicans were confident in saying they think they'll get supermajorities in both the House and Senate, Turner was optimistic that wouldn't happen.
"If candidates do the work they need to do and people get out and vote then there will not be a supermajority, at least in the House, and Gov. Cooper's vetoes will be upheld," he said.
The future of elections
While SCOTUS' recent wave of monumental decisions created a lot of energy across the political spectrum, one of the most important announcements was that the court will hear Moore v. Harper.
As described by SCOTUSblog , Moore v. Harper centers on "Whether a state's judicial branch may nullify the regulations governing the 'Manner of holding Elections for Senators and Representatives ... prescribed ... by the Legislature thereof,' and replace them with regulations of the state courts' own devising, based on vague state constitutional provisions purportedly vesting the state judiciary with power to prescribe whatever rules it deems appropriate to ensure a 'fair' or 'free' election."
Essentially, it could give power over things such as federal redistricting to the legislature while stripping the state Supreme Court of the ability to weigh in, as it did last year when it appointed three special masters to draw new maps that were later approved by a three-judge panel.
"It's saying that the fact that the original maps were challenged is violating the North Carolina Constitution, and it goes to supreme Court of North Carolina, which said, 'yes it violated Constitution," said Orr, who was one of the three special masters. "Now the U.S. Supreme Court is going to hear it."
If the court decides with Moore, thus overturning the state supreme court ruling, it could open the door for any number of election reform bills from the General Assembly, and little to no oversight would be available from the courts.
"On the one hand, it's a pretty narrow issue in the North Carolina case, but how you write it and what you say is potentially maybe the single most important decision to come out of the court," Orr said. "If you take the full-blown scope … that anything to do with elections or redistricting, the legislature is supreme and the state courts have no authority to hold them accountable, even if they feel what they did violates the Constitution, that would be a staggering change to American democracy."
Rep. Allison Dahle (D-Wake) is the Vice Chair of the House Committee on Election Law and Campaign Finance Reform. Predictably, Dahle had concerns over SCOTUS' decision to hear Moore v. Harper.
Dahle said the General Assembly could attempt to pass laws that would further gerrymander the state's congressional districts. While she admitted that when Democrats were in power, they engaged in gerrymandering, the situation has become more dire as new technology has emerged that makes it easy to finely tune districts to the point that it disenfranchises more voters than ever before — people who simply believe their votes won't matter.
That's why she doesn't want a partisan legislature to have total control over that process.
"The more power the legislature gets, the more it's in the hands of the party in control," she said. "That's what's terrifying and why the courts have to be involved, because we have to have someone who is sworn to be nonpartisan. Until we put voting back in the hands of the people, we've got to rely on something."
While Dahle also expressed concerns about the increasingly partisan nature of the courts, there is one system she seems to still have full faith in. Dahle said that with everything she's seen, she still believes the state's election system is intact, functional and fair.
"The people who work for election boards are another breed of responsible," she said. "They want people to vote, and they want people to feel as though their vote is counted. I do not feel that we should fear when we place our vote that the vote isn't being counted. There are thieves and people who are dishonest all over this entire world. Do I think what happened in Bladen County could possibly happen somewhere else? Sure. Do I think we're looking for that kind of thing? Yeah, those things could still happen, but I don't think they're the norm."
Get out and vote
Dahle proudly stated that she's always been an advocate for everyone to vote, no matter their party or belief system.
"I understand how to advocate for voting because I feel so strongly that everyone should have that right to vote and that everyone should utilize that right," she said. "In every speech I ever give, when someone asks what they should do, I say, 'vote, and get your friends to vote.'"
The other legislators interviewed for this story shared a similar sentiment. Corbin said it's important to look up and down the ballot and consider which candidates stand for which values.
"There's going to be a lot of things on the ballot this fall that aren't actually printed on the ballot," Corbin said. "Who is elected this fall is going to make a big difference moving forward. It's very important you go out and vote."
"I can tell you conservatives are energized for this fall," he added.
While Dahle acknowledged that many people may feel like their vote won't matter in bigger races, she wanted to highlight how important it is to get out and participate in deciding who will represent them more locally.
"City and county, those places impact us probably more than the state elections impacts us," she said. "If we don't go and vote for those things, if we feel disenfranchised because our state legislator is not who we want, we can still impact change further down."
Along those same lines, Chris Cooper noted that while midterms tend to have a less impressive turnout than presidential election cycles, in a sense, that means each vote may have a bigger impact.
"If your pool is smaller, your rock makes a bigger splash," he said.
And that principle doesn't just apply to voting — it also applies to fundraising. Donations go much further in those smaller races.
"Let's say you want to give money to a candidate," Cooper said. "If you give money to Ted Budd or Cheri Beasley, it's barely recognizable in the long run. If you give money to Mike Clampitt or Al Platt (Clampitt's Democratic opponent this November), your $100 might mean something more from a smart investment perspective."
For his part, Orr talked about the importance of the state Supreme Court races.
"If some of these laws are enacted, somebody will take them to court, and it may make it to the state Supreme Court," Orr said. "The judiciary was created to make the independent tough decisions on how laws are interpreted and applied a whether they conform to the constitutional limitations that are imposed. If you undermine the judiciary, you undermine the very fundamentals of democracy."
If one of the two Republicans running for Supreme Court seats wins it would shift the balance of the court to favor that party.
"If you're concerned about your rights in this state under the North Carolina Constitution, your ultimate protection of those rights is the Supreme Court," Orr said. "So, who sits on the Supreme Court and how they interpret unenumerated rights and their application is critically important."
Leave a comment
1

comment
We could solve the problem with Roy Cooper if we did an Audit of the 2020 Election.. Would solve a lot of problems this State has..
Go back to Paper Ballots and have both parties present when counting, and you will see just how Few Democrats we have in office all over the USA..

Thursday, 07/14/2022