Archived News
Police reform inches forward in WNC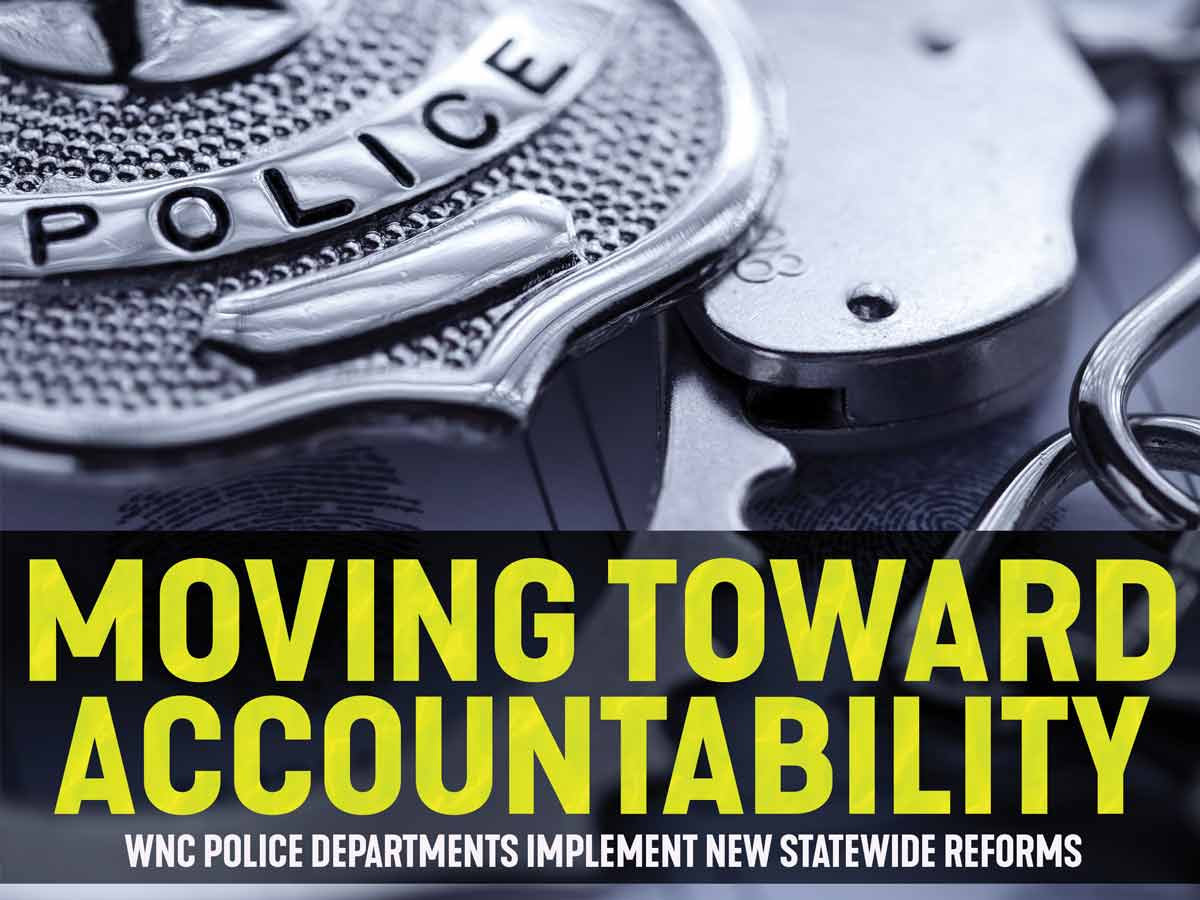 The conversation around police reform has cooled down slightly over the last year, but that doesn't mean law enforcement agencies around the state aren't quietly implementing new policies — policies that came on the heels of the movement that gained steam after George Floyd was murdered by Minneapolis Police Officer Derek Chauvin on May 25, 2020.
In North Carolina, the most notable changes came as a result of last year's Senate Bill 300.
The bill did several things, from requiring state agencies to investigate deaths that result from a use of force to requiring officers to be fingerprinted to better identify those with a criminal history.
While many departments had already mandated a "duty to intervene" meaning an officer must prevent another officer from using excessive force, if possible, S300 requires a duty to report excessive force used by a colleague to a superior. Mental health awareness among officers was also a key provision of the bill, which mandated continuous training in that area.
In addition, the bill created a series of changes not directly related to how officers carry out their duties. It allows for the transportation of patients who've been involuntarily committed to be done by family or friends, when approved. Previously, those transports would only be done by sheriff's deputies and could take them to the far reaches of the state. S300 also changed the waiting period between a defendant getting booked into jail and their first hearing from 96 hours to 72.
Heads of several agencies in Western North Carolina indicated that some things to limit use of force, like banning certain restraint tactics, were already in practice.
"Some of the things they implemented we do anyway, but we're in the process of going through that now to make sure we're doing it all right," said Macon County Sheriff Robert Holland.
The most impactful changes aim to ensure a greater degree of law enforcement transparency and accountability. Former Waynesville Police Chief and current Executive Director of the North Carolina Association of Chiefs of Police Bill Hollingsed — who worked with legislators to develop S300 — welcomes those changes.
"We are fully cognizant that there are people in this profession that don't need to be," Hollingsed said. "They don't need to have a badge and a gun. Nobody hates a bad cop worse than a good cop. It affects all of us."
Macon County Sheriff Robbie Holland said his agency had already implemented several things that were mandated by S300, and now his office is working to ensure compliance with the rest. File photo
A bipartisan effort
The bill was signed into law by Gov. Roy Cooper back in September of last year and had bipartisan support in both the House and Senate.
Hollingsed put in a good deal of work compromising with other stakeholders to help craft S300. It wasn't just a matter of legislators cooperating — independent law enforcement advocacy groups, not all of which always have the same agenda, came together.
"They worked hand-in-hand with the chief's association, with the sheriffs' association, with the conference of district attorneys to kind of formulate a bill that was all-encompassing and reached a lot of the areas that we were probably short on as a profession," Hollingsed said. "We weren't all doing this on our own, but now the legislature has now mandated that we do. And to be honest with you, we think that's a good thing in a lot of these areas."
In a press release from Cooper's office that also mentioned the signing of two other "criminal justice reform" bills, the governor highlighted disparities in interactions between law enforcement and different communities.
"We have seen that the criminal justice system doesn't always treat everyone the same — and too often the differences are disproportionately felt by people of color," said Gov. Cooper. "This legislation will take us one step further toward a more equitable and just North Carolina for all."
In addition, law enforcement advocacy groups supported its passage.
"This legislation will enhance the criminal justice system and the law enforcement profession," a press release from the North Carolina Sheriffs' Association stated.
However, some advocacy groups that take a more progressive stance toward police reform thought it didn't actually do much to ensure officers will be held to a higher standard. In a press release issued by the ACLU of North Carolina , Director of Policy and Advocacy Daniel Bowes expressed his frustrations with shortcomings he identified in the bill.
"The law enforcement training and oversight provisions in S300 rely on and perpetuate the falsehoods that the failings of the criminal legal system are the result of 'a few bad apples' and that the police can police themselves," he said in the release. "Powerful law enforcement special interest groups, including the NC Conference of District Attorneys and the NC Sheriffs' Association, have used all of their resources to prevent crucial criminal justice reforms from advancing in North Carolina in SB 300 and many other bipartisan bills this session. It's a shame that politics and special interests prevent our state from making the transformative changes that our communities desperately need."
In a story from NC Policy Watch , Dawn Blagrove, executive director of criminal justice nonprofit Emancipate NC , expressed similar sentiments.
"SB 300 makes important strides for first appearances in misdemeanor cases but does little else to create much needed equity or advance the level of accountability for law enforcement the people need," she said.
Keeping track of the 'bad apples'
One highlight of the bill was that it created several databases to track law enforcement officers who use deadly force, face certain disciplinary actions and more.
"It really allows law enforcement to hire the best and brightest and weed out a few 'bad apples' that we do have," said bill sponsor Sen. Danny Britt (R-Robeson) during an interview last year.
The databases use information collected to form an "early warning" system that can identify officers who display concerning trends. Hollingsed said that while some bigger departments already had early warning systems, he wanted to see that kind of tool exist everywhere. To do that, his organization partnered with the UNC School of Government to formulate and implement those systems in a manner that they can be tailored to any department.
"Now it's every agency, whether you're a five-man police department or you have 1,800 officers," Hollingsed said.
Hollingsed said it's important for law enforcement heads to realize that the early alert system isn't meant to ruin an officer's career. In fact, it's meant to create intervention points that could save an officer's career. He added that it isn't only a means for documenting trends of misconduct; it could identify something like excessive use of sick time indicating a personal issue or problem at home — essentially, it can be another tool to see developing mental health concerns in officers before they manifest on the job.
Haywood County Sheriff Greg Christopher and his chief deputy, Jeff Haynes, said they worked to implement everything mandated by S300 well before last year's deadlines. However, like Sheriff Holland, Christopher was also quick to point out that they were doing many of those things to begin with. For example, Haynes came up with a form used to track critical incidents — defined in the bill as a use of force, citizen complaint, vehicle collision or discharging a firearm.
"We already had established a use of force board some years ago, and now we have a checklist that's in everybody's personnel file," Christopher said, adding that one thing he wants to see is a standardized form that could be used at all of the state's 100 sheriff's offices so that when someone transfers from one agency to another, the new agency will be able to easily understand the kind of deputy they may be getting.
Like many others, the Haywood County Sheriff's Office uses an Excel spreadsheet to log those incidents and easily determine trends. While Christopher and Haynes said that system hasn't been in use long enough to determine trends, they believe it will be soon.
"It's just too early," Christopher said. "I would say in 18 months if you look back at it, you probably are gonna see some trends where maybe, maybe a deputy or a police officer has had two or three patrol collisions, for example, or maybe his or her use of force reports are a lot more than the average across the office."
S300 also requires that any law enforcement officer who has received a Giglio Order must report and provide a copy of that notification to the Criminal Justice Standards Division within 30 days of receiving the notification.
A Giglio order is issued by a district attorney, United States attorney, or judge when a law enforcement officer has lost the faith of an official to deliver credible testimony in court. This means an officer who's been issued a Giglio order can't be effective in patrol or investigations because they can't testify. For example, as The Smoky Mountain News reported in 2018, District Attorney Ashley Welch issued a Giglio Order for then-Cherokee County Sheriff's Deputy Eric Giles .
According to SMN's coverage, Welch's letter stipulated that Giles had misrepresented his duties as a law enforcement officer on multiple occasions and the DA's office had a constitutional obligation to disclose any information that could be used to impeach the testimony of a prosecution witness, including instances of untruthfulness and potential bias.
Hollingsed praised the state's move to develop a central repository of all officers affected by a Giglio order within the Criminal Justice Standards Division. While there was a database through the Department of Justice, the Giglio orders now factor into the early warning system.
"If a chief in Manteo was looking to hire someone from Murphy, there was no central repository as far as whether we were eligible to even see those, whether an officer had been issued a Giglio letter by a local district attorney," Hollingsed said. "Now there is."
Haywood County Sheriff Greg Christopher (right) said he hopes that upon his retirement, whoever fills his shoes will strive to get that office accredited at the state level. File photo
Matters of semantics
While law enforcement heads in WNC seem to like or at least tolerate the mandates of S300, there have been some kinks. Christopher and Haynes noted that some definitions could be tricky. Perhaps the toughest thing to nail down is simply the definition of "use of force."
The bill defines a critical incident involving use of force as one that results in "death or serious bodily injury."
"In the continuum of force, just presence alone is one use of force," Haynes said. "And it goes all the way up to deadly force."
Hollingsed agreed.
"People have different definitions of what serious injury is. Some people say, 'oh, he got his hand cut, so that's a serious injury,'" he said. "Some would say, 'well a broken bone isn't life threatening' … Some of our smaller agencies, like maybe campus agencies, say, 'if we cuff somebody, we kind of consider that a use of force,' but some departments do that every day and wouldn't consider it that."
Similarly, Hollingsed said different district attorneys have their own standards for issuing a Giglio order.
"Each individual elected district attorney defines what Giglio means to them," he said.
But Hollingsed said he and his fellow stakeholders are working diligently to get everyone on the same page with consistent definitions and upholding the same standards via a series of training webinars. He said that while some bigger departments may have legal and policy implementation teams, smaller ones don't — that's where the greatest need is.
"We can go in and give them example policies of best practices and help these smaller agencies develop and implement these systems," he said.
Christopher said he thinks it's important that the training regarding new reforms is ongoing to ensure that chiefs and sheriffs continue to understand crucial definitions as they may evolve over time. Like with anything else, everyone could use a refresher once in a while.
"It is important that we continue to hold people's trust," he said. "Law enforcement is not effective if your community doesn't trust you, so I would like to see us continue giving as much attention from a training standpoint for each one of these matters that Senate Bill 300 projects … I think this is a good accountability piece for us."
The next frontier
While many progressives have long called for an end to qualified immunity for law enforcement officers or even cutting police funding, that may be farther off. Hollingsed said his next priority is getting as many North Carolina agencies accredited as possible.
Hollingsed is one of two representatives from the Association of Chiefs of Police on the Executive Committee for North Carolina Law Enforcement Accreditation. In fact, he currently chairs that committee.
"It's my goal as a chairman of the accreditation committee to see 515 police departments and sheriff's offices accredited in this state," he said. "I don't care if you're a six-man agency or a 6,000-man agency, you are utilizing best practices in your policies and procedures to provide the best service to not only your people, but the communities you serve."
Previously, departments could gain national accreditation through CALEA , but that can be expensive and requires reaccreditation every three years. While he's long wanted to create a separate system in North Carolina agencies can gain accreditation through, Hollingsed said he did still lean on CALEA as a baseline.
"We were not going to completely reinvent the wheel; we've got a good national accreditation standard to start with," he said. "We tailored it to meet North Carolina needs and requirements such as the mandates through S300."
The state studied six departments — three that were nationally accredited through CALEA and three that weren't to see the differences in how they operate to determine how the process may best work in North Carolina. Now, there are six pilot programs at departments from the mountains to the sea to see how the state's accreditation program works in the real world.
Of the six law enforcement organizations selected for the pilot program, only one — The Black Mountain Police Department — is in WNC. Waynesville Police Chief David Adams said his department applied to be in the pilot program. While it wasn't selected, he noted that he still plans on pursuing accreditation for his department.
"I think can be beneficial," Adams said.
Specifically, according to Hollingsed, it can reduce insurance rates by 10-15%.
"The other thing is it shows the community that your agency is operating under best practices and standards at a statewide," he said.
Christopher, who is set to retire at the end of his current term, said his office isn't accredited, but he hopes to see whoever fills his shoes pursue that path.
"When I was on the highway patrol, we worked through the accreditation process, and it was it was very time consuming to get where we needed to be," he said. "But once we got there, it paid dividends for us. Hopefully all of our agencies in North Carolina will be accredited at some point and held to that standard. Whenever you have this accreditation process, you also have somebody coming in to check on you to hold you accountable. Everybody needs accountability."
Bryson City Police Chief Charlie Robinson said smaller departments in Western North Carolina like his will have issues with accreditation simply because of the money and time required — in addition, things like diversity requirements can be tricky in such a homogeneous area.
"For smaller departments, it's harder to meet the criteria," Robinson said.
Hollingsed said he hopes to see most agencies in the state accredited within 10 years, although he admitted it won't be mandatory. But that may be a tough sell for some folks, considering no agencies west of Asheville are. But for now, he and his fellow stakeholders are still in the process of getting through the pilot phase and considering what works best for the diverse array of law enforcement agencies in the state.
"It's a learning curve for us as well," Hollingsed said.
Leave a comment
4

comments
"George Floyd was murdered by Minneapolis Police Officer Derek Chauvin on May 25, 2020."

Floyd was not murdered. He killed himself by swallowing fentanyl. Chauvin has been the subject of a very serious crime. The system was merely looking for a sacrificial lamb in attempt to appease the mob.

It's long past time for the lies about Floyd to stop.

Saturday, 07/23/2022

I am tired of hearing about that criminal thug George Floyd.

Thursday, 07/21/2022

Don't stop here…keep the momentum going by adding….

-mandatory non-mergeable five-years to serve ….for anyone that violently resists arrest or flees from an arrest with a vehicle. We all know the vast majority of officer involved shootings began as a perpetrator resisting arrest.

Wednesday, 07/20/2022

Don't stop here…keep the momentum going by adding….

-mandatory non-mergeable five-years to serve ….for anyone that violently resists arrest or flees from an arrest with a vehicle. We all know the vast majority of officer involved shootings began as a perpetrator resisting arrest.

Wednesday, 07/20/2022