Archived Opinion
Breaking down walls and sharing some magic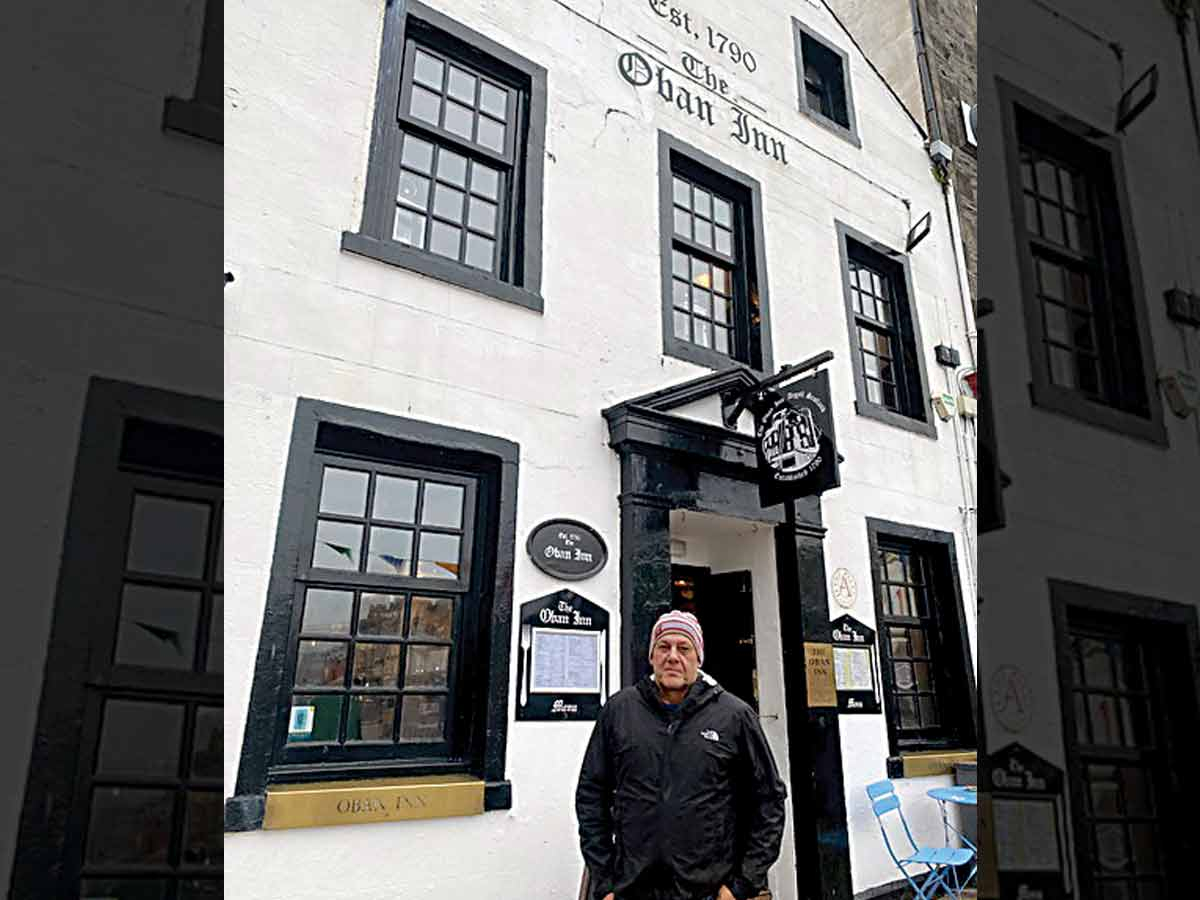 "… I hear Mariachi static on my radio / And the tubes they glow in the dark / And I'm there with her in Ensenada / And I'm here in Echo Park …." —Warren Zevon, "Carmelita"
When we walked into The Captains Bar, a tiny pub on a side street a few steps from our room on Southbridge Road in old Edinburgh, the duo were in mid-song. She was on guitar and he on banjo for that first tune. As they finished a melody that sounded ancient — exactly what we'd hoped to find — he picked up the guitar and started to play and sing solo.
He was wearing black boots, had his head shaved save for some dreadlocks in back, and was wearing a ripped T-shirt and an old kilt, tattoos all over.
"I don't do happy very well, I do sad. I do sad really well," he said to the eight customers, including us, who were there.
And with that he broke into one of my favorite Warren Zevon classics about a heroin addict. "Carmelita" is a melancholy song with a haunting chorus. Here I was in a tiny hole in the wall in what's become one of my favorite cities and this guy absolutely killed one of my favorite songs. He did indeed do "sad" exceptionally well.
As the bar filled and we listened to more songs, tongues loosened and we began talking to the musicians — Linda Larking from Sweden and James Stewart, a Brit — and other patrons. I commented on his very old looking banjo, and he said he had built it himself because he couldn't afford one but wanted to learn to play. He taught himself the clawhammer style of picking. He was exceptional, could play melodies fast and smooth using his thumb and a couple of fingers while keeping a cadenced strumming.
Music was a constant on this trip through Scotland. We had originally planned to attend a Paolo Nutini concert in Glasgow, but it sold out before we could get tickets. So as we drove our rental — a manual transmission, super-small coral pink Fiat 500 with the steering wheel reversed and the stick operated with my left hand — around the country, we fell into a pattern: sightseeing throughout the day, back to the room and then dinner somewhere, followed by a stroll around whatever village or town we were in to see if we could use our phones or just pure luck to find live music. As it turns out, we had pretty good luck.
Oban is one of those small, charming towns on Scotland's West Coast that sits on Loch Etive, or, as the loch turns into open sea, what's referred to here as the Sea of the Hebrides, basically the North Atlantic. It's become a jumping off point for tourists heading to the Ben Nevin — Scotland's highest mountain — or to any of the many islands off the West Coast. That means in July it's full of tourists from all over Europe and the states.
So we prepared ourselves for the real possibility that it would be too busy and crowded to find some locals playing good music. But we got lucky as we squeezed shoulder-to-shoulder into the waterfront Oban Inn — fire codes be damned in this 230-year-old stone structure — and thanks to good timing secured a tiny table Lori ran to grab as another couple departed. A guy with a fiddle case was standing by the bar and was looking around for a seat after he got a beer. We invited him to share our table. Turns out Steve is a Brit who had bought a house nearby and comes to the Oban Inn and Bar for jam sessions. He was worried no one would show for the Wednesday night weekly session because of the tourists.
But they did. Eventually a guitarist/whistle player and a mandolin player showed up, and the three of them they played for hours as another guitarist showed up later. We met folks from all over as everyone laughed and sang together. Lots of post-Covid pent-up energy in that bar (I know Covid's not over, but the shutdowns and huge number of deaths are).
Edinburgh is an artistic city. We didn't know it, but we came during its annual Jazz and Blues Festival. Most shows were already sold out, but we secured tickets to see Noushy 4Tet, an up-and-coming trombonist-singer who graduated from the Edinburgh's music conservatory. The Jazz Bar was like something from New York City, a dark basement with rock walls and what appeared to be a sophisticated audience. We're not aficionados, but the music — a quartet with drums, bass, keyboards and Noushy — was phenomenal. We loved it.
And so it went. Another night in Edinburgh it was The Royal Oak — pronounced with two syllables, "the rool oak" — where we met some young Scots from Glasgow and their dates who also sought out live music. They loved to banter about the rivalry between Scotland's two largest towns, Glasgow and Edinburgh. That's a constant in Scotland, so Lori got a big laugh when she told them the one we had already learned from the Glasgow-born driver of our day tour to Hadrian's Wall: "A Glasgow funeral is more fun than an Edinburgh wedding." They burst out laughing, but then one of them quieted down and gave us a serious look: "But that's no joke, mate, that's just fact."
Music does that, doesn't it. Breaks down barriers, opens hearts and mouths, and let's us share some of what's good about humanity. Cheers to that.
(Scott McLeod can be reached at This email address is being protected from spambots. You need JavaScript enabled to view it..)
Leave a comment
1

comment
Great story and testimony to music being the universal language.

Friday, 08/05/2022