Archived Reading Room
Pride, ignorance and high tech equal disaster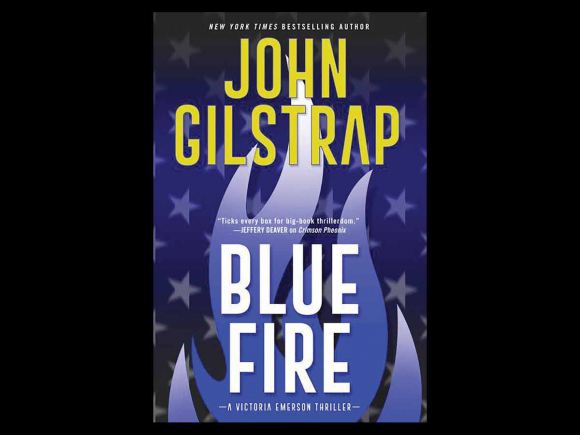 About halfway through "Blue Fire" (Kensington Publishing Corp., 2022, 326 pages,) John Gilstrap's apocalyptic novel about a worldwide nuclear war, I paused and asked myself a question: "Given the state of the world right now — the sabre rattling of nations like Iran, North Korea, and China, the war in Ukraine, the economic and cultural devastation of the COVID-19 pandemic, and the foolish fiscal policies of our federal government — do you really want to be reading a book about hundreds of millions of people dying while many of the survivors become savages?"
Not the cheeriest book on the planet.
Nonetheless, onward I went, in large part because Gilstrap kept me turning the pages.
This second "Victoria Emerson Thriller" — the first was "Crimson Phoenix" — introduces us to a large cast of characters. Foremost among them is Victoria Emerson, a former member of Congress who flees with other members of that body to the Annex, which is essentially an underground bomb shelter for Washington bigwigs. When the guards refuse to allow her to bring two of her sons, Caleb and Luke, into the shelter, Victoria leaves and finds herself in Ortho, West Virginia.
"Blue Fire" opens with Victoria acting as a sort of mayor of Ortho. She and two ex-military men, including her lover Major Joe McCrea, along with some longtime residents organize a defense of Ortho. They establish policies on refugee settlement, found committees to collect and distribute food and clothing, and even come up with a system of financial exchange in which bullets serve as coins.
Meanwhile, a small force of soldiers, former members of the Maryland National Guard, have become renegades who steal, loot, and kill as they see fit. Having taken over a nearby town, Appleton, they set their sights next on Ortho, recruiting and training others to launch their attack.
At the same time, we spend some time in the underground annex, where the former Speaker of the House and now president, Penn Glendale, and other congressional officeholders live relatively protected from the bloodshed and mayhem going on the world around them. Nearly all communication with the outside world has vanished in the blasts, so that this underground government is useless. Solara, the group long charged with maintaining this facility, has command of protocol and order, and the arguments between their commander and the congressional crew are frequent and sometimes funny.
Gilstrap has aptly labeled these two novels "thrillers." His plot and descriptions drive readers from page to page, wanting to find out what happens next. Though I wondered why the townspeople of Ortho rarely brought up the radiation that was surely swirling around them, most of the situations Gilstrap creates seem realistic and well-researched. He clearly has a knowledge of weaponry and a grasp of military tactics, and his characters are believable.
Perhaps most intriguing are the two strong female characters. Adam, age 18, is Victoria's oldest son. His girlfriend Emma is carrying his baby, and shows grit and determination in helping the two of them reach Ortho. She's ready to raise a weapon, stand at Adam's side, and engage the enemy, but rarely loses her sense of humor and irony. She's all action when action is demanded.
Though Victoria and her husband, now deceased, taught their three boys to shoot like Daniel Boone, she impresses readers by her skills of organization and command. She's wise in her counsel to her sons, reminding them frequently that others may blame them if she slips up as their leader. She knows when to be firm and when to be gentle with the people she governs, reminding all around her that individual freedom is important but that they must also cooperate if they are to survive. And she makes tough decisions, even while knowing they are unpopular.
In this last part of my review, I exchange my writing desk for a pulpit. Some of you may want to stop here and move along.
"Blue Fire" caused me to meditate a bit on our race, by which I mean the human race. We moderns like to consider ourselves superior to our ancestors. We rightfully condemn some of them for slavery or genocide, though both still exist in our world, and smile at what we regard as their religious superstitions. Some of us also find their beliefs about marriage, children, and the family quaint.
Yet what might they — or for that matter, our descendants — make of nations that build bombs whose use might end our race? What might they think of germ warfare? Of gain of function research with viruses? Of chemicals and toxins developed to kill multitudes of people? What might they say about a culture where some even advocate for the extermination of humanity itself, claiming that killing off homo sapiens would benefit the planet?
No doubt I sound like a schoolboy to some, ignorant and innocent. I accept that charge, but will add: What kind of hell, I sometimes wonder, have we created?
"Blue Fire" offers a stinging reminder that advanced technology combined with human folly can be deadly.
End of homily.
(Jeff Minick reviews books and has written four of his own: two novels, "Amanda Bell" and "Dust On Their Wings," and two works of nonfiction, "Learning As I Go" and "Movies Make the Man." This email address is being protected from spambots. You need JavaScript enabled to view it..)