Archived Rumble
Motherhood isn't martyrdom
Wednesday, August 19, 2020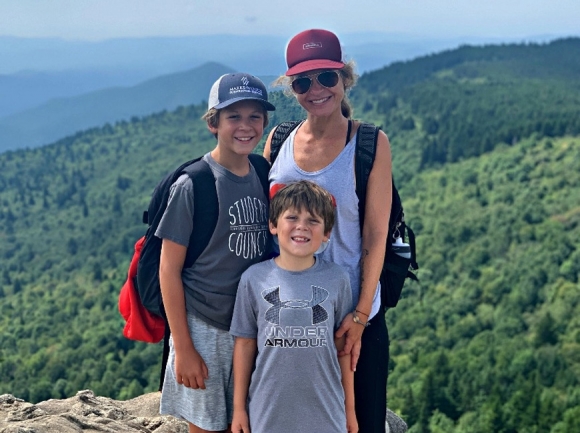 When I became a mom at age 29, I did all the things I was supposed to do, all the things society correlated with being a "good mother."
While pregnant, I ate organic vegetables and drank no caffeine for the first trimester. During the second and third trimesters, I drank one small cup of coffee each morning. I did not drink a drop of alcohol, even though European mothers casually drink 4 ounces of wine when they are pregnant. I drank a daily spoonful of potent fish oil to offer my growing baby optimal DHA. I was terrified something I did or didn't do would hurt my unborn child.
Once my baby entered the world, I breast fed tirelessly, waking up multiple times in the night to ease his hunger pains. When I went back to work, I shut my door and pumped milk while simultaneously typing on a laptop or taking conference calls. I made homemade baby food, mashing peas and carrots for hours to ensure my son wasn't eating additives or preservatives from the jarred varieties.
As my child entered toddlerhood, I took him to Gymboree, Kindermusik and all the early learning places a child should go. When we cut his blonde curls at his first haircut, I kept them in a Ziploc bag. I wrote funny stories or anecdotes or milestones in a daily journal envisioning the adult version of my child fondly reading his mother's script.
Three years later, I had my second child and did all of this again. Further, I quit working full time because I thought a good mother should stay at home with her children instead of leaving their care to strangers. I started a mom blog and got paid to write about products to make parenting easier and more efficient, waking up at 4:30 a.m. and going to bed late at night so I didn't feel guilty about working during the day when the boys were awake and needed to play, eat or be transported to a class or lesson. I wrote parenting columns for two different regional publications, offering advice, suggestions and tips. When my oldest entered kindergarten, I became a devoted PTA officer, spending hours volunteering at his school or organizing functions and events.
I had created my own reality of motherhood, a reality on which I proudly hung my hat. My entire world was precariously balanced on my ability to be a perfect mom. Only later did I realize it wasn't my own doing but that of societal pressure. In 2016, when my mom passed away from cancer and my marriage deteriorated, my "Amazing Mommy" badge started to rust.
An amazing mommy is nestled in a perfect life with a husband, two kids and a family dog. An amazing mommy is not lonely, depressed and divorced, stricken with grief. An amazing mommy doesn't move out of the family home and buy her own house in order to start anew. In American culture, "single mommy" and "amazing mommy" are opposite ends of the parenting spectrum. But this is where I found myself. After almost a decade of parenting blood, sweat and tears, I had to forge a new type of motherhood.
For the past three years, I've experienced a metamorphosis from all angles. In choosing to leave a marriage so I could fully live, I was no longer with my children 100 percent of the time. This was and is still jarring to my psyche. As someone who based every decision, plan and thought around my children for eight years, I felt like I was missing limbs when they were with their dad. I am still working on this.
In Glennon Doyle's book, Untamed, she says the following:
"Mothers have martyred themselves in their children's names since the beginning of time. We have lived as if she who disappears the most, loves the most. We have been conditioned to prove our love by slowly ceasing to exist. What a terrible burden for children to bear—to know that they are the reason their mother stopped living. What a terrible burden for our daughters to bear—to know that if they choose to become mothers, this will be their fate, too. Because if we show them that being a martyr is the highest form of love, that is what they will become. They will feel obligated to love as well as their mothers loved, after all. They will believe they have permission to live only as fully as their mothers allowed themselves to live."
When I read this passage, a lump formed in my throat. Doyle had articulated the reason for my horrendous mom guilt and anguish after the divorce. When one is in the throws of motherhood, one doesn't realize that martyrdom is happening, but the moment she steps out and has time alone to reflect, she feels it deeply.
Where did that young girl go? The one who was fierce and brave and full of dreams. Why did she give up her very existence in the name of motherhood? Who told her to do that?
I'm 40-years old now and after all I've experienced, I feel wiser, more grounded. My children never asked me to give my every waking moment and breath to them. It just felt like I was doing what was expected of me. I don't regret any of it because I loved being a full-time mommy. It was only when that position was partially taken away did I feel alone and discombobulated.
But here's the truth of the matter. All children grow up. They go to college, move on, begin lives of their own. And then, what's left of the mother who gave up her
everything to raise them? Doyle points out that children don't want this for their mothers. They want their mothers to be successful and happy, to walk proudly with a bright light behind their eyes. My boys love looking at magazine articles I've written and were so proud when I published a children's book in 2019. I have to remind myself of this when I feel like I'm being a lackluster parent.
We each construct our own life path. For some, motherhood isn't part of the path at all. Other women naturally find a balance between being a mother and being a woman. Their children are a significant component of their world, but they also run businesses, give speeches, compete in the Olympics or write books. Then, there are the women who become full-blown martyrs, who lose themselves completely in the name of motherhood. This has been a struggle since the beginning of time. Systemic racism and systemic patriarchalism fully exist, but so does systemic motherhood martyrdom.
This is our first Rumble newsletter. We want this to be a badass women's platform that empowers females of all types. As a mom and a content creator, I have a voice to speak out. My charge to mothers is this. We don't have to starve ourselves to feed our children. In fact, it's quite the opposite. In nurturing our own needs and desires, we are better mothers for it.
Click here to sign up to receive Rumble!